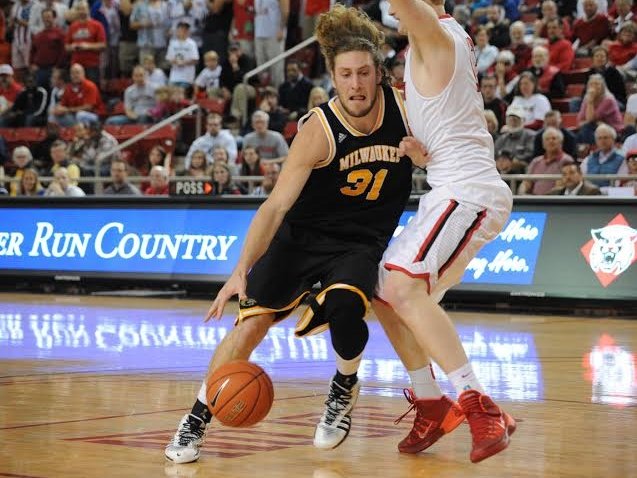 Streaking Panthers head to Madison to face Badgers
Davidson, N.C., Kansas City, Mo., Cookeville, Tenn., DeKalb, Ill., and even Chicago have nothing on Madison.
Rob Jeter knows this.
The University of Wisconsin-Milwaukee head coach dropped his chin to hear the question: could his 9-2 Panthers take anything from their seven road games – six of which were victories – into the Kohl Center tonight against the No. 4 Wisconsin Badgers?
There was no half smile or wit in the response.
"It's different," Jeter said. "I've been there. I understand that. Let's try not to hide that. It's a different place. They don't lose there. You have to beat them. They're not going to beat themselves."
Indeed. The Badgers rose to fourth in the Associated Press Top 25 rankings following a 70-64 victory over Marquette at home on Saturday, improving their record against non-conference opponents to 95-7 all-time at the 15-year-old, 17,230-seat stadium on West Dayton Street in the state capital.
Since its construction, the Badgers are 221-30 at home.
"I think that's what this group has to understand, is that we're going to have to figure out a way to beat them, because they're not going to make mistakes that are going to help us," Jeter added. "We're going to have to do it all ourselves."
The Wisconsin student section, the "Grateful Red," and the overhanging balconies, will create a tournament-like atmosphere that the Panthers have not quite experienced.
"We're just really excited about that," said point guard Steve McWhorter. "We have a great opportunity to play against a great team in Wisconsin and we just gotta go out there and play like every other game we've played – all out and for each other as a team. We have a great opportunity to get a big win on the road."
And with Bo Ryan at the helm, the Panthers are not expecting to be able to "steal" one due to a lack of preparation, or because the Badgers are feeling good about a top 5 ranking.
"You're not going to 'catch' his teams," Jeter said. "Not just catch Bo, but you're not going to catch his players. They've been around too much. They've had a lot of success. I think both teams understand it's just December. It isn't February or March. It's still early in the season so we're both trying to improve."
Jeter, who served as an assistant under Ryan at Wisconsin for four years, knows the Badgers spent the last few days just "getting better" in practice.
No team is perfect, and as good as the Badgers have been in starting 10-0, they have had their share of dogfights with Florida (six-point win), University of Wisconsin-Green Bay (three points), Saint Louis (six points) and Marquette (six points).
Wisconsin has five players scoring in double digits and are shooting 45.3 percent as a team, including 39.2 percent from 3-point range.
The Panthers hope their improved offense can force the Badgers into another close contest, despite the fact that Wisconsin's defense is holding opponents to 42.8 percent shooting and 63.2 points per game.
"We've just got to stick to the basics – it's no different than any other game," said Panthers starting off guard Jordan Aaron, the team's lone preseason all-Horizon League pick. "They're the same team as any other team in the NCAA, but we know that they're good so we have to stick to the things we do best."
Through 11 games, the Panthers are scoring 14.2 more points per game than last year, and shooting at a 46.4 percent clip. They are also more efficient with the ball, averaging 3.3 more assists and 2.0 fewer turnovers per game.
"Our guys (Matt) Tiby, (Kyle) Kelm, J.J. (Panoske), everybody is playing well down low and they've been getting us guards shots, being able to play inside-out" Aaron said. "We can score on the inside and then when they start doubling down the guards get shots. Just sticking to that, getting them the ball, getting them in their rhythm, it opens it up for the guards. That's what we've been doing well."
That will be needed in a raucous road setting where the Badgers will likely go on at least one extended run that will challenge the Panthers' nerve. So far this season though, UWM has not allowed such runs to destroy their confidence and let games get out of hand.
"That's a transition we have made from last year," McWhorter said. "We'd get down and we'd allow leads to just compound. This year, when we get down, we still know we're in the game. It's the next play. I feel like we just gotta have that mentality especially going into Wisconsin."
Despite the challenges the Badgers will present, Jeter is allowing his team to enjoy the experience, too. It's been awhile since this rivalry featured two teams with a combined 19-2 record in non-conference play.
"It's supposed to be fun," Jeter said. "It's a game. I think our guys are excited to play; to play whoever it is. I think that's what exciting for the fans and everyone, that the guys are having fun."
Facebook Comments
Disclaimer: Please note that Facebook comments are posted through Facebook and cannot be approved, edited or declined by OnMilwaukee.com. The opinions expressed in Facebook comments do not necessarily reflect those of OnMilwaukee.com or its staff.