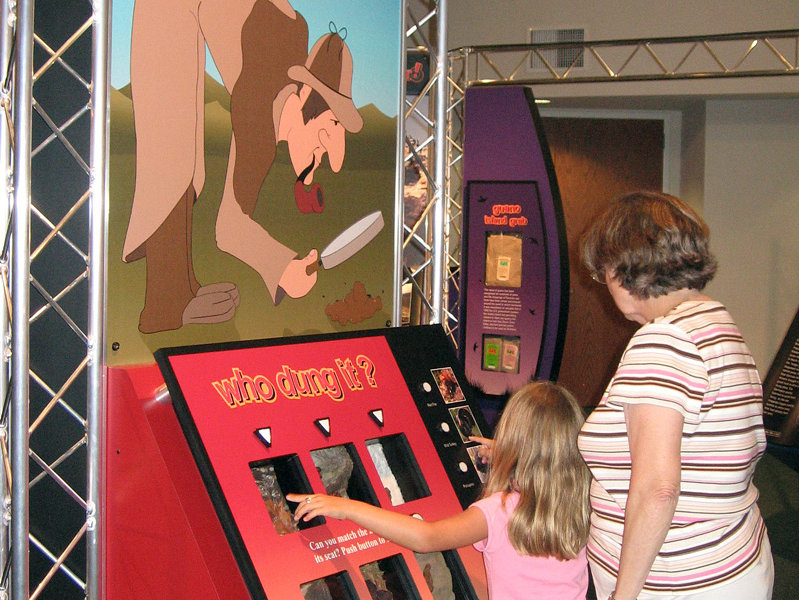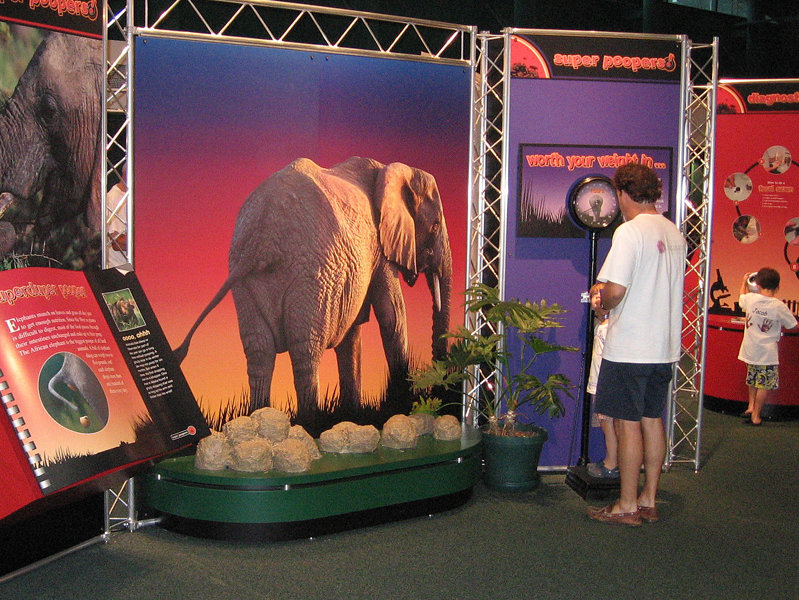 Step in "The Scoop on Poop" to get the dish on dookie
The No. 2 exhibition of the year at Milwaukee Public Museum isn't big, but, come on, how much poop does it take to leave an impression?
"The Scoop on Poop: The Science of What Animals Leave Behind" – created by the same company, Peeling Productions, that did the frogs exhibition at MPM a couple years back – has plopped into the same second-floor exhibition space that hosted the frogs.
Admission to the show, open daily from 9 a.m. until 5 p.m., is $5 in addition to regular admission, $4.50 for members.
The poop show gets bagged and tossed on Jan. 14, 2014.
Just because "The Scoop on Poop" is small doesn't mean it's a dump. No, this relatively compact show packs a lot of information onto a range of fun, colorful panels.
There is a lot of reading, with lots of photos, on the panels, but there are also video segments, audio features, live mice – disconcertingly displayed in a case that replicates the walls of a home – box turtles and hissing cockroaches.
There's also fossilized dinosaur dookie – called coprolites – that visitors can touch.
There's a poop matching game and a dung beetle derby played with a dung ball.
Here's some of the interesting things you'll learn when squeeze in a visit to the show:
11,000-pound African elephants eat more than 400 pounds of leaves, grass and tree bark a day. It takes roughly 9.5 hours for them to drop my body weight (fully dressed and wearing a jacket) in poop.


Dung beetles eat poop and even burrow inside of it and eat their way out. They enjoy it, apparently, as much as we'd enjoy burrowing into a giant Boston cream pie and eating our way out.


On hot days, storks and vultures squirt wet poop on to themselves to keep cool.


Acacia trees propagate when elephants eat their seeds. The intestines stimulate germination and when the seeds drop to the ground, they're encased in a giant pile of fertilizer.


Fermented dung creates methane that is used as a biogas.


Many cultures have burned poop as a fuel.


In Africa, paper is sometimes made from elephant dung. It's a perfect complement to the No. 2 pencil, I hear.


Some cultures use poop to build huts.


In China, there is a tea brewed from caterpillar poop.
You can learn even more when you get "The Scoop on Poop."
Talkbacks
hardgeminiguy | Oct. 2, 2013 at 11:52 a.m. (report)
My significent other and i are members of the museum and are NOT going to see this exhibit. To add insults to injurely we must, also, pay an additional charge to see POOP! Children might find this exhibit fascinating but not us. And WHY is the exhibit running so long? Suspect the museum will lose money on it. Is this the best the museum can up with? Everyone I have talked to, about the exhipit, say they will not waste their time and money in seeing it. A Halloween BOOOO to the museum.
Facebook Comments
Disclaimer: Please note that Facebook comments are posted through Facebook and cannot be approved, edited or declined by OnMilwaukee.com. The opinions expressed in Facebook comments do not necessarily reflect those of OnMilwaukee.com or its staff.