This summer movie season. Yeesh.
Between high-profile disasters ("Suicide Squad"), predictable pratfalls ("Ben-Hur") and sequels that no asked for (anyone remember "Alice Through the Looking Glass"?), there was something for everybody – if that something you were looking for was grating disappointment. Even the few highlights ("The Nice Guys," "Popstar") were dimmed by the fact that nobody saw them.
But hey, you know what they say about hope and eternal springing, so we turn our eyes toward the fall and Serious Movie Season. From sci-fi thrillers and wizarding returns to the latest projects from Clint, Ang Lee, Zemeckis, Gibson and Beatty (wait, really?! Gibson and Beatty!?), the fall actually has something for everything – if that something is promising material.
Here are the movies that'll get you out of the chill and into a bucket of popcorn this fall.
Oct.
14
The Accountant
Everything in "The Accountant" would seem to add up to something special. You've got a strong cast – headed by Ben Affleck, Anna Kendrick and J.K. Simmons with John Lithgow providing some supporting role color – a generally solid director in Gavin O'Connor ("Warrior") and an intriguingly ominous Radiohead-scored trailer hinting at the story of a mathematics savant tangling with some shady dealings.
But there's also something about about "The Accountant" that makes me wonder: Is this a silly movie? Is Ben Affleck as a mannered and potentially murderous savant who manages to always hide his face from hidden cameras … kind of goofy? Maybe it's just that Jeffrey Tambor appears to give business advice from what looks like a prison, making me expect to hear him say, "There's always money in the banana stand." Either way, I'm looking forward to "The Accountant" ... but I'm also prepared for it to possibly be this year's "Black Mass."
Kevin Hart: What Now?
Don't be fooled by the posters and previews for "Kevin Hart: What Now?" that make the movie look like either an apocalyptic actioner or a spy spoof: "What Now" is a stand-up comedy special. So if you're looking for a blockbuster, look elsewhere. However, if you're looking for a chance to see the wildly popular funnyman bringing his crazed comedic persona on stage, this special will likely do the trick.
Desierto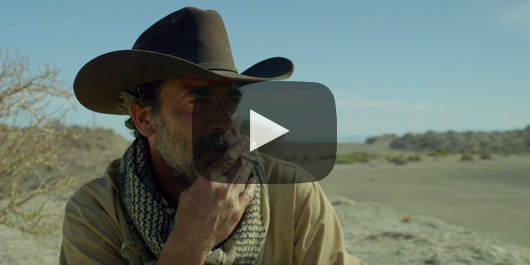 Alfonso Cuaron directed one of the best 3-D experiences to grace modern cinema in "Gravity," one of the best Harry Potter movies with "Prisoner of Azkaban" (don't @ me) and one of the best movies made this century period with "Children of Men." So yeah, no pressure following in your father's footsteps, Jonas Cuaron.
Judging by the trailer for his directorial debut "Desierto," a thriller about an immigrant being chased around the U.S./Mexico border by a murderous gun-toting patriot, the younger Cuaron definitely seems to have his father's immaculate sense of tension and mind for intense setpiece moments, as the short clip is already one of the more stressful things you'll watch this year. Let's ignore the clunky dialogue for now – the painfully on-the-nose line "Welcome to the land of the free," is somehow the clip's most torturous moment – and savor what otherwise looks like a tight little thrill ride.
Oct.
28
Rings
After all the spoofing and all of the technological advances since its release, it's easy to forget "The Ring" is actually a really good horror movie, one almost literally dripping with dread and atmosphere that oozes out of the screen and earns its chills.
Unfortunately, none of those compliments can be passed along to "Rings," which is only scary in that it looks exactly like the loud, silly and no longer relevant sequel you've feared. Maybe there's something craftier and creepier in the whole product we're not seeing in the way-too-revealing trailer. But overall, "Rings" needs to do much more than update from VHS to webcam to feel interesting and fresh again – having Samara ridiculously and just plain confusingly bring down an airplane only makes me yearn to watch the evil tape by comparison.
(Editor's note: Adding to my growing list of concerns about "Rings," the movie's been delayed all the way until Feb. 3 next year. This is not its first shelving; in fact, the horror sequel was originally supposed to come out in 2015. Always a good sign when a studio desperately wants to keep a movie away from audiences as long as possible.)
Inferno
I know what you're thinking: After hearing about sequels to "Jack Reacher," "The Ring" and "Ouija" – and surviving a summer with the likes of "TMNT 2," "Alice in Wonderland 2" and "Ice Age 5" – what we really need is another sequel nobody asked for. Well, "Inferno" is here to answer your sarcastic sequel prayers!
I suppose this is as good a time as any to admit that I actually like "The Da Vinci Code" and "Angels & Demons" movies. I like the operatic dread. I like the scenic, legacy-rich locales. I like the silly insta-puzzle solving and ridiculous adventure plotting. I like that Tom Hanks' mane in the first film makes me giggle. So put me on board for another adventure with everyone's favorite Jeopardy contestant as he attempts to stop a terrorist attack (with the excellent Felicity Jones in tow this time) by solving cryptic puzzles that really would seem to be a needless and counterproductive hassle for a highly motivated terrorist organization, I imagine.