This summer movie season. Yeesh.
Between high-profile disasters ("Suicide Squad"), predictable pratfalls ("Ben-Hur") and an extra large popcorn bucket's worth of sequels that no asked for (anyone remember "Alice Through the Looking Glass"?), there was something for everybody — if that something you were looking for was disappointment. Even the few highlights ("The Nice Guys," "Popstar," "Pete's Dragon") were dimmed by the fact that nobody saw them.
But hey, you know what they about hope springing eternally. So we turn our eyes toward the fall and Scary/Serious Movie Season. From sci-fi thrillers and wizarding returns to the latest projects from Clint, Ang Lee, Robert Zemeckis, Mel Gibson and Warren Beatty (wait ... Mel Gibson and Warren Beatty? They're still alive?), the fall actually has something for everything – if that something, this time around, is very promising material.
Here are the movies that'll be getting you out of the autumn chill and into a comfy theater chair this fall.
Sept.
2
The Light Between Oceans
I don't know director Derek Cianfrance, but judging by his last two films – the 2013 drama "The Place Between the Pines" and his latest family drama, "The Light Between Oceans" – I'd bet his favorite foods are sandwiches, his favorite cookies are Oreos and his favorite Dave Matthews Band song? "The Space Between," obviously.
I joke now, because laughs tend to be hard to come by in Cianfrance's stern, serious dramas (he made his debut with the ultimate feel-bad love story "Blue Valentine"), and one imagines laughs will be in short supply in "The Light Between Oceans," the tale of a couple who discover a baby lost at sea and adopt it as their own, only to eventually meet a woman who may be the baby's true mother. But I do expect some great performances and some major chemistry, especially since stars Michael Fassbender and newly crowned Oscar winner Alicia Vikander are a couple in real life – and actually fell in love filming this project. You can probably also expect to make an ocean of your own with tears during the movie, so maybe bring a Kleenex … or five. Or just the whole box.
Morgan
In "The Witch," young star-in-the-making Anya Taylor-Joy was menaced by a baby-snatching witch. In the new thriller "Morgan," however, it's Taylor-Joy who gets to do the menacing, starring as a teenage genetic experiment who's growingly not pleased with being grounded by her scientist parents (including the esteemed likes of Kate Mara, Toby Jones, Paul Giamatti, Rose Leslie and Jennifer Jason Leigh). One imagines things will go great, and they'll be all sitting down happily for a family dinner in no time.
The thriller also comes from Luke Scott, son of prolific director Ridley Scott ("Gladiator," The Martian"), so hopefully genetics have shined on him brighter than they appear to for the movie's sure-to-be-doomed crew of scientists.
Sept.
23
The Magnificent Seven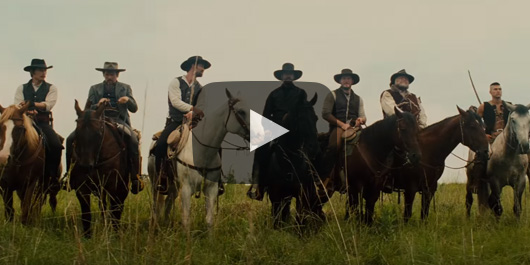 Does the world need another "Magnificent Seven" – especially considering the original was already a Western remake itself of the classic "Seven Samurai"? If it stars Denzel Washington and Chris Pratt – plus the always underrated Peter Sarsgaard in mustache-twirling villain mode – why the heck not? The movie, directed by Antoine Fuqua ("Training Day," "The Equalizer") looks like a fun, guns-blazing Western actioner, and as a bonus, the screenplay comes co-written by Nic Pizzolatto, the guy who wrote the first season of "True Detective." On the other hand, he's also the guy who wrote the second season of "True Detective." Here's hoping the former was working the typewriter for this one.
Storks
Of all the major studios, Warner Bros. is one of the few that doesn't have a huge animated movie focus. That changed with "The LEGO Movie" back in 2014, and now the relatively newborn Warner Animation Group has its sophomore effort: "Storks," a story of baby-delivering birds trying to deliver one last baby to its rightful human family.
The trailer seems manic and loud and crazy and full of commotion … and also really quite funny, with a voice cast led by Andy Samberg, Key & Peele and Jennifer Aniston plus a co-directing credit for funnyman director Nicholas Stoller (the "Neighbors" movies). Considering the barren time between big animated movies (no, "The Wild Life" doesn't count), Warner Bros. is probably birthing a big hit with this one – with hopefully the big laughs to match.
Queen of Katwe
There's a sad chance that you may have forgotten about Lupita Nyong'o, the talented actress whose devastating Oscar-winning turn in "12 Years a Slave" won her praise and the globe's adoration. Since then, however, she's only been on screen in "Non-Stop." Yes, she was in "The Force Awakens" and "The Jungle Book," but only as a voice; you haven't actually seen her on screen in two years, which is a shocking shame.
Luckily, "The Queen of Katwe" should change that. Nyong'o plays the mother of a young Ugandan girl (portrayed by Madina Nalwanga) who becomes a chess superstar with the help of a friendly local teacher (David Oyelowo, "Selma"). It's a story certain to be inspirational – and based on the talent involved and the release date, perhaps awards-worthy as well.
Sept.
30
Deepwater Horizon
How do you take a story of capitalist greed gone wrong and turn it into a story of American heroism and patriotism? I'm … not particularly sure, but that looks like exactly what director Peter Berg ("Lone Survivor") appears to be doing with "Deepwater Horizon," an action drama about workers trying to escape the BP explosion and oil spill in the Gulf of Mexico.
I'll admit I was more interested in this project when it was J.C. Chandor ("Margin Call," "All Is Lost") at the reigns. But Berg, despite the overall quality of his movies ("Battleship" ... shiver), is an accomplished visual director, and the cast (Mark Wahlberg, Kurt Russell, John Malkovich) is rock solid. As for the story, it makes sense to push the patriotism angle in the advertising; it'll be interesting to see what story the movie itself ends up telling.
Masterminds
Do you ever wake up in the middle of the night suddenly wondering whatever happened to the guy who made "Napoleon Dynamite"? Yeah, me neither, but now you know: He's made "Masterminds," a strange comedy about a strange bank heist starring … wait a second, this all sounds very familiar. So familiar, it's almost as though I wrote those exact same words last summer when this Lorne Michaels-produced comedy was originally supposed to come out.
Well, time hasn't made "Masterminds" look any less strange. But while usually delayed release dates are a bad omen (to be fair, most of the reason for the push was because of the studio, Relativity, threatening bankruptcy), thanks to the year that's passed, we've seen how awesome Leslie Jones and Kate McKinnon can be on the big screen. And after the latter's truly scene-stealing turn in "Ghostbusters," I'll follow her anywhere – and I guess that means "Masterminds."
Miss Peregrine's Home for Peculiar Children
This summer's X-Men entry wasn't what most people would conventionally call "good," so I suppose we'll see what Tim Burton's version of kids with superpowers in a mansion can do. The cast is good enough – the perpetually underappreciated Eva Green, another performer I'll follow pretty much anywhere (and have paid the price) plays the titular Professor X stand-in – and I'm always rooting for a Burton return to form. But while the first trailer had its off-kilter charms, the more I see – heavy CGI overload, dense YA fantasy book plotting involving time loops and evil monsters – the more concerned I get. Here's hoping we don't go 0-for-2 on "talented kids in mansions" blockbusters this year.