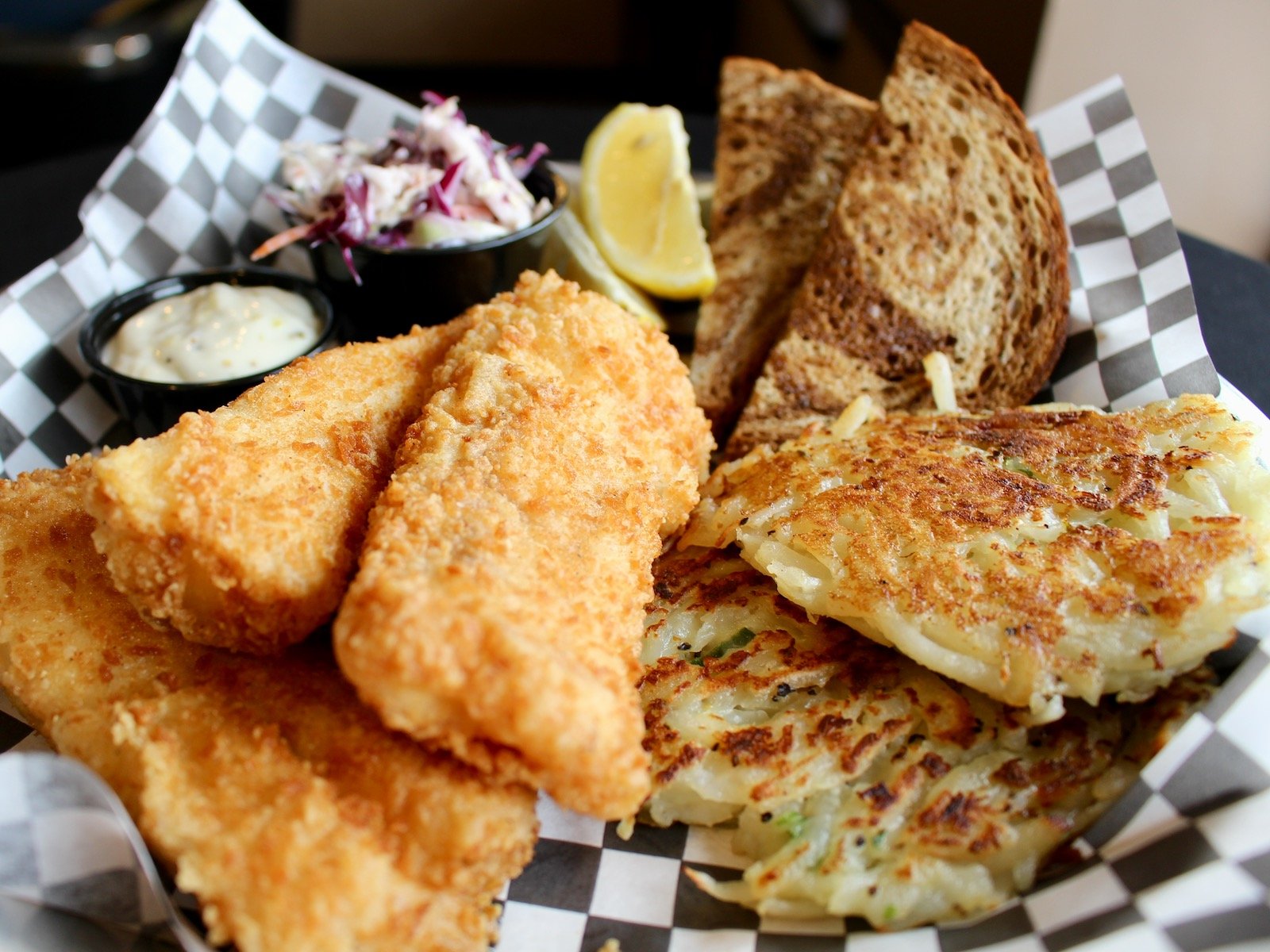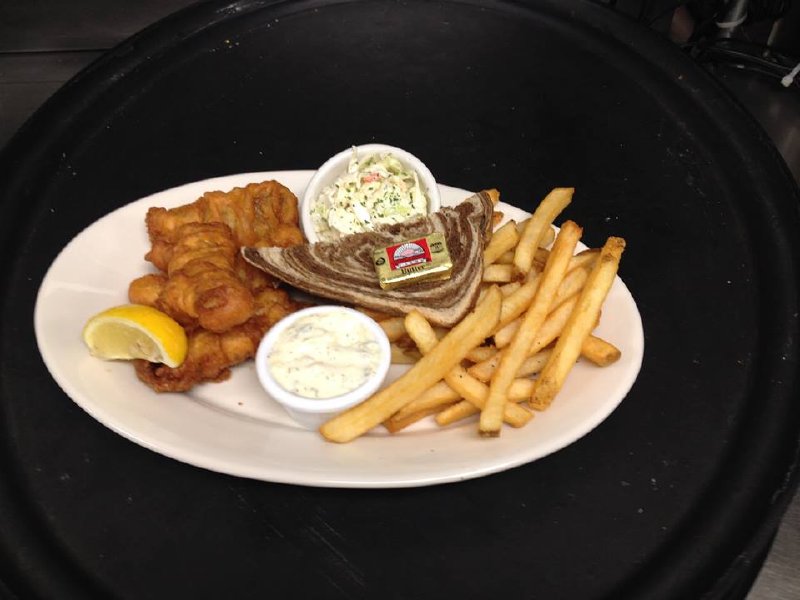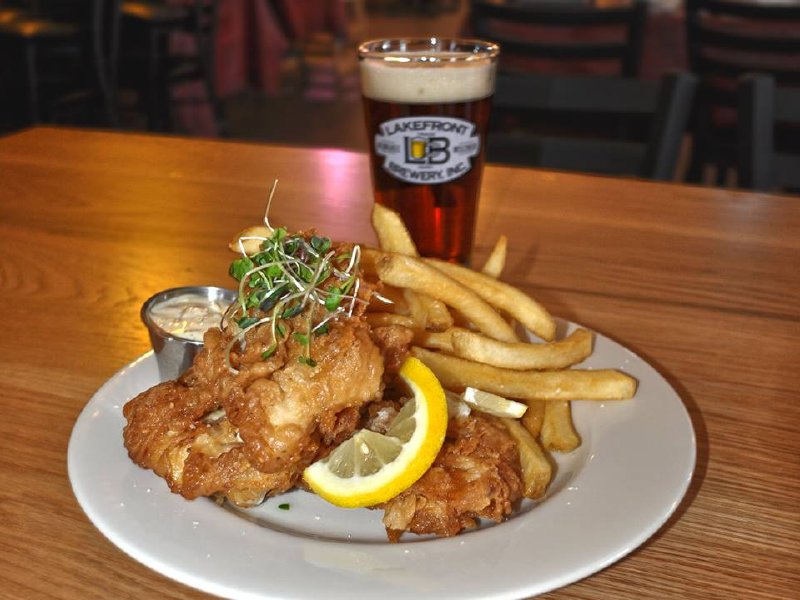 Milwaukee fish fry guide
Note: The contents of this guide were checked for accuracy when this article was updated on Aug. 14, 2013 at 5:01 p.m. We continually update the thousands of articles on OnMilwaukee.com, but it's possible some details, specials and offers may have changed. As always, we recommend you call first if you have specific questions for the businesses mentioned in the guide.
It's one of Milwaukee's most cherished and distinctive traditions: the Friday fish fry. Go to practically any other city, and they'll have no idea what you're talking about.
The Friday fish fry sprouted out of the city's Catholic community, which forbids the consumption of meat on Fridays during Lent. Plus, it offered a Milwaukee family the chance to go out to dinner without blowing a lot of cash on steak.
Most places in town have fish fries, and this guide couldn't possibly cover them all; but after much searching, asking and eating, here are some of the best places in the city to catch a fish fry.
And, as always, if we've forgotten your favorite or if you're willing to share your hidden gem ... share it with others by posting a Talkback below.
South/Southwest Side
Amelia's
724 E. Layton Ave., (414) 483-0345
All-you-can-eat cod or smelt comes with cole slaw, rye bread and tartar sauce. Try other dinners like a fish sandwich with french fries or 1 lb. of lake perch.
Beer Belly's
512 W. Layton Ave., (414) 481-5520
You can get fish here every day, but Friday's catch is only available, of course, on Fridays. Your choice of a cod fry, baked cod dinner, a codwich, beer battered baby walleye pike, smelt basket, clam strip basket or jumbo shrimp entree.
Brighton Dale Links
830 248th Ave. (Hwy. 75) Kansasville, (262) 925-8005
golfbrightondale.com
Every Friday of the year, from 1 to 8 p.m., enjoy beer-battered cod, jumbo shrimp, bluegill butterflies and walleye fillet served with all the fixin's!
Cafe Centraal
2306 S. Kinnickinnic Ave., (414) 755-0378
cafecentraal.com
Lowlands Tandem Dubbel bier-battered or potato chip-encrusted cod sh fry,
served with frites, cole slaw, and housemade remoulade. Also available: calamari, fish tacos, mussels and more.
Cafe el Sol
1028 S. 9th St., (414) 384-3100
unitedcc.org
Hidden in the United Community Center, this is one of Milwaukee's best-kept fish fry secrets. It features cod freshly dunked in a Puerto Rican batter before being served buffet-style alongside salad, beans and rice and various side dishes. The price also includes live entertainment from 6:30 t0 8:30 by Latin bands from Milwaukee or abroad.
The Chancery
4624 S. 27th St., (414) 282-3350
thechancery.com
You can count on any Chancery location to serve up a traditional Wisconsin fish fry seven nights a week, offering their fried and breaded cod with tartar sauce, rye bread, slaw, tartar sauce and their famous waffle fries. It's delicious - and the price ain't half bad, either.
Clifford's Supper Club
10418 W. Forest Home Ave., (414) 425-6226
cliffordsfinefood.com
Clifford's famous Friday fish fry doesn't stop at just fish. The Hales Corners eatery also features steaks and chops alongside its seafood selection, plus a relish tray, rolls and a cracker basket. Dinners come with soup, salad and potato. The fish fry is served all day, every day and is always available to-go.
The Country Squire
S72 W16373 Janesville Rd., (262) 422-0140
This is the place to go if you want a salad bar with your fish. You can add that to your battered cod. It's a scrumptious fish fry at a decent price.
Coach's Pub & Grill
5356 S. 13th St., (414) 281-8175
coachspubngrill.com
Variety is the name of the game at Coach's Pub & Grill. An all-you-can-eat cod dinner, and there are numerous platters to choose from, featuring perch, blue gill, walleye and just about anything you can imagine. Get buckets of 8-16 pieces with french fries, cole slaw, tartar sauce and rye bread.
Erv's Mug
130 W. Ryan Rd., (414) 762-5010
ervsmug.com
Erv's is a popular Oak Creek restaurant -- with unbeatable decor -- that fries some of the best fish in the southern suburbs. The portions are large. The place is busy and the patrons are happy.
Fritz's Pub
3086 S. 20th St., (414) 643-6995
This is a casual, friendly South Side pub with three sizes of beer-battered cod, great coleslaw and potato wedges. You can also choose from shrimp offerings and a "fishwich." Prices are reasonable.
Grainger's Pub & Grill
3400 W. Loomis Rd., (414) 282-9917
graingersbar.com
Friday's catch includes beer-breaded cod, baked walleye and hand-breaded shrimp, among other dishes. All come with coleslaw, fries or potato pancakes and rye bread.
Horny Goat Hideaway
2011 S. 1st St., (414) 482-4628
hghideaway.com
Stop in for Horny Goat's fried cod or perch or their baked cod with tarragon butter. All fish fry entrees are served with apple coleslaw, rye bread, potato pancakes and homemade apple sauce.
Hybrid Lounge
707 E. Brady St., (414) 810-1809
hybridlounge.net
Hybrid offers a blue gill or cod fish fry that's breaded, baked or beer battered in Riverwest Stein. Served with rye bread from Sciortino Bakery, cole slaw and a choice of waffle fries, salad or tater tots.
Klemmer's Banquet Center
10401 W. Oklahoma Ave., (414) 541-9190
klemmersbanquetcenter.com
Known in the area as the go-to banquet center for weddings and funeral luncheons, Klemmer's also serves a mean year-round fish fry that includes haddock, fried perch, pike, slaw, choice of potato, cucumber salad and rye bread.
Lake City Restaurant and Lounge
5105 Howell Ave., (414) 831-3659
lakecityrestaurant.com
You better come hungry when you stop in here. Lake City offers all-you-can-eat beer battered or baked cod and endless soup and salad bar. In addition they have other menu fish choices such as pretzel crusted bluegill, almond crusted tilapia or blackened catfish.
Meyer's Restaurant and Bar
4260 S. 71st St., (414) 321-4400
meyersrestaurantandbar.com
Dig into the fish fry lunch from 11 a.m. to 3 p.m.
Oscar's on Pierce
1712 W. Pierce St., (414) 810-1820
oscarsonpierce.com
Friday's cod fish fry includes coleslaw, Oscar's homemade french fries and rye bread. It's not all-you-can-eat, but extra pieces are only $1.
Packard Cafe
5921 S. Packard Ave., Cudahy, (414) 481-0890
This cafe starts serving fish early, from 8 a.m. until 9 p.m. They offer a cod fish fry served with french fries and the choice of soup or salad.
The Packing House
900 E. Layton Ave., (414) 483-5054
packinghousemke.com
The Packing House offers a terrific fish fry, baked or fried, with all the sides. Like Serb Hall, it also offers a drive-through service. Just look for the traffic spilling onto Layton Avenue (but remember, it's cash-only for the drive-thru!).
Petrifying Springs Golf Course
4909 7th St. (Hwy. A), Kenosha, (262) 925-8001
petrifyingspringsgolf.com
Every Friday of the year, from 1 to 8 p.m., enjoy beer-battered cod, jumbo shrimp, bluegill butterflies and walleye fillet served with all the fixin's!
Rocco's
2860 S. Kinnickinnic Ave., 414-483-0677
Their Friday fish fry has also extend to Wednesday fish fry, where on both nights they are serving up eight ounce Corona battered or baked cod, served with the potato choice of kettle chips, tarter tots or french fries, coleslaw and rye bread with butter.
Scotty's
3921 S. Clement Ave., (414) 481-6060
You can choose from big helpings of beer-battered or breaded cod or perch. All come with homemade coleslaw, rye bread and your choice of potato pancakes, fries or seasoned baked potatoes.
Serb Hall
5101 W. Oklahoma Ave., (414) 545-6030
americanserbhall.com
Serb Hall often claimed to have the best fish fry in the city. It features fried and baked cod and perch; but expect a long wait before partaking in this local favorite. For service in your car, try the drive-thru. But get there early: the line can snake along Oklahoma Avenue all the way down past 48th, 47th or even 46th Street on the busiest nights. The drive-thru is also available on Wednesdays 4-8 p.m.
West Side/Suburbs
Albanese's Roadhouse
2301 W. Bluemound Rd., Waukesha, (262) 785-1930
albanesesroadhouse.com
Waukesha natives rave about this place, with good reason. Conveniently located near shopping on Bluemound, and the Marcus Majestic movie theater complex. The fish is a little on the pricier side, but you get a side of pasta, bread and a tossed salad.
Athens Family Restaurant
5547 N. Lovers Lane Rd., (414) 462-3950
athensfamilyrestaurant.com
Wednesdays and Fridays, this all-you-can-eat fish fry is served at lunch and dinner with a salad, bread, dessert and beer.
Balistreri's Bluemound Inn
6501 W. Bluemound Rd., Wauwatosa, (414) 258-9881
balistreris.com
Nothing fancy here. Just solid, beer-battered cod fried to a bright gold and served with tartar sauce, fries, rye bread and lemon.
Brookfield Family Restaurant
18000 W. Bluemound Rd., Brookfield, (262) 792-1180
brookfieldfamilyrestaurant.com
This family-owned restaurant offers a good, old-fashioned example of big helpings for a small price. They offer fried fish year-round with a baked cod special on Fridays. You can upgrade to all-you-can-eat for a small charge.
Bluemound Gardens
11703 W. Blue Mound Rd., (414) 771-3000
bluemoundgardens.com
This area staple straddles Brookfield and Tosa and offers an extensive selection of fish. Choose from Alaskan cod, baked haddock, broiled tilapia, lake perch or fried catfish, all reasonably-priced.
Brewski's Sports Club
304 N. 76th St., (414) 475-0500
facebook.com/Brewskissc/info
Brewski's, just south of Bluemound Road, offers a popular all-you-can-eat fish fry featuring perch or walleye that comes with potato pancakes, fries, bread and cole slaw.
The Chancery
2100 E. Moreland Blvd., Waukesha, (262) 549-1720
7615 W. State St., Wauwatosa (414) 453-2300
thechancery.com
You can count on any Chancery location to serve up a traditional Wisconsin fish fry seven nights a week, offering their fried and breaded cod with tartar sauce, rye bread, slaw, tartar sauce and their famous waffle fries. It's delicious - and the price ain't half bad, either.
Cafe Hollander
7677 W. State St., Wauwatosa, (414) 475-6771
cafehollander.com
The Tosa Village location offers the same menu as the Downer Avenue establishment. From sauteed seafood tacos to wild-caught grilled salmon, there's something for everyone - or you can opt for the regular cod fish fry served with frites, cole slaw, malted rye bread and homemade remoulade.
Cafe Bavaria
7700 Hartwood Ave., Wauwatosa, (414) 271-7700
cafebavaria.com
Cafe Bavaria in Wauwatosa serves Lake Erie white perch served with fries, remoulade, whole grain toast and bacon-apple slaw for $13.95 every Friday.
Fattoni's Italian/American Deli
7212 W. North Ave, Wauwatosa, (414) 479-9840
fattonis.com
Chef Tony Mandella, formerly of Cafe Siciliano in Mequon, focuses on fresh ingredients and simple entrees. This carry-out deli offers their Friday Fish Fry from 11 a.m. to 7 p.m. during Lent. Available in just 15 minutes if you pre-order, you can get 8 oz of cod for $10.95 accompanied by redskin potatoes, coleslaw with red onions and red pepper, caper-dill tartar sauce and marble rye bread.
Historic Red Mill
1005 S. Elm Grove Rd., Brookfield, (262) 641-8120
historicredmill.com
Their famous Friday fish fry is available for lunch, too. Enjoy cod and perch meals with kids' options offered.
Jimmy's Island Grill
2303 N. Mayfair Rd., (414) 837-2121
jimmysislandgrill.com
Come to the newest kid on the Tosa block for an island-themed fish fry. Jimmy's serves cod and grouper, grilled, blackened or fried, until 11 p.m.
Kegel's Inn
5901 W. National Ave., (414) 257-9999
kegelsinn.com
The wait is long, but worth it. This old-style corner tavern offers fast service and incredible fish along with other German specialties. Try the potato pancakes. Featured in no less than Saveur magazine a few years back.
Kokopelli's Pub & Grub
6001 W. Madison St., West Allis, (414) 476-8788
kokopellispub.com
Served from 3 to 10 p.m., this traditional-style fish fry offers carry-outs and an early bird special for seniors. Regular menu selections include traditional cod, walleye, lake perch, baked cod loins, shrimp, blackened tilapia, or a combination of two or three! Comes with a choice of soup or salad.
McBob's
4919 W. North Ave., (414) 871-5050
mcbobs.com
Served beginning at 11 a.m., going all night (usually till about 10 p.m.), McBob's boasts rotating specials weekly but consistently offers perch, walleye and grouper, pan-fried with a choice of potato.
The Open Hearth Restaurant
2930 N. 117th St., Wauwatosa, (414) 475-0839
openhearthinwauwatosa.com
This warm, inviting spot has been a West Side staple for more than 38 years. Though it's known for outstanding roast duck and prime rib dinners, the restaurant also serves a great fish fry. Among the many choices: fresh pike, lake perch and Icelandic haddock, all battered or broiled.
The Painted Parrot
8028 W. National Ave., West Allis, (414) 257-1012
facebook.com/PaintedParrot
This establishment across from State Fair Park takes an island twist on the traditional Wisconsin fish fry by serving it to you on a garbage can lid. The cod is served with rye bread, coleslaw and choice of fries, potato pancakes, smashed potatoes or homemade chips in a festive, Caribbean atmosphere.
Paulie's Pub & Eatery
8031 W. Greenfield Ave., West Allis, (414) 257-2854
pauliespubandeatery.com
Paulie's serves cod and fresh lake perch with fries, potatoes or homemade potato pancakes. The all-you-can eat option includes all-you-can-eat sides.
Page 1 of 5 (view all on one page)
Next >>
Facebook Comments
Disclaimer: Please note that Facebook comments are posted through Facebook and cannot be approved, edited or declined by OnMilwaukee.com. The opinions expressed in Facebook comments do not necessarily reflect those of OnMilwaukee.com or its staff.