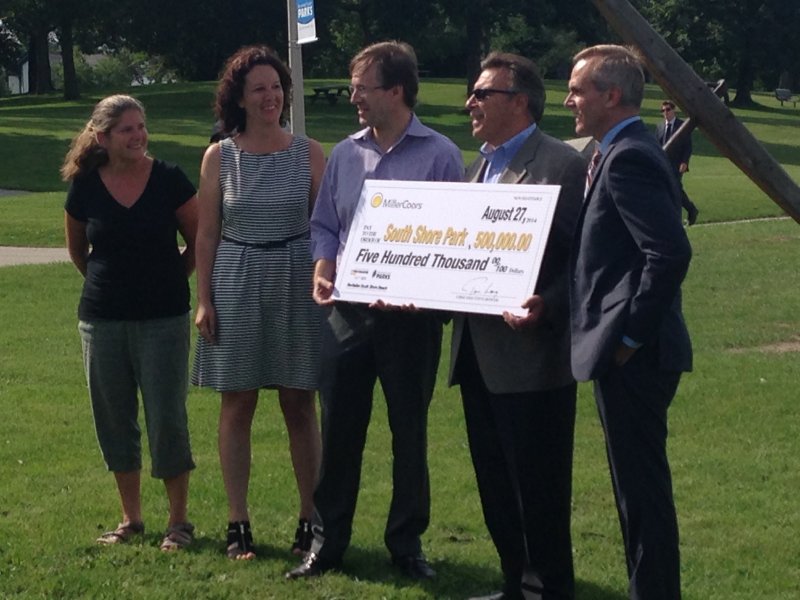 Late Wednesday afternoon, representatives from MillerCoors, Milwaukee County Parks, UWM's School of Freshwater Sciences and Milwaukee County held a press conference at South Shore Park, announcing new initiatives – and namely a new $500,000 contribution from MillerCoors – to clean up the park's beach. 
The Bay View park features several recreational areas and hosts several events, but its sandy beach has often been closed in recent years due to E. Coli contamination. As a result, the beach has earned a national reputation as one of the worst in the country. In fact, earlier this summer, the Natural Resources Defense Council named South Shore one of 17 repeat offenders, meaning that its water samples have been worse than the public health benchmarks since 2009.
"As you can imagine, this designation ... we're not proud of it," said John Dargle Jr., parks director for Milwaukee County Parks, "but to many of our partners, we are committed to change that – forever – and get off this list."
Dargle Jr. and the rest of the speakers mentioned Bradford Beach several times throughout the press conference, hopeful to recreate the successful work that the city has already seen in action at the now revitalized Milwaukee hotspot. 
"I remember being around in 2008 and an incredibly enthusiastic witness to the announcement then, again from Miller, of their commitment to clean up Bradford Beach," said County Executive Chris Abele.
"We expect huge crowds now, but at the time, we didn't have anything like that, and there hand't been for a long time. Anybody who isn't clear about how much of a transformation can be impacted by a partnership like this need only drive down – as we all have – on a hot summer day and just see thousands and thousands of your community enjoying an incredible asset and a clean beach. That's what we're going to get now."
The $500,000 donation and commitment from MillerCoors is a strong start in that direction, but obviously there is much wor…
Read more...