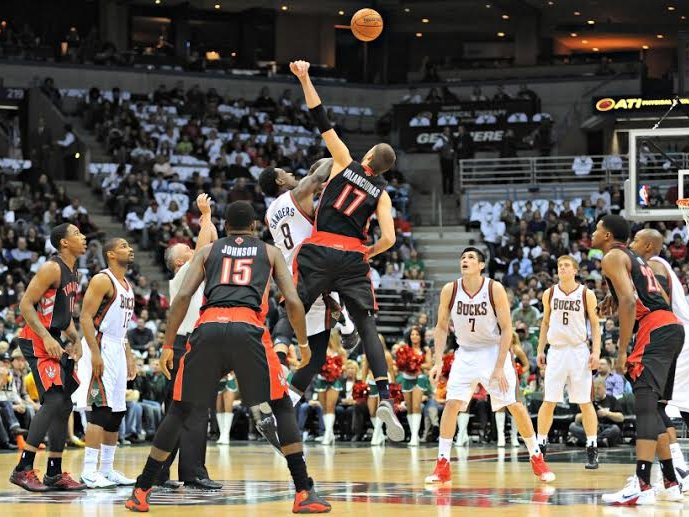 Bucks' margin for winning is thin
Before the season started I felt this Milwaukee Bucks team was playoff caliber. I figured after a slow start, as new head coach Larry Drew got his 11 new players to come together, this team could win 38 games.
I also felt this group would play hard night in and night out, which in this NBA could get you about two to four additional wins you normally wouldn't get.
So, yes, I felt this team could make the playoffs at about .500.
Well, Drew hasn't coached a single game with his likely starting lineup of Brandon Knight, O.J. Mayo, Ersan Ilyasova, Caron Butler and Larry Sanders. He hasn't coached a single game with a capable second unit of Luke Ridnour, Gary Neal, John Henson, Carlos Delfino and Zaza Pachulia ready to go off the bench. Seven different players have missed a total of 58 games.
As a result, Drew has trotted out 11 different starting lineups.
Drew has had to try and patch together some kind of a rotation running some version of his offensive and defensive systems. With so many players missing practice time in training camp, preseason and the start of the regular season, it's hard to imagine we're seeing exactly what he wants to run night in and night out.
"Yeah, I mean, that could be an excuse that we could lean on, to make everyone feel better, but at the end of the day, the troops that are ready to go, they're in the game time decision, those are the ones we feel we can win with," Mayo said during the losing streak regarding injuries and lack of cohesion on the court due to those maladies.
"We've been in just about every game this season, probably besides the (Miami) Heat game, and when it comes nut-crushing time we need to get the ball to the right players and run our plays and execute with force, with pace and go out there take the damn win. It's real plain and simple."
With all that said, the resulting 3-15 record that included an 11-game losing streak is fairly predictable.
Some – OK, many – Bucks fans are happy about this.
Many have called for the team to compete for the top of the lottery for years. But that's down the line – 64 games down the line. And let's face it – if this team does get it together, it may yet compete for a playoff spot in the Eastern Conference.
The league mandates that eight teams have to make the postseason, and with an 8-11 Charlotte team currently in eighth place, it would be foolish to think some average months down the line don't get the Bucks within sniffing distance of the postseason.
With 18 games in the books, it's impossible to pass any judgment, or draw any conclusion about this team other than second round pick Nate Wolters has proven he can back up the point guard spot and that first round pick Giannis Antetokounmpo is a fan favorite.
And, despite what the fans who hope for Andrew Wiggins or Jabari Parker may want, Drew's job is to win games. The players on the floor, many of whom with came here with recent playoff experience, want to do so as well.
The margin of error is very thin however, and the Bucks know it.
Especially because the team, no matter which groups of players are out there, have had trouble scoring.
"We're trying to get used to it," Drew said of the team's varied rotations. "We're just trying to plug some guys back into, as I said before, rhythm, just the rhythm of playing."
The Bucks entered Wednesday night's game second to last in the NBA in scoring at just 89.8 points per game, second to last in field goal percentage (41.8 percent) and third to last in free throws attempted per game (18.6).
"I don't think we can, at this stage, continue to use the excuse of the injuries. We're at a point now where guys have been around long enough, guys have been around to where they should be able to go out and execute and execute with pace," Drew said after the Bucks scored 98 points against Detroit, just the sixth time the team has scored 95 points or more. "Offense, it really comes down to decision making. I don't care what offense you run, at some point a decision has to be made, and it has to be executed."
Perhaps urprisingly, the Bucks are 11th in the league in points allowed and opponents shoot 46.5 percent against them, but the lack of offense means the team cannot make mistakes at the end of games.
A "try hard" team from the very beginning, even if every player was healthy, the Bucks not only have to do that, but then try hard not to turn the ball over or take screen setting and shot selections for granted.
"It's tough to play perfect basketball," Ridnour conceded. "You're going to make mistakes. Everybody is, especially with a new team and guys trying to figure everything out. We don't have very much margin to mess up and stay in the game. We've got to find a way to not have those turnovers and those mistakes."
"We're fighting to show our strength," Pachulia added. "We all know that we're not there yet. But there's a huge gap and I feel like we can improve, getting all these guys back … Getting all these guys back and getting established and solid at both ends of the floor, that's what we're looking for and we're not there yet. We just have to keep working hard at every practice, every shoot around, every game and just keep getting better. That should be everybody's goal."
It may be hard to see such day-to-day improvement, at least in the win-loss column, and it might be for many games to come. But all the team, and its fans, can do is wait it out.
Facebook Comments
Disclaimer: Please note that Facebook comments are posted through Facebook and cannot be approved, edited or declined by OnMilwaukee.com. The opinions expressed in Facebook comments do not necessarily reflect those of OnMilwaukee.com or its staff.