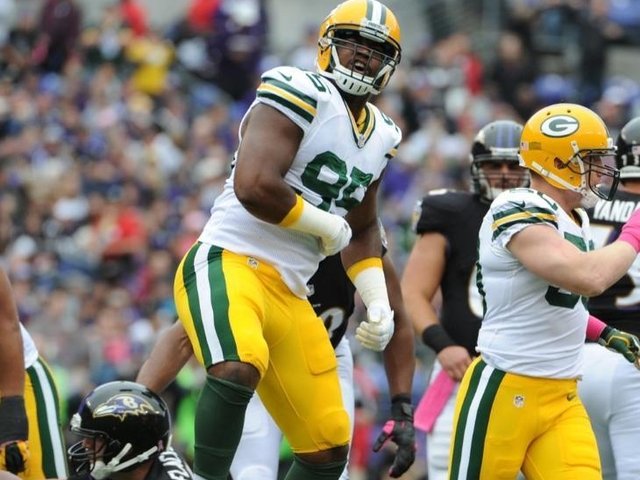 Packers rookie Datone Jones finding his footing
GREEN BAY – Datone Jones has known his day was coming.
By the numbers, one might say his best day came over a month ago at Lambeau Field against the Philadelphia Eagles, when the Green Bay Packers' first round pick (No. 26 overall pick out of UCLA) recorded a career-high two sacks.
But sometimes a "big day" is about context, and while Jones has found himself in the vicinity of several of the defense's 42 sacks, he had only come up with three on his own in his first 13 NFL games.
On Sunday, he was in position when Clay Matthews forced Dallas Cowboys quarterback Tony Romo to Jones' side, where he had the edge contained.
Jones and Matthews wrapped Romo up in the shadow of his goal line, sacking him at the 2-yard line and forcing a punt just before the third quarter ended. It was a pivotal play, as the 13-yard loss forced the Cowboys to punt from their end zone, which set up a 26-yard Micah Hyde punt return, which led to a James Starks touchdown that pulled the Packers to within 29-24.
It was the first time Jones appeared in the stat sheet for an impact play since that two-sack game against the Eagles, another peak in an up-and-rookie campaign.
Jones has played in all 14 regular season games, making eight tackles (with three assists) and recording 3.5 sacks. Three of those came in back-to-back games against Chicago and Philadelphia and he's been held without a tackle eight times.
But he's been around the ball. Fellow defensive lineman Mike Daniels says right now Jones remains a half-step slow to finishing plays as he adjusts to the speed and power of NFL offensive players, and that next year Jones will be a bigger force.
For his part, Jones is finally feeling healthy after spraining his left ankle on his first snap of his professional career in the Packers preseason opener against Arizona on Aug. 9.
"I couldn't play the run. I couldn't plant," Jones admitted. "The only way I could go was straight. It was pretty tough for me. Now I'm back from it, and ready to go."
Because of that early physical limitation – along with the overall depth and health across the defensive line – Jones really only sees the field in obvious pass rush situations. He sees himself as an every-down defensive lineman at some point, but understands he has to play well enough for the coaches to believe that as well.
"I have to earn it," he said. "That's something I have to earn, that's something I want to earn. I don't want things to given to me. We have great team here. We all have our own role. I'm very excited being here. There's no place like playing here. I have a great line room, great guys helping me out in my transition from college to the NFL and I'm learning every day from those guys."
And those same teammates, including veterans like Ryan Pickett and B.J. Raji, have shown him that in the NFL, rest and rotations are big parts of individual success.
"Same rotation I had in college," Jones said. "My senior year I ended up with amazing stats (6.5 sacks, 19 tackles for loss). That's the key to the game is staying fresh. No, that's selfish defense. You can't be selfish in this game. You got your job and you gotta win and that comes with great team defense. It's good that we're fresh. It gives us a better opportunity to make plays and get off the field."
Jones helped the Packers defense get off the field Sunday at a point where it mattered most, allowing the offense to continue to put points on the board and further pressure Romo and the Cowboys offense to move the ball.
He says his daily preparation, which includes extra individual work on the practice field before the team joins him, is helping him grow.
"I was drafted here in the first round for a reason and (Packers general manager) Ted (Thompson) took a chance on me and he saw what I can do as far as my ability and every day when I come out to practice I come out 30 minutes early, make sure I'm working hard and make sure I'm just cleaning up my craft," Jones said.
"Just my overall game. When you finally say 'I'm great at that', that means you're closer to be out of this game. I haven't even arrived yet. I'm just making sure I'm getting better every day and making sure I'm perfecting my craft so hopefully one day I can be out there with the greats."
Facebook Comments
Disclaimer: Please note that Facebook comments are posted through Facebook and cannot be approved, edited or declined by OnMilwaukee.com. The opinions expressed in Facebook comments do not necessarily reflect those of OnMilwaukee.com or its staff.