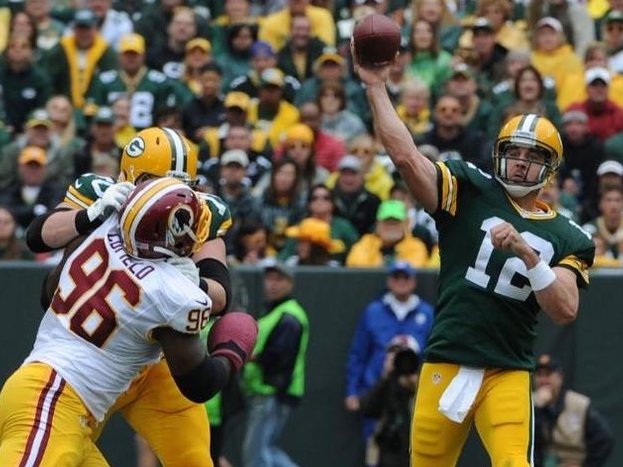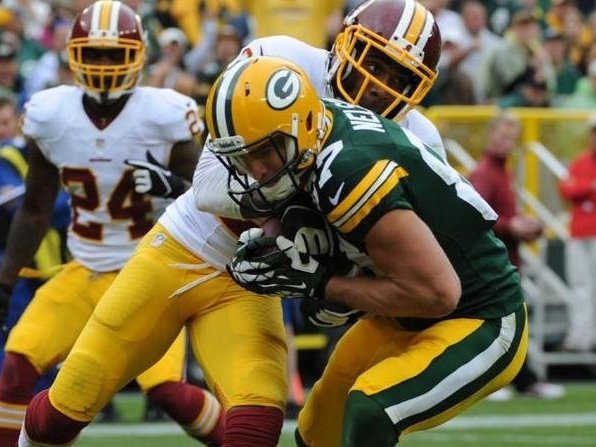 First down success leads to blowout victory for Packers
GREEN BAY – During the week, members of the Green Bay Packers offense were asked often about how effective their no-huddle would be against a team that was nearly run off the field on Monday night against Philadelphia's new, frenetic attack.
Philadelphia receivers and running backs ran often, and freely, in putting up 33 first-half points, leading many to think the Packers would be able to do the same.
The key to doing that wasn't in pushing their own pace, or tempo as the Packers like to say, but in something a little more specific:
"I think the Eagles did a good job on first down, moving the chains and getting first downs," Jordy Nelson said. "And that's when you can get the tempo really going."
The Packers did just that on Sunday in scoring 24 first half points en route to a 38-20 victory as Aaron Rodgers dissected the Washington (0-2) defense in a record-setting offensive performance in front of 78,020 at Lambeau Field.
Not only did Rodgers tie Matt Flynn's franchise record for the most passing yards in a game (480), James Starks ran for 132 yards to become the first pair of individuals to throw for 400 and run for 100 yards in Packers history.
"It's something that coach (Mike McCarthy) always tries to talk about – staying on schedule – which means putting yourself in favorable second down, down and distance; third down and short," Packers guard T.J. Lang said of the team's first down mindset. "You don't want to be in 2nd-and-11 and 3rd-and-11. It makes your team one dimensional. If you get a good chunk of yards on first down it really opens up the whole playbook.
"That's something it seems like we did a pretty good job of tonight, making sure we were not in those one dimensional down and distances where they know you have to throw the big pass to get a first down."
As midweek film study showed, success on first down often predicted if a drive would result in a score for the Packers (1-1) on Sunday afternoon.
The Packers scored twice in the first quarter, the second of which came on a drive that began at the Washington 42-yard line. While they managed points, they were mildly effective on first down.
The game-opening drive resulted in a field goal due in large part to an incomplete pass, a holding penalty and sack on first downs that offset two positive gains. On the lone first quarter touchdown drive, a 7-yard completion on first down from Rodgers to Jermichael Finley set up Randall Cobb's 35-yard score on 4th-and-3.
In the second quarter in which Rodgers threw two touchdowns, the Packers ran 14 first down plays in three possessions. There was only one incompletion, and a touchdown pass to Nelson was nullified by a holding penalty. The other 12 plays all netted positive yardage. Only a Jones fumble out of bounds as he dove for the end zone prevented the Packers from ending each possession with a score.
Rodgers felt the first down play calls were aggressive throughout the game, a mentality Washington fed into by playing only one safety over the top and putting eight defenders around the line of scrimmage to force him to throw.
Leading 24-0 at the half, the Packers kept their foot on the accelerator, with head coach Mike McCarthy's first down play calling acting asan injection of nitrous oxide into a V12.
After an opening three-and-out which started with a Starks run for no gain, the Packers ran six more first down plays, finding positive gains on five of them – including a 15-yard touchdown pass from Rodgers to Nelson and a 32-yard run by Starks on first down, resulting in a commanding 38-7 lead after three quarters.
"If you look at when we go three-and-out, our first play is unsuccessful," Nelson said after the game. "We came out right away in the second half, ran the ball, no yardage and went three-and-out and that's what we don't want. We know first down is a big down for us. We've got to get some yardage to stay ahead of the chains and put us in second and third and short and go make plays."
The Packers went scoreless in the fourth quarter, with one three-and-out and a 7-minute, 31-second end-of-game drive. The Packers did gain 2 yards on first down on the three-and-out, and got positive yardage on three consecutive first down plays to spearhead the final drive.
"That was really important for us, to finish the game with the ball," Rodgers said. "We were aggressive. Guys made plays in a situation where they were playing a lot of base defense where there is naturally eight guys in the box; tough lanes for running the ball. We converted that first third down to James (Jones, a 12-yard completion) and kind of got rolling there and stayed aggressive, which I don't think they were expecting up by 18."
Lacy lost to concussion
Last week, with four San Francisco 49ers draped around him, Eddie Lacy kept fighting.
Earlier this week, he sheepishly chuckled at the memory. As he tried to get that one last forward push – the ball came out – leading to a 49ers touchdown and a benching.
"You just gotta know when to go down," he said of that play. "I had the same mentality in college, you know, try to get the extra yards, try to get the extra yards, but you just have to know when to call it quits. You learn that. I learned that early. I'm thankful for that. But next time, in the same situation, just go down."
On the Packers fifth play of the game Sunday, following two play actions, Lacy took his first handoff from Rodgers and cut up through a huge hole on the left side of the line. As he reached the Redskins secondary, Lacy came into contact with several Redskins and left his feet, leading to a helmet-to-helmet collision with Washington safety Brandon Meriweather.
Lacy grabbed his head with one hand on his way down to the turf, and members of the Washington defense immediately waved Packers medical personnel onto the field once the whistle sounded. Eventually the rookie out of Alabama walked off the field under his own power, but after about seven minutes he left for the locker room with was diagnosed as a concussion.
No penalty was called.
"I'm not really sure what happened there," Lang said. "I know Eddie was spinning off some tackles, trying to get some extra yards, ended up jumping over a pile where he was met by the safety. It's one of those plays where you don't like to see that helmet-to-helmet contact, but it's just one of those safety concerns that they're trying to eliminate from the game."
Starks replaced him, and turned in the first 100-yard rushing effort by a Packers running back in the regular season since Brandon Jackson in 2010.
Facebook Comments
Disclaimer: Please note that Facebook comments are posted through Facebook and cannot be approved, edited or declined by OnMilwaukee.com. The opinions expressed in Facebook comments do not necessarily reflect those of OnMilwaukee.com or its staff.