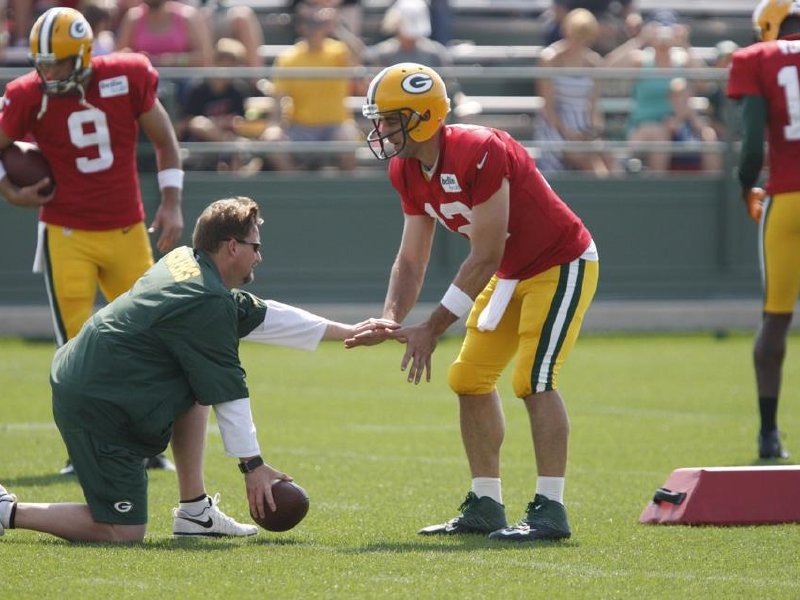 Packers backup quarterbacks an unimportant storyline
Brian Brohm. Matt Flynn. Graham Harrell. B.J. Coleman. Vince Young. Seneca Wallace. Scott Tolzien.
That list is a who's who of nobodies, and a list that will surely grow, and that's the point – they're the backups to Green Bay Packers starting quarterback Aaron Rodgers.
You're not supposed to know who they are, and if you do, it likely means a top 10 draft pick for general manager Ted Thompson the next year.
The backup quarterback spot, and any debate about it, should be reserved for teams and fan bases who don't have a guy like Rodgers – just reference what your neighbors 90 miles south went through from about 1986 to 2009.
It's not a discussion worth having. There aren't 32 quality starting quarterbacks in the National Football League, so worrying about who is your second or third stringer is really just a waste of blood pressure medicine.
About two weeks ago I outlined why the Packers simply can't lose – it's because they have an MVP quarterback, and this league is tailored for those players to be successful. There are concerns on this team, but who is backing up that MVP isn't one of them.
But I'm not forgetful of history. Parts of that "unbeatable" MVP lineage I wrote about are two of the greatest rags-to-riches, backup quarterback stories in NFL history: Kurt Warner and the 1999 St. Louis Rams, Tom Brady and the 2001 New England Patriots.
We all know how Warner, who threw all of 11 passes for the Rams in 1998, replaced an injured Trent Green before the season and led the Rams and the "Greatest Show on Turf" to the Super Bowl.
And we all know how Brady, who threw all of three passes in 2000, replaced an injured Drew Bledsoe in Week 2 to lead the Patriots over – who else? – Warner and the Rams in one of the biggest title game upsets in recent memory.
Prior to those two Cinderella stories, you had Steve Young gradually taking over for an injury-plagued Joe Montana in 1991 in San Francisco.
And before that? I don't know, you're maybe going back to Earl Morrall winning the MVP in 1968 after Johnny Unitas got hurt in the preseason in Baltimore or Morrall turning in an All-Pro year in 1972 after backing up Bob Griese in Miami.
There's a reason you or I rattle those names off the top of your head of what "could be" when it comes to backup quarterbacks: It's the three times a Hall of Famer just happened to be sitting there, and Morrall (an established veteran, by the way) just happened to take those two teams to Super Bowls.
It just doesn't happen often enough to expect it.
You may bring up Matt Cassel and the 2008 New England Patriots, when the 26-year-old stepped in for an injured Brady to lead the Patriots to an 11-5 (non-playoff season) and eventually turned into a Pro Bowl quarterback two years later in Kansas City.
Looking a little closer to home, you may point to the fact that after leaving Green Bay Mark Brunell (Jacksonville), Aaron Brooks (New Orleans) and Matt Hasselbeck (Seattle) all had successful careers as starters. And we all know Rodgers started as a backup to Favre.
And, you would be right in bringing up those examples. But again, we're talking about guys who left the Packers over a decade ago and a potential No. 1 pick who, through dumb luck, fell to you in the draft. And in New England, Cassel was on the roster for three years.
What about all the other Favre backups? Where did they go? What did they do? Again, it's a who's who of nobodies.
It is true in sports that, sometimes, you never will know if a guy can really play until given the opportunity. But that's where scouting and coaching come in. Brady, Warner and Young were on the roster for a reason. Other teams came calling for Cassel, Brooks, Brunell and Hasselbeck for a reason.
And that list of quarterbacks who have backed up Rodgers to this point aren't on the Packers roster for a reason (though Flynn may be back shortly).
I understand why there is some concern among the Packer faithful. It's football. Guys get hurt. Rodgers has a concussion history. But every year the game is made safer for the guys who throw the ball, and especially for high profile, face-of-the-league passers.
The odds are if Rodgers gets hurt for the year, the Packers will lose more than they win. The history of the game sort of dictates that. It's a lot to ask to have a backup quarterback that is a future Pro Bowler or Hall of Famer, which is why it's a discussion not worth having.
Talkbacks
Aardvark | Sept. 4, 2013 at 11:02 a.m. (report)
I wouldn't call Vince Young a nobody. Heisman winner, National Championship, high draft pick, good W-L record in NFL. Not sure what happened to him though...went downhill fast.
Facebook Comments
Disclaimer: Please note that Facebook comments are posted through Facebook and cannot be approved, edited or declined by OnMilwaukee.com. The opinions expressed in Facebook comments do not necessarily reflect those of OnMilwaukee.com or its staff.