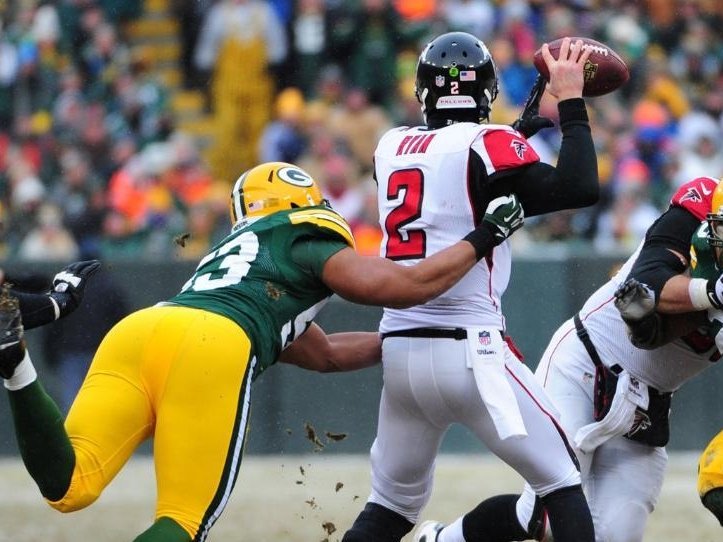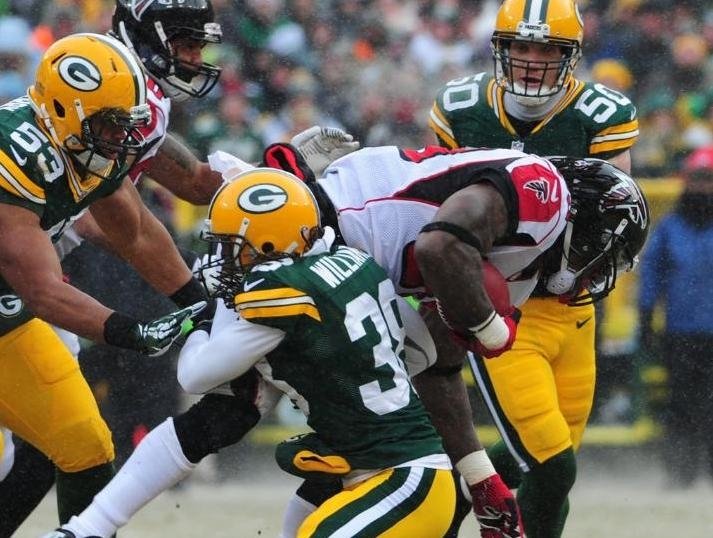 Packers stop Ryan, Falcons and remain in playoff picture
GREEN BAY – The Atlanta Falcons aren't the "same" team this year. Not after only losing three times all of last season and then entering Lambeau Field on Sunday afternoon with just three wins.
Atlanta quarterback Matt Ryan, at least on the surface, didn't seem the same, either.
He entered the game with a 89.6 quarterback rating, a number below his career average and far below the career-high 99.1 he posted last season. He had already been sacked 30 teams, compared to 28 from all of last year. He was averaging fewer yards per game and per pass attempt while throwing 12 interceptions in 12 games.
To the Green Bay Packers, however, such tepid stats said only so much.
So, did Ryan's two Pro Bowl seasons, 59 career wins, 16 fourth quarter comebacks and 23 game-winning drives carry more weight than a "subpar" season to date?
Packers cornerback Micah Hyde nodded.
"Yup."
Preparing for an elite quarterback – despite what the numbers suggested – allowed the Packers to stuff Ryan on two potential game-winning drives in the final 4 minutes, 38 seconds of Sunday's 22-21 victory, keeping the Packers' playoff hopes alive at 6-6-1. The NFC North-leading Detroit Lions lost in Philadelphia to fall to 7-6. Atlanta dropped to 3-10.
"Definitely. Definitely," Packers safety Sean Richardson said of how important that preparation was. "We always say, we can fill you with all the b.s. about their record says this and that, but we know he's a great quarterback with great weapons, a receiving corps, a tight end, running backs, and we just knew that we can't have that false confidence. The entire time we were saying hey, we gotta go out here and play as if they're playing their best because they're going to give us our best and no one is going to give us anything. And that's what we did. We went out there and collectively played a great defense, offense and special teams game."
Reputation matters, even though elite-level quarterbacks like Ryan, and Eli Manning and Joe Flacco before him, weren't having the greatest of seasons on film when the Packers were preparing for them.
"Without a doubt," Packers safety M.D. Jennings said. "I played a lot of baseball when I was younger so I compare things to hitting slumps. All it takes is one great throw or one great hit and now confidence is back up and he's continuing to stack success. So, you've got to go out there and try to disrupt his timing, keep him off rhythm, so he doesn't build is confidence up on you."
And what about the weather, the freezing temperatures, near sub-zero wind chill and swirling snow? Does that factor into that preparation?
"You never can count on that stuff," Packers cornerback Tramon Williams said. "We always come in talking about the Lambeau advantage but you can't count on that. You've got to come out and prepare for the guy he can be. We know what he can be and what he can do and that's the guy we need to prepare for."
The Packers secondary was wise in taking that approach in practice, and it mattered in crunch time on Sunday as Ryan completed 20 of his 35 passes for just 206 yards. He was intercepted once, by Packers dime defensive back Jarrett Bush, to clinch the game in the fourth quarter.
Such execution is why the Packers had some (though little) regard for the numbers on paper.
"Just watching film on him, he's capable of making all the throws, whether it's a situation he has to get it into a tight window or a situation where he has to put a little touch on it, he has the accuracy to do it," Packers safety Morgan Burnett said. "He's a great quarterback. You have to be sound with your technique and you have to be clean with your technique."
Across the Packers secondary, Ryan's ability to make "all the throws" was their primary concern. Ryan displayed his ability to make such throws on Sunday, checking down when need be but also hitting receivers Roddy White and Drew Davis in stride with pin-point accuracy and zip to allow for yards after the catch.
Burnett was burned by Davis on a slant for the Falcons' first score of the game that tied it 7-7, and hit Tony Gonzalez from two yards out to give Atlanta the lead at 14-7, but on the Falcons' final two possessions of the game Bush was able to help the Packers off the field with a pass breakup on 4th-and-5 at the Packers 33 and his interception in the final seconds.
"I feel like I need to make a better throw," Ryan said of his pass to Gonzalez that Bush deflected. "It was good coverage and they defended it well, but I feel like I need to put it in a better spot for him to be able to make a play on it."
Aside from his long completion to Davis on the touchdown (36 yards) Ryan's other 19 completions accounted for just 170 yards.
The Packers sacked Ryan just one time, but it was a big one – Mike Neal forced a fumble that was recovered by Johnny Jolly at the Falcons 21. Four plays later Matt Flynn (24-for-32, 258 yards, TD, INT) found Andrew Quarless (6 catches, 66 yards, TD) in the end zone for what proved to be the game-winning touchdown.
"Our confidence has never been down over this bad run we've had, this tough November," Packers linebacker A.J. Hawk said. "But he's one of the franchise faces of the league, a stud. We have a lot of respect for him. He played really well. It just shows if you can get some turnovers and you can get some field position you can win the game. Today was kind of one of those games we've been searching for, fighting for and we hadn't found a way to get one yet this year, so this was big to come back and really take control of it and take it home."
Facebook Comments
Disclaimer: Please note that Facebook comments are posted through Facebook and cannot be approved, edited or declined by OnMilwaukee.com. The opinions expressed in Facebook comments do not necessarily reflect those of OnMilwaukee.com or its staff.