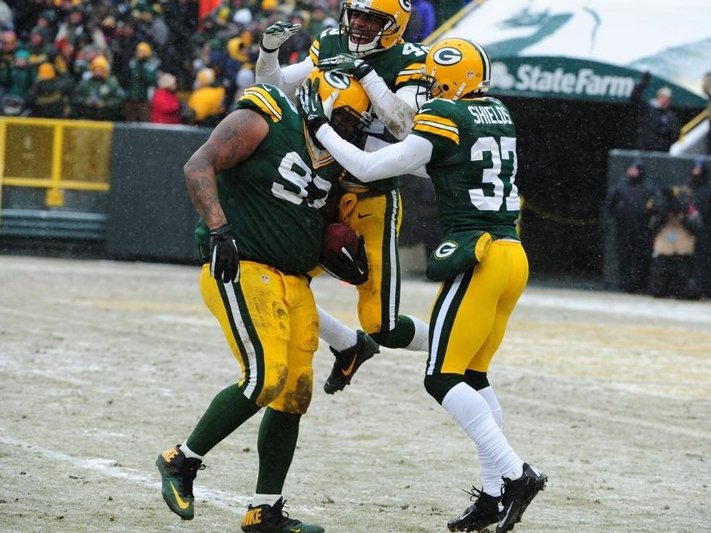 The Packers have a chance, and that's all that matters
GREEN BAY – James Jones sort of chuckled at a playoff question a few weeks ago in the Green Bay Packers locker room, saying that ever since his rookie season in 2007 head coach Mike McCarthy had told his players it wasn't worth talking playoffs until 10 wins were on the board.
So, Jones wasn't going to talk playoffs. Not then. Not when 10 wins was still in reach.
Now, with just three games left in the year, the Packers cannot get to that 10-win plateau. But, they can reach the playoffs.
And, they're not shy talking about it because in a lot of ways, you have to hold on to something, and as this team knows, once you're in, you never know what can happen.
Look no further than the Packers' last Super Bowl championship to illustrate that.
"We knew going into this that we needed to win this game (against Atlanta), for one, and keep winning on after, but we also knew we needed some help from somewhere," quarterback Matt Flynn said. "But we can't worry about that. We weren't scoreboard watching or anything like that. We need to take care of our job and we need to kind of parlay this win and get ready and prepare for Dallas."
That "help" must come in the form of the Baltimore Ravens, New York Giants or Minnesota Vikings. The Detroit Lions sit at 7-6 and if they win out against those three teams, they win the division at 10-6.
So, the Lions need to lose at least once more, and the Packers need to end the regular season on a four-game winning streak to finish 9-6-1 (doing that would push them ahead of the Chicago Bears, who even with two wins in the next two weeks would finish 9-7 with a loss to the Packers on Dec. 29).
Is it unreasonable to think the Packers can win four straight games? No.
They already have one four-game winning streak this season, from Oct. 13-27. In fact, the Packers have won four straight at least once in every season since 2009 and in 2010 and 2012 they had two separate four-game winning streaks.
The caveat, of course, is that Aaron Rodgers quarterbacked the team in each of those impressive runs.
But the Packers have the right attitude.
Through the week leading up to last Sunday's 22-21 victory over the Atlanta Falcons, members of the team said they had a chance, but they needed some help.
First thing was first – and that was controlling what they could control – and that was winning the game they were in.
Step one was completed, with the win over the Falcons. Then they got the help with Detroit losing at Philadelphia.
"It gives us that confidence," running back Eddie Lacy said. "We came out and won a very close game, a very tough game, and we still have a chance at what we're trying to accomplish this season. It gives us that extra motivation."
Now, the second step comes this weekend at Dallas, a team that has the worst defense in the NFL and was just shredded on Monday night by Chicago backup quarterback Josh McCown.
"I like our opportunity in Dallas," McCarthy said. "That's really where my mind is. I clearly understand how the rankings go and it's great that the Lions lost and we're happy about that, but it's about stacking success. It's tough to win in this league. We were reminded of it again (Sunday). We've been reminded of that our last five opportunities. It's great the Lions lost, but we're about the Dallas Cowboys."
The Packers don't have to rely on too many external factors, either. They don't need to break down tiebreakers, look around the NFC and hope A, B, C and D happen.
It's not unreasonable to think they, a .500 team, can win four straight to end the year against opponents with a combined record of 19-20.
It's not unreasonable thing to think the Lions, at 7-6 and losers of three of their last four, can lose one more game.
All a team needs is a chance, no matter how slim, no matter how many caveats. The Packers have that.
Facebook Comments
Disclaimer: Please note that Facebook comments are posted through Facebook and cannot be approved, edited or declined by OnMilwaukee.com. The opinions expressed in Facebook comments do not necessarily reflect those of OnMilwaukee.com or its staff.