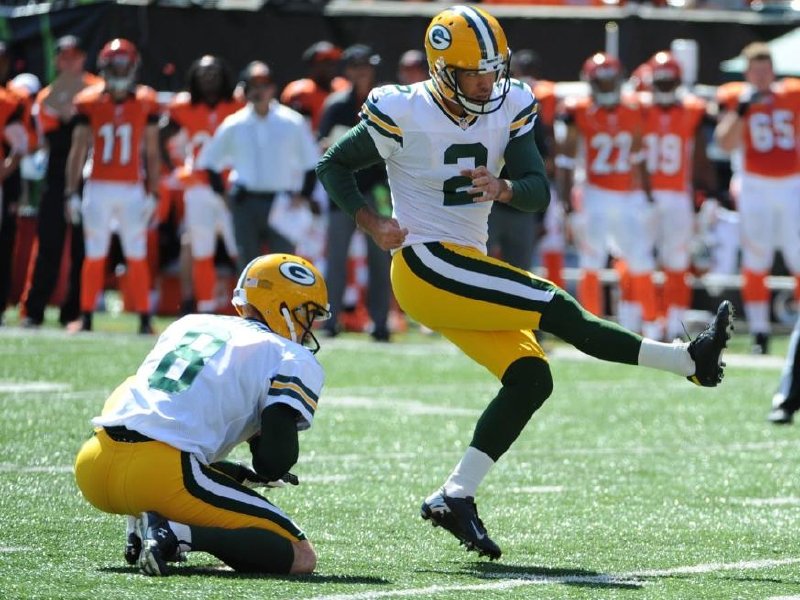 Not much room for innovation in kicking game
GREEN BAY – The National Football League is in a constant state of change, both by design and by necessity. Off the field, the league's salary cap and rules change almost annually. Front offices try to invent or apply new metrics to talent evaluation.
On the field, new offensive and defensive schemes are introduced and applied. Some become systemic staples, like the West Coast offense or the 3-4 zone blitz. Others come and go, like the "wide nine" technique on the defensive line or the current infusion of read-option or "pistol" sets on offense.
A long-standing acronym for "not for long," the NFL requires such change and innovation. Coaches need to win. Players have few guarantees of employment. There is always a need to be a step ahead, both in speed and in game plan.
There is one facet of the game where it seems change occurs much slower – the kicking game. But now, two seasons after the league voted to move up kickoffs from the 30 to 35-yard line (creating more touchbacks) and eliminating the depth of the running start for coverage units from 10- to 15-yards down to five, there may be some openings for innovation.
That's provided the league continues to allow kickoffs at all – a subject that was debated last offseason – but let's assume that part of the game remains intact.
There have been a variety of kicks used – sky kicks where the ball hangs in the air longer and travels a shorter distance, onside kicks, "squib" kicks or line drives directed at those not accustomed to fielding kicks.
Because it's a live ball after 10 yards, where a strategic change could take place is in the frequency of such specialty kicks – perhaps on every one – creating confusion and greater opportunity for turnovers.
Members of the Packers kick coverage unit allowed that is a possibility within the rules of the game, but doubted it would happen.
Under special teams coach Shawn Slocum, the Packers have employed some of those specialty kicks as well, but the overriding sentiment is that if you can eliminate a return altogether, that's the way to go.
"If conditions are right and kicking from the 35, if you can kick a touchback, it's like just don't even mess with it," Packers placekicker Mason Crosby said. "A lot of the times as coaches, there are so many other variables with punts and with the offense-defense, all the different variables that come in (to a game) if you can eliminate kickoffs as anything that (could go wrong), I think in a coaches mind, that's that chess piece where it's 'let's just do that.'"
Crosby said that in Green Bay, or in other outdoor stadiums where the weather becomes a factor late in the season, specialty kicks can cause problems for teams – but on average most coaches are unwilling to sacrifice field position for the defense or create a busted coverage that leads to a long return or a score.
Like with experimental offense, there tends to be a "trickle up" effect, where something works with major colleges and NFL coaching staffs slowly implement aspects of it to see if it works (see: Wildcat). If college programs began using specialty kicks every time, and there was a quantifiable benefit seen, could that come to the NFL?
"You know … don't know," Crosby said after a contemplative pause. "For me, I don't that necessarily being something that happens."
It's in the kick return game that Crosby sees things changing, noting this punt return tactic the Chicago Bears used on the Packers in 2011…
… and this play the Philadelphia Eagles attempted against the New Orleans Saints on a kickoff.
"(It's) because you get limited amounts of kick return opportunities," Crosby said. "So, returns are getting a little more creative. You've got to maybe do something more deceptive because when you get that chance you need to try and capitalize."
The prevailing thought is that field position – and the elimination of an opponent's scoring chance – far outweighs any advantage that could be gained in the organized chaos of a constant ball hawking on specialty kicks.
"I just don't see them messing with that a ton," Crosby said. "If they decide to return one or two a game, that's one or two – not eight."
Facebook Comments
Disclaimer: Please note that Facebook comments are posted through Facebook and cannot be approved, edited or declined by OnMilwaukee.com. The opinions expressed in Facebook comments do not necessarily reflect those of OnMilwaukee.com or its staff.