As we close out 2020, we wanted to share some of our favorite stories from the last decade. We hope you enjoy reading these stories as much as we enjoyed telling them. Click here to see the rest of our picks of must-reads and happy new year, Milwaukee!
The massive, decrepit, patchwork-painted Sydney Hih (pronounced "high") buildings, which splayed on the corner of 3rd and Juneau from the mid-1800s to 2012, went through many transformations over the years, but are remembered by many Milwaukeeans as a sanctuary of counter-culture that created and quelled bands, businesses, relationships and lives.
"For a lot of people in Milwaukee, the Sydney Hih building was a place of firsts," says Steve Tych, who worked and practiced there. "First show, first love, first … all sorts of stuff."
Although thought of as a single structure, it was actually a complex comprised of four separate side-by-side buildings that were built between 1860 and 1895.
Birds eye view of Sydney Hih.
The corner building, called the Nicholas Senn Building, was home to The West Side Bank, which later became Wells Fargo, for the first three-quarters of the 20th century.
In 1971, Sydney Eisenberg bought the buildings, which were mostly vacant at the time. He named the cluster of constructions Sydney Hih — Hih is Yiddish for "in honor of" — and he adorned the new name in wonky, blocky lettering on two sides of the property. Eisenberg also repainted the facade in a psychedelic patchwork design — some say it was done to "mess with" the city — and he started to recruit bohemian businesses.
"The Eisenbergs weren't artsy people; they were just really nice people," says Jeff Winkowski, who lived in the Sydney Hih building from 1991 to 1996 and wrote a forthcoming book about his experiences there called "Get Hih."
In the '70s, the Sydney Hih building endured a few fires but also erupted with scads of shops, art studios and eateries, most of which didn't survive the decade. Retail tenants included Dreams and Dragons art gallery, Mainstream Records, Valentina dress shop (which later moved next to the Coffee Trader on Downer Avenue), Goldfish Galore (yes, a shop just for goldfish enthusiasts), The Mouse Trap gift shop, Archangel Herb Shop, The Puppet Shop and Betty's Bead Bank (which remained in business the longest).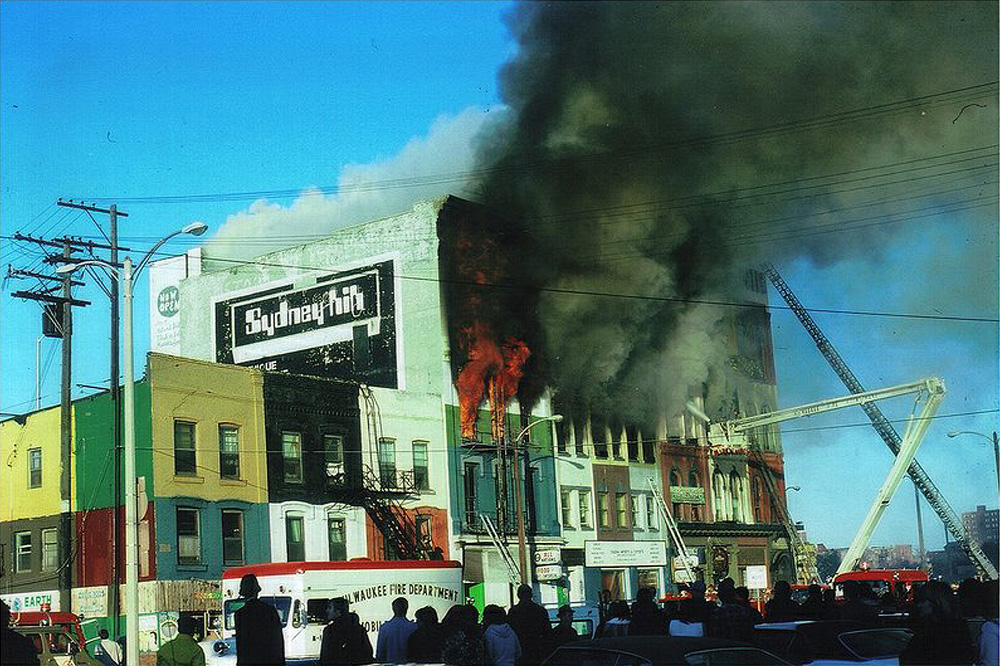 Sydney Hih burns. PHOTO: Wayne Mutza
Early restaurants included the Shish Kabob, The Melting Pot and Fertile Earth Cooperative Health Food. Sydney Hih also encompassed a smattering of art and photography studios, apartments and a sketchy rooming house located in the western-most building.
The cavernous basement space was originally home to the folk den-ish Lost Dutchman Mine, followed by the Mine Shaft and the iconic Unicorn, a punk / "alternative" club and music venue that opened in 1984. The final iteration was The Milwaukee Eagle, a black leather / gay bar that lasted only a few years before the building was demolished in 2012.
The Sydney Hih building, from the 1980s until it was razed, served as an incubator for artists and alternative ventures.
In the mid-80s, Eisenberg began to rent spaces primarily to Milwaukee bands in search of cheap practice studios. By the late '80s and early '90s, there were dozens of bands in Sydney Hih, some of which had band members living there.
The mix of restaurants during this era, including Ko-Am (a Korean restaurant), Siam's (a Thai restaurant) and Chicago's (a burger and hot dog joint), moved into the most visible spaces on Juneau Avenue.
"Siam's was the greasy spoon of Thai restaurants," says Chris Tishler, frontman of Five Card Studs, who practiced in the Sydney Hih building.
Musician Paul Finger rented a studio at Sydney Hih and remembers eating in the Ko-Am restaurant and chatting with the glam-metal daughter of the woman who owned it.
"She was nearly always clad in zebra skin or leather pants and had a classic Korean beauty that she glammed up with purple hair and eyeliner when she was working, which was always," says Finger. "I don't think she ever came to see our band, but she often asked what kind of music we played, and whenever I told her, she was never impressed."
Gus' Mexican Cantina, owned by Gus Hosseini — who also owned The Unicorn and managed the Sydney Hih building — opened on the ground floor in the early '90s.
Mike Podolak spent a lot of time in the Unicorn with his band Sacred Order and in the restaurants upstairs.
Gus Hosseini (Left) PHOTO: Izzy Hernandez. Mike Podolak (Right).
"I had my wedding rehearsal dinner at Gus' Mexican Cantina," says Podolak. "Gus fixed my father some stewed lamb because he didn't like Mexican food."
Beck's Books, an adult book store often described as "seedy," was a couple doors down from Betty's Bead Bank, which had a hand-painted blue sign in the window.
Dan Niedziejko, another local musician, bought materials at Betty's Bead Bank during a short-lived "bead phase." The owner, Willie Munson, was not only a gifted craftsman but a professional pool player who claimed to have been hired numerous times in Hollywood.
"He told me all about coaching 'Tommy Cruise' in 'The Color of Money.' He said Paul Newman could play pretty well, but 'little Tommy' needed some coaching," says Niedziejko.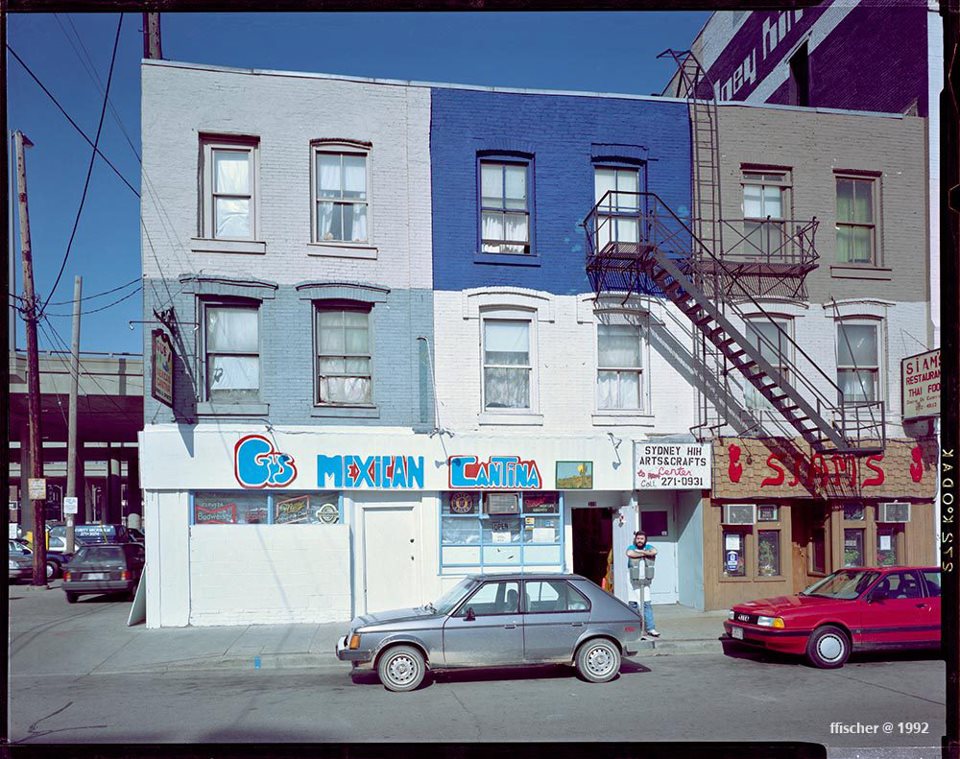 Gus Hosseini stands outside of Gus' Mexican Cantina. PHOTO: Fred Fischer
Today, Sydney Hih is remembered as the place where not-yet-famous Nirvana played a $7 show for a couple of dozen people and where practicing bands from inside separate studios mixed together into a swirly finger painting of sound that streaked through the zig-zaggy halls, but there are many more stories that disappeared with the structures. Stories that deserve to live on forever.
"It was an eyesore, but it housed countless musicians, artists, DJs, poets, carnies, churches, inventors, drug dealers, restaurants, thieves, parties, vermin and who knows what else," says musician and Sydney Hih tenant Sage Schwarm. "It added to the overall weirdness that made Milwaukee what it was."
The guts of the building
The twisty, seemingly-endless hallways, rickety staircases and disorientating nature of the building's layout made an impact on everyone who lived, practiced and partied at Sydney Hih.
Sydney Hih before its imminent demise. Click to enlarge. PHOTOS: Chris/Katie Robleski @fadingnostalgia
"The Sydney Hih building, among many other things, was a crazy labyrinth of stairways," says Damian Strigens, who had a practice space in the building with the bands Nerve Twins, FS Camels, The Lovelies and Sometime Sweet Susan.
Jen Skladanek, a Unicorn regular who frequented parties in Sydney Hih, was once invited to an after-bar party in the building — but never found it.
"I was walking around the building forever, knocking on doors, and I could hear people partying, but the place was such a maze I couldn't find them," says Skladanek. "The next day people asked me why I wasn't at the party and I told them I was in the building, I could hear the party, but I literally couldn't find it."
Biju Zimmerman, whose band Carolina had a top-floor practice space in Sydney Hih, described the elevator-less building as "a fun house" that, with so many flights of stairs, was "a bitch to haul equipment" in and out of.
"The hallways went on forever. Some were regular-sized hallways, and some were really narrow hallways. And the stairs were ridiculous," says Zimmerman.
Studios were often left unlocked because not all bandmates had keys, but that also led to occasional theft. Zimmerman and his Carolina bandmates Dan Hinz and Bobby Flowers were the victims of what he describes as "the most polite robbery ever."
"Someone broke into our space, but only took half of our stuff. They were kinda classy robbers, very careful and particular about what they took. They left our shitty speakers," says Zimmerman. "I still have them."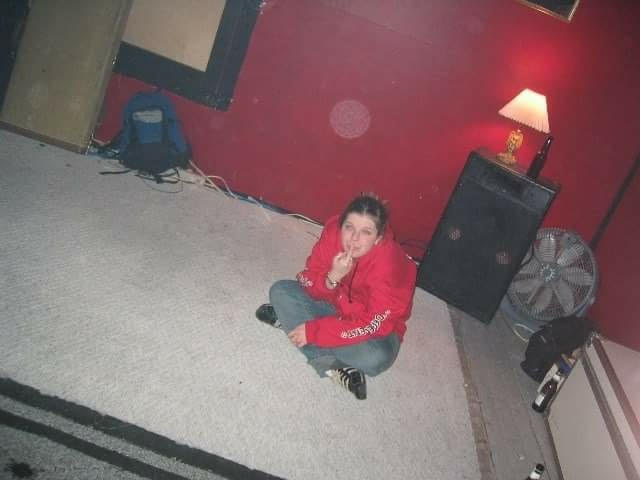 Biju Zimmerman (Left) and the Carolina practice space (Right).
Roaches and drugs were also prevalent in the building. Many remembered — but did not necessarily hang out in — the "heroin den" inside the second-floor space that was formerly an ice cream parlor.
"I think I've forgotten more than I remember. It was such a party place, it was unbelievable," says Paul Hildenbrand, a local musician and DJ who goes by "Paul H." He rented practice spaces twice in the Sydney Hih building, once in the late '80s and again in the early 2000s.
"Drinking, smoking, nudity — you name it. We were stoned out of our minds, drinking until we couldn't see straight and having a lot of fun," says Hildenbrand. "I mean, I think we were having a lot of fun."
Some Sydney Hih drug experiences weren't so fun. In 1996, after living in Sydney Hih for five years, Jeff Winkowski stepped on a syringe in the shower — a single stall which was shared among building tenants. Although it pierced his skin, Winkowski did not become ill from the unsettling event. However, he decided it was time to go.
"New people had moved into the building who were into some really bad stuff," says Winkowski. "So I moved in with the guys from Compound Red for $100 in a place in Riverwest."
Behind closed doors
The door of the Unicorn, long after it had closed. PHOTO: Erik Ljung
Paul Finger and his band Wild Kingdom inhabited a Sydney Hih space in the late '80s and early '90s.
"It was already in its twilight," says Finger. "But it was a refuge, fortress and incubator for all of our super-rock aspirations and delusions."
Located on the second floor of the building, Wild Kingdom dubbed their space "Kingdom Funk Labs, Inc." It was there that Wild Kingdom — which later morphed into Citizen King and produced the '90s radio hit "Better Days" — created their unique sound.
"We spent hours at Sidney Hih in research and development, relentlessly pursuing a 'new form' of music," says Finger. "The final result was an unstable compound of ska, punk-funk and hip-hop, a volatile musical love child born of high expectation and lowly talent."
Some of Wild Kingdom's neighbors included bands FS Camels, Loyal Order Of Water Buffalo (LOW-B), Johnny and the Losers and Kali Tribe.
"I can't tell you exactly what years I was in the building, but what I can tell you is we were upstairs from Wild Kingdom, downstairs from the Nerve Twins and across the hall from Dis," says Chris Tishler, formerly of Johnny and the Losers, Mother's Room and Wheelie, whose 1999 album "Gibberish" features photos taken at the Sydney Hih building.
Finger also remembers a gospel church next door to Wild Kingdom's space that frequently rehearsed inspirational songs.
"Their space was directly above the porn store on the first floor (Beck's Books). The owner's clientele included a number of business types who ducked in regularly between 5 and 6:30, then upon purchase of contraband would, from conduct a stealthy scan of the avenue, before making the obligatory leap into late model cars to flee the scene of their thought crimes for the sanctity of the suburbs," says Finger.
Jeff Hamilton's band, 911, practiced on the floor above Wild Kingdom.
911 gigged at the Unicorn many times and Hamilton, who also bartended briefly at the club, remembers opening for and seeing incredible new-at-the-time acts like Fugazi, Smashing Pumpkins, Pearl Jam, Soundgarden and NOFX.
The Smashing Pumpkins played the Unicorn on Sept. 6, 1992. VIDEO: Richard Menning.
Hamilton also hosted numerous after-parties in his band's Sydney Hih space after Unicorn shows.
"I remember the NOFX guys, who were kids, really, at the time, were catching each other's loogies — mouth to mouth — and they seemed to have spent a lot of time perfecting that party trick," says Hamilton.
Tishler once loaned his band's studio space and equipment to Keanu Reeves so he and his band, Dogstar, could practice before their set at the Milwaukee Metal Fest.
"Gus knocked on my door and asked if Keanu Reeves could practice in my space, and 10 minutes later, Keanu walks in with some dude who looks like he's on 'General Hospital' and a girl he's been hanging out with who was glued to a Super 8 camera," says Tishler.
Tishler extended his hand for a shake and welcomed Reeves to the space. "He corrected my pronunciation of his (first) name and gave me the limpest handshake. He then asked us to leave while they practiced and drank all of our beer," says Tishler.
Jeff Winkowski moved into the third floor of Sydney Hih in 1993, after he graduated from high school. He describes his studio as "small and tall."
"It was a very vertical space," says Winkowski.
Winkowski dabbled in a couple of bands, but he primarily interviewed musicians and created zines. During his time in the building, he met multiple people who are still friends today, including Don Nelson, the current manager of The Foundation, who opened his first tiki lounge, unofficially, on the fourth floor of the building.
"It had this porn-style red lighting and felt like the backstage area of Elvis' 'Hawaii By Satellite' show in the '70's," says Winkowski.
Nelson, who worked with Winkowski at Oriental Drugs, collected punk rock memorabilia including first pressings of a Minor Threat 7-inch and skate zines from when he was a professional skateboarder.
"The first time I went up there was before a 7 Seconds show at the Unicorn," says Winkowski, "(Nelson's band) Tiki Bong was jamming up there and then got to clowning around as the infamous tiki bong itself got passed. I got to sing 'London Dungeon' by The Misfits as they rocked it. Then I snuck out into the maze to the Unicorn. Back in those days, every door you opened was like a different dream at Sydney Hih."
Paul Hildenbrand had a studio on the top floor of one of the buildings. Before renting it they were warned by management that the place needed a little "fixing up."
Gig posters from The Unicorn. Click to enlarge.
"It was filthy. Someone had taken a bottle of ketchup and tried to write on the walls with it. The carpeting was crusted over with god knows what, and there were cockroaches everywhere," says Hildenbrand. "But we gutted it, soundproofed it and turned it from a f*cking nightmare to a pretty nice space."
Although the space eventually looked appealing, it was always challenging when it came to sound. "Any time you'd stop playing, you'd hear other bands playing from different places in the building. It made recording tough," says Hildenbrand.
Carolina practiced in Sydney Hih from 2002 to 2005, and band members say they suffered sound struggles from inside their studio, as well.
"We had to play so loud so we couldn't hear the radio coming through the amplifier," says Carolina guitarist Dan Hinz. "If we could have somehow harnessed the power of what was unwantedly being amplified, we could have contacted aliens."
Carolina also "competed" with a neighbor who regularly sang Guns 'N Roses' "November Rain" at the top of his lungs, karaoke style, into a microphone.
"It was like your older brother was singing Rush songs in his bedroom and didn't know anyone was listening," says Hinz. "But we were in there at the end, when the building was on its last leg, and we knew it wasn't going to last much longer so we made the most of what we had."
Gus & The Unicorn
Gus Hosseini, who immigrated to the United States from Iran as a young man in the '70s, owned and operated the Unicorn from 1984 to 1997.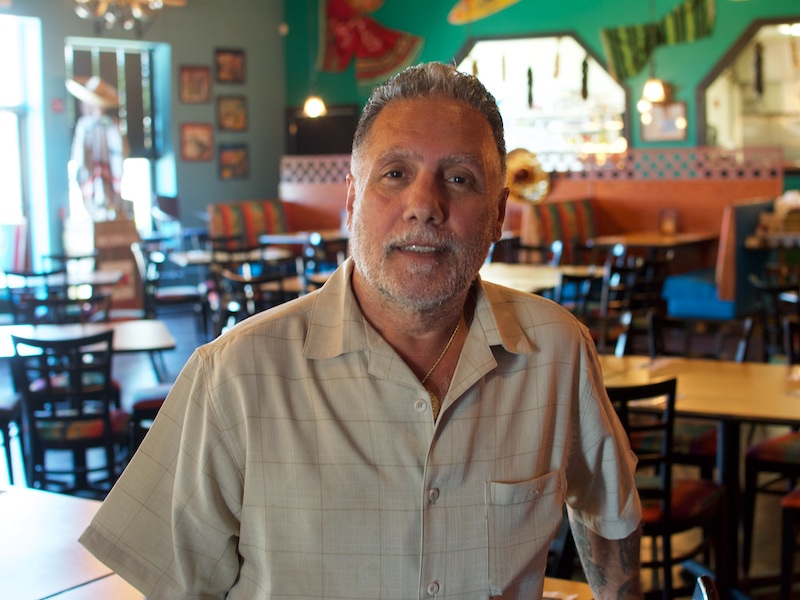 Gus Hosseini from his days in the Unicorn (Left, bottom corner in black) versus Gus today (Right) PHOTO: Royal Brevväxling
Prior to that, Hosseini ran the Golden Shaft, which was a disco, in the same Sydney Hih space, but when the disco scene started to wane, he knew it was time for a fresh concept.
In preparation for the venue change, Hosseini remodeled the space and cut into the walls so the cave-like performance rooms were connected. He painted most of the space black, and one of the rooms he painted blood red.
"When the (Smashing) Pumpkins played in the red room, it was so humid that it started to 'rain' red from the ceiling and by the end of the show, people's white T-shirts were red, too," says Hosseini.
Hosseini was, and still is, known for both his loyalty and his intensity.
"You didn't want to get on the wrong side of Gus," says Tych. "He didn't take any sh*t from anyone."
One night, while eating dinner at Gus', Niedziejko overheard Hosseini's wife telling him that two guys at the restaurant's bar were drunk and refusing to pay their bill.
"Gus immediately got this look on his face that I can't really describe except as silent rage," says Niedziejko. "He walked over to the bar where they were sitting together and grabbed the backs of both of their heads and smashed their faces into the edge of the bar with a great amount of force. They were both shocked, nearly knocked out, faces bloody. Gus told them to never come back or they'd go to the hospital. Needless to say I always made sure my tab was settled up completely before I left."
But everyone who worked for Hosseini remembers him fondly, and many describe him as a "father figure."
"Gus was a surrogate father to me," says Israel "Izzy" Hernandez, who was the Unicorn's booking agent during the club's final years. "As long as you are loyal to Gus, he's there for you."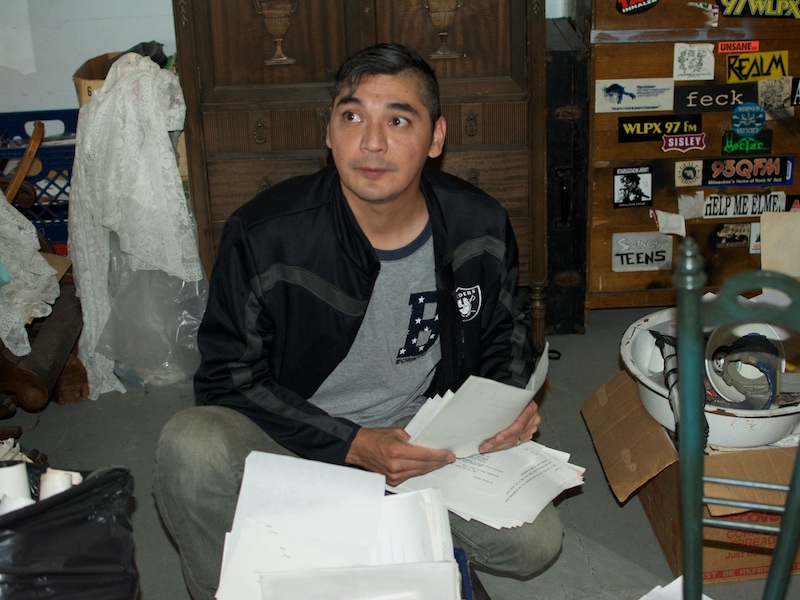 Izzy Hernandez booked bands for the Unicorn (left) PHOTO: Charlie Ross. Today, Izzy still has those contracts (right) PHOTO: Royal Brevväxling
Hildenbrand says Hosseini was a protector of the punks.
"Gus didn't f*ck around. He was like our pops, he cared about us and protected us from the guys on Water Street threatening to kick our asses and calling us fags. Now it's mainstream to have dyed hair, but back then, we took hell for it," says Hildenbrand.
Tych shares a similar sentiment. "Gus not only protected the punks, he fell in love with them," he says.
Occasionally, people descended into the Unicorn just to gawk or poke fun at the punk / Goth / skater crowd, but did so at their own risk, as Hosseini wouldn't tolerate it.
"If you came in here, you were going to act right. You were not going to laugh at the white face (makeup) or the black hair," says Hosseini. "This is their house. Our house. And if you don't like it, get the f*ck out."
However, the relationship between Hosseini and the punk crowd started off choppy. Although Hosseini knew the disco scene was over and he needed a new concept for his venue, his knowledge of the punk scene was nonexistent until he met Damian Strigens in the mid-80s.
Strigens, who was spinning records at now defunct clubs Papagaio's and Park Avenue, had always been curious about the Sydney Hih buildings from the outside. A friend invited him to check out The Unicorn and he was immediately taken with it.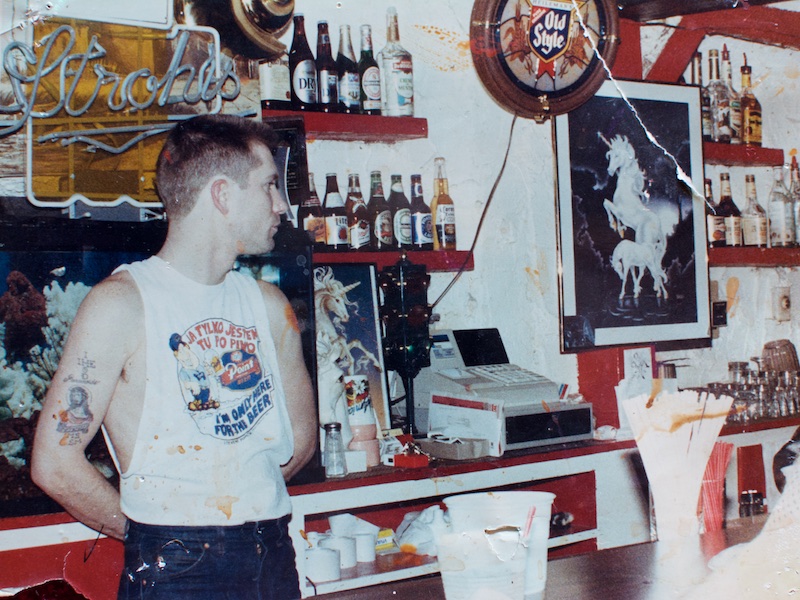 Jennifer, a Unicorn regular. PHOTO: Izzy Hernandez. Other vintage photos from Sydney Hih (from the collection of Gus Housseini).
"It was exactly what the scene was missing at the time," says Strigens. "I thought it was absolutely perfect. It had this dungeon vibe and was, literally, an underground club."
Strigens asked Hosseini if he could try something new one night a week and spin punk and "alternative" (which was a legitimate genre during those early MTV days) and he agreed — as long as Strigens didn't play any heavy metal.
"He gave me Wednesday nights for two weeks. I called it the Glam Slam — I borrowed the name from Prince — and I flyered the crap out of the city," says Strigens.
The Glam Slam was an immediate success and before long, Strigens was helping out with the booking of punk bands. Cherry Cake played the first punk show at the Unicorn and brought along opening act Boy Dirt Car, featuring Keith Brammer and Dan Kubinski of internationally acclaimed Milwaukee punk-metal band Die Kreuzen.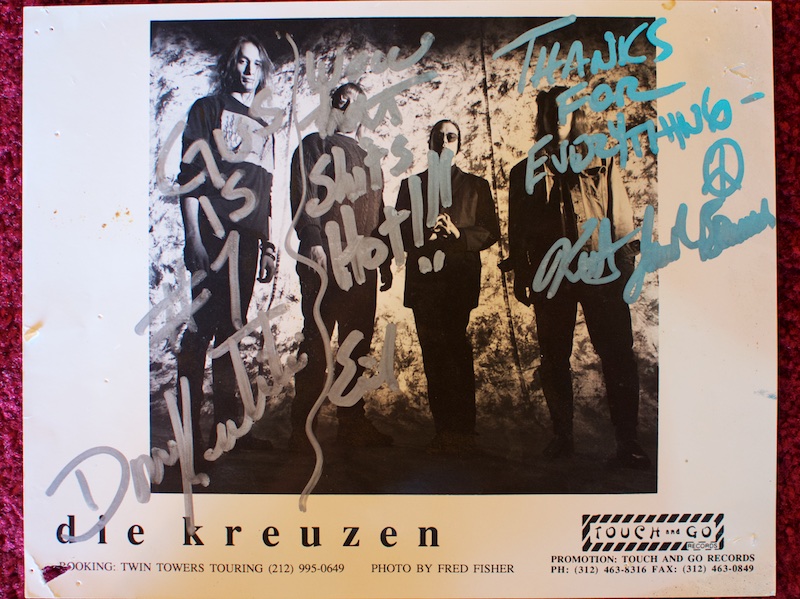 Autographed Die Kreutzen glossy.
"They didn't have traditional instruments like guitars and drums, instead they created rhythms from objects like the fender of a car," says Strigens.
At one point, the lead singer started whipping a chain on the stage floor, breaking the tiles and causing them to pop off the floor. Hosseini immediately started yelling, "What the f*ck are you doing?!"
Unfortunately, this was Hosseini's introduction to live punk music. "It didn't start out on a good foot, but luckily, he let us try again a couple weeks later when we booked Toxic Reasons," says Strigens.
Hosseini misinterpreted slam dancing the first time he saw it. He thought audience members were fighting and so he started grabbing people, telling them there was no fighting allowed.
"We said, 'No Gus, they're dancing,' and once he got it, he loved it," says Strigens.
The Unicorn went on to host many bands when they were on the cusp of fame, including the aforementioned Smashing Pumpkins, Soundgarden and Nirvana.
Nirvana played at the Unicorn in 1989 while on their "Bleach" tour, before the band blew up internationally. There were about 30 people in the audience, even though to this day hundreds claim to have been in attendance. Consequently, the Nirvana Unicorn show is sometimes dubbed "Milwaukee's Woodstock" — similar to how many people claim to have been at the Woodstock Music Festival in 1969.
Steve Tych, however, really was at the Nirvana show, working behind the bar. He also booked the show.
"It was a crappy night weather-wise and very few people came out, although I've run into hundreds of people who 'were there,'" says Tych.
The night of the show, Tych interacted with all of the members of Nirvana and found them to be "really nice." He still has a signed T-shirt from them.
"Krist Novoselic (Nirvana's bassist) put down seven pints of Leinie's Bock — it had just come out that week — and still managed to absolutely crush," says Tych.
The gig, however, lost money.
"Gus almost let me be the booking agent, but I took a risk on a band from Washington called Nirvana and I lost him $100 so he told me I couldn't book bands anymore," says Tych. "True story."
Jen Skladanek was at the storied Nirvana show, too.
"Recalling it now is astounding, but at the time, it wasn't a huge deal. They were just a band from Seattle," she says.
The Unicorn was not only a venue for up-and-coming national and international bands, it was also a space for local musicians to get started in the scene.
"All the bands that did anything in Milwaukee started in the Sydney Hih building and then they came to the Unicorn when they were ready for a gig," says Hosseini.
Signed glossies from Nerve Twins, Powermad and Naked Raygun, who played at The Unicorn.
Hosseini recalls having a pet snake who lived in a tank behind the bar.
"Around 11:30 at night, people would start yelling 'feed him, Gus, feed him!' and I'd throw a mouse in the tank. Once the snake escaped, and a week later, it fell from the ceiling, in the middle of a pool table, while a guy from Marquette was shooting pool. He almost had a heart attack," says Hosseini.
Dan Niedziejko, a musician who played numerous shows at the Unicorn with his bands Rusty Halos, Miss Trixie and Dorian Gray, was hanging out in the bar the night the snake escaped.
"Gus was running around the place looking for the snake and explaining to patrons that he had lost his snake and asked if they could be on the lookout for him," says Niedziejko. "I found this very funny."
In 1996, Jimmy Von Milwaukee ran for the mayor of Milwaukee as an independent, write-in candidate. His campaign was built on his promises to expand parade routes and legalize marijuana.
Although John Norquist clinched the mayoral victory, Von Milwaukee hosted a benefit party at the Unicorn. The Lucky Wally Polka Band performed a set and the Norman Apartment Players did a performance piece with "blood and a pig's head."
"I liked Gus," says Von Milwaukee. "He was a free thinker. He was what art needs to be: always evolving."
Hosseini closed the Unicorn in 1997 in part because it had run its course, but also because new venues were challenging the club's dominance.
"The Eagles Ballroom opened and had under-aged shows and I couldn't compete anymore," says Hosseini. "They had two floors. I didn't."
Today, Hosseini owns another Mexican restaurant, also called Gus' Mexican Cantina, in Franklin. The decor is a mix of classic "Mexican restaurant" adornments and hundreds of framed photos and fliers from the Unicorn days, making the space part Latin eatery and part Unicorn museum.
Unicorn Flier with skull.
Aside from the photos and fliers, Hosseini still has the fading Unicorn tattoo on his chest that inspired the club's name and many cherished memories.
"It was the happiest time of my life," says Hosseini. "I loved every day of it, and I met the nicest people."
Young, Hih and in love
A lot of relationships began in the Sydney Hih building, some of which are still going strong today.
Carol Voss went to the Unicorn with a friend in the early '90s to check out a band. While watching the show, she became smitten with the drummer, Dave, who later became her husband.
"We had our first kiss at the Unicorn, so years later, when we found out we were having a baby girl, we agreed on the name 'Sydney,'" says Voss. "No, we didn't make her middle name 'Hih' but we thought about it."
Izzy Hernandez met his wife, Greta, at the Unicorn 27 years ago. Hernandez was working as a bartender at the Unicorn and noticed Greta buying a drink. She had a sunburned face and a white patch of skin on her forehead where she had been wearing a headband.
"She was under-aged and came down on a Wednesday night for $1.50 tappers with some of her friends. I told her 'nice tan' and the rest is history," says Hernandez.
When Hernandez later became the booking agent for the Unicorn, he hired hundreds of bands to perform — via hand typed and faxed offer letters — including Deftones, Reverend Horton Heat, Clutch, Rocket From the Crypt, REO Speed Dealer and more.
An offer contract for the Def-Tones to play the Unicorn (Left). Izzy's black garbage bag full of demo tapes (Right). PHOTOS: Royal Brevväxling
Today, Hernandez rents a storage locker in Bay View filled with Unicorn artifacts, including folders of photos and other memorabilia. He has garbage bags stuffed with demo tapes and CDs that were sent to him for review. "I was always looking for stuff I thought people would enjoy," he says. "I was pretty eclectic with the music."
"Chickey babies"
Amy Gutowski worked as a server at Gus' Mexican Cantina from 1995 to 1998. She remembers it as a small restaurant with about 10 tables, a fun staff and Hosseini referring to her as "Amy baby."
"When I walked in for my shift or to eat — Gus made this Mexican pizza that was on point — he would greet me with 'Amyyyyy Babyyyyy,'" says Gutowski. "Gus could be a volatile, machismo guy, but he also took care of me. He trusted me. Once he went on vacation with his family for a week to the Dells and left me in charge. I was pretty honored."
Although Chris Tishler refers to the Sydney Hih scene as "mostly a sausage factory," there were a fair share of prominent women on the scene.
Rockers like Liv Mueller and Julie Brandenburg (nee Niedziejko) fronted bands, the late Janeen Martin worked as the Unicorn's manager, Lisa D'Acquisto was one of the club's booking agents and many female music lovers frequented the Unicorn as well as the practice studios.
"Lovely" Leslie Lisowski — now Leslie Ivarson — started going to the Unicorn to see bands in the late '80s when she was 16.
Ivarson says Hosseini made under-aged entry a breeze for women, whom he often referred to as "chickey babies."
"Gus let a lot of us 'chickey babies' in without an ID," says Ivarson. "My friend got in with a Boston Store card."
Jen Skladanek went to the Unicorn under-aged, too.
"You could show a library card and get in. I remember when I finally turned 21, I told Gus, 'Hey, I'm 21 now, buy me a shot,'" she says.
Behind the bar at the Unicorn.
Skladanek, who is now a hair stylist, bartended at the Unicorn, but was fired after a few shifts.
"I worked there for a half-second while I was in beauty school. The band Rhino Bucket came through, and I got super loaded behind the bar even though Gus didn't allow us to drink while working," says Skladanek. "It was totally packed, but I was so hammered I had to go home."
Despite the Rhino Bucket debacle, Skladanek continued to hang out at the Unicorn and became close friends with many of the people she met there.
"I grew up in Brookfield, and I couldn't get out of there fast enough," says Skladanek. "The Unicorn became my family. It was my home. I felt comfortable there because it was a place for everyone. You didn't have to worry about fitting in."
As a Unicorn regular, Ivarson started hanging out with local and California-based bands including Bad Religion, Social Distortion, T.S.O.L. and Milwaukee's Down by Law. Occasionally, she worked at the club as a "coat check girl" or at the merchandise table for one of the groups.
"I was just always around," says Ivarson. "We girls had to put up with a lot of shit, but we did it because we wanted to hear the music and that's where the music was. We didn't want to go to a show sponsored by Miller."
Skladanek had an infuriating interaction with Chris Cornell of Soundgarden after the band played at the Unicorn on St. Patrick's Day in the early '90s to a packed audience. After the show, Skladanek, who was in the front row, turned around to talk to a friend, and suddenly felt the woosh of liquid splash against the back of her head. Her long red hair was suddenly soaking wet.
"Then I see Chris Cornell walking away with a dripping pitcher in his hand. He was being a f*cking punk and tossed it into the crowd. I walked up to him, totally fueled, and say, 'You're a f*cking dick,' but he just shrugged his shoulders and kept walking," says Skladanek.
Ivarson was referred to by some as a "groupie" — or worse — but she never let that bother her. She admits to numerous affairs, ranging from one nighters to long-distance relationships, with myriad of musicians passing through the Unicorn.
"When I finally slept with the lead singer from Social Distortion, I thought, 'F*ck, it can't get any better than this,' but it was actually the start of a change for me," says Ivarson. "Looking back, I was just a bundle of nerves, a little love bug whose parents recently divorced and wanted to impress men, but who also couldn't wait to see friends and meet new people."
Nothing gold can stay
Aerial view of the remaining building of the Sydney Hih complex in the late '90's. PHOTO: B. McCoy
In 2000, the Sydney Hih complex was painted beige and put up for sale. In 2002, the Park East freeway came down and the destruction of the Sydney Hih seemed inevitable.
For the next few years, the space was used for temporary public art projects and in 2011, the city purchased the building and offered the land to the Kohl's Corporation.
Kohl's decided not to move Downtown, and despite a hasty proposal from developer John Raettig, the Milwaukee Common Council voted against historic preservation and the complex was demolished in August 2012.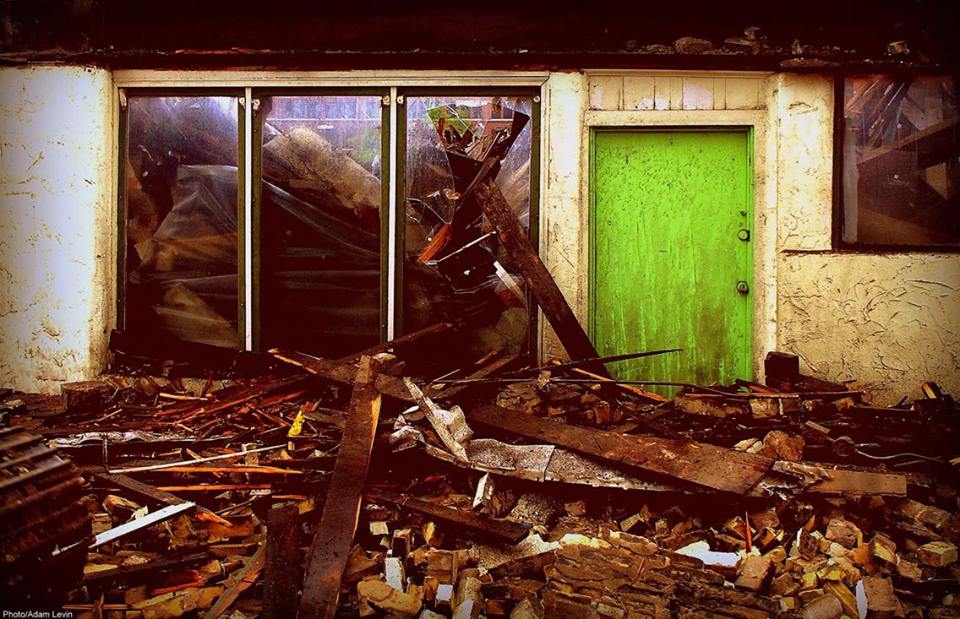 Sydney Hih comes down. PHOTOS: Adam Levin
Many Milwaukeeans flocked to the corner of Juneau and Old World Third to snap photos and say goodbye to the problematic, beloved Sydney Hih building.
Chris Tishler stopped by during the demo process to grab a souvenir brick, which a worker agreed he could take.
For years, Tishler and his band had a bag of pistachios in their studio that they didn't eat, rather threw at each other during practices.
"I swear to f*cking god, I grabbed a brick from the rubble and I found a pistachio," he says. "I couldn't believe it. It made me sad to see it go. As shitty as the building was, it was a crumbling — yet solid — piece of Milwaukee history. It was a strange little world."
In March 2016, Tishler took first place in Blackbird Bar's diorama contest for his recreation of the Sydney Hih buildings.
"I don't always make dioramas, but when I do, I make them of the Sydney Hih building," says Tishler.
VIDEO: Tour of the Sydney Hih with Chris Tishler.
Fred Gillich, owner of Too Much Metal, designed a T-shirt and print in 2014 of the Sydney Hih building.
"I thought it needed to be remembered since it was gone," says Gillich. "So much culture came from that building."
Sydney Hih print by Fred Gillich (Left). Sydney Hih diorama by Chris Tishler (Right).
Although many Milwaukeeans harbor stories and memories of Sydney Hih's spaces, shows and shenanigans, as time passes, they are more and more difficult to access.
"It's strange what happens when a building is torn down," says Paul Finger. "The longer it's gone, the harder it is to describe. After a remarkably short while, it's even hard to imagine it even existed."
FS Camels' "Bird's Eye View" was shot at Sydney Hih.