There are a lot (and I mean A LOT) of great rides around Wisconsin, and it's hard to narrow them down to just 10. The good news is, this list is not the end-all, be-all of rides around the state, and we've included great jumping off points for each ride for even more exploration.
From racing to fundraising to slow rolls, here are the ten best rides in Wisconsin, organized chronologically by the time of year in which they appear.
And by the way, if you're tentative about racing, don't worry. These events have been selected for their ease of entry; while basic bike handling skills are necessary and competition is spirited, there is no minimum speed required.
---
10. Dairy-Roubaix
When: Mid-April
Style: Gravel/All-road
Established: 2011
Support: One rest stop 25 miles in. There are sanctioned drop zones for your own water and supplies after the 54 mile split.
Cost: Free, but donations to Vernon Trails are accepted.
Dairy-Roubaix (Dare-ee Roo-bay), which rolls out of Wyalusing State Park near Prairie du Chien, is a challenging gravel ride up and down the picturesque bluffs of the Mississippi River Valley. Riders can choose between a 54-mile and a 106-mile route, but when it comes to this ride, thanks to the 4,000-8,000 feet of climbing, elevation counts as much as distance. Half of the route is gravel, and the hills are punchy and challenging to all but the fittest.
Scheduled around mid-April, it's a great way to kick off the spring season, and while weather can rock back and forth between most ideal and less optimal, the ride has, thus far, had a decent winning streak in terms of sun and warmth.
---
9. Milwaukee Messenger Invitational (MMI)
When: Mid-April
Style: Open street race with scavenger hunt
Established: 2001

Support: None
Cost: $5-$10
View this post on Instagram
The invitation is extended to all who are interested in role-playing as a letter carrier and typically draws folks from Chicago, Madison and Minneapolis, making it Milwaukee's biggest and most enduring messenger race. The format changes every year, so it's hard to predict how to win, but these races tend to be less about speed (though it helps) and more about scavenger hunts, various puzzle-solving skills and, most importantly, knowledgeable routing.
The event is run by bike messengers and is thus unsanctioned and on open city streets, so expect to keep your wits about you if you plan on competing. If throwing yourself to the motorized wolves is not your bag, organizers are always happy to have more participants, so you can always ride for fun. Just remember to bring a backpack, a lock, positive vibes and a pen. (Oh, god, don't forget your pen.)
---
8. Miller Lite United Performing Arts Fund (UPAF) Ride
When: First Sunday in June
Style: Road ride
Established: 1967

Support: Depending on the distance, there are up to four rest stations along the way, as well as a party at the end.

Cost: $50-$60, but it's a fundraising ride, so you may want to consider donating more.

The biggest and oldest bike ride in Wisconsin is also the primary funding event for the United Performing Arts Fund. Riders can choose from routes in various distances from 5 to 65 miles, up to Port Washington and back.
The UPAF ride achieved must-do status thanks to its history as one of the oldest rides in the state, its massive participation and recent addition of the Hoan Bridge. This is the only time you'll be able to take non-motorized apparatuses up the bridge (at least until they re-deck it in 40 years).
After crossing the Hoan, the route takes riders down lakeside roads and between budding farm fields before looping back to the finishing party at the Summerfest grounds.
---
7. MKEBKE Underwear Ride
Date: Once a month from June to September
Style: Slow roll
Established: 2009

Support: There is sometimes volunteer support at each stopping point, but it's never guaranteed, especially en route. Ensure your tires are properly inflated so you don't get stranded, and maybe bring a bus pass, just in case. BYOB.
Cost: Free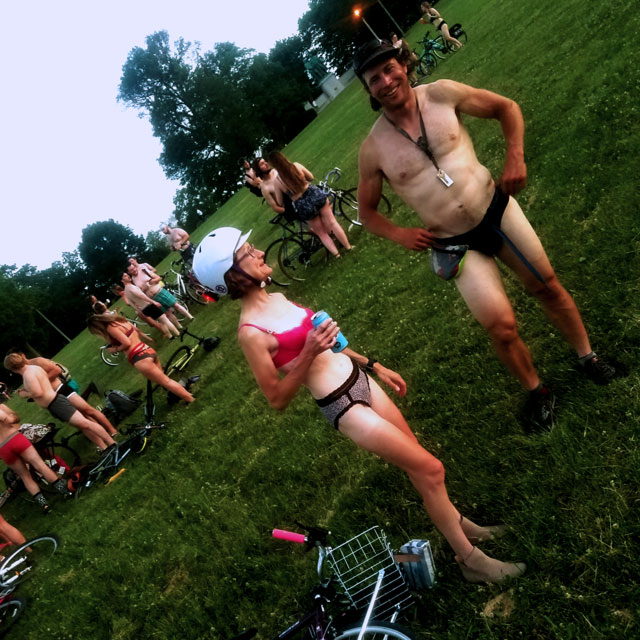 Doff your shirt and pants for this slow roll, which encourages body positivity to fight ageism and sexism (and all the other bad -isms and phobias). Each ride starts and ends at various spots and plots unique courses through the city, at distances between 8-10 miles out (and then back).
The ride kicks off shortly before sunset. The pace is very casual, spirits are high and the ride usually ends with an underwear dance party scored with live music.
For success, make sure you bring a front and rear light, pump up your tires to prevent flats and lock up when you reach each stop.
---
6. Riverwest 24
Date: Last Friday & Saturday in July
Style: Open street race with scavenger hunt
Established: 2007

Support: Self-supported, but you're always in the neighborhood
Cost: $24
This started as a community event with less than 200 people – most of whom signed up the day of the race – to a thousand-person extravaganza that sells out in a few hours and has since earned the nickname "The People's Holiday." Through its history, it has maintained its DIY, punk-rock attitude by refusing sponsor dollars and relying on neighborhood volunteers get it organized.
The course is a four(ish)-mile loop through the Riverwest neighborhood, which requires riders to stop and punch a manifest at every corner. The goal is to ride the most laps in 24 hours and complete each bonus checkpoint that opens along the way including the opportunity to commemorate the year with an annual tattoo. You can participate as a sleepless solo rider, a tireless tandem team or as a relay team to ensure some shut-eye.
Sign-up is now on a lottery system and you must be present to win, but if you want to cheat the line, lend your hand as a volunteer and get a free entry to the race the following year.
5. Wausau 24
Date: Last Saturday and Sunday in July
Style: Mountain bike race
Established: 2009
Support: Self-supported
Cost: $70-$100

The Wausau 24 takes place at the same time as the Rivewerwest 24, but 188 miles north. Instead of a spending your time in mixed traffic in the middle of the city, you'll enjoy 24 hours of cycling through Wisconsin's north woods in the Midwest's largest mountain bike race.

You can choose your level of participation by joining the six-, 12- or 24-hour races and choose whether to ride solo or as a team, switching off riders every lap or so. You can even choose to run if cycling is not your thing. (And if not, how have you made it this far down the guide?) When you're not riding, you can party by the fire or rest at your camp site.
---
4. Ride Across Wisconsin (RAW)
When: Mid-late August

Style: Road ride, Bike camping
Established: 2015

Support: Food and mechanical support provided along the way.

Cost: $200-$300 (or the VIP experience for $1,500)

Ride across the state along scenic roads with Tour de France fave and hour-record setter, Jens Voigt as well as cyclocross legend Sven Nys.

RAW was established as a fundraiser for the Wisconsin Bike Fed, and while first few iterations took riders 175 miles across the narrowest part of the state (Dubuque to Kenosha), newer iterations plan to explore more routes and destinations. That means more miles this year, but apparently fewer hills.

The 2019 edition is planning a 225 mile-route, which you can split into two days, with an overnight camping stop. Support along the way means you can show up and plop down with your gear already there. For the fit and the furious, an one-day challenge is also available.
---
3. Door County Century
Date: Second Sunday in September

Style: Road ride
Established: 1979

Support: Six rest areas

Cost: $65-$80
Door County is famous for its scenic beauty and it should be fairly clear why a bike ride around the peninsula is a must-see.

The ride offers varying distances from 30-100 miles that takes you around the peninsula, through apple and cherry orchards. Much of the route sticks close to the water and there are many support stations along the way.

The ride ends with a catered dinner, beverages (hydrating and otherwise) and live music.
---
2. Trek CX Cup
Date: Mid-September
Style: Cyclocross race
Established: 2014, 2017 as a World Cup race

Support: Self-supported
Cost: ~$40-$70

Cyclocross (CX) is a short but intense race through a closed, all-terrain course. Each race has its own signature, but when one of the biggest bike companies in the world dips their toe in, it really changes the game.

At Trek CX Cup, the youngest event in the list, there are many individual races throughout the weekend that accompodate many different skill levels, but because they're short, it's very easy to jump in and then enjoy the party around you afterwards.

For the last three years, Trek CX Cup has been a stop on the Cyclocross World Cup circuit, which imports (most of) the top CX pros from their Belgian battle-grounds, which makes this a must-see. It's one of the few pro CX events where men and women are paid equal prize money, and amateurs can get up close and personal with their heroes and even perform on the same course as elite riders.
---
1. Santa Cycle Rampage
When: First weekend in December
Style: Costume slow roll with an (unofficial) pub crawl
Established: 2002

Support: B(uy)YOB
Cost: $20 for Wisconsin Bike Fed members, $35 for everyone else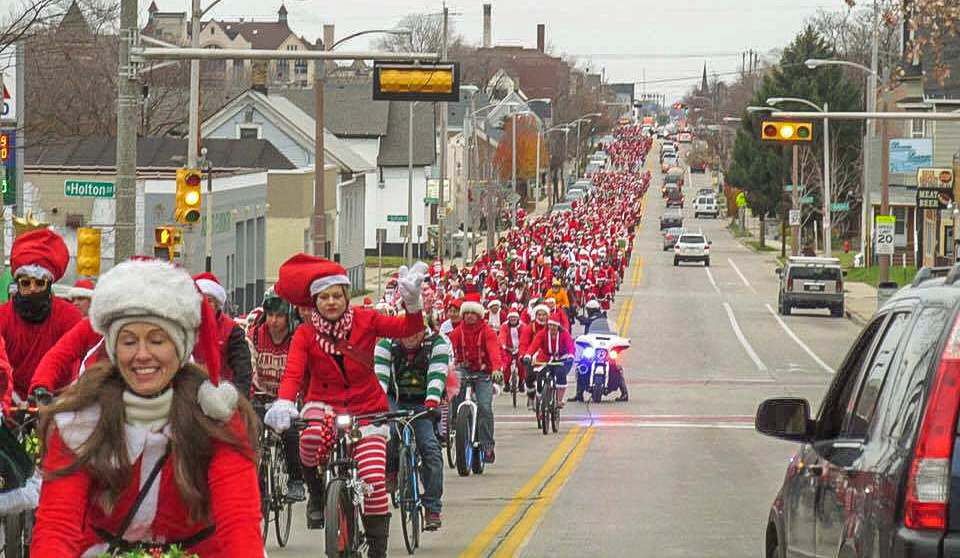 What started as a ride for a couple dozen people has ballooned into a ride boasting thousands of participants, even in dismal weather (which, for winter riders, is truly a lesson on the benefits of layering).

The casual, self-guided ride was successfully transformed into a fundraiser for the Wisconsin Bike Fed in the twenty-teens, and now schedules a specific route between Wauwatosa and Milwaukee.

But it doesn't end there. The self-guided spirit continues throughout the city with dozens of bars hosting off-route holiday revelry into the evening.

Did I miss anything? Got any rides you want to recommend? Let us know below.
Jason McDowell grew up in central Iowa and moved to Milwaukee in 2000 to attend the Milwaukee Institute of Art and Design.
In 2006 he began working with OnMilwaukee as an advertising designer, but has since taken on a variety of rolls as the Creative Director, tackling all kinds of design problems, from digital to print, advertising to branding, icons to programming.
In 2016 he picked up the 414 Digital Star of the Year award.
Most other times he can be found racing bicycles, playing board games, or petting dogs.