'Tis the season!
Check out these holiday classics plus a few new favorites from Colectivo Coffee. If you are looking for more great ideas visit Colectivo's Holiday Gift Shop.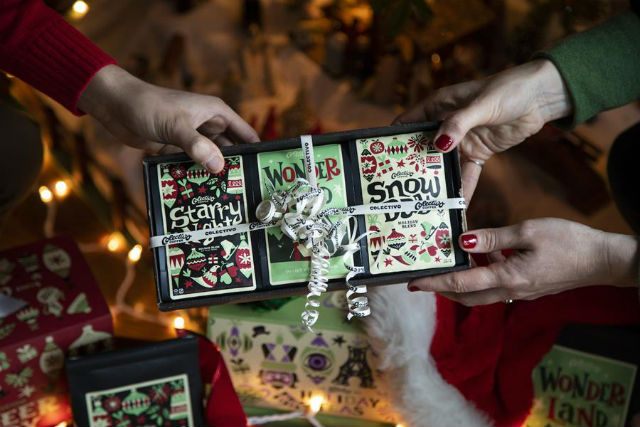 A festive collection which features three half-pound bags of coffee nestled in a custom box with a colorful matchbox wrap. The Classic Session Roasted Sampler includes limited edition seasonal coffees Snow Day, Starry Night and Wonderland.
Strong coffee from strong women grown on small-scale farms in El Salvador, Guatemala, and Honduras. $1 from the sale of every gift box benefits The Partnership for Gender Equity. Contains three half-pound bags of whole bean coffee.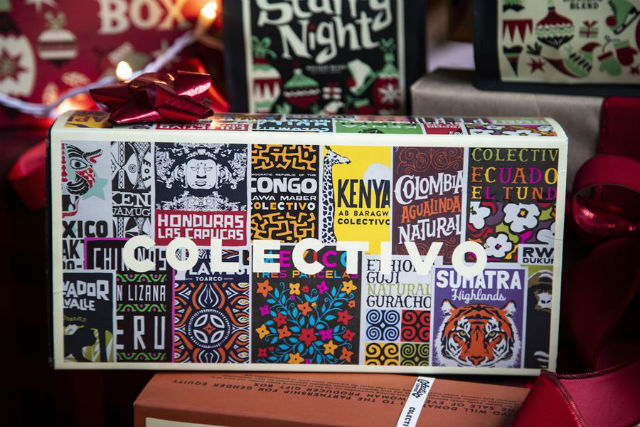 A celebration of coffees from iconic origins – Papua New Guinea, Ethiopia, and Colombia – inspired by the spirit of travel and adventure. Contains three half-pound bags of whole bean coffee.
The classic diner mug in black with a festive Colectivo logo. Sip and stay warm, our friends!
Steep in the flavors of the holidays! This box features Mystic Green and Anthology Black, as well as our seasonal Sugar Plum and Cocoa Mint herbal teas. Six sachets of each. Sip and enjoy.
The same cocoa Colectivo uses in its cafes for hot chocolate and more, locally produced by our friends at Omanhene.
A festive espresso chocolate Swiss roll filled with butter cream, frosted with ganache, topped with candied ginger and garnished with white chocolate, cranberries and rosemary.
Give the gift of cheer! The Holiday Cheer Box includes some of our favorite treats nestled in a custom box with a festive matchbox wrap. Each box includes a half-pound of Snow Day coffee, 12-ounce tin of Holiday Cocoa, quarter-pound pouches of Choco-covered Espresso Beans and Choco-covered Caramels, plus our new seasonal Cocoa Mint herbal tea sachets. Huzzah!
Parmesan, Swiss, basil and oregano are rolled and baked into a sweet yeasted dough with a hint of garlic. Noms.
2018 was a big year for Colectivo! It celebrated 25 years of community, creativity and coffee. Commemorate the celebration with a limited edition 25th anniversary Silkscreen Poster pack. Only available online. Each poster has been signed and numbered by Colectivo's in-house designer, Kevin Callahan. These poster packs are extremely limited so don't wait to grab your piece of Colectivo history.