There was a time when the only technological innovations people thought of when they heard Milwaukee were a bottle-capping conveyor belt, a retractable roof and maybe the Miller Lite vortex bottle. But times are changing – and now a growing tech and startup community is brewing in Brew City, bringing new ideas to the way we live, charging new energy into Milwaukee and drawing new generations into the city.
And any good tech startup community needs a good tech-centric convention. Enter Fall Experiment, a two-day festival – hosted this year on Oct. 4-5 at the Wisconsin Center – dedicated to the Venn diagram of technology, gaming, art and music, and all the ways they overlap and intertwine.
Obviously, that's a wide range of topics – and Fall Experiment has a wide range of panels, discussions, events, performances and more reflecting that, with tickets on sale now. But how do you choose what to hit during this two-day entertainment expo extravaganza?
Here are ten of the events you must explore at Fall Experiment this weekend.
When a person has "founding member of a Rock and Roll Hall of Fame inductee" on their resume, you'd assume that's head-and-shoulders the most influential thing they've done across their career. That's not entirely the case with N.W.A. founding member Arabian Prince, who along with his work with the iconic rap group and beyond, went on to follow his other passion – technology – into creating a 3-D animation and special effects studio, creating innovative products on several sides of the gaming industry, and bringing access to tech careers, mentorship and knowledge to diverse communities and the next generation with his iNov8 Next Open Labs philanthropic concept.
So yeah, he'll have just a little to talk about and share with audiences when he takes the stage on Oct. 5 at 1:15 p.m. with 88Nine Radio Milwaukee's Tarik Moody for a fireside chat about the tech industry, music and everything in between. Then obviously stick around at night for his opening set at Steve Aoki's headliner show at 7:30 p.m.
2. Go deep into gaming with Longplay
Gaming started for many as a hobby – but with esports on the rise and platforms like Twitch growing visitors and viewers to the point that conventional sports and entertainment outlets are starting to sweat, it's never been easier to turn that hobby into an actual calling. Hit start on those ambitions by learning at Fall Experiment's Longplay track, featuring panels, discussions and more dedicated to the growing culture of gaming.
Interested in making esports and gaming your full-time gig? Plug into the "Careers in Esports and Gaming" panel, featuring Arabian Prince and more discussing what opportunities now and in the industry's future are out there for the taking. Want to dip your toe into Twitch? Check out the "Twitch 101 and Beyond" panel featuring James "JT" Thompson. Want to dig into the deeper topics around the industry, such as diversity, representation, using video games for good and the overall state of the industry? There's discussions featuring experts in all of those fields to sate your interest. What about the intersection of music and gaming? OK, maybe that's a bit too esoteric and OH WAIT, THAT'S AT FALL EXPERIMENT, TOO.
Basically, if you're interested in something involving gaming, there's somebody at Fall Experiment to talk to about it and share their expertise. Except the old computer game "Lode Runner: The Legend Returns." There is no panel discussion about that. Damn, maybe next year.
3. And then why not play some games while you're at it?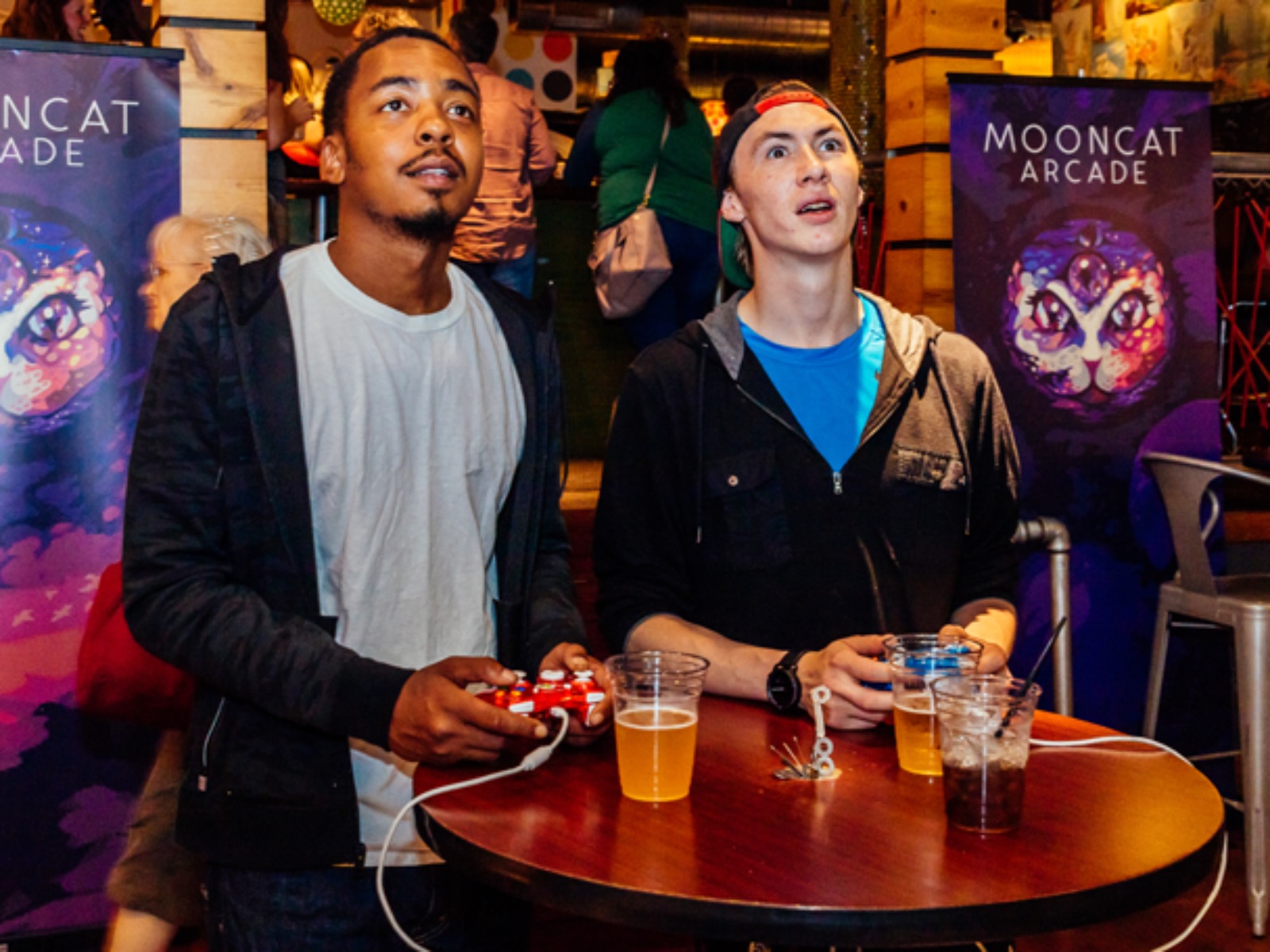 What's the point of talking about gaming if there's, you know, no games? Thankfully, the Longplay track at Fall Experiment agrees, features plenty of ways to play over the two-day event whether you're a n00b or in the business of pwning them.
As far as competition goes, Fall Experiment will include four esports tournaments – including a battle over "Super Mario Kart 8 Deluxe," a "Tekken 7" bash, a non-profit punch-out with "Super Smash Bros," a mobile arcade and much more. And for those simply wanting to sample games at their own pace and player level, both days will also include Freeplay days, offering a wide variety of games to explore. So whether you're playing a game or hearing about gaming's future, there's no end to the ways you can plug into the Longplay track.
4. The inventor of the hashtag
You may not know the name Chris Messina, but you certainly know what he invented, something so ubiquitous that it's hard to remember that somebody had to invent it: the hashtag. The hashtag – or, if you're an old, the pound key – has graduated to an essential part of social media and an iconic part of pop culture. (How else would we let others know about our #SundayFunday?) And that's just a part of Messina's story – which he'll be in attendance to talk about, as well as community and participation on the web, during Fall Experiment at noon on Oct. 5.
5. Make time for John Zeratsky
There's lots of events, discussions, panels and more to spent your time at during Fall Experiment, but only one will be about gaining time. UW-Madison grad and Milwaukee native John Zeratsky spent almost 15 years working in the tech industry, from designing the YouTube Channels platform to working with companies ranging from Uber, Slack and 23andMe before taking several years to take some time for himself and his family by sailing down the coasts from California to Florida. Now, with his book "Make Time" and speaking engagements like these – hosted at 1 p.m. on Oct. 4 – Zeratsky wants to help others make more time for themselves and the things that matter to them.
It may not sound like an obvious booking for a two-day event focused on technology, but considering how much time we spend with the latest tech in our hands and in front of our eyes, it might just be the most necessary.
6. Log into Cream City Code
It's hard to determine a true centerpiece event in this sprawling, industry-spanning, event-filled event, but Cream City Code might just be it. This particular track at Fall Experiment features two days of fascinating talks, discussions, workshops and more, bringing together developers of all skills and disciplines. What will Cream City Code discuss in the world of development? The easier question might be what won't they, as the two days feature conversations from everything including managing co-worker dynamics, the basics of Data Science, battling Imposter Syndrome, a combination of artificial intelligence and magic (no, seriously), building better cross-platform applications and even just coping with burnout. It's a large slate of smart ideas and even smarter people befitting Milwaukee's largest developer conference.
7. Say yes to No Studios Immersive Artist Workshops
So far we've hit on the tech, music and gaming parts of Fall Experiment – but there is a fourth key component to the event: art. And to help with, No Studios will put on a variety of workshops with artists from its community. Once such workshop is The Sketchnote workshop, designed to teach beginners the basics of drawing and how to make the most of it in your work and personal life. Other topics included in the immersive artist workshops range from beat making to storytelling and much more.
8. Find your way to Fall X Pitch
Got a great startup idea? Fall Experiment wants to hear about it – and if it's as great as you think it is, it could give you money to make it happen as well. The Startup Track at Fall Experiment will dish out up to $450,000 of investment to the winning pitches – $250,000 of that coming from the inaugural Fall X Pitch contest, pitting five semi-finalist pitches against each other for the big money prize plus free office space at Northwestern Mutual's Cream City Labs. It's like "Shark Tank" – but entirely focused on Milwaukee startups or those planning to relocate to Brew City. Take that, Mark Cuban.
9. Get a whiff of Skunk Works
Come to see what the deal is with the stinky name; stay to learn the secrets behind the creation of some of the most impressive and innovative planes of our modern time.
As one of Fall Experiment's keynote speaks, Nickolas Means, a senior engineering manager at GitHub, will take his audience through the technological advancements and engineering feats at Lockheed's secretive Skunk Works division – a group that helped build the SR-71 Blackbird (just one of the fastest jets to ever take wing), the first stealth combat fighter with the F-117A Stealth Fighter and the U-2, perhaps the most famous spy plane ever created. But not everybody's in the business of building insanely advanced spy planes, so Means's main mission will be discussing what we today can learn from these innovators from half a century ago to help the teams of today create the next technological breakthroughs.
Oh, and about the name? Lockheed also invented that now ubiquitous phrase, used to describe side divisions dedicated to innovation without the hassle of the typical organizational structures or demands. They earned the name – based off the Skonk Works factory from the old "Li'l Abner" comic strip – thanks to the nasty smells from the plastics factory next door to the original Lockheed innovation department.
10. Steve Aoki
Arabian Prince won't be the only major music figure making an appearance at Fall Experiment 2019, as the two-day festival also includes a performance from EDM icon Steve Aoki, taking the stage at 8:30 p.m. on Saturday. (Arabian Prince will open for Aoki at 7:30 p.m.)
Over his impressive career, he's teamed up with fellow superstars like BTS, Kid Cudi, Lil Jon, former One Direction member Louis Tomlinson, will.i.am, Fall Out Boy and many more – earning himself a Netflix documentary, "I'll Sleep When I'm Dead," in 2014 in the process. He's most famous, obviously, for his live DJ sets, which blitz the audience with a high-energy blend of remixes and more – and by "more," we mean throwing cakes into the crowd. It's bound to be a memorably good time – even if you don't take a tasty sheet cake to the face.
As much as it is a gigantic cliché to say that one has always had a passion for film, Matt Mueller has always had a passion for film. Whether it was bringing in the latest movie reviews for his first grade show-and-tell or writing film reviews for the St. Norbert College Times as a high school student, Matt is way too obsessed with movies for his own good.
When he's not writing about the latest blockbuster or talking much too glowingly about "Piranha 3D," Matt can probably be found watching literally any sport (minus cricket) or working at - get this - a local movie theater. Or watching a movie. Yeah, he's probably watching a movie.