There are over 80 new foods in which you can indulge at the 2018 Wisconsin State Fair. But which ones are worth trying?
I spent the bulk of opening day working my way through a list of reader-suggested foods, tasting every single one. I've ranked 10 of them from worst to best (10 being the worst) and included my tasting notes for your reading enjoyment.
10. Sweet tots
Where to find them: Knucklehead, $8.50
Admittedly, I'm more of a savory Tater Tot person myself, but I went into this with an exceedingly open mind. After all, salty and sweet can be a winning combination when it's done well.
Unfortunately, that was not the case here – and it begins with a whole lot of confusion. Read the description of these in the Wisconsin State Fair Food Finder and you'll see something pretty vague: "An odd combination of savory yummy sweets on top of a pile of tater tots!" OK! That's vague, but potentially interesting.
Read about them in the list of new foods, which you can get at the Information Center at State Fair Park, and you'll see: "Tots covered in sweet mix of cinnamon, sugar and maple syrup." Huh. So maybe they're a bit like the hashbrowns that accidentally got dripped on with a bit of pancake syrup? That could have potential.
But then, reality hits. You visit and here's what you'll actually get: tots tossed in cinnamon sugar drizzled with chocolate syrup and topped with whipped cream and a cherry.
Let's begin on a happy note. The idea of tossing tater tots with cinnamon sugar was a good one. They're crispy, a little bit spiced and pleasantly sweet-salty. But that's where the deliciousness ends. The chocolate sauce made the entire dish cloying and soggy. Even worse, the fried potatoes took on a strange sour flavor against the chocolate sauce, and the chocolate (which wasn't great in the first place) took on an unpleasantly bitter note. No, no, just no. You couldn't pay me to eat this again.
9. The PorkSTACKular
Where to find it: Budweiser Pavilion, $12
You'd be right to pause at the price tag on this bizarre creation, and here's why. I'm going to begin with the Budweiser Pavilion's description of the dish, which actually sounds pretty good in theory: "1/3 lb. of 100% pork belly patty perfection, stacked high with crispy, smoky, bacon and deep-fried pickle fries, covered in gooey melted Swiss cheese, drizzled with delectable sweet n'spicy "hot" honey, served on a buttermilk caramelized-onion naan bread bun." All those beautiful words! Perfection, crispy, smoky, gooey … I want to eat that right now.
But let's talk about how this actually plays out. The pork belly patty is somewhat like a cross between a breakfast sausage and a chicken nugget, with the same strange spongy texture as the latter. It was also peculiarly dry. The bacon was crisp and salty, but not very smoky. The Swiss cheese wasn't even melted, let alone gooey. The naan bun was pretty pale and doughy, and I have no idea where the caramelized onions were. I heard a very sad trombone droning in the distance when I ate this sandwich.
But let's end this disappointing review on a high note: The deep-fried pickle fries were delicious. In fact, they deserved to be the real star of the show, along with that hot honey, which was pleasingly sweet with just the right amount of kick.
8. The Big Easy cajun cheese curd taco
Where to find them: Poncho Dog $6 or two for $9
Last year's Wisconsin cheese curd and brat taco from Poncho Dog was number one on my list for 2017. So I decided to give this Louisiana-inspired version a try.
I'm still a big fan of the fried flour taco shell, which is sheer crispy goodness that reminds me (in the best way) of the ChiChi's chimichangas I enjoyed in my youth. But the "Big Easy" flavor in this year's taco fell disappointingly flat. The andouille was only slightly spiced with an almost hot dog-like texture. And the cajun spices that graced Ellsworth cheese curds got completely lost in the shuffle. I can't say I hated it, but it wasn't quite the crunchy, cheesy, cajun-spiced win for which I'd hoped.
7. Wisconsin hot chicken bombs
Where to find them: Water Street Brewery, $7
I've always been a fan of the Rupena's fried stuffing balls at State Fair. And these are, maybe, a bit like the mashed potato version. These meatball-sized balls are creamy on the inside with a soft crust on the exterior. They're slightly cheesy and doppled with corn, so they're likely to satisfy your deep-rooted need for holiday comfort food. Buffalo chicken lovers won't find these to be overpoweringly spicy (the heat is mitigated by the starch of the potatoes) but the vinegary sauce is definitely a predominant flavor. What wasn't predominant was the fried chicken, which I didn't really find, despite a thorough exploration of one of the balls with my fork. Huh.
6. Cran-noli
Where to find them: Wisconsin State Cranberry Growers Association, Wisconsin Products Pavilion, $4 each
If you're in the mood for something seriously sweet, look no further than the cran-noli. Unlike a traditional cannoli, this version is comprised of a tender, chewy, brown sugary cranberry-studded oatmeal tuile that's filled with a fruity burst of tooth-achingly sweet cranberry frosting and then dipped in dark chocolate. There's nothing bashful about this super sugary creation, which would go oh-so-nicely with a cup of espresso. If you're craving a bit of a sugar high, this one is a good bet.
5. Beerana Foster shake (non-alcoholic)
Where to find it: Slim's Lakefront Brew Pub & Eatery, $6.75
If you're looking for something to cool you down on a hot State Fair day, this is a pretty satisfying option. This non-alcoholic shake is made with Lakefront East Side Dark beer that's cooked down in bananas foster sauce. That's blended with vanilla ice cream and topped off with whipped cream, cinnamon and a bit of sugar. The creation is creamy and banana forward with plenty of caramel notes and warmth from the cinnamon. The beer flavor isn't predominant on the front, but there's a lingering maltiness on the finish. The biggest bummer? I'd be happier if it was twice the size.
4. Deep-fried double stuffed s'mOreo custard sundae
Where to find it: Saz's Taste of Wisconsin, $7.50
Do you know what happens to an Oreo when you deep fry it? The fats from the creamy center soak into the cookie, rendering it a soft mass of fatty chocolate goodness. But what saves it? A crispy coating of vanilla cornflake crumbs that lend a not-so-subtle crunch to the exterior along with a nutty, almost graham crackery flavor. Add a bit of marshmallow fluff and a drizzle of chocolate and you get something a bit like a s'mores. Pair it with vanilla custard and you get something even more bizarre: a sundae that tastes suspiciously similar to fried ice cream.
Either way, it's delicious.
I'm not sure what the best way to eat this really is. But I started with the crisp cookies, alternating each bite with a scoop of custard. The sundae was at its best toward the end when there was enough room in the cup to smash the fried Oreo into pieces and stir it right in. Not quite as magical as last year's unicorn Twinkie, but magical nonetheless.
3. Flamin' Hot corn on the cob on-a-stick
Where to find it: Slim's PBR Park $4.50
Ah, the stares we received as we strode across the tent with our unnaturally red ear of corn! But that's all part of the fun when you take a sweet ear of fresh corn on the cob, deep fry it, roll it in mayo and then cover it with bright red Flamin' Hot Cheetos crumbs. You also get a pretty tasty snack. The sweet corn loves the salty, vaguely spicy coating, which actually has a slight vinegary tang when mixed with the mayo.
I have only one caveat: This was pretty difficult to eat. The stick in our corn broke early on, so we were left holding it with our fingers. Red crumbs flew everywhere as we bit into the tender corn kernels and I might still be digging bright red bits out from under my fingernails. That said, if you're tired of the usual roasted corn and you don't mind a little bit of red dye, give this one a try. It's got a nice salt content, so you'll definitely want to grab a beer to drink alongside.
2. French onion soup on-a-stick
Where to find them: Slim's PBR Park, $6.50
How the heck do you put soup on a stick? Well, you don't. But apparently you can create a pretty good deconstructed version if you put a bit of thought into it. And Slim's has done just that.
You'll find egg roll wrappers filled with mozzarella, Swiss cheese and sweet (almost caramelized) onion. Those are topped off with a deep fried baguette crouton and served with a side of onion jus for dipping. And by golly, when you eat it, it tastes an awful lot like French onion soup. This one gets big points for creativity and a few more for flavor. Definitely don't hesitate to put it on your "to try" list.
Pro tip: This was an exceedingly popular item, even on the first day of the fair. Since they're made to order, they might take a few extra minutes to prepare. So sit down, have a beer and take a moment to take in your surroundings. Your French onion soup on a stick will arrive before you know it.
1. Deep fried spinach lasagna bites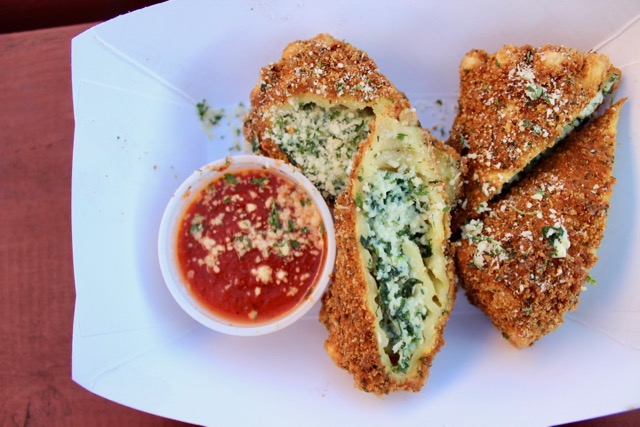 Where to find them: Albanese's Roadhouse, $9.50
Comfort food craving? Look no further than the deep fried spinach lasagna bites. Albanese's has apparently cracked the code for translating classic Italian dishes into State Fair worthy bites. Last year, they swept the Sporkies competition with their spaghetti & meatballs mozzarella sticks, which brought together the flavors of spaghetti, meatballs and mozzarella cheese inside a deep-fried wonton wrapper shell.
This year, it seems they've done it again. The lasagna bites which feature a three cheese and spinach filling wrapped in a lasagna noodle, breaded with Italian bread crumbs and deep fried, are delicious. The bread crumb coating is ultra crisp, the noodles were still a perfect al dente, and the ricotta filling was creamy with a nice showing of spinach and a hint of garlic. The marinara was simple and tomato forward, forming the perfect complement. Mangia!
Lori is an avid cook whose accrual of condiments and spices is rivaled only by her cookbook collection. Her passion for the culinary industry was birthed while balancing A&W root beer mugs as a teenage carhop, fed by insatiable curiosity and fueled by the people whose stories entwine with each and every dish. She's had the privilege of chronicling these tales via numerous media, including OnMilwaukee and in her book "Milwaukee Food." Her work has garnered journalism awards from entities including the Milwaukee Press Club.
When she's not eating, photographing food, writing or recording the FoodCrush podcast, you'll find Lori seeking out adventures with her husband Paul, traveling, cooking, reading, learning, snuggling with her cats and looking for ways to make a difference.