When, a few years ago, I posted about 11 lost Milwaukee schoolhouses – public school buidlings that no longer grace our landscape, but that still occupy a lot of real estate in our memories – readers asked for more.
Here, then, are 11 more examples of temples of learning lost to the wrecking ball over the years.
NOTE: This isn't every single one, but, who knows, maybe a third installment is on the way, too.
Bartlett Avenue
2964 N. Bartlett Ave.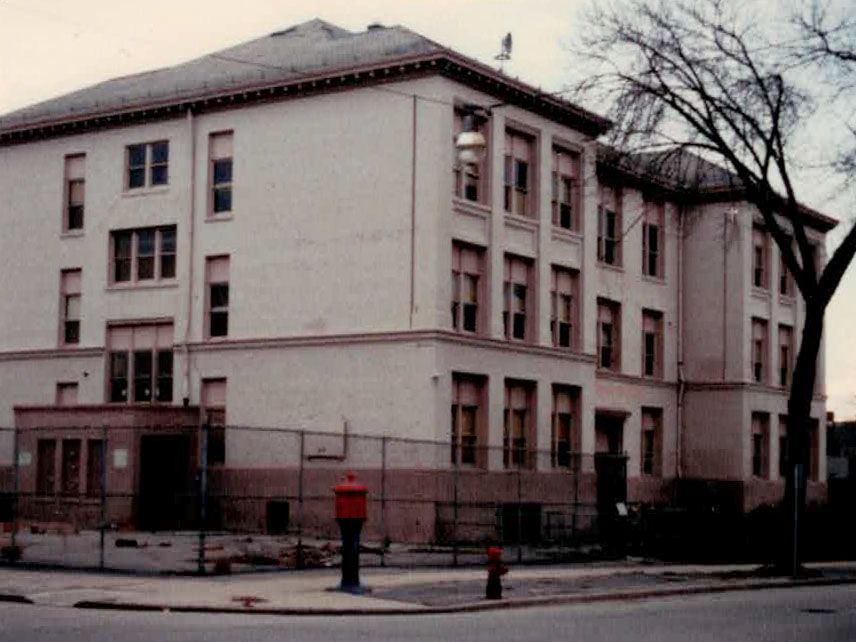 Built in 1902 to help ease the crowding at Maryland Avenue School in an endlessly growing East Side, Bartlett Avenue was a block north of what became the Riverside High School site.
After the school closed in 1979, the building was first traded to the Park Commission in exchange for land adjacent to Riverside High. The Park Commission sold it to the Indian Community School, which returned it to MPS, which then later gave it back to the Indian Community School, which itself closed in 1983.
Selling the Bartlett site allowed the school to purchase a building at the former Concordia College and reopen in 1987. It has since relocated to Franklin.
The building was razed and replaced by an elderly housing apartment facility built by the Milwaukee Jewish Federation.
Blaine School
107 N. 73rd St.
(PHOTO: Wisconsin Historical Society)
The cornerstone of the school in the Town of Wauwatosa was laid at 65th and Cottage Streets on Aug. 19, 1922, "under the auspices of the Brant Trachers' association of school district No. 11," according to the Milwaukee Sentinel. "The school was named Blaine by the unanimous vote of voters of the school district. Another school at Woodland and Slinger Avenues was named the La Follette School."
Interestingly, the site is now where MPS' Juneau campus now stands, or the park across the street, Cottage being the old name of Stevenson Street. But, in 1926, a newspaper describes Blaine as being located at 64th and Adler, likely on what is now the parkland adjacent to Burbank School.
However, in 1927, another newspaper report discusses an addition to the Blaine School, at 73rd and Stevenson, which is where it was located when it came into the MPS portfolio when the area was annexed to the City of Milwaukee in 1930.
That addition, designed by Van Ryn & DeGelleke, added wings to opposite sides of the original building.
Also interestingly, in 1933 it was reported that MPS was changing the name from Stevenson to Blaine, without explanation. Searches for Stevenson School turn up no results. My guess is that MPS renamed it to match other schools named for their locations, but opposition led to the return of the name, in honor of Wisconsin Gov. and U.S. Sen. John Blaine.
The school closed in 1983 and there were proposals to rent out the building, but two years later it was sold to the Korean Church of Milwaukee for $150,000. Later it was torn down and replaced with an apartment complex.
Douglas Road School
3919 W. Douglas Ave.
This far north side school was built in 1952 and became part of the Milwaukee district when the area was annexed by the city in 1953. Though the street became an avenue, the name of the school did not change.
From the sole photo I've found, the school looks like like it was built in at least two sections in a style that suggests it might have been meant to be temporary.
MPS purchased adjacent land in 1953-54 to an annex, which is likely the second of the two attached structures.
By 1975 it had just 164 pupils and seven staff members and discussion of closing it recurred for years during the 1970s. By 1979, it was described as small and deteriorating and it was closed that year.
Soon it was sold and has since been demolished.
Ludington School
8324 W. O'Connor St.
Aerial view of Ludington circa July 1968. (PHOTO: Milwaukee Public Schools)
Erected in 1919, the Ludington building was acquired by MPS when the neighborhood was annexed by Milwaukee in 1931. It was modernized early, in 1952, but being a former suburban school – like many of the others here – it was considerably smaller than MPS-built schoolhouses (also like the others). There were just seven classrooms and a small classroom on a 2.2.-acre site. There was no space for music and art classes, a library or reading and math centers. In 1978 there were 159 pupils.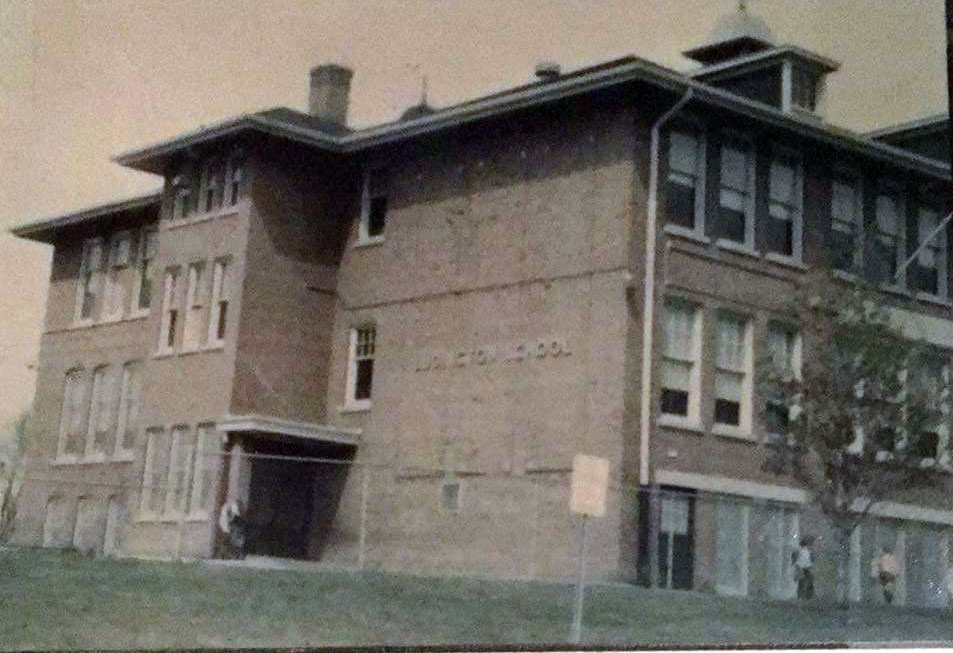 (PHOTO: John Gervais)
Because there were four schools in the area – including the larger Hawley and Burbank (plus the equally space-constrained Blaine) – it was suggested that the school be closed, which happened in 1979.
MacArthur School
3151 S. 60th St.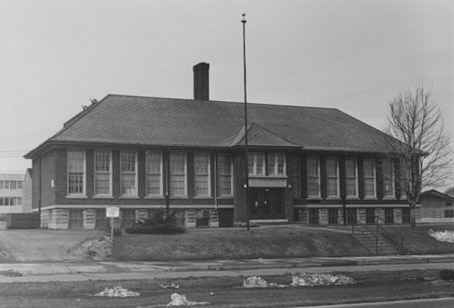 (PHOTO: Wisconsin Historical Society)
Built by the Town of Greenfield as Root Creek School, a one-room schoolhouse expanded to a two-room schoolhouse in 1928. In 1941 the WPA converted the old two-room into three rooms, and added a four-room addition for a total of seven. It changed its name to MacArthur in 1943, leading the general to send a letter and a signed photo to the school. It became part of MPS in 1951 when that part of Greenfield was annexed to Milwaukee.
(PHOTO: Wisconsin Historical Society)
There was another addition at some point and some references call it Liberty-MacArthur – presumably because its program merged with that of Liberty School, 4824 S. 27th St. (pictured just above) – while others call it General Douglas MacArthur. It closed in 1975 because by then there were only 87 kids and there was no gym or library. But it reopened briefly as a program for junior high boys with behavioral issues. Closed for good by 1979 and was sold not long after.
Ninth Street School
1723 N. 9th St.
The architect's original rendering of the school.
Built in 1894 and designed by architect A.V. Wiskocil, the school opened as 10th District No. 2. Later, a small annex was built across the playground on the corner of 10th Street.
Ninth Street School (at left) in a 1968 photo that also shows Roosevelt (at right)
and the Lapham Park Social Center (middle).
Some of the building was older still, as is noted in this 1927 MPS facilities blurb: "The school was established in 1866 under the name of Washington School. The original building is still in use as part of the present 25-room structure."
Closed in 1983, the building razed the following year and a new Elm Creative Arts School building was put up on the site.
Park Street School
537 S. 3rd St.
(PHOTO: Milwaukee Public Schools)
A 1927 MPS facilities booklet notes, "this is one of the five whose beginning antedates the official records of the (School) Board. An early history mentions it as in existence in 1846, and also the erection of a new building in 1862. There are 14 classrooms and a small assembly hall. Part of the building is now being used by Technical High School classes and eventually the building will become an integral part of the Boys' Technical High School."
What it didn't say is that when the building closed the following year, it became "an integral part" of Tech by being torn down and replaced with a Tech addition.
Twelfth Street School
2669 N. 12th St.
(PHOTO: Milwaukee Public Schools)
Established in 1878 as the Tenth District Branch School, in 1895, as Twentieth District No. 1, it got a large new building with a tower atop the center with 14 classrooms. The school was closed in 1977 and torn down to make way for construction of the new North Division High School.
Warnimont School
3500 S. 1st St.
Built on park land turned over to the school board by the Board of Public Land Commissioners in 1954, Warnimont was a temporary fix to overcrowding in 1955.
By 1978 there were 81 students enrolled. While there was room to grow enrollment, the building wasn't large enough to provide a gym, library, music rooms, art classrooms or other basic needs.
Warnimont closed in 1979 and plans for a teen or senior center didn't pan out. The school was torn down but the old playground and site remains as Warnimont Playfield.
Weil Street School
2369 N. Weil St.
(PHOTO: Milwaukee Public Schools)
Built in 1893 as 13th District No. 4 annex. In 1923 it became the Kilbourn Prevocational School. In 1927, it was replaced by the School for Women's Work and in 1936 it reopened as Weil Street, but was closed in June 1942. In 1955 there was talk of reopening the four-classroom building, but that didn't appear to happen. Instead, it was soon occupied by a handicraft project of the County's work relief program, though that moved out in 1964. The building was razed and in 1972 a small apartment building went up on the site.
Wright Street School
5522 W. Wright St.
(PHOTO: Milwaukee Public Schools)
Built by the Town of Wauwatosa as Lincoln School, this four-room schoolhouse came into MPS via annexation of the neighborhood in 1925, at which point it was renamed Wright Street School. Though a new building was planned in the late 1920s, it doesn't appear to have ever been built and the school was closed in 1942.
Milwaukee Talmud Torah purchased the building for $16,900 in 1943 (at the same time the Heil Co. offered $21,875 for the shuttered Dakota Street School) for the United Hebrew School's west side branch. That school left the premises in 1952, but it's unclear exactly when the building was torn down.
The site is home to the Marcus DeBack Playground.
Born in Brooklyn, N.Y., where he lived until he was 17, Bobby received his BA-Mass Communications from UWM in 1989 and has lived in Walker's Point, Bay View, Enderis Park, South Milwaukee and on the East Side.
He has published three non-fiction books in Italy – including one about an event in Milwaukee history, which was published in the U.S. in autumn 2010. Four more books, all about Milwaukee, have been published by The History Press.
With his most recent band, The Yell Leaders, Bobby released four LPs and had a songs featured in episodes of TV's "Party of Five" and "Dawson's Creek," and films in Japan, South America and the U.S. The Yell Leaders were named the best unsigned band in their region by VH-1 as part of its Rock Across America 1998 Tour. Most recently, the band contributed tracks to a UK vinyl/CD tribute to the Redskins and collaborated on a track with Italian novelist Enrico Remmert.
He's produced three installments of the "OMCD" series of local music compilations for OnMilwaukee.com and in 2007 produced a CD of Italian music and poetry.
In 2005, he was awarded the City of Asti's (Italy) Journalism Prize for his work focusing on that area. He has also won awards from the Milwaukee Press Club.
He can be heard weekly on 88Nine Radio Milwaukee talking about his "Urban Spelunking" series of stories.