There are 70 new foods in which you can indulge at the 2022 Wisconsin State Fair. But which ones are worth trying?
I spent the bulk of opening day working my way through a list of mostly reader-suggested foods, tasting every single one. I've ranked 14 of them from worst to best (14 being the worst) and included my tasting notes for your reading enjoyment.
14. Fish Fry Bombs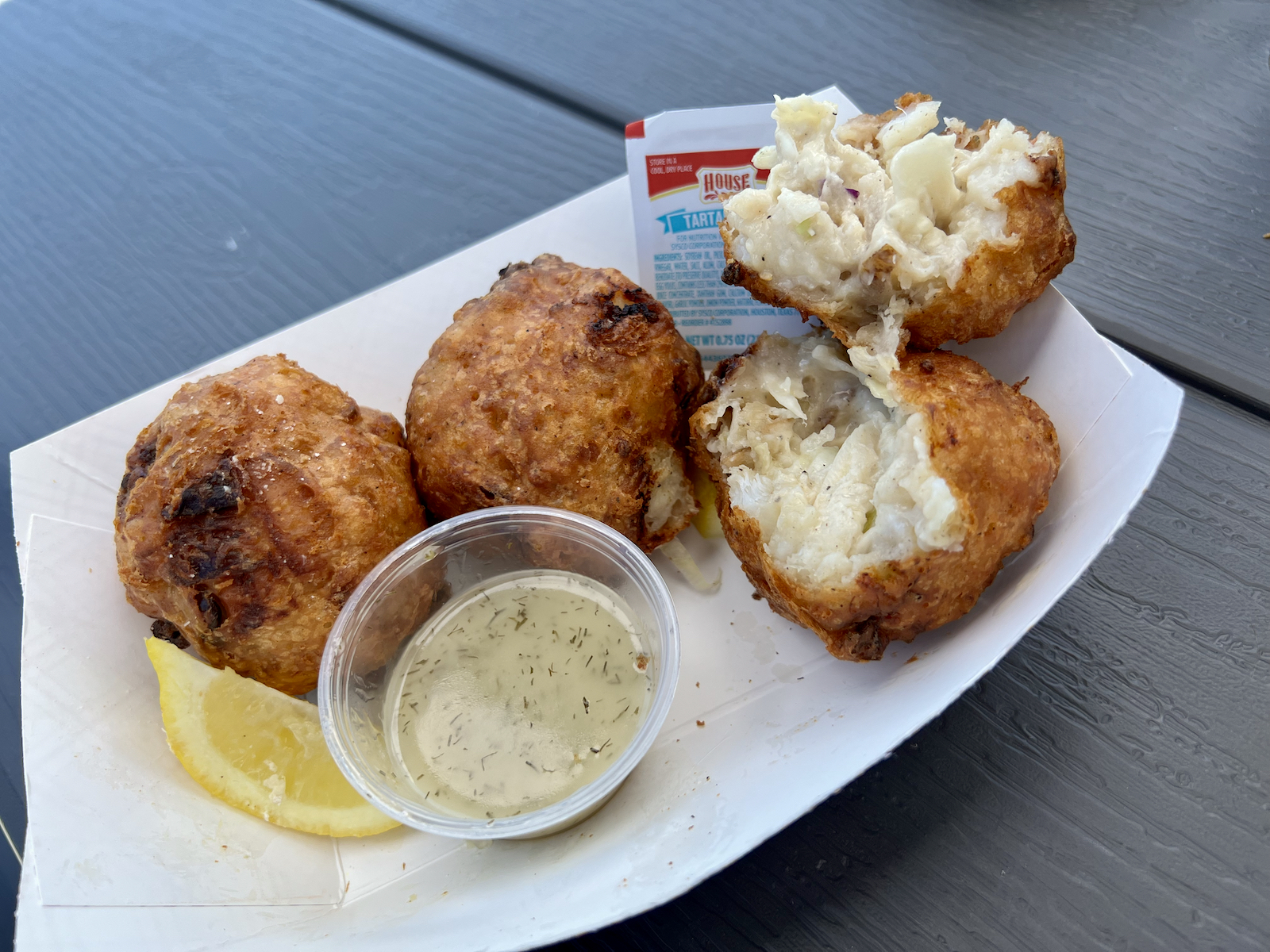 Where to find them: WürstBar (D9) $11
Description: Hand-breaded Atlantic cod, house slaw, and fries all in one deep-fried bite served with lemon vinaigrette and side of tartar sauce
Everything you want in a classic Wisconsin Friday fish fry breaded together in a biteable snack? Sure, why not? The idea definitely wasn't a dead end, but unfortunately results were less than stellar.
The dish came with three very large balls (easily three inches across) filled with fish, slaw and fries. They were seasoned with lemon vinaigrette (which I got on the side, but drizzled on top) and served with packaged tartar sauce and extra fresh lemon wedges.
On the positive side, the exterior of the bombs were nice and crisp and the fish seemed to be flakey and cooked through. The vinaigrette also gave everything a nice pop of acid. But that's where things went south. The overall texture of the filling was tough to stomach. It was hot, but very pasty, almost as if the batter on the fish wasn't totally cooked. Or maybe it was that the potatoes were just really, really soft and squishy. The slaw was also exceedingly limp, so while the red cabbage contributed a bit of color, the vegetables didn't assist in solving the textural issues that simply pulled this great idea to the bottom of the State Fair barrel.
13. Gummy Bear Brat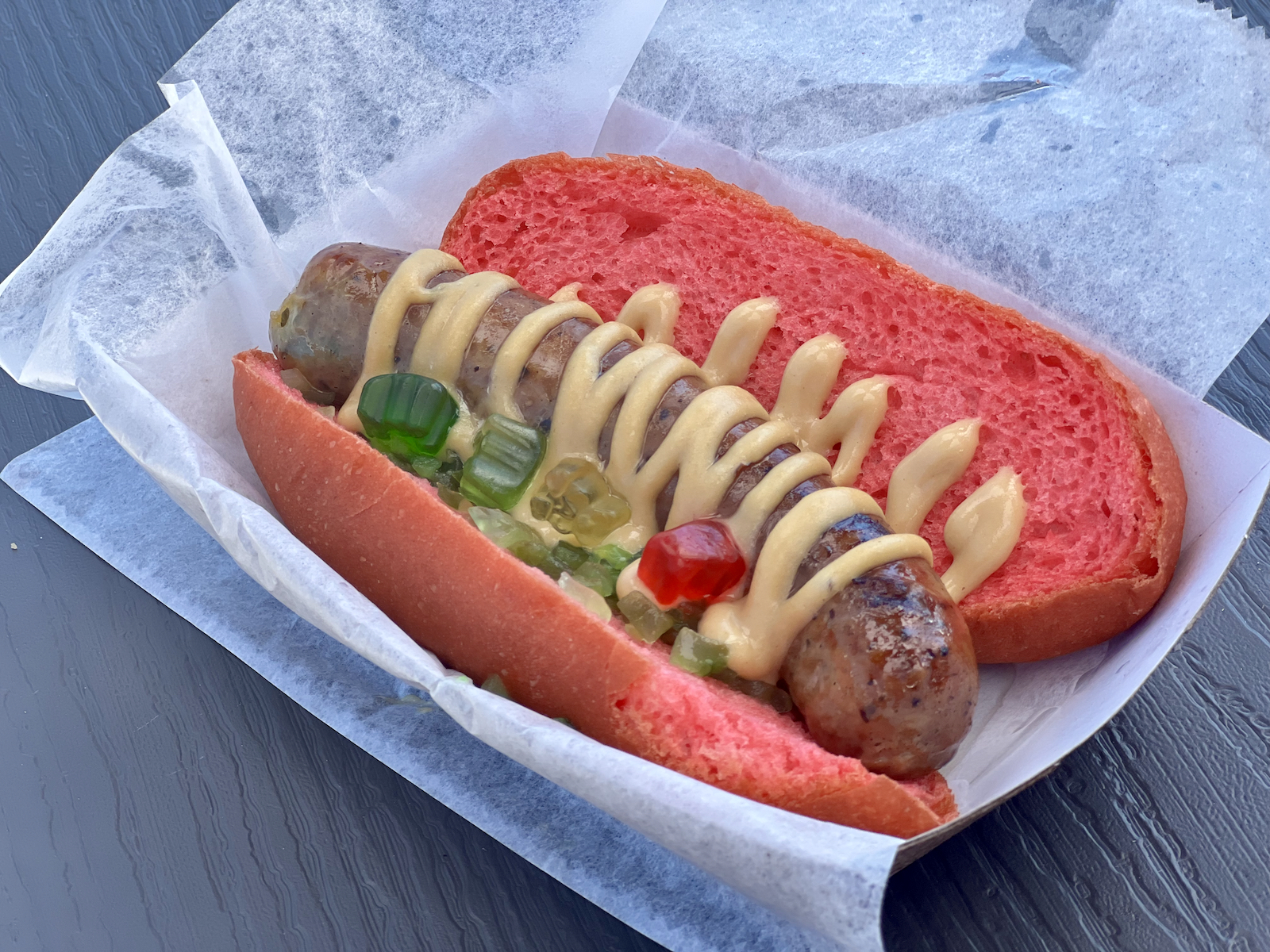 Where to find them: Leadfoots Race Bar & Grill (F10) $8.25 (Important to note: the venue is cash only)
Description: Bratwurst infused with gummy bears served on a [pink] bun topped with a honey mustard drizzle and gummy bear garnish
Strange combinations sometimes work surprisingly well in State Fair creations, which are meant to evoke joy in the form of creative eats. So I'm always up for trying wild and crazy combinations; after all, sometimes they're unexpectedly good.
This combination was definitely wild and absolutely unexpected. But the combination of flavors just didn't make the cut. Let's start with the bun. It was pink, which was somewhat of a surprise, but definitely not out of place for an otherwise nontraditional sausage. It seemed to have a slightly sweet (maybe fruity) flavor, though I couldn't tell if it was just my imagination playing tricks on me or if it was created to contribute an additional layer of sweetness to the sweet and salty combination.
The bratwurst was fairly classic in flavor, but the pieces of gummy bear tucked inside were just strangely chewy and sweet, and the heat from the brat made them melt out of the brat in a green syrup that soaked into the bun and made it soggy. Additional chopped gummy bears mixed with the honey mustard had an effect similar to a gummy relish, offering up both sweet and salty components, along with more of that odd, chewy texture that just didn't jive with the classic Wisconsin sausage.
12. Donut Dog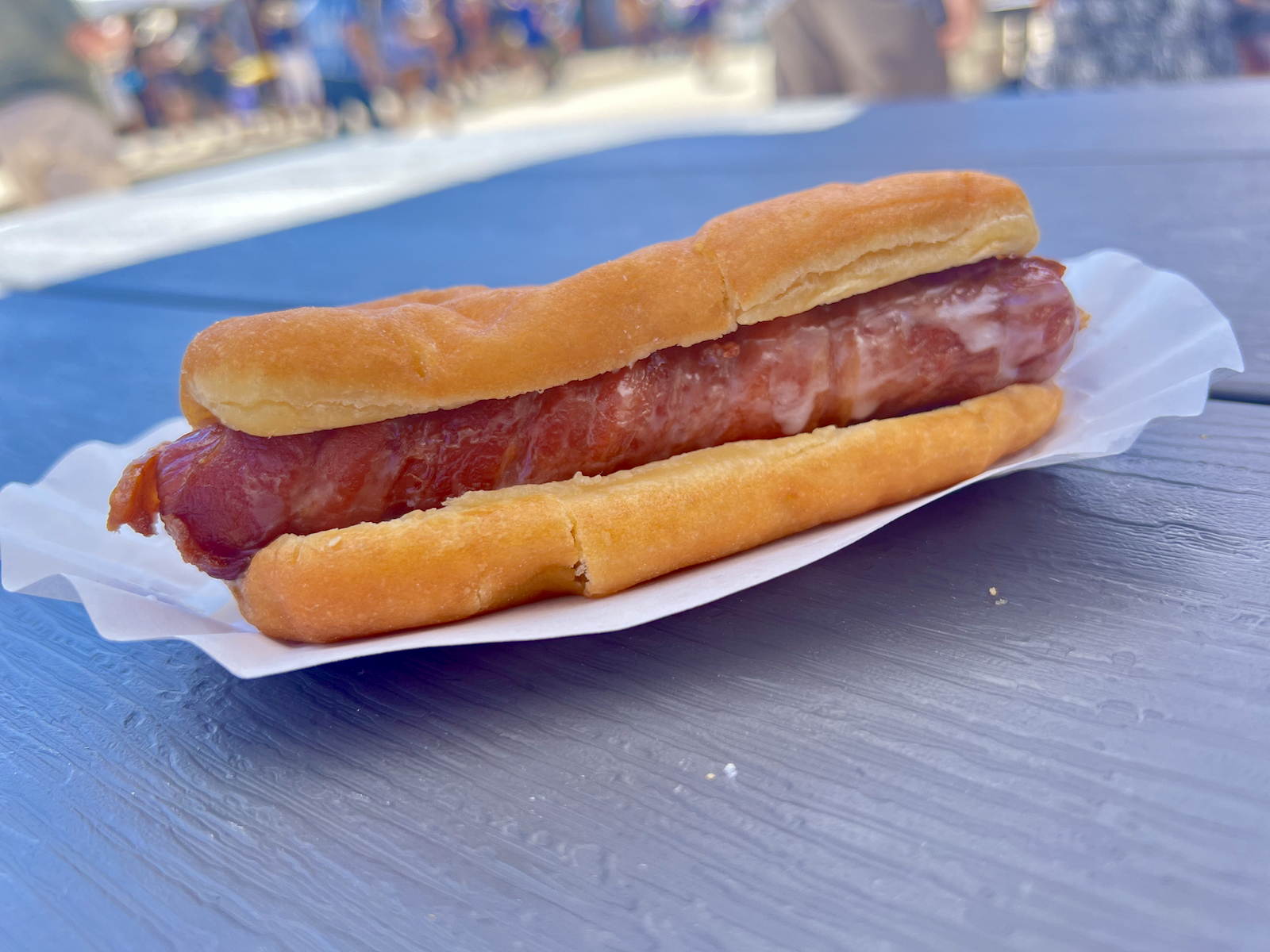 Where to find them: Siggy's Wild Dogs Saloon (E10) $9
Description: Bacon wrapped all-beef hot dog in a fresh long john donut bun drizzled with icing
I've eaten burgers sandwiched between glazed doughnuts and surprisingly good creations like last year's Glazy Boy, a cheesy, mustard-laced pork loin sandwich that totally worked when paired with warm, sweet, sticky Grebe's doughnuts. As I've said, sometimes unexpected creations work better than one might think they would.
So I had high hopes that – even though I'd never think to dip a hot dog in frosting – that the unconventional combination might actually work.
But the Donut Dog? While I had high hopes that this sweet and salty combination would be a dish greater than the sum of its parts, it was missing the essential balance of flavors that would have made it into something worth eating. In the end, this was an ordinary hot dog wrapped in not-so-crispy bacon, glazed in sweet frosting and piled on a super soft, slightly sweet long john.
For the record, my long john doughnut bun was not glazed; but that didn't work against it. In fact, without a pop of acid or another element to balance the extremes of sweet and salty, this hot dog didn't have a chance of rising to the top of my list.
11. Cinnamon Toast Crunch Latte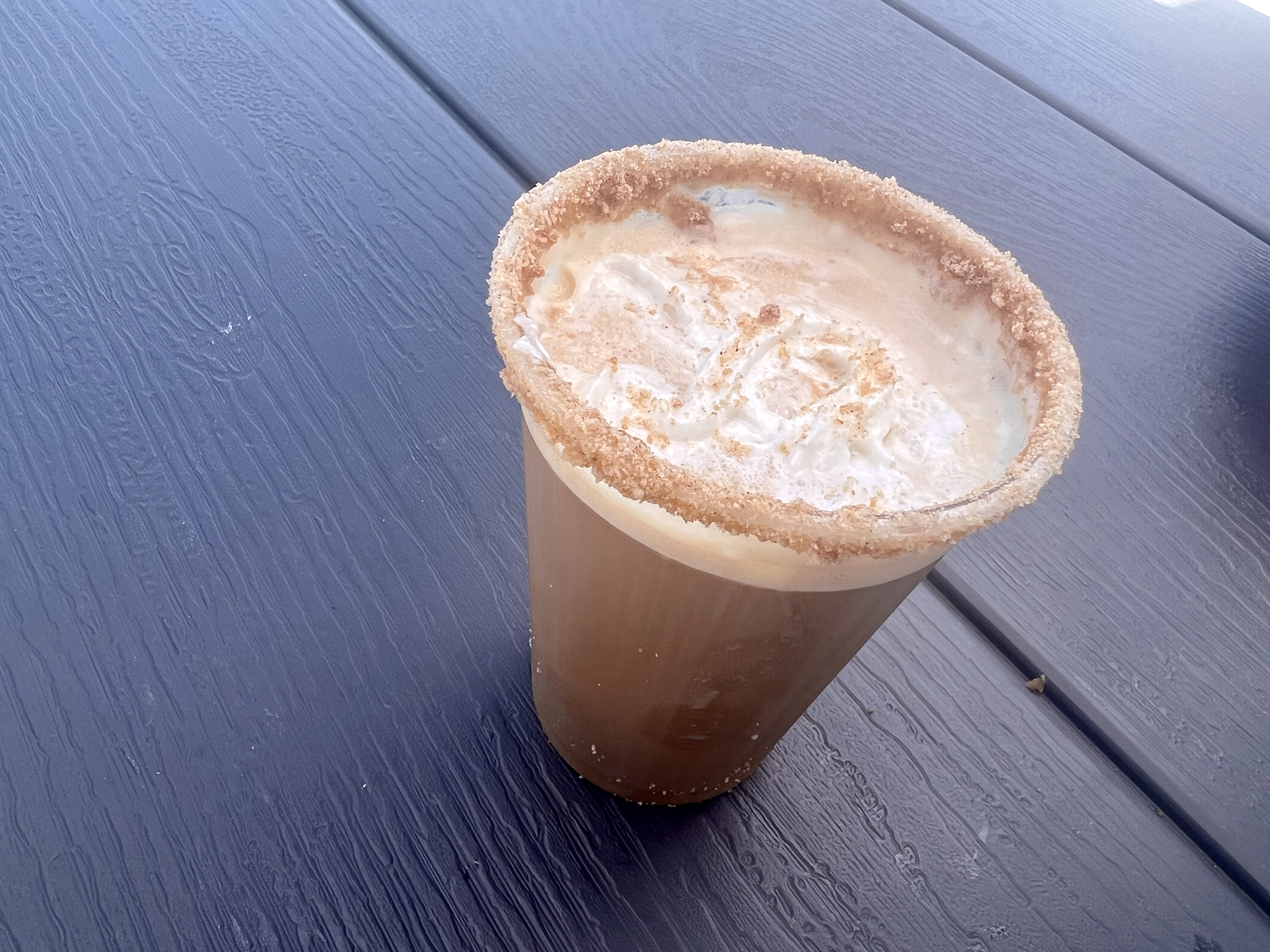 Where to find them: Slim McGinn's Irish Pub (F9) $8.50
Description: Nitro coffee mixed with Cinnamon Toast Crunch infused cereal milk served with a cereal crust rimmed cup and whipped cream.
Now, typically a latte is made with espresso and steamed milk. But this is the State Fair, so I approached this clever-sounding beverage with a generous amount of grace. After all, I love coffee. Plus, nitro coffee is known for its silky smooth mouthfeel and intense flavor. So when I heard that Slim's was combining it with Cinnamon Toast Crunch infused milk, I was all in.
Unfortunately, as I sipped this concoction, I found myself searching for the flavor of the cereal amid the strong coffee flavor without much success. While the coffee flavor was pronounced and smooth, the nutty cinnamon flavor I expected was mawkish at best, with very little sweetness overall. In fact, the flavor of the drink was saved only by the cereal rimmed cup, which provided a modicum of flavor to what was otherwise a very small, quite expensive, cup of not-so-flavorful coffee.
10. Spicy Pickle Cotton Candy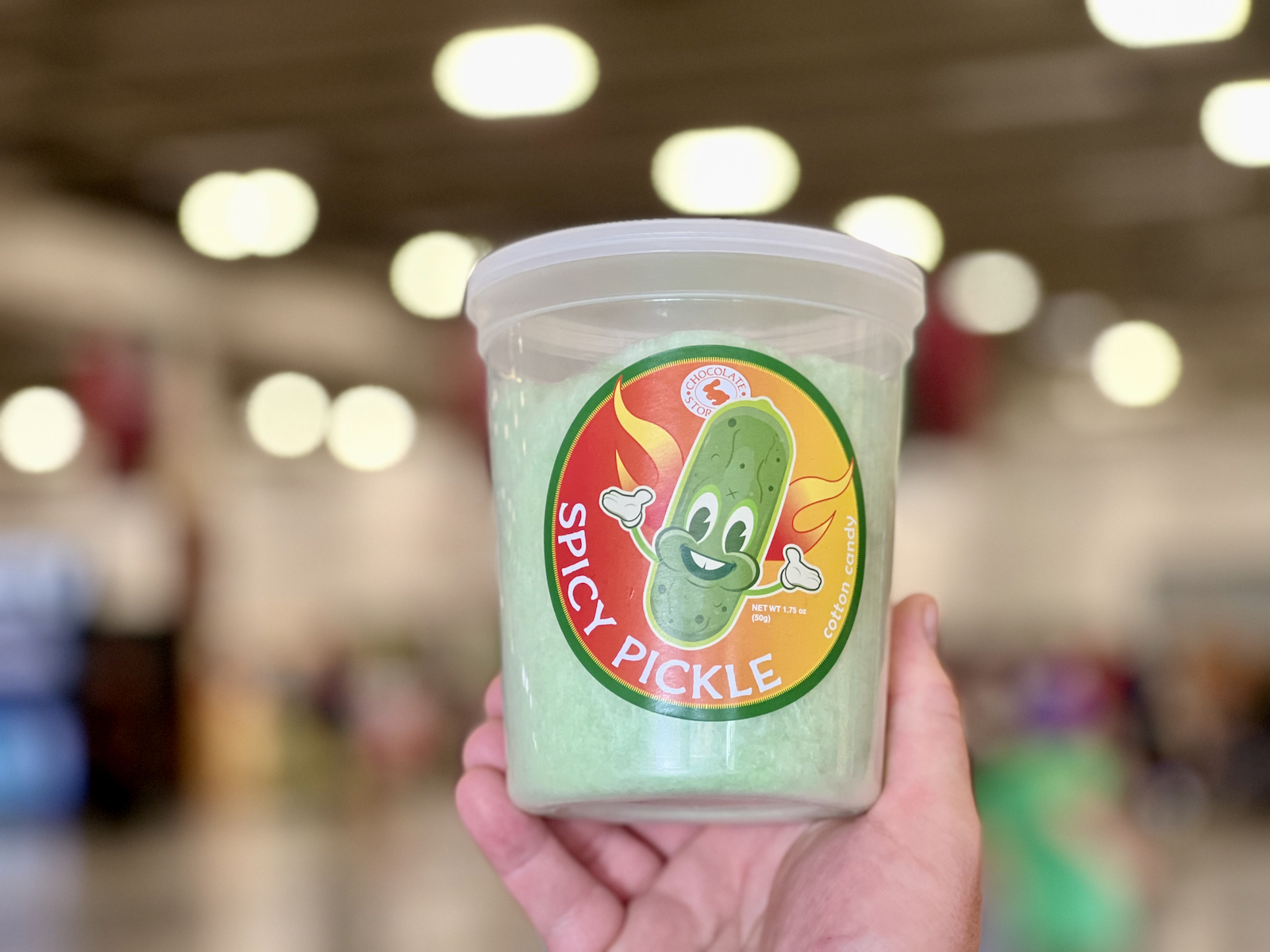 Where to find them: Pickle Barrel (Expo Center and Cream Puff Pavilion) $7.50
Description: Cotton candy flavored with dill pickle or spicy dill pickle
I love the wispy texture of cotton candy, with its melt-in-your-mouth sweetness. I'm also a big fan of the bright acidic punch of a crispy, spicy dill pickle. So when a reader suggested this should be on my to-try list, I didn't hesitate.
Honestly, it was weird. I had to eat at least three or four little poofs of the green spun sugar to even get my brain around what was going on in my mouth. The bizarre concoction created such a strange sense of cognitive dissonance that it stopped me dead in my tracks. It was definitely sweet and light and it absolutely melted in my mouth, just like cotton candy should. But it was also flavored intensely with dill and vinegar and it offered a spicy punch that lingered briefly on my tongue before disappearing as quickly as it appeared.
I don't think I'd be able to come even close to eating an entire container of this on my own, but it was exactly what it promised to be – spicy, pickly cotton candy. If you like both, you might get a kick out of giving this a try.
9. Brandy Old Fashioned S'more On-a-Stick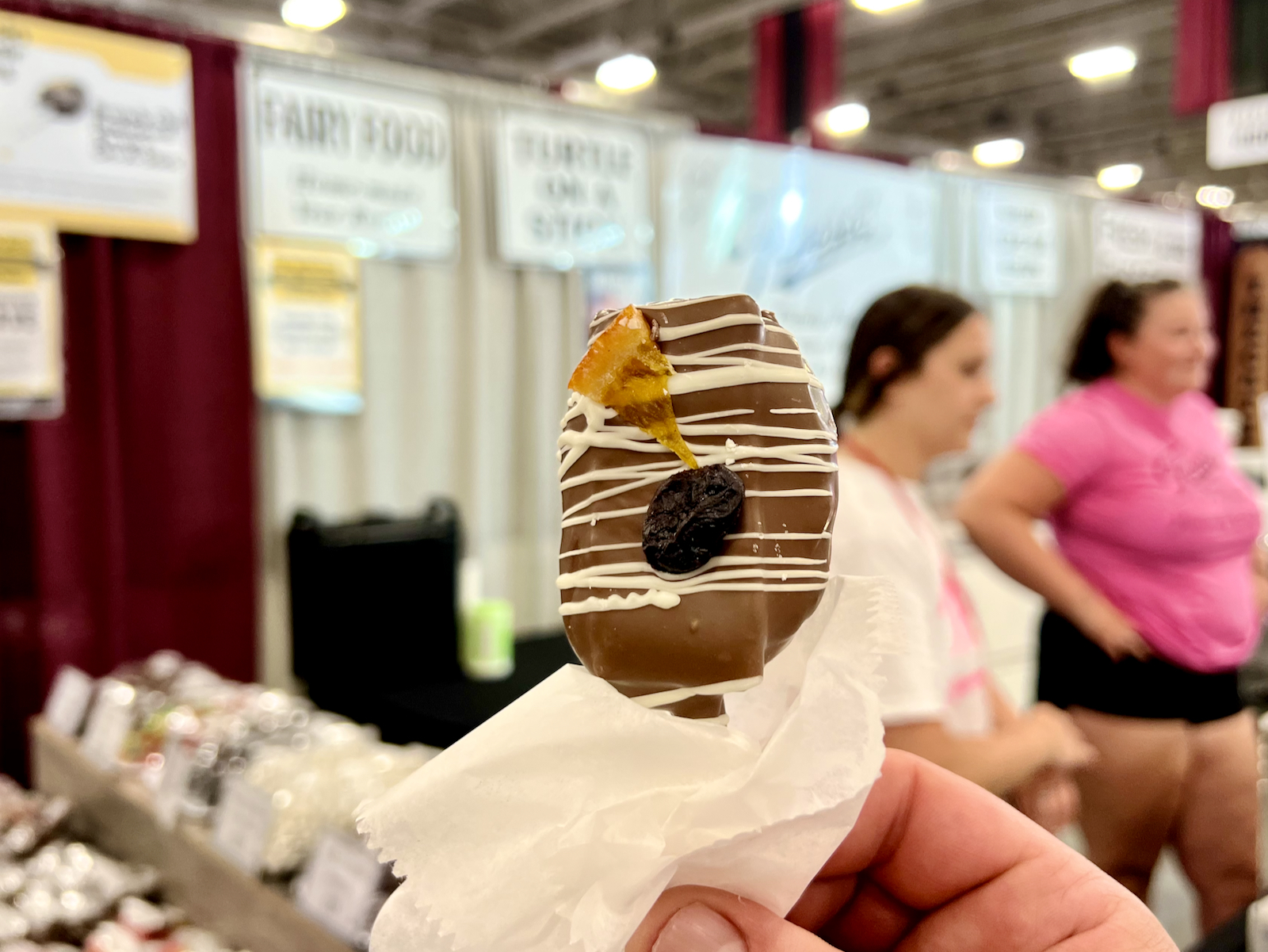 Where to find them: Freese's Candy Shop (Expo Center, Cream Puff Pavilion and Heavenly Roasted Nuts, G15) $6
Description: Brandy old fashioned whipped marshmallow sandwiched between two graham crackers, dipped in milk chocolate coating and garnished with a dried cherry and orange slice.
There are few more classic Wisconsin quaffs than a brandy old fashioned. So, the notion of blending the drink with a classic camping treat was definitely an intriguing prospect. In fact, I approached the sweet treat with high hopes that it would deliver on both counts.
The s'mores aspect of the dessert was spot on. Crispy graham crackers, sweet chocolate and creamy whipped marshmallow came together in sweet harmony that was not only texturally spot-on, but easy to eat off of a stick.
What got lost in the shuffle was the classic combination of brandy, orange and cherry. Both the very sweet marshmallow and thick layer of (also very sweet) milk chocolate largely overpowered the subtle flavors in the marshmallow, leaving the dessert decidedly favoring the s'mores components over and above the flavors of the cocktail. The bites that included the dried cherry and orange slices inched closer to giving the dessert what it needed, but overall it wasn't quite there for me.
That said, the dessert did earn third place in the 2022 Sporkies competition, so while it didn't quite meet my muster, if you're looking for a super sweet indulgence at the Fair, I won't discourage you from giving this a try. In fact, I'd be curious to hear what you think.
8. Mexican Street Corn Popcorn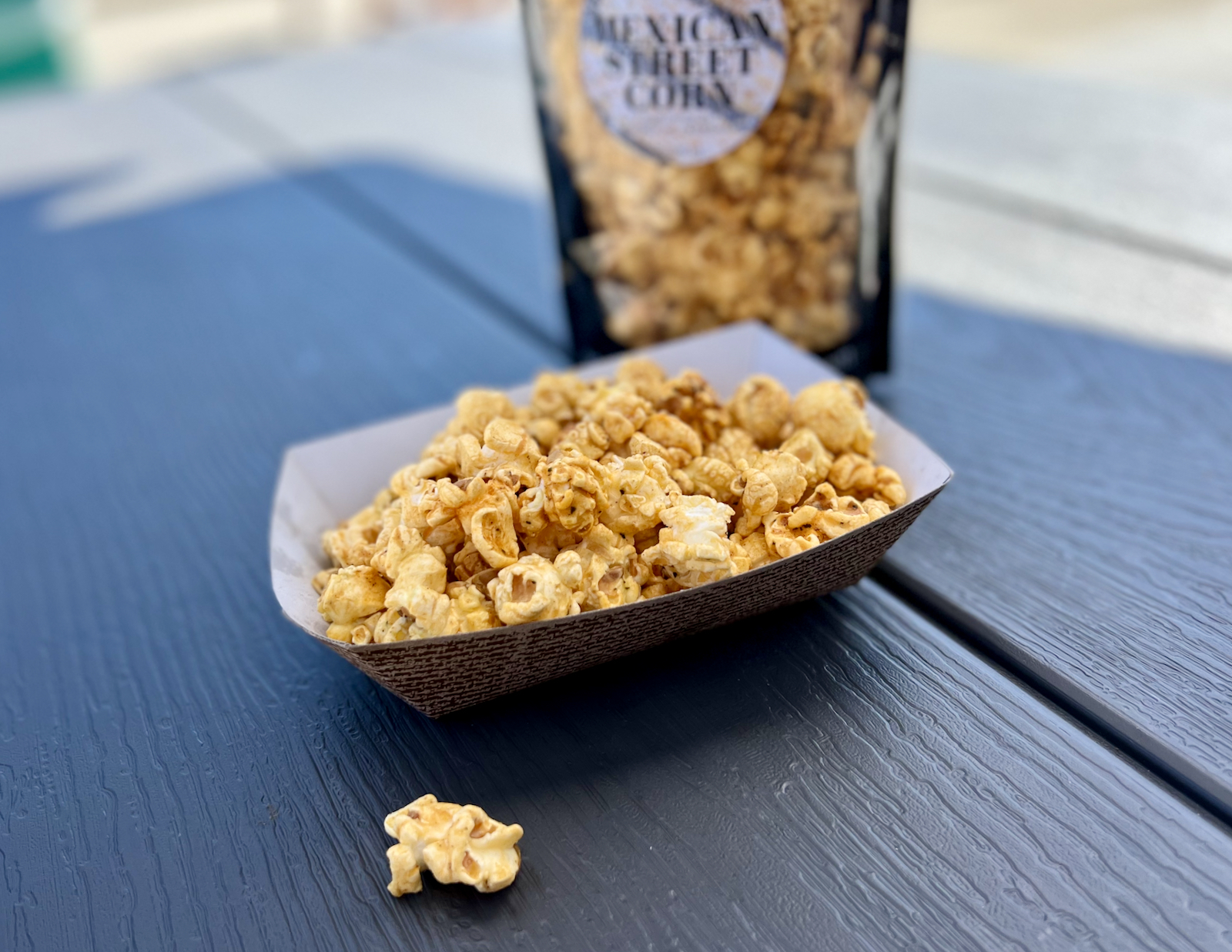 Where to find them: Pop's Kettle Corn (Wisconsin Products Pavilion) $8
Description: Popcorn topped with sweet corn, lime, chili, chipotle, salt, and cotija cheese
Elote is a lovely summer treat, pairing the fresh sweetness of farm fresh corn on the cob with sour lime, umami-rich mayo, spicy chilies and salty cotija cheese. And combining the flavors to create a flavored popcorn is definitely a worthy goal. The flavor idea, submitted to Pop's by Katherine Carnahan, is a new flavor for 2022 and was suggested to me as a must-try by a number of readers.
To start, I want to say it was pretty delicious. It had all the right elements: cheese, smoky spicy chili, a subtle hint of cumin and a touch of sourness to mimic the lime flavor in the Mexican street food dish. What was slightly off was the cheese flavor, which definitely tasted more of tangy cheddar than cotija, a cheese that tastes a bit like briney, salty feta when young and slightly more like Romano as it ages.
That said, this popcorn made for a nice snack. It was subtly spicy, decidedly cheesy with balanced notes of both sour and sweet, making it the perfect combination for a cold refreshing beer on a hot summer day.
7. Deep-Fried Ravioli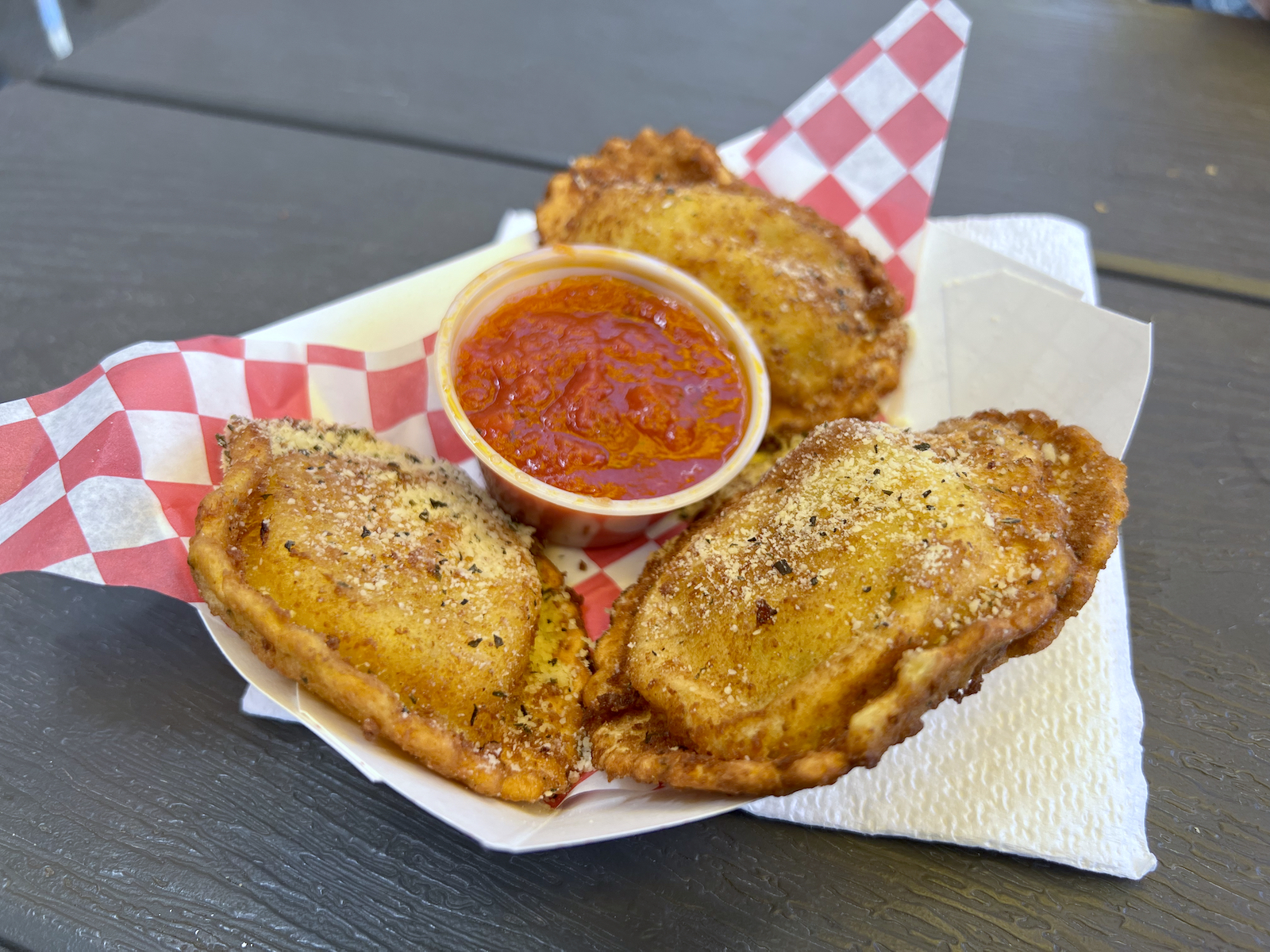 Where to find them: Mashed Potatoes On-a-Stick (C10) $8
Description: Deep fried ravioli stuffed with cheese
Fried Italian classics have become a regular at the fair, showing up three years ago in the form of fried lasagna, last year in Albanese's Sorrentino Bites and this year as deep fried ravioli.
While this dish wasn't as creative as some, it was a fairly solid snack, featuring four sizable fried cheese ravioli and a cup of slightly sweet tomato sauce for dipping.
It wasn't perfect. The ravioli, while nicely fried around the edges, was softer in the middle with a slightly rubbery texture in between the middle and edge. Not a deal breaker, but there was definitely room for improvement in terms of its texture.
On the upside, the ravioli was nicely filled with a combination of creamy ricotta cheese and (probably) parmesan. It was also sprinkled with a bit of extra parmesan, giving it a boost of umami that balanced out the sweetness of the tomato sauce nicely. All told, I'd eat it again.
6. Porker Poutine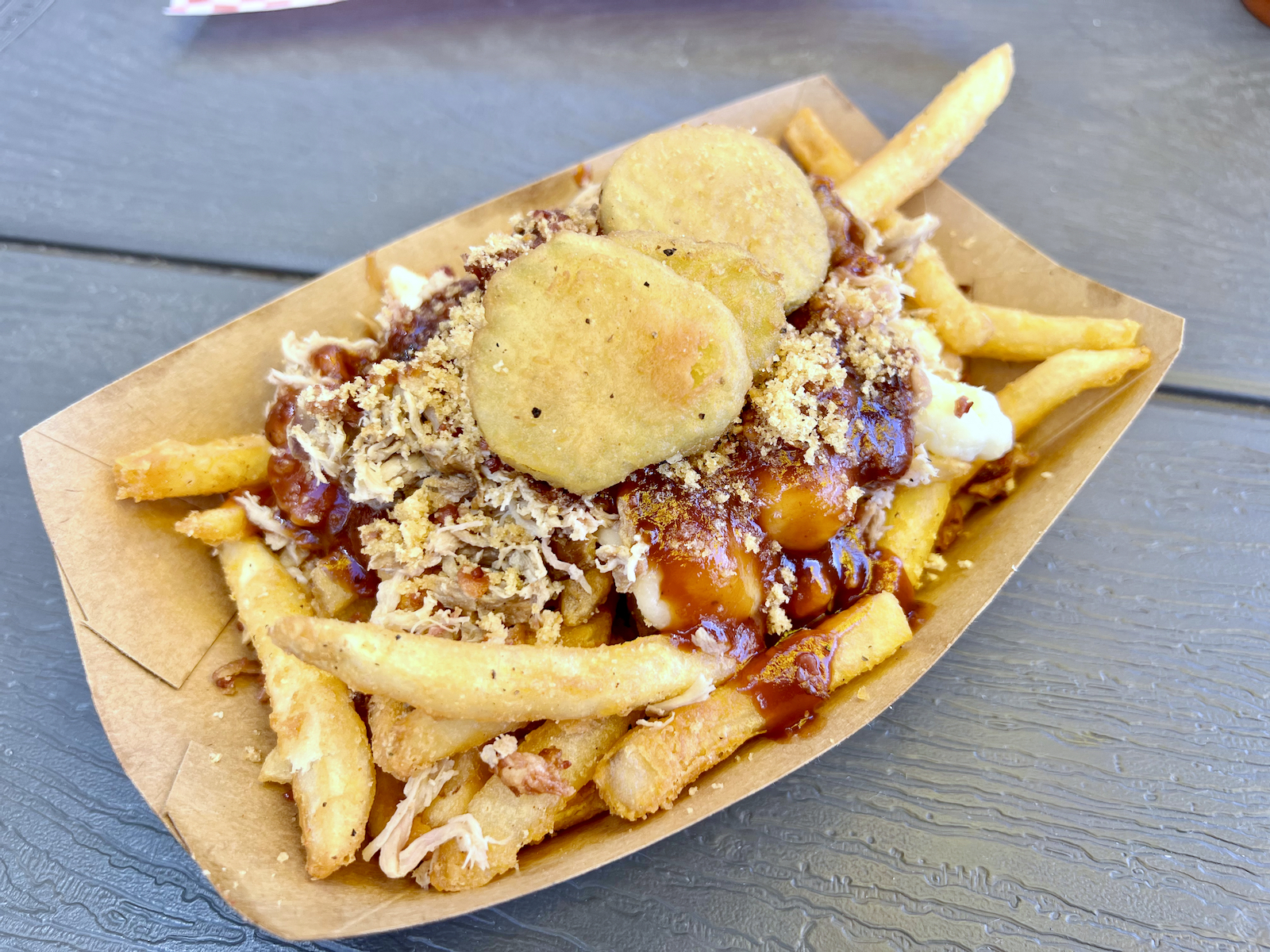 Where to find them: Lakefront Brewery Beer Garden (C11) $12
Description: French fries smothered with pulled pork, beer BBQ sauce, bacon crumbles, cheese curds, crushed pork rinds and fried pickle chips
Where do I begin with this dish? First, let me say that it fell pretty far from the poutine tree in my book. Covering this creation with a beer cheese gravy would have totally given it the poutine flavor it needed, with a slight Wisconsin twist. Instead, there was barbecue sauce and pulled pork, both elements which put it more solidly in the "loaded fries" camp, even with a few cheese curds thrown on top.
The curds themselves were slightly soft, but not as melty as they should be in a great batch of poutine, and I'm not exactly sure I understood the point of throwing a few fried pickles on top of the dish (except that pickles appear to be a trend at the Fair this year). But, I'm not here to rip on a dish which – while possibly badly named – wasn't a terrible dish to eat overall.
The battered fries were crisp, the pulled pork chopped and nicely coated in barbeque sauce and the sauce was applied moderately enough that it didn't saturate the fries. The barbeque sauce itself was quite sweet, with less beer flavor than I expected; but it was balanced out by the salty components (cheese, bacon, pickles). Meanwhile, both the bacon crumbles and pork rinds gave these fries a nice amount of texture. So, go ahead. Eat these loaded barbeque fries and enjoy them. Just don't call them poutine.
5. Strawberry Cheesecake Tater Tots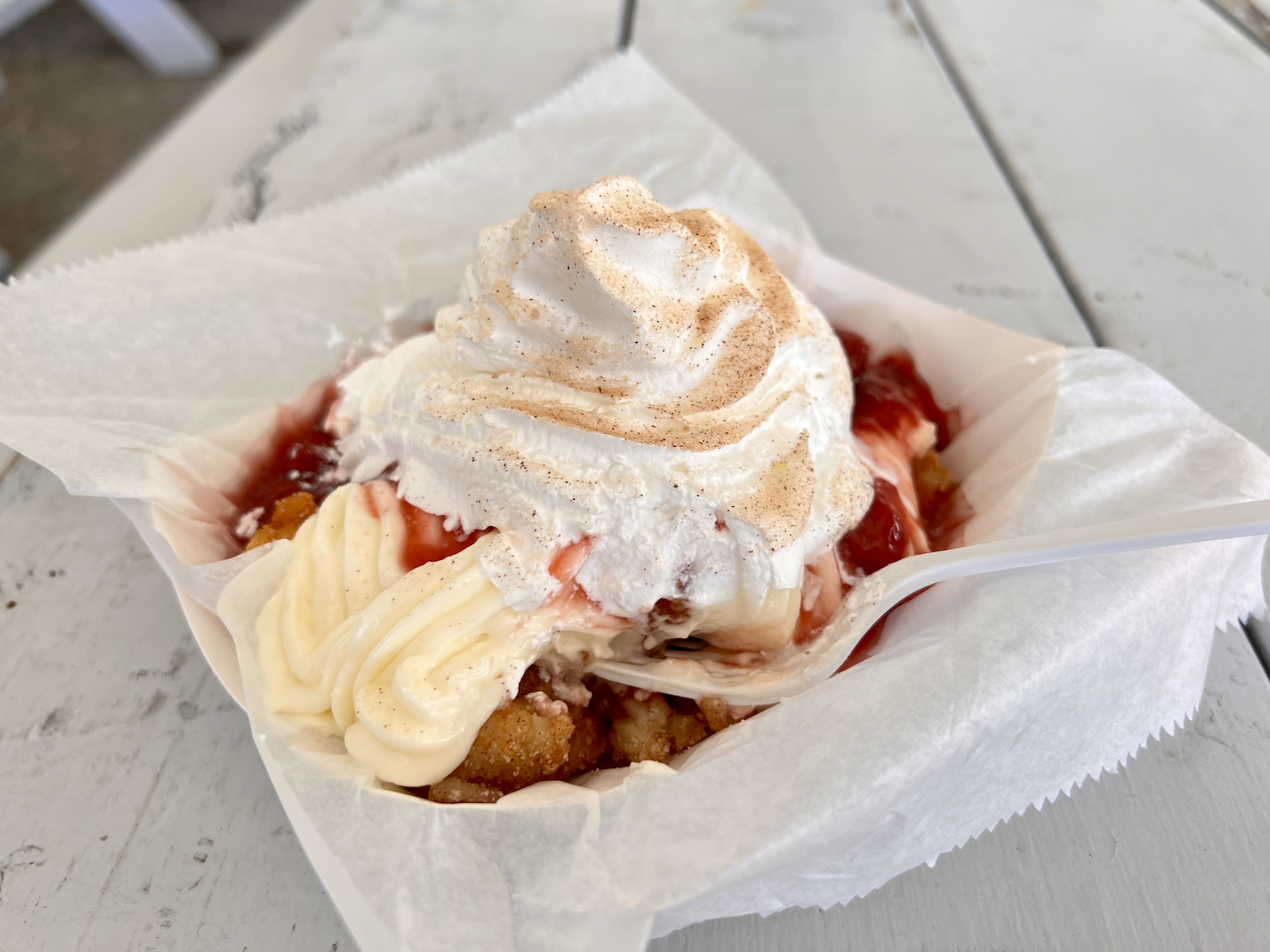 Where to find them: Jayme's Chipstix (C13) $12
Description: Cinnamon and sugar tater tots topped with cheesecake filling, strawberry topping, and whipped cream
I find sweet tater tots to be exceedingly polarizing, with most delivering something that's largely more bizarre than delicious. But the strawberry cheesecake tater tots were a pleasant exception. In fact, they may have been the most surprising dish I tried all day.
Warm tater tots sprinkled in cinnamon sugar were generously topped with creamy, smooth cheesecake filling and a balanced amount of saucy strawberries. The tater tots were crispy, the strawberries had a good flavor and there was just enough cheesecake filling that you could have a bit with every bite. The flavor was sweet, but definitely not cloying and a dollop of whipped cream and an added dusting of cinnamon added creaminess and a bit of flair to the dish.
4. Clam Chowder Fries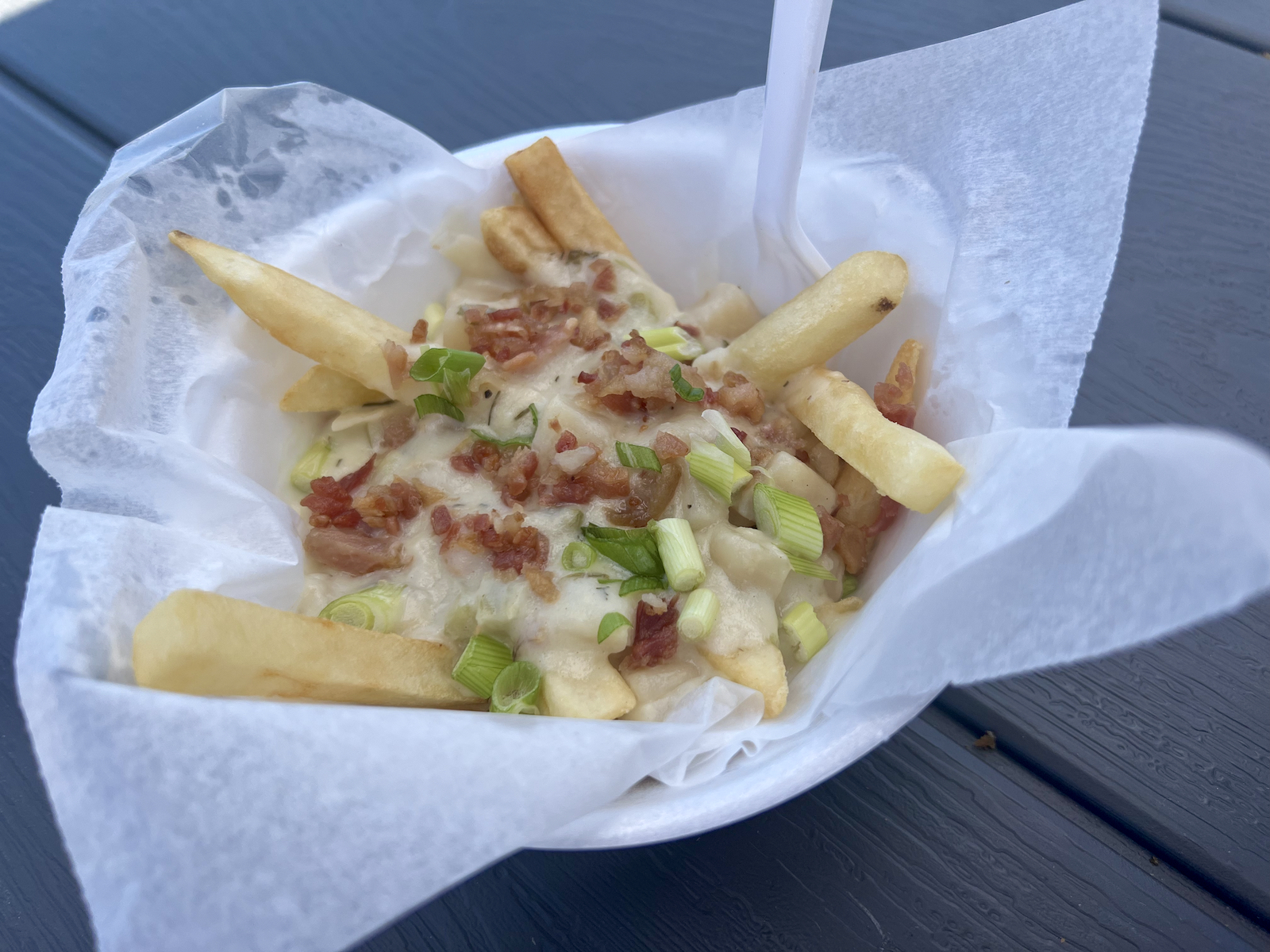 Where to find them: Gooonies Fish & Beer Shack (E10) $15
Description: Fries topped with clam chowder, bacon, and chopped green onions
I have little to say about this dish except that it surprised me. It was just solid. Overall, it's about as simple as things get: classic clam chowder poured atop crispy fries and boosted by bacon and truly fresh slices of green onion. But it was delicious and comforting and it came out of the kitchen steaming hot, so it easily made the trip over to a seating area without cooling down or getting soggy.
If you like fries and clam chowder, this is a solid State Fair snack.
3. Fried Pickle Cheese Curd Tacos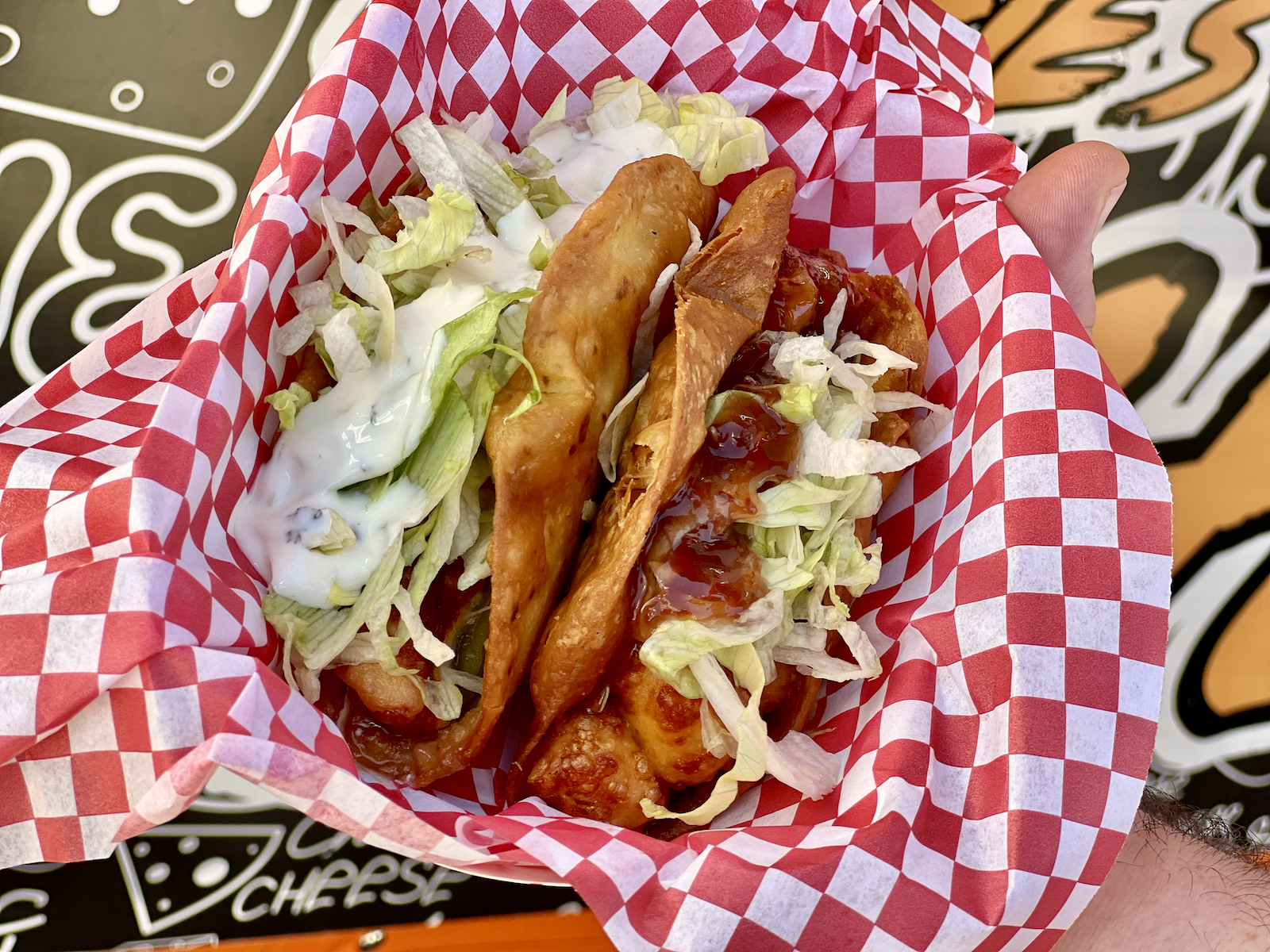 Where to find them: Richie's Cheese Curd Tacos (B12) $12 for two tacos
Description: Deep-fried pickles, cream cheese, and freshly battered white cheddar cheese curds in a deep-fried taco shell topped with guests' choice of raspberry chipotle sauce or ranch and fresh lettuce
Every year I look forward to trying a new creation from Richie's Cheese Curd Tacos, which always manage to end up somewhere in my top five dishes. That's largely due to their deliciously crispy flour taco shells, which are just sheer crispy goodness (think chimi-changa). Meanwhile, the breaded fried cheese curds from Wisconsin's Ellsworth Creamery are nearly always crisp on the outside and chewy on the inside (as they should be).
This year, those curds were accompanied by crispy deep fried pickles, a layer of the creamiest cream cheese and plenty of crispy fresh lettuce. That said, we divided our tacos between the ranch and the raspberry chipotle sauces, and the raspberry was definitely the winner. The sweetness balanced out the salt of the pickles and cheese, while offering a nice balanced, slightly smoky piquant flavor to the mix.
2. Country Fried Riblets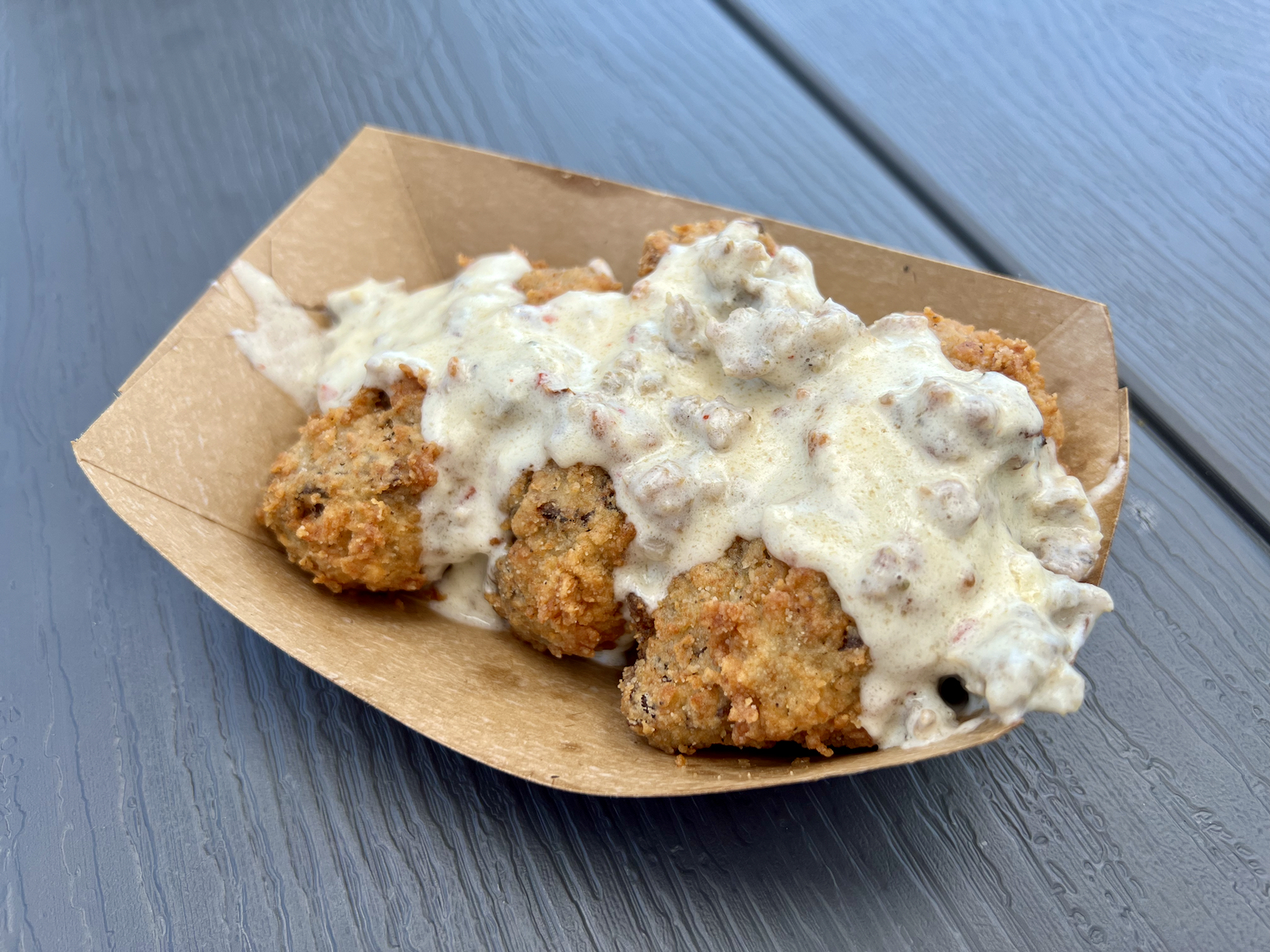 Where to find them: Saz's BBQ (C9) $12
Description: Deep-fried baby back Duroc pork riblets with country gravy
I'm quite glad this dish was among the suggestions offered up by OnMilwaukee readers for this year's Fair, because – if I'm honest – I may have otherwise overlooked it. But I'm glad I didn't.
If you love the flavor of rich, sausage-flecked country gravy and the fall-apart tenderness of well-cooked riblets, this dish is a winner on both counts. Pair that up with the tender, clean-flavored and well-marbled meat of the Duroc hog and this dish is already well on its way to being something special.
But add a pleasantly crispy chicken-fried coating to the ribs' exterior, and you've a dish that's not only chock-full of flavor, but which screams comfort food at every time of the day. Breakfast? Sure. Lunch? Absolutely. Dinner? You know it. Nice work, Saz's.
1. Peño Pretzel Popper Brat (2022 Sporkies winner)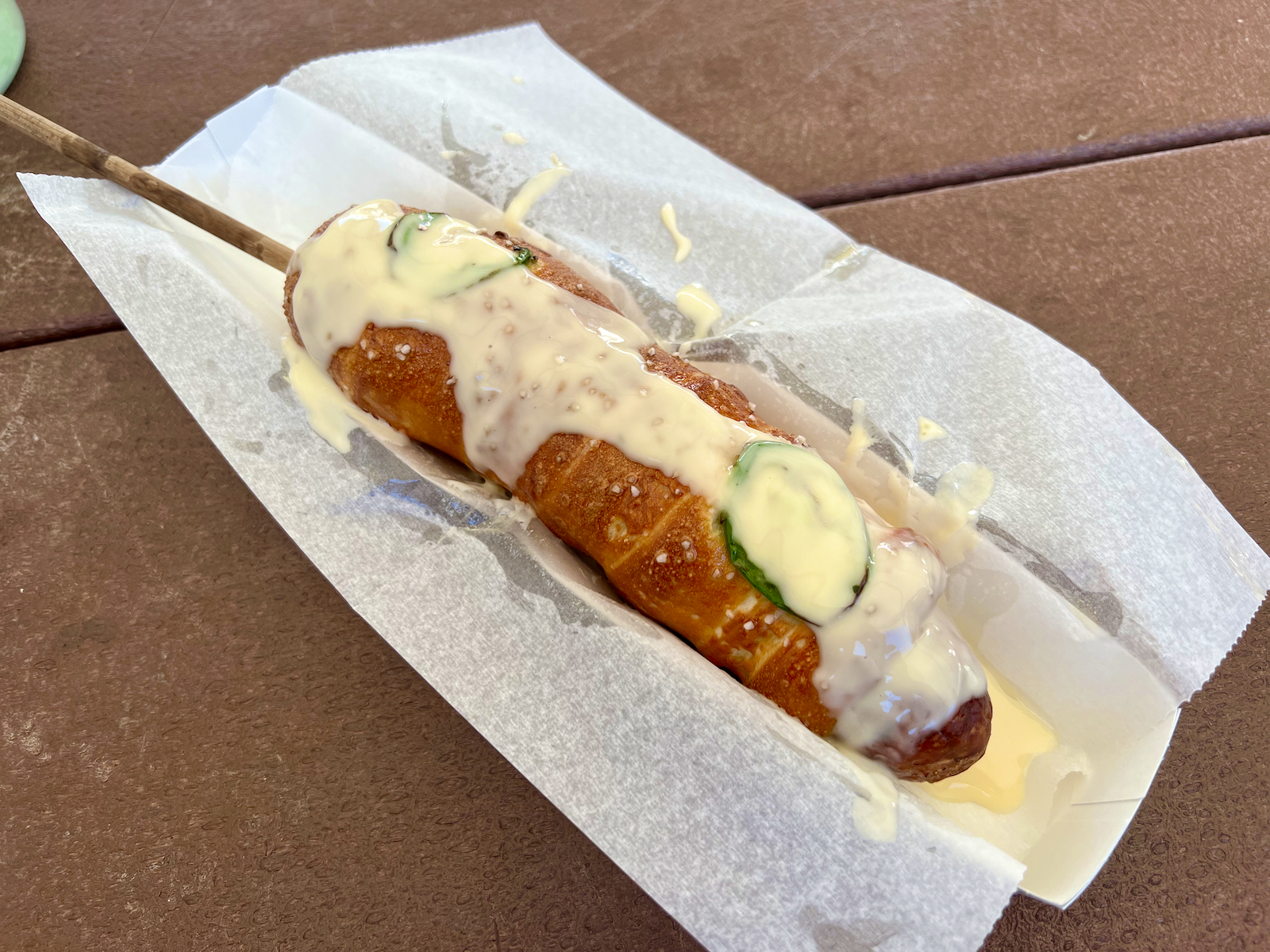 Where to find them: Gertrude's Pretzels (G14) $15
Description: 10-inch jalapeño cheddar bratwurst from St. Joe's Country Market (LaCrosse) wrapped in pretzel dough, topped coarse pretzel salt, fresh cut jalapeños, and white cheddar sauce. The brat is also (technically) served with a side of house-made jalapeño cream cheese dip.
Remarkably, even though this brat was consumed on the tail-end of my six-hour whirlwind new-food-eating spree, it still easily stood out as the best of the best.
This brat was a winner from start to finish: creative, sizable and indulgent. The bratwurst was tender and nicely spiced with a nice jalapeno presence, giving it just the right amount of kick. The pretzel was soft and toothy, offering up a balanced meat-to-bread ratio. Meanwhile, the fresh jalapenos and jalapeno cheese sauce made the entire sausage into a cheesy, delightfully messy indulgence.
A word of advice: head to the stand early in day. I dropped by after 5 p.m. – along with a crowd of other curious diners – so I think they had run out of the jalapeno cream cheese which was meant to accompany the brat. Ultimately, that meant my Peño Pretzel Brat was missing its "popper" element. But I wasn't upset in the least. In fact, I feel as if the added element, while likely tasty, would have just gilded an already delicious lily. The Peño Pretzel Popper Brat was truly worth eating, even on its own.
Honorable mention: Frozen custard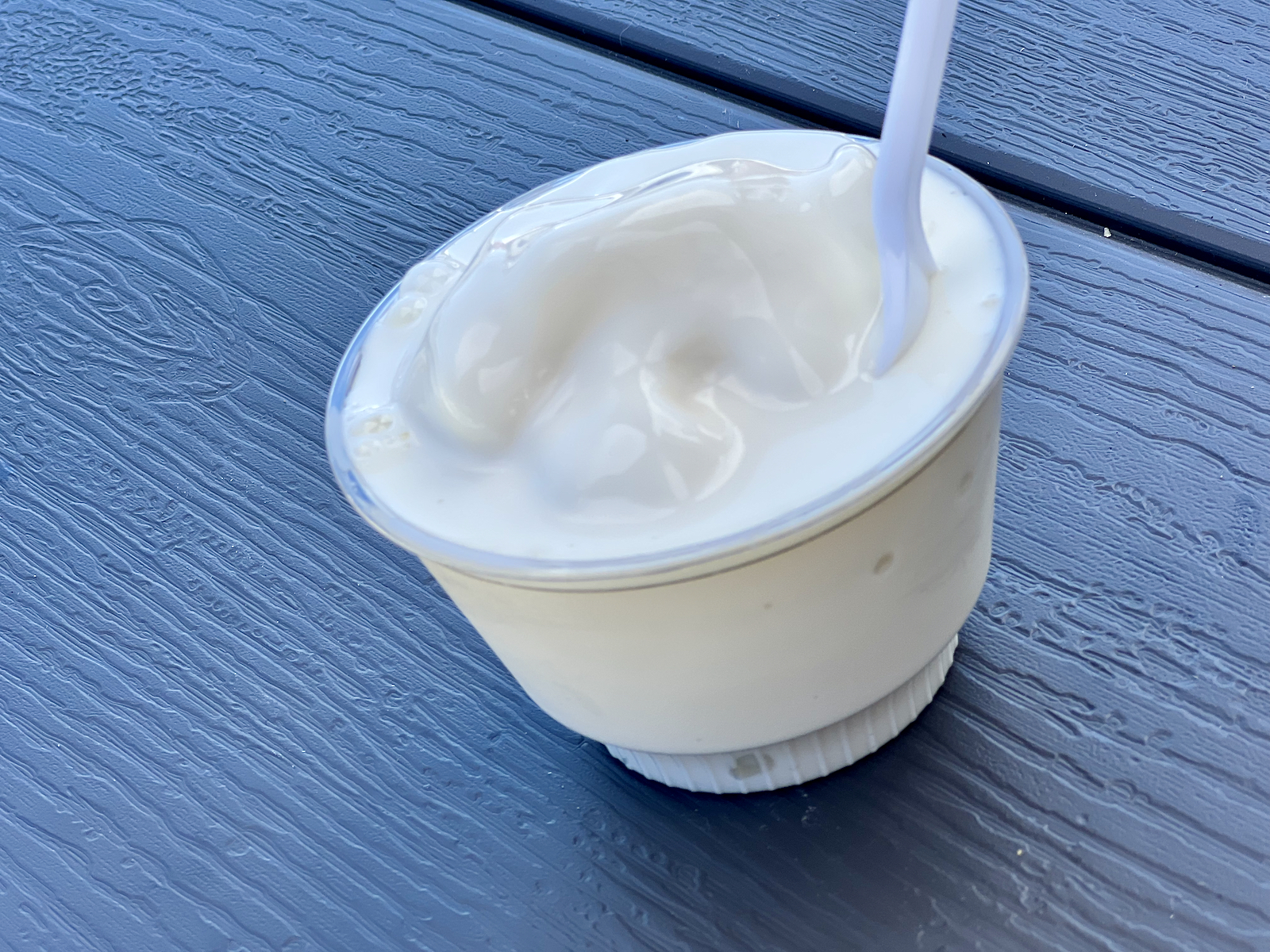 Where to find it: Camp Bar (D10) $6 (for two scoops)
Description: Frozen custard made onsite; choose from vanilla or chocolate, served in a cone or dish. Sundaes including s'mores, dusty road and turtle are also available.
There are few things more Wisconsin than frozen custard; but the ubiquitous Dairy State treat never made it onto the roster at the State Fair until this year (read more about the possible reasons why here). But Camp Bar changed everything, introducing not only a brand new bar and music venue on the fairgrounds, but also a frozen custard machine that pumps out the cool, refreshing treat on a daily basis. So head on over and check out their rustic new digs, listen to some live music and grab a delicious scoop or two of one of the best dairy-based treats in our state.
Lori is an avid cook whose accrual of condiments and spices is rivaled only by her cookbook collection. Her passion for the culinary industry was birthed while balancing A&W root beer mugs as a teenage carhop, fed by insatiable curiosity and fueled by the people whose stories entwine with each and every dish. She's had the privilege of chronicling these tales via numerous media, including OnMilwaukee and in her book "Milwaukee Food." Her work has garnered journalism awards from entities including the Milwaukee Press Club.
When she's not eating, photographing food, writing or recording the FoodCrush podcast, you'll find Lori seeking out adventures with her husband Paul, traveling, cooking, reading, learning, snuggling with her cats and looking for ways to make a difference.