Summerfest might be the World's Largest Music Festival, but in celebration of its 50th year, it's upping the ante on fest food. In fact, there will be more than 50 new items featured this year from 45 local food and beverage purveyors.
Summerfest food and beverage director Julie Clemins said she posed a challenge to food vendors for 2017: "We need to evolve to stay relevant," she said. "And that means paying attention to trends, including an increased interest in ethnic fare, shareable food and, because Summerfest requires walking and eating, foods that are easily transportable."
And while Summerfest favorites like Saz's sampler platter aren't going anywhere, there will be a variety of new foods to satiate your festival cravings, including a variety of burgers like this one from AJ Bombers featuring a smashburger style patty, American cheese and Nueske's bacon on a potato roll with a side of tots.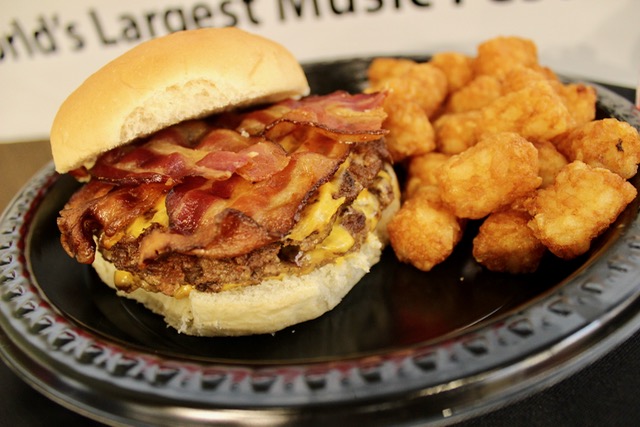 New foods
As for the brand new foods, the list is immense. But here are 15 new options that caught my eye:
1. Angelo's Stuffed Pasta Pizza
Garlic Romano crust stuffed with penne pasta, homemade meatballs and Italian sausage, mozzarella cheese and signature red sauce. Get it at the Harley-Davidson Roadhouse.
2. Cedar Crest's Waffle Nachos Hot Fudge Sundae
Vanilla ice cream with hot fudge, waffle nachos, whipped cream and a cherry. Get it at the Northwestern Mutual Children's Area.
3. Chubby's Cheesesteaks Spicy Pepper Jack Cheese Bites
Piping-hot, bite-sized pieces of Wisconsin pepper jack cheese, coated in crisp breading and fried to perfection. Get them at the American Family Insurance Amphitheater Forecourt.
4. Divino's Burrata Caprese
Burrata served with Roma tomatoes, spring mix, olive oil and balsamic glaze. Get it at the Ethnic Village.
5. Greek Village Keftedes
Homemade Greek meatballs served over rice with garlic mint tomato sauce. Get it at the Ethnic Village or Briggs & Stratton Big Backyard.
6. Louise's Trattoria Shortrib Arancini with Truffle Cream
Homemade parmesan risotto combined with Chianti-braised short ribs, breaded, deep fried and served with truffle cream sauce. Get it at at Water Street Brewery.
7. Mader's Bacon Spaetzle Mac & Cheese
Homemade spaetzle with Swiss cheese sauce, hickory smoked bacon and chives. Get it at the Ethnic Village.
8. Millie's Italian Crusted Cheese Curds
Fried white cheddar cheese curds coated with Italian spices and sprinkled with parsley and Romano cheese. Get it at the Ethnic Village.
9. Peter Sciortino's Jumbo Salty Dog Cupcake
Vanilla cupcake filled with caramel and topped with light caramel buttercream, roasted peanuts and salt. Get it at the Miller Lite Oasis.
10. Saz's Dockside Deep Fried Bread Pudding Bites
Cedar Crest Premium Vanilla ice cream surrounded by a trio of house-made deep-fried vanilla bread pudding bites, drizzled with sea salt caramel. Get 'em at the BMO Harris Pavilion.
11. Solo Bacon Ravioli
Completely noodle-less ravioli made with 6 slices of hand-woven bacon, filled with ricotta, parmesan and mozzarella, then served with BBQ ranch dipping sauce. Get them at the American Family Insurance Amphitheater Forecourt.
12. Usinger's Wurst Garden Jumbo Pretzel
A 24-ounce soft Bavarian pretzel, salted, buttered and served with German mustard and cheese sauce. Suitable for sharing! Get it at the Ethnic Village.
13. Vagabond Flamin' Hot Cheetos Tacos
Two tacos filled with Flamin' Hot Cheetos, Vagabond chili, coffee smoked brisket, serrano crema, pickled red pepper, cheese curds and scallions. Get them at the Briggs & Stratton Big Backyard.
14. Water Street Brewery's Yard Bird Nachos
Chipless nachos made with crispy chicken cracklins smothered with cheesy mashed potatoes, house-rubbed pulled chicken, corn salsa, homemade pickled peppers (gluten free and low carb). Get them at Water Street Brewery.
15. Wong's Wok Festival Plate
Grilled Kowloon beef, sesame chicken and chicken fried rice. Get it at the Harley-Davidson Roadhouse.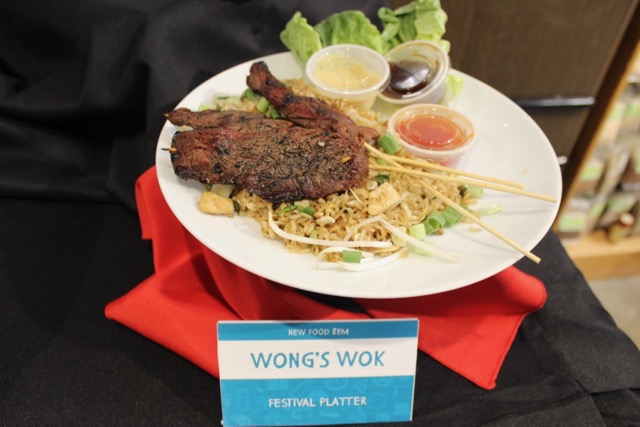 New vendors at Summerfest this year include Valentine Coffee Roasters, which will be located within the BMO Harris Pavilion area and offering hot or iced coffee, cafe mochas, cafe au laits and espresso, along with hot, iced and chai tea.
Two popular vendors will also have second locations. Charcoal Grill will add a location in the Ethnic Village where it'll serve burgers, rotisserie chicken, turkey legs, bacon-wrapped water chestnuts, ribs and more. Peter Sciortino's Bakery will also have a bakery location at the BMO Harris Pavilion with Miller Lite that features cookies, brownies, tiramisu eclairs and six new jumbo cupcakes.
Summerfest takes place June 28 to July 2 and July 4-9 at the Henry Maier Festival Grounds. For more information, visit summerfest.com
Lori Fredrich (Lo) is an eater, writer, wonderer, bon vivante, traveler, cook, gardener and girlwonder. Born and raised in the Milwaukee area, she has tried to leave many times, but seems to be drawn to this quirky city that smells of beer and alewives.
Some might say that she is a little obsessed with food. Lo would say she is A LOT obsessed with food. After all, she has been cooking, eating and enjoying food for decades and has no plans to retire anytime soon.
Lo's recipes and writing have been featured in a variety of publications including GO: Airtran Inflight Magazine, Cheese Connoisseur, Cooking Light, Edible Milwaukee, Milwaukee Magazine and the Milwaukee Journal Sentinel, as well as on the blog Go Bold with Butter, the web site Wisconsin Cheese Talk, and in the quarterly online magazine Grate. Pair. Share.