A divisive new "Star Wars" movie is king of the box office, and there's a Republican in the Oval Office with a background in show business. It's the '80s all over again – no more so than on Old World Third Street, where a line of excited gamers waited outside in the cold to get into a new arcade featuring the hottest games of yesteryear ("NBA Jam," "Galaga," "Crazy Taxi"). Inside, "Video Killed the Radio Star" blared over the speakers, rivaled only by the sound of quarters plinking out of a nearby change machine and fitful bleeps and bloops.
This trip back in time comes courtesy of 1983 Arcade Bar, the latest in a line of retro video game arcade bars coming to raid Milwaukeeans of their quarters, newly opened today to the public at 1110 N. Old World Third St. The new project comes from Brunch co-owners Morgan and Michael Sampson.
"I have been trying to get this location for almost two years," Michael Sampson told OnMilwaukee back in September. "I first approached the owner of Lucille's, as he had some video games over there already but really didn't promote the space to bachelor parties and corporate parties. With the arena going in across the street, this is perfect real estate to grab a hold of for the future.
"Milwaukee used to be a great destination for arcades back in the '80s, and we are excited to bring that back."
After popping inside during its opening hours – and doing our best (but still failing) to set a solid high score on Ms. Pac-Man – we found that gamers of all ages and abilities should be excited too. Here are nine reasons why.
1. Games galore ...
As of opening, 1983 featured 17 arcade games up and running on the bar floor – ranging from early arcade icons like "Donkey Kong," "Double Dragon" and both Mr. and Ms. Pac-Man to more modern but equally beloved quarter-suckers like "Area 51," "Crazy Taxi" and "Cruisin' USA." If it was a part of your childhood growing up, the odds are good you can find it in 1983.
2. ... and more hopefully to come
Today is just the beginning for 1983 Arcade Bar – and that extends to its cabinet collection. According to Michael Sampson, their goal is to hit 23 to 24 arcade games as time goes on – including several arcade multiplayer magnets like "Teenage Mutant Ninja Turtles," "The Simpsons" and "Street Fighter II." As time goes by, 1983 plans to rotate games in and out bi-monthly – and if there's one in particular you're looking for, you can head over to 1983's website or Facebook page to request a particular favorite.
3. Pinball wizard ...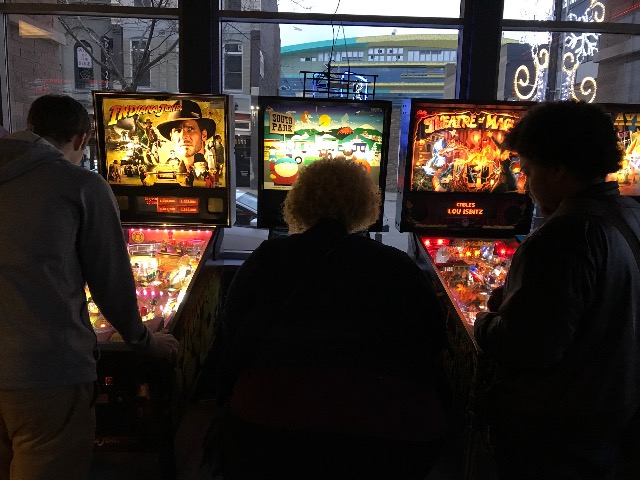 In addition to its arsenal of arcade cabinets, 1983 features four pinball games – with the current themes including Indiana Jones, South Park, Theatre of Magic and Playboy. Thank god Milwaukee stopped trying to make these illegal all those decades ago!
4. ... plus the actual "Wizard"
I love "The Wizard." It's so bad.
5. Decor
Other than that terrific "The Wizard" poster, the 1983 space is nicely decked out with some really nifty minimalist '80s movie artwork, from the above "Ghostbusters" and "Top Gun," to "Caddyshack," "Karate Kid" and more. In case you needed even more reason to be jealous of a bar featuring more than a dozen classic arcade game cabinets.
6. Bubble hockey!
Modern hockey video games may have cutting edge graphics, accurate NHL rosters and uniforms and precise controls ... but no current hockey game can match the fun of bubble hockey. And while we're talking about arcade hockey games, may we humbly suggest an air hockey table added in the future?
7. Refuel in between lives
While the arcade part of the name 1983 Arcade Bar certainly draws the most attention, there is still an actual bar inside as well, serving up a variety of beers – from light ($3-$4) to craft ($4-$8) – ciders, specialty cocktails (such as the "Poison Mushroom" and the "Ryebach") and soft drinks. That includes Surge, because as one acute patron noted, "You know it's a video game bar when they've got Surge."
8. Specials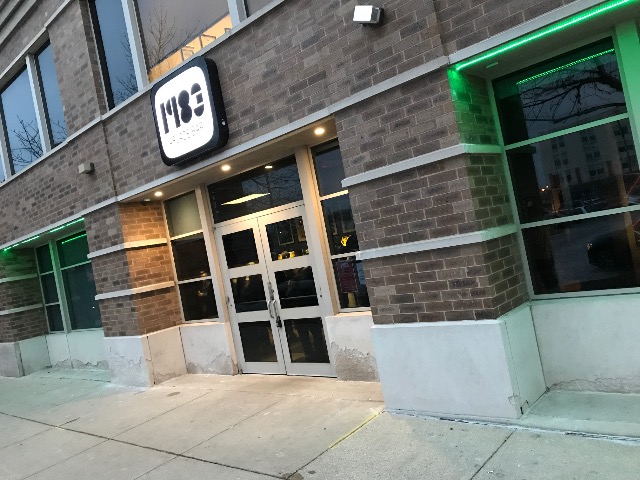 1983 features a multitude of daily specials (or power-ups as I will call them). Fridays, for instance, are Free Token Fridays, with 20 free tokens granted to each of the first 50 customers who pop in. Tuesdays feature $2 beers, Wednesdays feature a DJ spinning throwback jams and "Thirsty Thursdays" include $3 rails and ryebacks. That's all in addition to 1983's happy hour special, which includes $1 off all beers, $2 off all cocktails and $3 specialty shots from 4 to 7 p.m. every day. They'll help drown your sadness when you keep falling JUST short of the new Donkey Kong high score.
9. The next level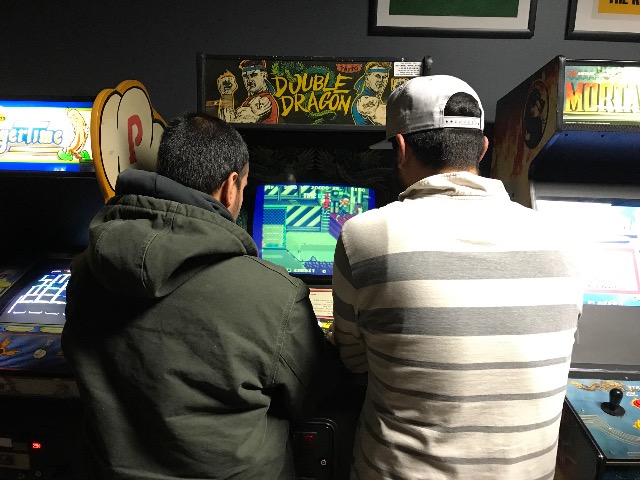 Obviously, today marks just the first day for 1983, but Michael Sampson already has plenty of ideas in the works for the arcade bar's future. In addition to bringing in new games on a regular basis, Sampson plans to add that all-important arcade feature – an official high-score board – to the east wall of the bar, as well as hopefully organize a yearly arcade game competition. So get to training!
1983 Arcade Bar is open Tuesdays from 4 to 11 p.m., Wednesdays through Fridays from 4 p.m. until close, Saturdays from noon until close and Sundays noon until 11 p.m.
As much as it is a gigantic cliché to say that one has always had a passion for film, Matt Mueller has always had a passion for film. Whether it was bringing in the latest movie reviews for his first grade show-and-tell or writing film reviews for the St. Norbert College Times as a high school student, Matt is way too obsessed with movies for his own good.
When he's not writing about the latest blockbuster or talking much too glowingly about "Piranha 3D," Matt can probably be found watching literally any sport (minus cricket) or working at - get this - a local movie theater. Or watching a movie. Yeah, he's probably watching a movie.