Looking back, many millennials' musical interests began in the time of teen pop stars and boy bands. So last summer, ABC brought that era back with a new reality show, one much different from its reality TV hall of famer, "The Bachelor." Instead of a show revolving around love, they instead decided to hone in on something that would be popular amongst the youths (or at least was popular amongst the youths once upon a time): recruiting celebrity architects to build a brand new boy band.
We've seen Backstreet Boys, N'SYNC, Boyz II Men, New Kids on the Block and even 1D. But now, there's a new one in town known as In Real Life. Musician and producer Timbaland, Backstreet Boy Nick Carter and Baby Spice Emma Bunton came together to teach the potential boy band contestants how to harmonize, find your role in the group, dance and work your way up to fame.
In the end, they picked five members – Chance Perez, Drew Ramos, Michael Conor, Sergio Calderon and Brady Tutton – to make up the new boy band. One year later, they've released three songs, made the Billboard charts, announced a tour and performed at music festivals around the nation – now, including Summerfest.
This stop was particularly exciting since Tutton grew up a mile away from the Summerfest grounds in Shorewood, making this show a bit of a homecoming.
As big fans of boy bands, my fellow fangirl Paula and I created a list of quality boy band criteria and, based on the first performance we've seen from In Real Life, ranked the group in each category out of five. In our grading system, we believe a boy band needs to have the perfect formula of dance moves, vocals, style and charisma. So here's a breakdown of how we thought In Real Life did.
Dance moves
After seeing them dance as though they had two left feet on the show, it was impressive how far In Real Life has come and how much better they were. Their dance moves throughout the show was very rehearsed – almost too much so, to the point you could tell they were counting in their heads and thinking about what move came next. However, there's something charming in itself to see them work so hard on their body rolls, side steps and arm movements. We definitely think they still have room to grow, but we were pleased to see them grooving away to their tunes.
Score: 4 out of 5
Vocals
Their voices weren't all to blame for this score. There were definitely some audio issues, which happens when you are one of the earlier acts of the night. It seemed as if the mics weren't the best and often had a distorted sound while they were singing.
Since they are a boy band, each member had their individual parts to sing in each song. This was fine – until you realized how much quieter some of the members were compared to others. It was quite difficult to hear some of the members and get the full effect of the song.
However, despite all the technical difficulties, we did enjoy hearing all of In Real Life's current songs like "Eyes Closed," "How Badly" and "Tattoo (How 'Bout You)." We also got a preview of their new album, "Tonight Belongs to You," that will be released July 13, with the songs "Got Me Good" and "Tell Me You Want Me." Hearing all of these, along with some cover songs, brought joy to our eardrums – thanks especially to their tight harmonies and the added bonus of Michael Conor rapping throughout the set.
Score: 3 out of 5
Style
The gold standard of style is obviously the Backstreet Boys and their white outfits from their "Millennium" album. Did In Real Life live up to these legends' standards? ABSOLUTELY NOT. They did not coordinate outfits and didn't have much cohesion. They all wore short-sleeved shirts – some patterned, some plain, some graphic tees – and just paired it with black pants or jeans. They looked fashionable and stylish, so I'll give them that. But would have it killed them to at least wear the same color scheme or shoes? On the bright side, as boy band members usually do, they had some great styled hair going on.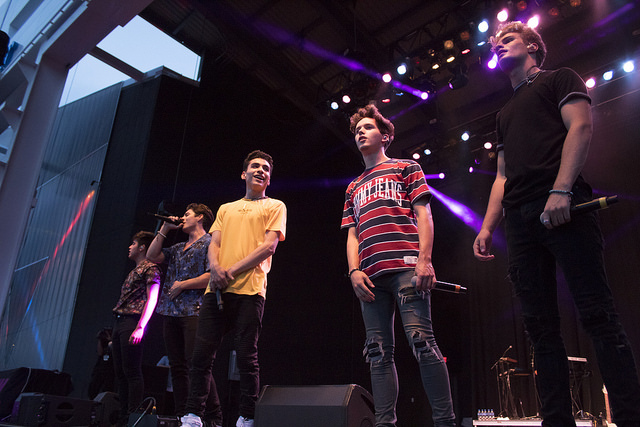 Score: 2 out of 5
Charisma
This is the most important category of the four because how can you even be a boy band if you don't have fans losing their minds about how attractive and charming you are. The answer: You can't. It's actually impossible, but like most boy bands, In Real Life passed in this category with flying colors. The fans there to see them were NUTS. We saw mascara running from eyes, and we sometimes had a hard time hearing them over all the screams. People found Brady Tutton's family in the crowd and started taking pics with them, which is really insane because, one, they wanted pictures with just his family members and, two, they knew what his family members looked like in the first place.
After the show, fans staked out around the U.S. Cellular Connection Stage to see if they could catch a glimpse of the band. They did. The band climbed the fence and leaned over to take selfies, give out high fives and chat with the swarm of fangirls. It was truly an insane sight to see ... and admittedly be a part of.
Score: 5 out of 5
Overall, we had uncomfortably great time watching this boy band work the stage. Was it weird being 23-year-olds among middle schoolers and high schoolers? Yes. But in the moment, while we were screaming as they came on stage, did we care? No. It was honestly a treat for all of us fans – no matter what age – to finally see In Real Life live and in person instead of on our TV screens. They weren't too shabby for being in their first year of boy band fame, but we do look forward to what they have to offer with more practice, time together and new music.
Setlist
"Finesse (Remix)" (Bruno Mars and Cardi B cover)
"Eyes Closed"
"Got Me Good"
"Drag Me Down" (One Direction Cover)
"How Badly"
"Tell Me You Want Me"
"Tattoo (How 'Bout You)"