It seems like more than ever, schools are craving green: asphalt removal, grass, trees and garden additions.
Thanks to support from the Ceres Foundation, five MPS schools are getting new green space this summer, owing to the efforts of Kimberly Kujoth, environmental policy analyst, and landscape architect Scott Baran, who both work for the City of Milwaukee Department of Public Works' forestry department.
Since 2007, Kujoth and Baran have helped green the grounds at 50 schools and have planted more than 2,000 trees in and around Milwaukee schoolyards.
This summer, they're leading a project to add green space at Carver Academy, Parkside School for the Arts, Lloyd Barbee Montessori, Samuel Clemens Elementary School and 81st Street School. The work is funded by a $150,000 grant from Ceres. Parkside's community is also contributing funds to the work on its playground.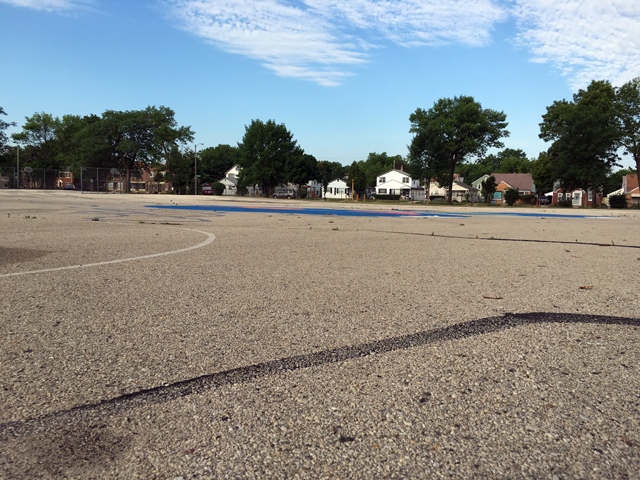 Part of this sea of asphalt at Barbee Montessori will be removed and replaced with green space this summer.
Funding for the projects is entirely grant-generated; taxpayer money is not being spent.
"We're looking forward to it," says Kujoth. "I wish we could do large-scale at every school but we're getting there. We're taking steps and when we talk to the school, it's important that we respect what they want.
"The first schools that we did, we had these visions like we're gonna rip up all this asphalt, but (for them) it was a different reality and it wasn't quite what they wanted. There are things that have to be taken into consideration, like maintenance issues, for example."
"People are attached to their schools," adds Baran. "They treat it like it's their house. It's a delicate balance."
Three of the schools – 81st Street, Barbee and Parkside – have been on the DPW radar for a while, says Baran.
"We did a very thorough analysis, where we sent out 300-some letter requests for people that were interested," he recalls. "Kim and I put together a list of schools based on the amount of asphalt, the amount of money they could pitch in, who is the contact, who is interested in the work, elementary versus high school, etc.
"That's how we got our first set. We got maybe 25 or 30 schools from that 300 that even replied that they were interested. Barbee and 81st were not on the initial list, but they were in the second round."
Carver and Clemens, Kujoth says, were added at the request of the district.
"MPS really selected them, they really wanted them to be involved," she says, "because they could benefit and they hadn't really received anything.
"One of our goals has been to strike a balance. Funds are limited and you want to have a big impact. We know Parkside is going to be very impactful but we want some other schools that haven't had the benefit of other improvements. Both their principals were very happy to have been included. I think it's a good mix of types of schools, types of projects, in terms of some larger projects and some projects that are first steps."
I talked to a third principal, who was also eager to get more green space.
"We are really excited to expand our natural environment at Lloyd Barbee Montessori," says Katie Peppey Loss. "So much of the Montessori curriculum engages children in the natural environment so this opportunity to partner and plan our green space with the city helps us enhance our curricular offerings."
The new spaces are expected to be complete by Aug. 31, in time for the first day of school on Thursday, Sept. 1. That's a pretty tight timetable, but Kujoth and Baran don't appear worried.
"The way that we've got it structured, one contractor isn't doing all of it," says Kujoth. "That makes it a little more efficient. In our time-crunch, that works well for us. I'm sure we will be working right up until Aug. 31. We've told the schools it'll be ready when the kids come back and it'll be a big surprise. The kids will come running out and it will be different.
Here is what's on tap at the schools:
Carver Academy, 1900 N. 1st St.
The new green space at Carver will total 4,615 square feet, including a long strip dividing the parking lot from the playground with grass and trees, and another green patch in the middle of the asphalt, too.
Parkside School for the Arts, 2969 S. Howell Ave.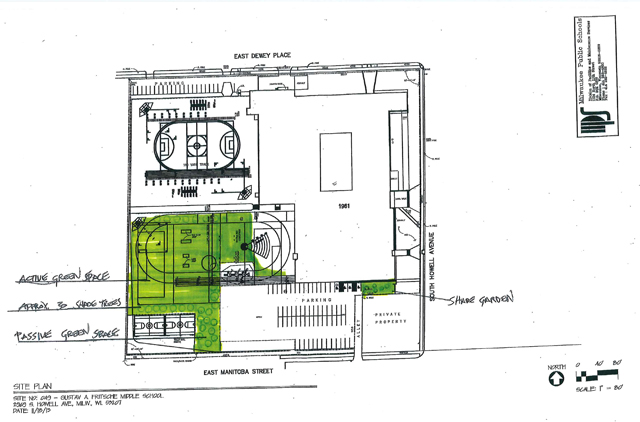 Parkside, which has already done some grounds improvements with funding and planning by parents and the school community, is getting about 30 trees and 51,000 square feet of green, including a small shade garden south of the school.
Lloyd Barbee Montessori, 4456 N. Teutonia Ave.
The sea of asphalt outside the former Garden Homes Elementary School will shrink a bit as 24,000 square feet of pebbly pavement will be replaced with green space, including about 30 trees, a walking path, a small sledding hill and garden steppers created by students.
Samuel Clemens Elementary, 3600 W. Hope Ave.
An existing area with trees will be expanded by about 5,000 square feet and 10 to 15 trees added.
81st Street School, 2964 N. 81st St.
The green space already created by the school community will be joined by 14,000 square feet more, in the form of a triangle in the middle of the schoolyard. About 30 trees will be planted.
As for the future, Kujoth says the grant funding expires with the completion of these five projects, but there will be more to come.
"We're always adding trees wherever we can," says Baran. "If we have other trees that don't get eaten up at these schools, we'll pop them in somewhere else. We're always getting requests for trees."
Additionally, the city's Environmental Engineering department has MMSD Green Solutions grant money to create bioswales or rain gardens at two schools next year, though the grant amount isn't clear yet, so no schools or specific projects have yet been identified.
Kujoth and Baran expect to be involved in some capacity and Kujoth plans to apply for more grants to keep the green ball rolling in Milwaukee's public schoolyards.
"We have the programmatic side of it down, it is something that where it fits with what a grantor wants to do, it fits," she says. "We know we have a good partnership with MPS. We can say let's look at doing some additional schools. They certainly welcome other partnership opportunities, as well. I'm sure we'll be applying for more funds soon, but it's sort of cyclical, so it might take a year or two for us to secure some additional funding.
"There's certainly a lot of interest and even more than five, six, seven years ago, so I think from a funding standpoint, funders may be more interested in funding, just seeing that there's a demand."
Born in Brooklyn, N.Y., where he lived until he was 17, Bobby received his BA-Mass Communications from UWM in 1989 and has lived in Walker's Point, Bay View, Enderis Park, South Milwaukee and on the East Side.
He has published three non-fiction books in Italy – including one about an event in Milwaukee history, which was published in the U.S. in autumn 2010. Four more books, all about Milwaukee, have been published by The History Press.
With his most recent band, The Yell Leaders, Bobby released four LPs and had a songs featured in episodes of TV's "Party of Five" and "Dawson's Creek," and films in Japan, South America and the U.S. The Yell Leaders were named the best unsigned band in their region by VH-1 as part of its Rock Across America 1998 Tour. Most recently, the band contributed tracks to a UK vinyl/CD tribute to the Redskins and collaborated on a track with Italian novelist Enrico Remmert.
He's produced three installments of the "OMCD" series of local music compilations for OnMilwaukee.com and in 2007 produced a CD of Italian music and poetry.
In 2005, he was awarded the City of Asti's (Italy) Journalism Prize for his work focusing on that area. He has also won awards from the Milwaukee Press Club.
He can be heard weekly on 88Nine Radio Milwaukee talking about his "Urban Spelunking" series of stories.