With my 43rd birthday looming next month, I'm gradually accepting that my future won't include becoming a professional baseball player for the Milwaukee Brewers. Never mind that I haven't played organized baseball since Little League, I always thought I was a pretty good contact hitter.
When I was a kid, idolizing the Brewers of the '80s, these guys looked so old to me. In my mind's eye, skipper Harvey Kuenn was about 76 in 1982. But he was only 52.
Maybe it was all the hard living back then. Maybe it was all the mustaches. But looking back now, I know many of these guys looked much older than they really were. And now I'm older than all of them (except for Harvey).
Just for fun, I took a look at the best reference I could find – Google Images and the Milwaukee Police Department set of baseball cards cops gave out to well-behaved children like myself – and attempted to reconcile actual age with perceived age. Here are a few of the more obvious ones. Tell me if I'm wrong.
Harvey Kuenn

Looks like he was: 76
Actual age in 1982: 52
Current age: Deceased at age of 58 in 1988
Fun fact: The Milwaukee-raised Brewers manager had a lifetime average of .303 as a shortstop and outfielder during his 14-year career as a player. The Brewers fired him in 1983 after the team went 87-75 in 1983. Ouch.
Don Sutton

Looks like he was: 52
Actual age in 1982: 37
Current age: 72
Fun fact: The silver-haired Hall of Fame pitcher only spent two years with the Brewers, but Sutton has an interesting Milwaukee connection now. As a Braves announcer, he works alongside former Brewers radio announcer, Jim Powell.
Gorman Thomas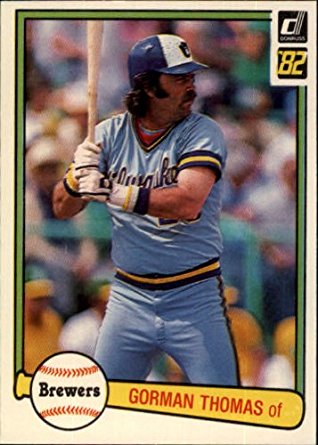 Looks like he was: 50
Actual age in 1982: 32
Current age: 66
Fun fact: Stormin' Gorman has three stints with the Crew (1973-76, 1978-83 and 1986). He was the first draft pick of the Seattle Pilots. He now enjoys carving duck decoys.
Pete Vuckovich
Looks like he was: 50
Actual age in 1982: 30
Current age: 64
Fun fact: Vuke's Wikipedia page needs citation, but it's pretty weird: "Vuckovich developed a reputation for bizarre, hyper-competitive behavior during his twelve season career. He would fidget, twitch, pace, and convulse while on the mound. He was known to cross his eyes and stick his tongue out at batters. He would spit in his glove, scream at umpires while in the stretch, and sometimes step to the back of the mound and dry heave. His colorful personality made him a fan favorite." Huh?
Rollie Fingers
Looks like he was: 49
Actual age in 1982: 36
Current age: 70
Fun fact: Rollie grew his iconic mustache to receive a $300 bonus from the A's. For some reason, it began as a plot to get Reggie Jackson to shave off his beard.
Dwight Bernard
Looks like he was: 44
Actual age in 1982: 30
Current age: 64
Fun fact: The pitcher's final appearance of his four-year career was in the '82 World Series.
Mike Caldwell
Looks like he was: 43
Actual age in 1982: 33
Current age: 68
Fun fact: In 1978, he was one of the three left-handed pitchers named "Mike" to hand the New York Yankees' Ron Guidry a loss in his 25-3 season.
Jim Slaton
Looks like he was: 42
Actual age in 1982: 32
Current age: 66
Fun fact: Slaton is the Brewers all-time leader in wins. He coached an all-star team for the Monte Vista Little League … while pitching for the Angels. Impressive multi-tasking and impressive hair.
Mark Brouhard
Looks like he was: 42
Actual age in 1982: 26
Current age: 60
Fun fact: Brouhard played all six of his Major League season with the Brewers. He now owns a painting business in California.
Doug Jones
Looks like he was: 39
Actual age in 1982: 25
Current age: 59
Fun fact: Not only did Doug Jones get his start with the Brewers in 1982, he came back as a closer in 1996 – that's 14 years later – and pitched for the Crew until 1998. He threw a two-seam fastball that averaged in the low-to-mid 80s … and he had a great mustache.
Charlie Moore
Looks like he was: 39
Actual age in 1982: 29
Current age: 63
Fun fact: Moore is the only player in MLB history to steal two bases and hit for the cycle in the same game. He's now a sales rep in Birmingham, Alabama. I actually talked to Charlie about this in 2000, when I met him at a Brewers event. Yes, he's a salesman.
Jamie Easterly
Looks like he was: 37
Actual age in 1982: 29
Current age: 64
Fun fact: Easterly gave up Willy McCovey's 500th home run on June 30, 1978. That's all I've got on him.
Andy is the president, publisher and founder of OnMilwaukee. He returned to Milwaukee in 1996 after living on the East Coast for nine years, where he wrote for The Dallas Morning News Washington Bureau and worked in the White House Office of Communications. He was also Associate Editor of The GW Hatchet, his college newspaper at The George Washington University.
Before launching OnMilwaukee.com in 1998 at age 23, he worked in public relations for two Milwaukee firms, most of the time daydreaming about starting his own publication.
Hobbies include running when he finds the time, fixing the rust on his '75 MGB, mowing the lawn at his cottage in the Northwoods, and making an annual pilgrimage to Phoenix for Brewers Spring Training.