For the ninth straight year, October is Dining Month on OnMilwaukee, presented by the restaurants of Potawatomi Hotel & Casino. All month, we're stuffed with restaurant reviews, dining guides, delectable features, chef profiles and unique articles on everything food, as well as voting for your "Best of Dining 2015."
Milwaukee is filled with amazing people. And some of those people are wild about food. 8 Questions is a series that focuses on food lovers in our midst. They aren't chefs. They don't work in the food industry. But, they know a thing or two about eating. And that's part of what makes them awesome.
Carlo Davila works as a detective at the Intelligence Fusion Center, where he works primarily in dignitary protection, assisting with security details for political figures like governor Walker, Mayor Barrett and visiting dignitaries from Washington D.C. In his role, he also works with juvenile offenders and the policies and practices that impact the area of juvenile justice.
In his free time, Davila devotes the bulk of his time to cultivating his love for food and cooking. But, it wasn't always that way.
Davila grew up in Milwaukee. Both his father and grandfather worked in the beer industry (his father for Schlitz, and grandfather for Pabst). His parents met in college.
"Back in the early '60s in order to get off the island of Guam, women didn't have many choices," Davila notes. "But, she wanted to leave. So, she opened up a map, closed her eyes and pointed. Ended up going to St. Norbert's in DePere, where she met my father."
Davila, who says he's always been competitive, developed an interest in entering the military from an early age. He tried out attending college at UW-Madison, but it wasn't a good fit.
"I went there for a year," he says. "And it turned out to be the best $7,000 party ever; I just wasn't ready and my heart wasn't into it. Instead, I ended up joining the marine corps reserves."
While he was in the reserves, he traveled to Cuba and worked construction. But, when a friend suggested he get a job working as a security guard, Davila decided to try it out. As he worked, he met numerous colleagues who wanted to be police officers.
"I didn't really understand the allure," says Davila. "But, at one point, someone told me I didn't want to do it because I couldn't, and that sparked off my competitive streak. So, I applied to the police academy."
Davila worked as an officer for six years, and by the age of 28 he was promoted to detective. He worked primarily with specialized units, including the Vice Control Division, the HIDTA (High Intensity Drug Trafficking Area) and Milwaukee's Violent Crime unit. Eventually, he joined the Intelligence Fusion Center, where he works today.
Davila lives in Milwaukee with his wife, Laura. Incidentally, they were married by another of our Milwaukee foodies, Derek Mosley, this summer.
OnMilwaukee: What inspired your love of food?
Carlo Davila: I had a coach, a mentor, who was a police officer in Muskego. And he'd always talk about food and wine. At first, I tended to blow him off. But, one night he invited me over for dinner. And I had this experience that changed me. I don't remember what I ate, but there was this feeling. I loved it, and I wanted to get into it. So, I started getting more and more into wine; that was a bit overwhelming. But, I started diving in. I went to wine tastings, and I met other people who were interested in wine. I found some other guys at work and we started a wine group.
Every year, we meet up and rent a house on the lake in Eagle River. We do some Muskee fishing. But, while we're there, everyone claims a night to cook dinner. Everyone brings something different. Chuckie brings vodka infused with peppers from his garden, and he makes a family gumbo recipe every year. It's the kind of gumbo that you eat, and you're so full, and everyone just lies there afterwards because it was so good. My friend Cool Whip makes his own Merguez sausages. Dwain, who is from Texas, specializes in southern breakfast dishes. Cooper is our only true fisherman, and Big Boy is our wine guy.
Out of the bunch, I'm the plater. I get the food and bring the art to the plate.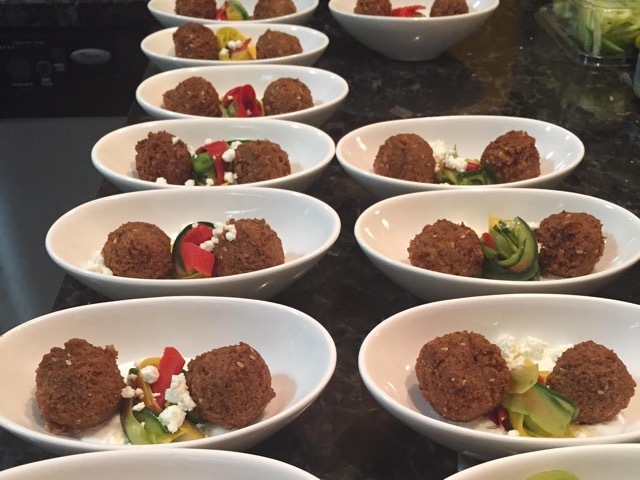 OnMilwaukee: What are some of your favorite things to make?
Davila: Risotto. I make it all different ways. I might do sage and sausage or squash. I take my time with it so it's always creamy at the end. I love to pair it with braised shortribs. I love braised shortribs. They're an inexpensive cut of meat that is just so rewarding to make and eat.
I do a lot of fresh forward cooking. i don't use vats of butter. My goal is really taking something that's in season and making it in a way that you can really taste the ingredients. And I love to make pairings – wine, beer and even bourbon now – and really make the most of the food.
I'm always trying to get recipes from my mother – like kelaguen. It's a sort of chicken salad with grated chicken, coconut, red chile peppers and lime juice. There's also pancit, a noodle dish with pork, cabbage and carrots. And grilled whole fish, red rice with chayote seasonings that has a very distinct flavor. We put fina'denne' on it, which is a kind of soy based sauce.
OnMilwaukee: What's your favorite Milwaukee restaurant?
Davila: I do dine out, but I really try to focus on local. If you're going to spend the money, I think you should spend it supporting local businesses.
Right now, one of my favorite spots is Meraki. My experiences there have been amazing… to see the creativity there, and sit and watch them in the kitchen.
My favorite comfort spot is Bavette. Karen is always there, and she's got all my attention. She does what I love to do – it's clean eating. Fresh salads and inventive preparations that really illustrate how I think food should be enjoyed.
OnMilwaukee: Do you have a favorite dish at an area eatery?
Davila: At Simple Cafe, I love the Korean breakfast bowl. It's so good.
OnMilwaukee: What are some of your guilty pleasures?
Davila: I love ice cream. I love chips. It probably depends on the mood I'm in.
I also love eating lunch all by myself. Grabbing a seat in the corner and just enjoying the time along, appreciating my food.
OnMilwaukee: Do you have a favorite "least known" food spot?
Davila: Have you heard of El Cabrito? I love that spot. But, I don't think they get the attention they deserve. They serve great food at a great price. I usually order their tacos. It's one of the places that always has goat on the menu, and that's my thing when I'm there.
OnMilwaukee: As a food lover, what's the most frustrating thing about Milwaukee?
Davila: I would say the support for our local restaurants. We've seen a lot of great restaurants – that were really great and running solidly – and then they shut down. It's disappointing.
People don't venture out to try different things. Maybe you go to Hinterland and they have duck hearts on special… a lot of people would say "what?" But, they need to just try it. It's delicious.
When I first met my wife, I wanted to cook her dinner. She claimed she didn't eat chicken on the bone, or pork; but she told me that she liked pizza. So, instead of traditional pizza, I made a goat cheese pizza with kalamata olives and pine nuts with sun-dried tomatoes.
She also said she ate salads, so I made a watermelon salad with fennel. I remember her telling me: "This is crazy." She looked very hesitant. But, watching her take these bites of food was really satisfying. She'd never eat these foods on her own; but she was taking bites and really enjoying it.
Now she'll eat anything. She's adventurous and she'll try anything. And I think that's what people need to do. Trust these chefs around town; they cook amazing food. You can branch out and try it.
OnMilwaukee: What's your most memorable food adventure?
Davila: Vinnie, one of the owners of Roots Salon, used to be my partner at HIDTA. Apparently in
their family, they had a food contest to see who could make the best appetizer. People voted with chips. They invited me to join in, and I happened to win the contest.
Later on, Vinnie's wife Shannon called me up and she said "It's my mother's birthday. Would you be willing to make a seven course meal for 12 people? We'll pay for everything. It's a surprise. She loves your cooking."
I agreed to do it. But, all of a sudden I was really scared. How do I pull this off? My brother, Anthony, volunteered to help. We created a menu representing seven different places that she had traveled.
I made risotto with skate wing. It's so delicious and flaky, and it's a bit tricky to cook, since it's so thin. I served that with truffle oil.
She'd been to New Orleans, so I made a bacon bourbon ice cream with KK Whiskey and topped with candied bacon.
The hardest one was Zimbabwe. I asked for advice from Karen at Bavette, and she told me to research the flavor profiles of each place and then work with it. So, I went online. I found a squash and peanut butter dish that's common in Zimbabwe. And they have something called sadza, a thick paste made of cornmeal. So, I made a layered dish. The bottom was peanut butter squash, and that was topped with sadza cakes and a sort of mole-flavored rattatouille. Then I went down to Vanguard and bought some of their Merguez sausage to slice and put on the top.
The whole dinner turned out really well. Shannon's mom's reaction was priceless; she was teary eyed, and I knew that she was happy with how we handled the menu. I was completely elated. It motivated me even more. I'm always contemplating how I fit into the food scene, and that made me feel like I really had a place. It was so rewarding. And it totally gave me a new appreciation for the work that chefs and their staff put into their work.
Lori is an avid cook whose accrual of condiments and spices is rivaled only by her cookbook collection. Her passion for the culinary industry was birthed while balancing A&W root beer mugs as a teenage carhop, fed by insatiable curiosity and fueled by the people whose stories entwine with each and every dish. She's had the privilege of chronicling these tales via numerous media, including OnMilwaukee and in her book "Milwaukee Food." Her work has garnered journalism awards from entities including the Milwaukee Press Club.
When she's not eating, photographing food, writing or recording the FoodCrush podcast, you'll find Lori seeking out adventures with her husband Paul, traveling, cooking, reading, learning, snuggling with her cats and looking for ways to make a difference.