You can see the soaring St. Michael's Catholic Church steeple – the second-tallest in town – from everywhere in its West Side neighborhood. But get close and at least as striking as the church is the former convent at 2414 W. Vliet St.
Built in 1885, the convent is the oldest building in the complex. Today it's the headquarters of an important local non-profit.
As I wrote a couple years ago when I visited the church, the St. Michael's congregation – it was the fifth German-language Catholic parish in the area – was founded in 1883 to help accommodate the rapidly growing West Side neighborhoods in the city.
A series of buildings was erected, including a parsonage and a combination church and school, but only the School Sisters of Notre Dame convent survives.
The parish was a big one and, according to the Wisconsin Historical Society, by the 1920s there were roughly 12,000 members and sometimes as many as 11 worship services on Sunday. English replaced German in the church and school around World War I.
By the turn of the 20th century, the school already had upwards of 1,000 students – roughly even numbers of boys and girls – and the convent, which was home to the school staff, was a bustling place.
It was also, for a time, an ever-growing community.
In 1897, Sister Mary Loyola oversaw 15 School Sisters (and one secular teacher), but two years later, her successor Sister Mary Henrica had 17 sisters in her convent. The following year there were 20 and in 1905 there were 31. A decade later, the school's enrollment and the convent's population were still about the same.
Over time, however, things changed and by 1970, the school – by then in a new building – closed and was replaced by the Urban Day School.
The school building on the site is currently home to Penfield Montessori School.
The convent is now home to Acts Housing, a nonprofit that was born 18 years ago across the parking lot in the St. Michael's 1920s-era rectory.
Acts works with families facing barriers of all kinds – including financial and linguistic – to help them own their own homes, by providing counseling, expertise in rehab, real estate brokerage services, loans and other services.
"The parish owned the building and obviously it operated as a convent for most of its history and then went through a period of serving various purposes, and was briefly vacant," says Acts President and CEO Michael Gosman, as we stand in his office, which still has its crown molding, ornate cast-iron radiator, baseboards, tall windows, tall door topped with a transom.
Gosman says that for a time, the building was a place where the church – which had something of an honorable rebellious streak – could house newly arrived immigrants who had no place else to go, making the former convent an important stopover for many new Americans.
"We actually came over here about six years ago and had a tenant in here initially. The church really just wanted us to stabilize the building. We were operating (in) a very small space and we were growing; that was the reason we wanted to move. But from the church's perspective it was like, 'Let's get someone in there so that the property is clearly lived in and it's less likely to have nuisance activity happening.'"
Acts bought the building from the parish for $1 about five years ago, says Gosman.
"We are in the process of fixing it up," he says. "That probably will never end. Cosmetically it was sort of OK, but it needed a brand new roof. It had the original slate roof. It was amazing. It lasted 100-plus years, but it hadn't been cared for. We looked into repairing it and it was just massively expensive."
In addition to a pricey new – but required – fire escape, Acts had to upgrade the electrical, do some masonry repair, fix some structural beams, paint, replace carpet ... that sort of unglamorous, but necessary, work.
They also removed the eyesore of a chain link fence that once separated the property from the Vliet Street sidewalk.
"We got rid of it with a plan to put up a new fence," says Gosman, "and actually decided we don't want a fence. It looks much better open, and we want to be welcoming. We are going to put a little partial fence around just the parking area so that there's no chance of cars driving over the sidewalk. But for the front of our building, we're excited about it being an open green space."
So how does a nonprofit that works to help others become homeowners become a homeowner itself?
"We went to our community of supporters and said, 'Look, we've talked about home ownership. We've helped 1,800 families become homeowners over our history, and we need a place that can be a permanent home for us and ... we want to practice what we preach,'" says Gosman.
"We shouldn't be buying something new. We should be working with existing housing stock and not making it perfect. This isn't HGTV, but making it decent and safe and good place for us to do the work and for families to receive the services."
That campaign raised about $2.2 million.
"That comprehensive campaign was some money for the building, but also money for our loan fund; money for us to have a home and then money for us to lend to families so they could have a loan. The community really stepped forward in a big way."
Included in the campaign was something of an endowment fund to help meet the longterm needs of the convent, which is good news for Acts, for the families it serves, but also for the neighborhood and all of Milwaukee.
That's because the building is a beautiful one; the kind of solid but finely detailed masonry building that defines the look of late 19th century Milwaukee for many.
Though it's not exactly clear who designed it, I'd venture to say that two strong contenders are Herman Schnetzky – who designed numerous buildings in this style and was tapped in 1892 to design St. Michael's church with his then-partner Eugene Liebert – and Erhard Brielmaier, who also mined this style and did many, many projects for the Milwaukee Archdiocese, and, some say, the altar and screen inside the church next door.
Of the three-story cream city brick convent, the Wisconsin Historical Society says, "this structure is a fine example of late Victorian religious buildings. In excellent condition, it exhibits original form and design."
There's fine corbeling on the dormers out front and a beautiful arched entry portal, with a carved stone "S.S. of NOTRE DAME" sign above it.
Inside, as in Gosman's office, there are those tall doors and windows that allow light to flood in from the facade's southern exposure. Some of the rooms have wainscoting and the narrow hallway makes room for an even narrower, steep staircase up to the second floor, where the hallways are lined with what appear to be lockers for the resident sisters.
Back in Gosman's office, he shows me a wooden box of indeterminate age that's full of recipes, both handwritten and typed, some of them on the back of political campaign advertising cards. This box was found in a vacant home and Gosman is holding onto it in hopes of finding its owner.
Robert K. Henry was re-elected state treasurer in 1934,
but his re-election bid two years later failed.
A large attic has a panoply of remnants of different linoleum flooring styles, suggesting many uses and remodels over the years. That area is currently used only for storage.
The other floors – once a mix of parlors – some separated by still-functioning pocket doors – sleeping rooms and offices for the convent – are now given over to offices, a modern kitchen upstairs and, on the main floor, a conference room in what was once a chapel.
In here, there's still a raised platform for the altar and a series of fine stained glass windows.
On the second floor there's a two-room office that requires one to climb a short staircase to enter. A subtle statement of power, perhaps?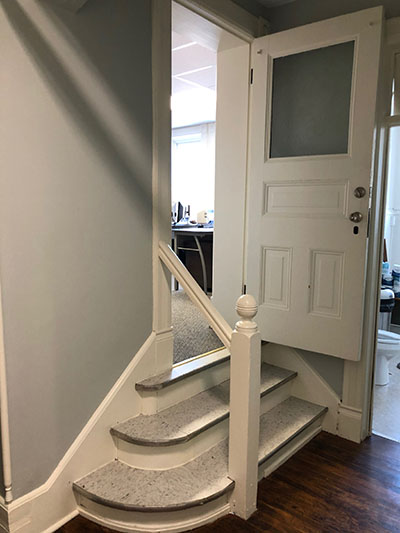 "Before I started work here, I was told that my office was the former Mother Superior's quarters, which was intriguing and special," says Acts Chief Development and Marketing Officer Kelly Andrew, who invited me to visit.
"As I've learned more about the history of the building, I've really come to love it and enjoy sharing it with others."
In the basement is an old, currently moribund kitchen and, nearby, a much bigger wainscoted space that was, perhaps, the dining room.
Considering its age and its many different uses over the years, it's a nice surprise to walk into the former convent and see so many original details survive.
"We tried to not really mess with anything," says Gosman. "You will notice we have new carpet. That was an improvement that just happened. We had duct tape basically throughout the building holding the carpet down because it had been from like 50 years ago. I think (the hardwood floors) are okay. We momentarily thought about refinishing everything and the estimates we were getting from a cost perspective just made it sort of prohibitive.
"We really want it to be comfortable and a good place for our team and for families. But the moment people come in and are like, 'Oh, this is fancy,' we've gone astray."
As I had visited Acts before the coronavirus outbreak, I checked in with Andrew for an update the second week of May and she said, "We've got everyone working from home and had no lay-offs which I'm thankful for. We've actually seen a significant increase in interest in our homeownership program.
"We've been able to quickly implement some new technology which lets us do all of our work virtually or safely socially distanced: orientation and homebuyer counseling are online, our realtors and rehab counselors are doing a lot of video/photo sharing with families and we have transitioned to getting all documents signed online. Actually, we've had lots of good improvements that we'll keep in place once we can get back to the office."
Born in Brooklyn, N.Y., where he lived until he was 17, Bobby received his BA-Mass Communications from UWM in 1989 and has lived in Walker's Point, Bay View, Enderis Park, South Milwaukee and on the East Side.
He has published three non-fiction books in Italy – including one about an event in Milwaukee history, which was published in the U.S. in autumn 2010. Four more books, all about Milwaukee, have been published by The History Press.
With his most recent band, The Yell Leaders, Bobby released four LPs and had a songs featured in episodes of TV's "Party of Five" and "Dawson's Creek," and films in Japan, South America and the U.S. The Yell Leaders were named the best unsigned band in their region by VH-1 as part of its Rock Across America 1998 Tour. Most recently, the band contributed tracks to a UK vinyl/CD tribute to the Redskins and collaborated on a track with Italian novelist Enrico Remmert.
He's produced three installments of the "OMCD" series of local music compilations for OnMilwaukee.com and in 2007 produced a CD of Italian music and poetry.
In 2005, he was awarded the City of Asti's (Italy) Journalism Prize for his work focusing on that area. He has also won awards from the Milwaukee Press Club.
He can be heard weekly on 88Nine Radio Milwaukee talking about his "Urban Spelunking" series of stories.