Adventure Rock is getting close to opening its third climbing gym location – this one at 613 S. 2nd St. in Walker's Point in a building that was most recently home to Milwaukee Brewing Company and Central Standard Craft Distilling's tasting room – and the experience for owners Craig Burzynski and Eric Olson has been unlike any other.
"This is the first new build," says Olson. "And it was harder than a new build."
Not everyone could picture how it would work out, either.
"When we first bought the building," says Burzynski (pictured below), "I brought a couple of my buddies in here; they'd been to both of our other facilities. Most of Milwaukee Brewing's stuff was still in the building, and I was like, 'This is going to be a new bouldering gym,' and they walked in and went, 'Whoa, this takes some vision.'"
Anyone who visited the previous businesses here will agree. The space felt tight and cramped, full of brewing equipment.
But Burzynski and Olson have the vision, because now, it's completely different. The ceilings feel high; thanks to a wall of windows along 2nd Street, there's tons of light; and once the interior walls were removed, the space feels big.
And it is big – 15,000 square feet. That's because Burzynski says they under-built when they opened their East Side location in 2016.
"We filled up within four years, pre-pandemic," he says, "(via) membership, people through the door. And it started to get to a point where we kind of knew if we don't do something, someone else will do something."
So the two began looking far and wide, knowing that it could take a little time to find the right fit.
"It took about two years," Burzynski says. "We looked at every freaking building from Mequon to out to where St. Francis Brewery was. All along this corridor. We wanted to be in close proximity where our members could utilize either facility, and that we could utilize this as essentially expanding what we already have. Close but not too close (to the East Side location).
"It's a perfect distance away from the East Side. We wouldn't have wanted to build on the (north) side of the 794 corridor – too close. Here kind of services a little different market: Walker's Point and then Bay View are just so cool."
And so they found this 1965 building erected as a garage for the Northwestern Lumber and Wrecking Company on a site that had seen changes across the decades.
In the early part of the 20th century, the site was home to six different buildings, including retail buildings, a machine shop and a rear building with a foundry.
1910 Sanborn Fire Insurance Map. (PHOTO: Courtesy of UWM)
Milwaukee Brewing's Jim McCabe says that when they were getting their brewery set up there, "we found brick foundations every 30 feet or so. But it was perfect for a brewery because the (1965 building) floor was like 14 inches of concrete, which is perfect for the tanks."
McCabe also says that the steel frame of the 1965 garage was built using steel pulled out of the old State Street Bridge Downtown.
Though I haven't been able to confirm that – the bridge was constructed in 1924 and apparently not reconditioned until 2007 – it is possible that it came from that bridge or another one. It sure looks like it, with its huge beams lined with rows of rivets.
It's surely far stronger than the roof of a garage would require.
But that superstructure meant that Adventure Rock could rip out the interior walls and reconfigure the space – which was home to V. Marchese Produce from 1989 until just before Milwaukee Brewing arrived in 2005 – to meet its needs.
"When we went from Brookfield to Milwaukee, we were like, 'OK, we're going to build this gym that's twice the size of Brookfield','" Burzynski says. "Well, we opened it and it could have been twice as big, frankly."
It turns out that the fitness aspect and the yoga offerings were more popular than expected, which has led to more space for those in Walker's Point, which was designed by Johnsen Schmalling Architects.
When you enter, you pass the front desk, the restrooms, the cubbies for guests to store personal items as well as a pair of changing rooms and a pair of gender-neutral bathrooms with showers.
Just behind that is a large fitness area with tall slender windows that offer tantalizing views of the bouldering walls out in the main space.
"These big narrow windows are really one of the cool features," says Burzynski. "What's cool about them is that it kind of lets you see a glimpse out when you're here on a machine, but you don't feel like you're in a fishbowl."
The fitness area is four times the size of the similar space on the East Side.
Next to it is a flex space with a garage door that connects to the fitness area. Next to that is a dedicated yoga space – which the other locations don't have – with a cork floor and beautiful mood lighting that is adjustable in a number of ways.
The main space is filled with a many-sided bouldering wall with a number of different features. Much like the new fitness area, it's about four times the size of the bouldering space on the East Side.
Along the south wall is a variety of different bouldering walls, including campus, moon, spray and kilting boards that offer training for more experienced climbers.
Some of these are available at the other locations, some not.
"One of the things that happens is we have some climbers that are ultra elite athletes," says Burzynski. "We can put up one or two pathways up the walls, mobile problems at their level, but once they get them, they're bored.
"But they can come to these devices and they can train with the top athletes in climbing around the world and do problems on this infinitely."
Because of the pandemic, Adventure Rock is operating at about 25 percent capacity and has boosted its cleaning and sanitizing regimen.
"We're referring to (our procedure) as cleaning the people and not the equipment," he says. "Everybody wears masks. We've been doing that since we reopened. Before you go up, you hand sanitize, then you chalk. You go on the wall. You come down, you clean up again. We can't clean all the surfaces, so we're trying to keep the people clean.
"I feel really confident about it. When I talked to the city about our reopening plan, they felt pretty good about it. And our adherence to it is really good. People are stoked that they have a recreational outlet. People want to do stuff, so they follow it."
Burzynski also pointed to this study that suggests that climbing chalk may reduce the amount of coronavirus on plastic surfaces.
The front of the building has been altered to make the big blank box more alluring to visitors, but also more useful.
A long narrow wedge was removed to create a parallel walkway into the building that allows folks to get some of the snow, etc. off their shoes before they enter. It also creates a more visually interesting facade, as well as the opportunity to install a long bank of tall windows that show passersby exactly what's happening inside.
"We wanted something that says we're a cool business," says Burzynski. "And we had to get the light in there. With all this glass, you really have that meshing of the neighborhood and what's going on inside.
"There's not going to be a sign on this outside wall. We don't need a sign. As they drive by, they know exactly who we are.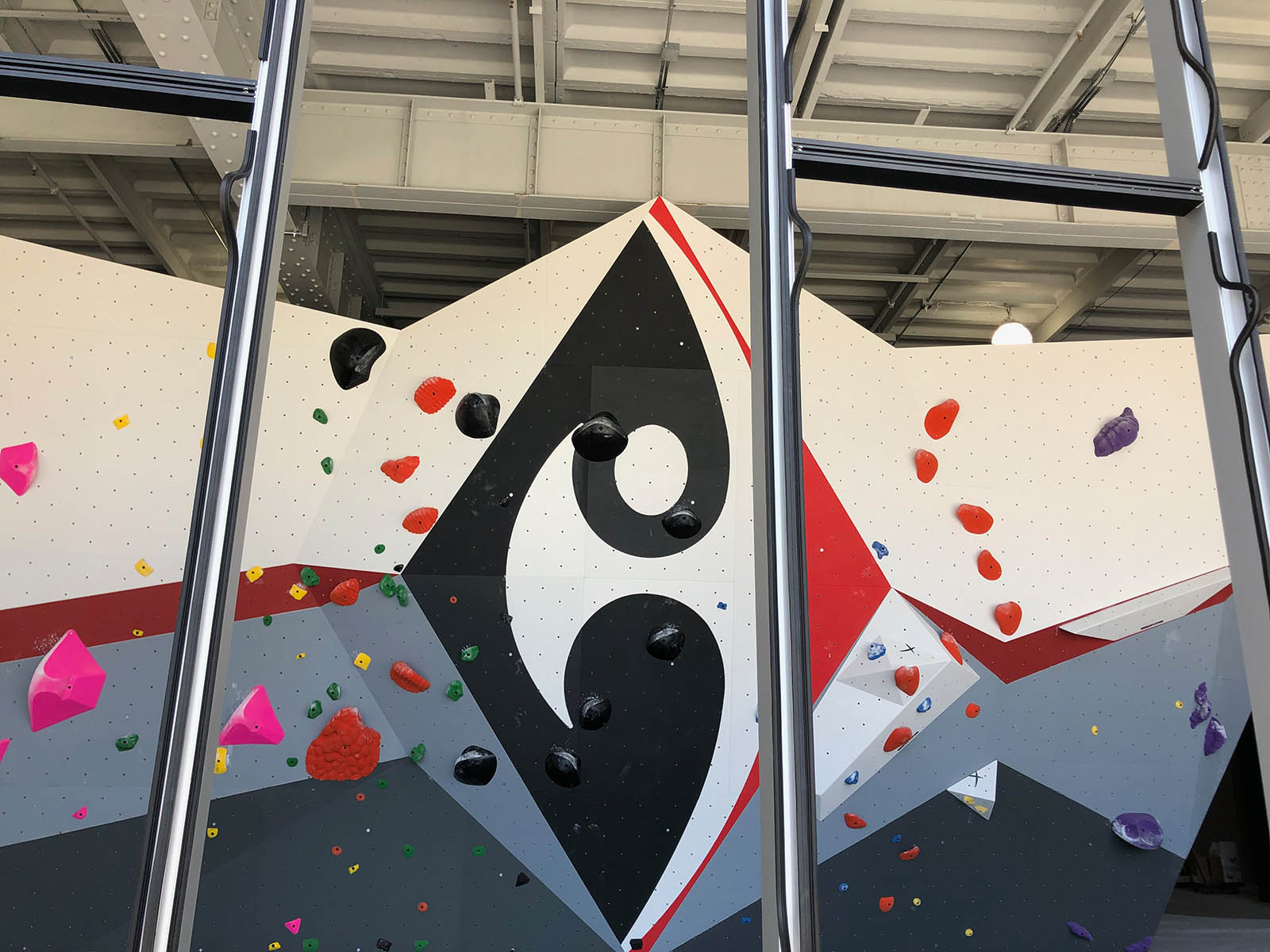 On the north side of the building, there will be a mural installed around the time of the opening of the facility.
"It will incorporate our logo and some of the things that make Walker's Point Walker's Point," says Burzynski. "Chacho Lopez, who owns the tattoo shop just on the other side of Sabbatic, and who did the Walker's Point mural, and a few of the other artists that work with him, are going to do this."
Burzynski says another area will be given over to a community mural, "where people can, after they've done climbing, they can come out and sign the wall and put some of their love on it. Because it's for the community.
"I think it's exciting. I'm jacked. We can't wait to be open. We just love climbing, and the thing I love most about this is people. And being stuck at home without people? I'm a social dude. It was really tough."
So, when is that opening going to come?
"We should ask the guys who are putting in our windows, " he says with a laugh. "We can't have occupancy without windows."
But, seriously ...
"Our goal is we open to members the week of Aug. 17, most likely late in that week," Burzynski adds. "Then open to the general public on the 25th."
The Walker's Point location will be closed Monday. All three locations have a different closing day.
"Ultimately when you buy a membership at Adventure Rock, we want people to go to any of our facilities," says Burzynski. "We have a lot of people who do yoga at one facility, but then they climb ropes at another facility. And that's what we're hoping. You'll come here, maybe you'll lift weights one day a week here. You'll boulder one day, you'll go do ropes there. Then meet your friends out in Brookfield to climb with them."
Born in Brooklyn, N.Y., where he lived until he was 17, Bobby received his BA-Mass Communications from UWM in 1989 and has lived in Walker's Point, Bay View, Enderis Park, South Milwaukee and on the East Side.
He has published three non-fiction books in Italy – including one about an event in Milwaukee history, which was published in the U.S. in autumn 2010. Four more books, all about Milwaukee, have been published by The History Press.
With his most recent band, The Yell Leaders, Bobby released four LPs and had a songs featured in episodes of TV's "Party of Five" and "Dawson's Creek," and films in Japan, South America and the U.S. The Yell Leaders were named the best unsigned band in their region by VH-1 as part of its Rock Across America 1998 Tour. Most recently, the band contributed tracks to a UK vinyl/CD tribute to the Redskins and collaborated on a track with Italian novelist Enrico Remmert.
He's produced three installments of the "OMCD" series of local music compilations for OnMilwaukee.com and in 2007 produced a CD of Italian music and poetry.
In 2005, he was awarded the City of Asti's (Italy) Journalism Prize for his work focusing on that area. He has also won awards from the Milwaukee Press Club.
He can be heard weekly on 88Nine Radio Milwaukee talking about his "Urban Spelunking" series of stories.