After what she describes as "a truly serendipitous collision of events," Wauwatosa's Erica Riegelman started aftcra, an e-commerce marketplace specifically for American handmade artisans to sell their goods.
Riegelman became inspired to start the business after witnessing her mother struggle to sell her wares at local boutiques that wanted 50 percent of the earnings. At almost exactly the same time, Riegelman was feeling discouraged and burned out at her corporate job, read an inspiration book about the importance of freedom in one's life and became disappointed in, what she refers to as, "an industry giant."
(Most likely, Riegelman is referring to Etsy.com's decision that sellers could use outside manufacturers to produce their designs. In other words, items sold on Etsy no longer had to be handmade.)
"Within these completely unrelated experiences, I discovered an opportunity," says Riegelman. "This was when I made the biggest decision in my life. I asked myself 'do I do something to change my life or do I sit back and let others control my destiny?'"
Today, Riegelman is one of four co-founders and serves as the president of aftcra.
"I work on the day-to-day operations and marketing. Our other co-founders are silent partners," she says. "Aftcra is a great way to support local – both in Milwaukee, Wisconsin – and across the United States."
The group started aftcra at the end of 2012 and in August 2014 launched the new aftcra site with a sleeker design, better usability and more features for users. The site is divided into clothing, kids / baby, home furnishings, arts / handicrafts, jewelry, paper goods, celebrate (items for holidays and special events) and accessories.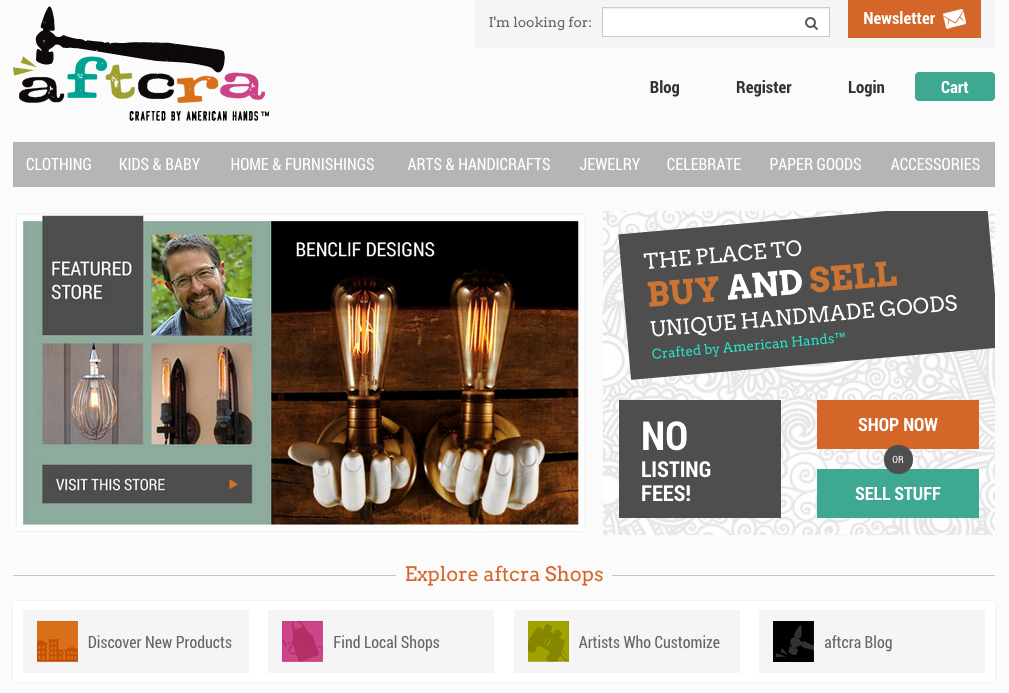 "Aftcra provides an online place for American artisans to share their handmade products with the world. We aren't some Silicon Valley giant. We are just us, a family in the Midwest that loves the talent of makers and their handmade goods," says Riegelman. "And aftcra, she's the new marketplace on the block, but she's growing."
The products are uploaded by artisans around the country – including several from Milwaukee – for free. The company also offers guidance to sellers on a one-on-one basis to help them craft their product descriptions so they are search-engine optimized.
"And we are always open to new ways we can help our artisans and shoppers connect," says Riegelman.
The name "aftcra" is an anagram for "a craft", meaning the skill it takes to create something out of nothing.
"We think it's a good representation of our talented artisans," says Riegelman.
Riegelman grew up in Brookfield and went to UW-Oshkosh for college. Today she lives in Wauwatosa with her spouse and a baby daughter, Lauren, born in August.
"We have fallen in love with the community and the city's growing restaurant and entertainment scene," she says.
Much of Riegelman's creative inspiration came from her mother. "When I was younger, my mom would always be painting or crafting or sculpting something fierce," she says. "She had a talent that I envied."
She was also inspired by her mother's patience and commitment to make a difference.
"One thing I've always had, like her, is the mentality that I want to make an impact. I've always wanted to make things a little better than they were yesterday," says Riegelman.

Molly Snyder started writing and publishing her work at the age 10, when her community newspaper printed her poem, "The Unicorn." Since then, she's expanded beyond the subject of mythical creatures and written in many different mediums but, nearest and dearest to her heart, thousands of articles for OnMilwaukee.

Molly is a regular contributor to FOX6 News and numerous radio stations as well as the co-host of "Dandelions: A Podcast For Women." She's received five Milwaukee Press Club Awards, served as the Pfister Narrator and is the Wisconsin State Fair's Celebrity Cream Puff Eating Champion of 2019.