AJ Bombers, Smoke Shack and Holey Moley Coffee + Doughnuts are preparing to open this week at the Mayfair Collection, 11500 W. Burleigh St. The three concepts are located in front of the Hilton Homewood Suites Hotel with plentiful parking available in both surface lots and in a parking garage located behind the restaurants.
The restaurants round out the development's impressive collection of restaurants, which include Corner Bakery, Pizza Man and four Bartolotta's managed restaurants: Osgood's, Cafe Grace, ABV Social and El Jefe.
Holey Moley Coffee + Doughnuts will be the first to launch, opening on Tuesday, Nov. 29 at 6:30 a.m. offering hot coffee and signature scratch-made doughnuts in a variety of styles, including cake, old fashioned, yeast, fritters and doughnut holes.
Unlike its Third Ward location at 316 N. Milwaukee St., the West Side Holey Moley will offer options for both indoor and outdoor seating.
According to Joe Sorge, founder and president of Hospitality Democracy, the popular doughnut shop is also likely to roll out its custard-filled doughnut sandwiches – made popular as an offering at Miller Park – in the evenings moving forward.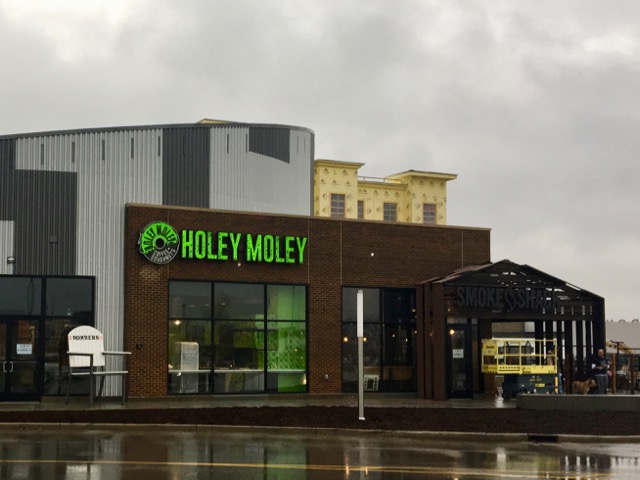 Both AJ Bombers and Smoke Shack will open Thursday, Dec. 1 at 11 a.m.
Smoke Shack will serve humanely raised dry-rubbed and smoked meats, house-made sides and creative cocktails in a rustic atmosphere featuring repurposed barnboard as an interior element. Beginning in the warmer months, the restaurant will also feature a seasonal patio and outdoor bar.
Meanwhile, the new AJ Bombers will mimic a the playful environment of its Downtown location, featuring "p-nuts" and creatively customizable burgers, fries and signature custard.
Beginning Tuesday, Nov. 29, Holey Moley Coffee + Doughnuts will open at 6:30 a.m. daily. Smoke Shack and AJ Bombers will be open Monday through Friday from 11 a.m. to 10 p.m., 10 a.m. to 10 p.m. on Saturday and 10 a.m. to 9 p.m. on Sunday.
Lori Fredrich (Lo) is an eater, writer, wonderer, bon vivante, traveler, cook, gardener and girlwonder. Born and raised in the Milwaukee area, she has tried to leave many times, but seems to be drawn to this quirky city that smells of beer and alewives.
Some might say that she is a little obsessed with food. Lo would say she is A LOT obsessed with food. After all, she has been cooking, eating and enjoying food for decades and has no plans to retire anytime soon.
Lo's recipes and writing have been featured in a variety of publications including GO: Airtran Inflight Magazine, Cheese Connoisseur, Cooking Light, Edible Milwaukee, Milwaukee Magazine and the Milwaukee Journal Sentinel, as well as on the blog Go Bold with Butter, the web site Wisconsin Cheese Talk, and in the quarterly online magazine Grate. Pair. Share.