Brothers Daniel and David Neumann quietly opened Alderaan Coffee, 1560 N. Water St., today. Our Lori Fredrich reported this new option would be coming back in November 2013.
Daniel recently moved back to the Milwaukee area from New York -- where his other coffee shops, Upright Coffee, were located in Brooklyn and Manhattan. I stopped by to get a first look at the new space in the Flatiron Building, as well a first coffee.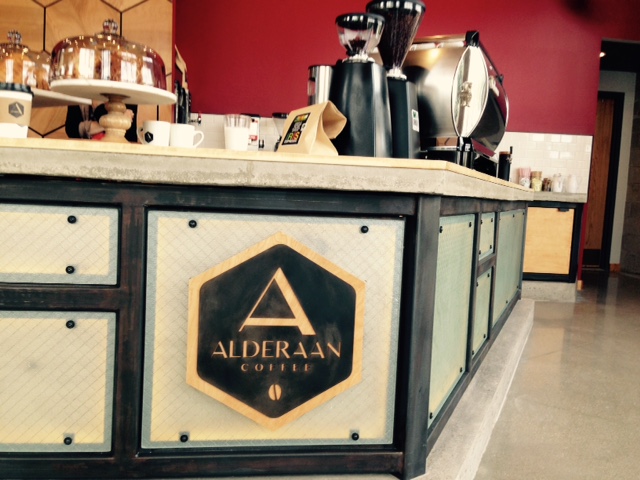 The coffee house will feature roasts from around the country as well as local brews. When I stopped by today, the cafe had beans from Anodyne Coffee, Brooklyn Roasting Co. and others. The varieties will change to keep things fresh.
Alderaan will also brew and bottle its own iced coffee, which you will be able to purchase by the bottle in the "machine." Colectivo's Troubadour Bakery pastries are served.
Alderaan will also make most of its own syrups -- including lavender and vanilla -- in-house, as well as almond milk. I tried the house special Lavender Latte made with the house-made syrup and it was scrumptious down to the last sip. I was also able to sample the almond milk and have a feeling it will be in demand once folks try it.
Conveniently located in the first floor of the Flatiron Building at the north end of Downtown, Alderaan should be an easy stop for many on their way to work.
See you there.
Carolynn Buser is one of Milwaukee's loudest and most adamant cheerleaders (don't dare try to disagree). She's the primary voice behind much of OnMilwaukee's social media and content direction, and apologizes in advance if she can be too sarcastic at times.
What else? She's a wine lover, closet trashy novel reader, beauty supplies addict and devourer of cheese (shocker for a Wisconsin born and bred girl, right?). She's also a bit of a foodie, which is a word most of you hate, we know. She works as hard as she plays - and that includes in the gym! So, you've probably seen her at one of the area's newest restaurant openings (and yes, she will share her opinions good or bad) or enjoying a cold one at a local pub.
All in all, Carolynn's a believer in positive thinking and will do her best to smack down your negative ones while writing about her city, her loves, quests and more.