These days, there are about 2,500 people working each weekday at Summit Place office complex in West Allis, 6737 W. Washington St. Add in the folks that work at the adjacent shopping center, another office building at the site and a handful of manufacturing businesses and you've got a vibrant, bustling property in the heart of West Allis.
If today the site is something like a small city in itself, imagine what it was like when the entire place was home to Allis-Chalmers manufacturing.
"At one time there were more than 17,000 employees here," says Kyle Harmon, president of Summit Properties, as we stand before an enlarged vintage map of the Allis-Chalmers complex, which shows the breadth of what the place once was.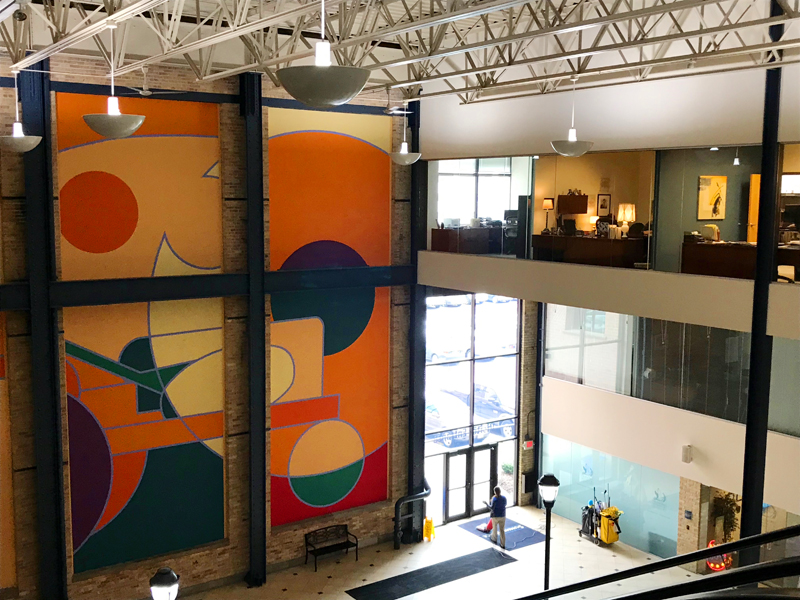 A roughly similar view of the same space, 1903 (below) and now (above).
"They were the second largest employer in the state. If you're about 50 or older, you knew somebody – a relative or a next door neighbor or somebody – that worked here."
"I grew up on the South Side of Milwaukee," recalls Dennis Slater, president of Association of Equipment Managers (AEM), which is a longtime tenant at Summit Place, "and I think my dad was the only one that didn't work here in the whole neighborhood. It's unbelievable."
The complex in 1920, above, and the admin building in 1925, below.
"Allis-Chalmers had an indescribable, positive impact on the community," affirms West Allis Mayor Dan Devine. "They were the largest employer and really the heart of the community. I don't think I can go a week without someone mentioning (to me) that they used to work there or a relative used to work there."
Though much of the plant is gone, more remains than I expected. More is slated to come down this year.
Still, the fact that any of the buildings, erected from 1903 forward, remain standing today is an unexpected gift to lovers of history and well-built structures.
"The reorganization trust was formed by the bankruptcy court in New York and they started selling off parcels, and they were charged with tearing down all these old factories," says Harmon. "So some of the buildings did get torn down and some of the buildings remain."
The reason they didn't all come down is because that trust ran out of money before it could raze everything.
A little history
The roots of the company date back to Edward P. Allis' purchase as a sheriff's auction of the bankrupt Reliance Works, which manufactured mill equipment. After financial woes of his own, Allis regrouped and launched a company bearing his own name.
When Allis died in 1889, his sons Charles and William took over and within a couple decades, the Allis Company was among the biggest manufacturers of steam engines in the country.
It had been based first in Walker's Point and later up on Third Street, according to Harmon, before relocating to the town of North Greenfield – which later became West Allis – after merging at the turn of the century with the Fraser & Chalmers company, which made heavy construction and mining equipment, boilers and steam engines.
Over the years, Allis-Chalmers continued to grow, building all kinds of equipment, from turbines to tractors, engines, kilns, smelting and mining equipment, lawnmowers and even working on the Manhattan Project here during World War II.
A nuclear lab building still stands, but, says Harmon, they wanted to keep it so down-low that they removed everything and even filled in the lower levels and capped it with cement. MPs would guard the factory floors where the Manhattan Project work progressed and at the end of the night even the metal shavings on the floor were swept up and secreted away.
After many decades of growth and the acquisition of a variety of companies and brands, times got tough for Allis-Chalmers in the 1980s and what little remained of the company after a series of joint ventures and sell-offs was put to rest in 1998.
At that point, the sprawling complex that bled north of Washington Street, across 70th Street, down to Greenfield Avenue and as far east as Hawley Road, was vacant and quickly grew derelict.
"When they left it was really devastating to West Allis," says Devine. "Our substantially largest employer and taxpayer was gone."
The birth of Summit Place
There was no vision for the future at that point, recalls Harmon.
"My partner Dick Carlson, his first office when he got out of college was right here," says Harmon, pointing to a now-demolished corner of the old Allis-Chalmers administration building, on 70th and Greenfield.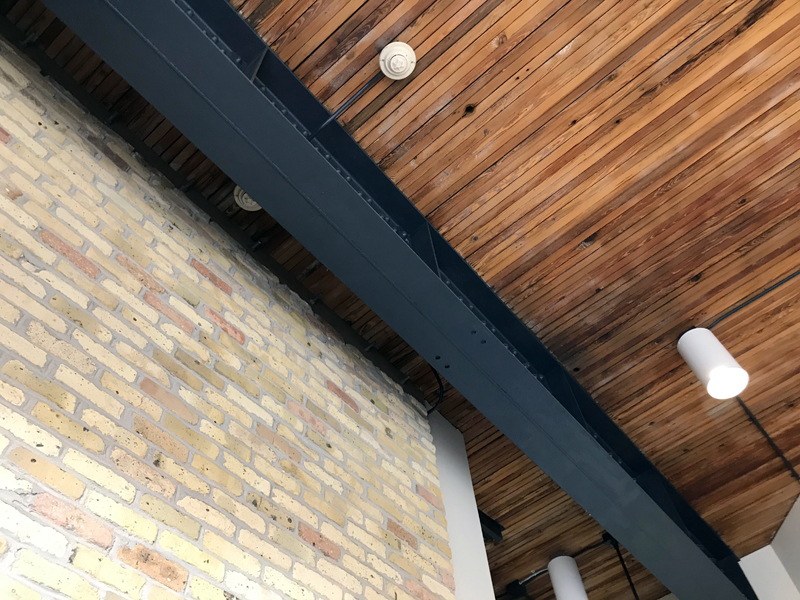 After having moved east, Carlson returned to Milwaukee with his family in the 1990s.
"He came back here and said, "well, what do you think about getting in the real estate business?' He ended up in the bankruptcy court in New York with an offer to buy these three buildings, the erecting floor (pictured below) and (the) 6600 (building). which is still standing.
"He thought he was going to go there, up against a bunch of people in suits in a bidding war over it. When he put in his offer, it was the only one. So that's how he got it; he was the only one there."
Those three buildings were converted to Summit Place beginning in 2002. Harmon says the plan was originally to do just 200,000 square feet of office space, but the demand was so high that it eventually grew to more than three times that size.
"We are fortunate that the city leaders had, and continue to have the vision to redevelop the area," says the mayor. "The development of Summit Place, a 650,000-square foot rentable office space, is currently home to several large, diverse employers. It is like a small city… there is a café, a pharmacy a salon and a flower shop inside. They have also done a nice job incorporating some of the industrial vibe.
"Several employers in Summit Place bring people in for training which helps our hotels. The employees there are also a boost for our local restaurant scene, which has been booming lately."
The site today
The erecting floor, an astonishingly long building that's now occupied by Toshiba and Blast Cleaning Technologies, still stands, as does the 6600 W. Washington St. building.
Everything between there and Greenfield Avenue was razed to build the shopping center. Part of the admin building still stands along the east side of 70th Street, but that's due to be torn down and replaced with a hotel, as part of a huge development by Cobalt Partners.
"Those plans for the 70th Street Corridor by Cobalt are the next exciting development for that area," says Devine.
The former tractor office buildings across 70th Street were refurbished and are now owned by the West Allis-West Milwaukee School District.
The Hawley building also survives and is currently home to a number of businesses, including WDJT-TV, channel 58.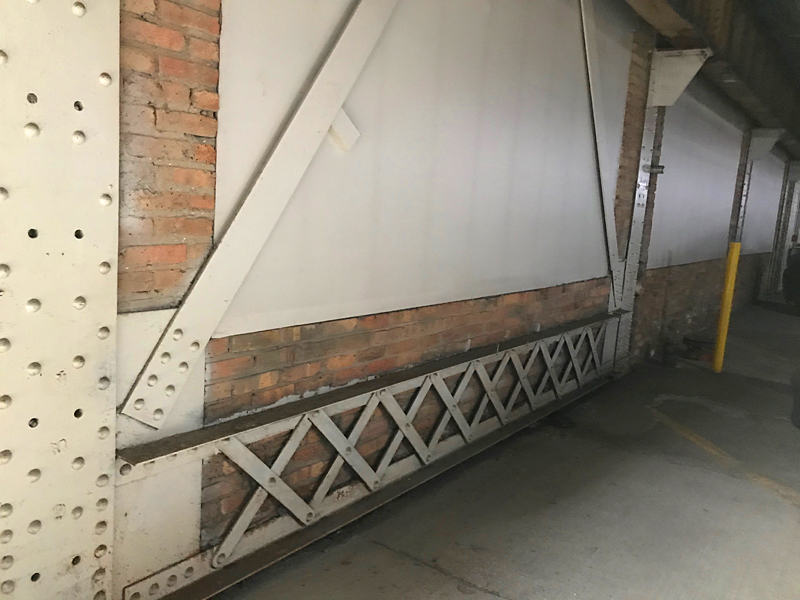 Summit Place was rehabbed into office and retail spaces that honor the tradition of the site.
There are still gorgeous original hardwood floors, incomparably sturdy steel beam construction – including a skywalk (pictured below) created out of rails that once facilitated the movement of 100-ton and 40-ton industrial cranes – top-floor skylights, exposed cream city brick and open-plan office spaces that are as long as two football fields.
Those kinds of spaces, in a facility full of amenities, attracts some big tenants and Summit Place is home to Blue Cross Blue Shield, Saint Aemilian, Children's Hospital of Wisconsin, Impact, AEM and others.
"Not only is Summit Place a unique complex for our office, we also selected the facility because it ties in so strongly with our roots in the equipment manufacturing industry," says AEM's Slater.
"Allis-Chalmers was an early member of the Association of Equipment Manufacturers, which is celebrating its 125th anniversary as an active trade association. And we think it's valuable for our employees to get a sense of that history every time they look up at the exposed steel and skylights, or run their hands over the cream city brick.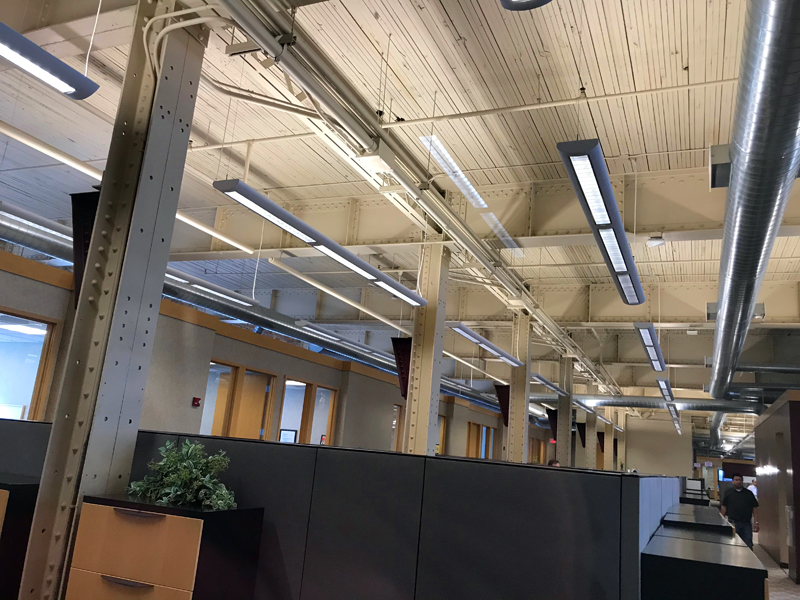 "Allis-Chalmers may be gone from this site, but AEM's mission as an advocate for the heavy construction and agriculture equipment industry lives on here. Like the building, that mission continues to evolve, but it's stronger than ever."
All of the activity has proved a boon to West Allis. Housing and retail and other developments have followed and seem to be continuing without hesitation.
The Cobalt development will further change the face of the area, but it looks like West Allis won't soon forget Allis-Chalmers.
Born in Brooklyn, N.Y., where he lived until he was 17, Bobby received his BA-Mass Communications from UWM in 1989 and has lived in Walker's Point, Bay View, Enderis Park, South Milwaukee and on the East Side.
He has published three non-fiction books in Italy – including one about an event in Milwaukee history, which was published in the U.S. in autumn 2010. Four more books, all about Milwaukee, have been published by The History Press.
With his most recent band, The Yell Leaders, Bobby released four LPs and had a songs featured in episodes of TV's "Party of Five" and "Dawson's Creek," and films in Japan, South America and the U.S. The Yell Leaders were named the best unsigned band in their region by VH-1 as part of its Rock Across America 1998 Tour. Most recently, the band contributed tracks to a UK vinyl/CD tribute to the Redskins and collaborated on a track with Italian novelist Enrico Remmert.
He's produced three installments of the "OMCD" series of local music compilations for OnMilwaukee.com and in 2007 produced a CD of Italian music and poetry.
In 2005, he was awarded the City of Asti's (Italy) Journalism Prize for his work focusing on that area. He has also won awards from the Milwaukee Press Club.
He can be heard weekly on 88Nine Radio Milwaukee talking about his "Urban Spelunking" series of stories.