Making a good sequel, always the great Hollywood conundrum. Sometimes you get a "Godfather: Part II," "Spider-Man 2" or "Terminator 2: Judgement Day." Other times you get "Hangover: Part II" or "Speed 2: Cruise Control." Thankfully, the Downer Theatre has safely landed in the former category with its newly announced collection of cult classics for its second Almost Midnight movie series.
The series' summer sequel returns to the Downer on Fridays and Saturdays at – you guessed it – almost midnight starting June 15-16, and once again, the focus is on midnight movies and cult classics. So we've got "Batman: Mask of the Phantasm" – arguably one of the best Batman movies to hit the big screen – to start the series back up, as well as one of the 47 different directors' cuts of Ridley Scott's "Blade Runner," the beloved '80s kids adventure "The Goonies" (starring Oak Creek icon John Matuszak) and "Friday the 13th: The Final Chapter" timed perfectly for Friday the 13th in July.
And that's just half of the movies coming back to the big screen.
Here's the complete – and completely impressive – lineup:
June 15-16: "Batman: Mask of the Phantasm"
June 22-23: "Blade Runner: The Final Cut"
June 29-30: "Akira"
July 6-7: "The Goonies"
July 13-14: "Friday the 13th: The Final Chapter"
July 20-21: "The Room"
July 27-28: "Liquid Sky"
Aug. 3-4: "A Clockwork Orange"
For tickets, visit the Downer's website – and for coffee to help stay awake well past midnight for the movies, visit the theater's vending stand.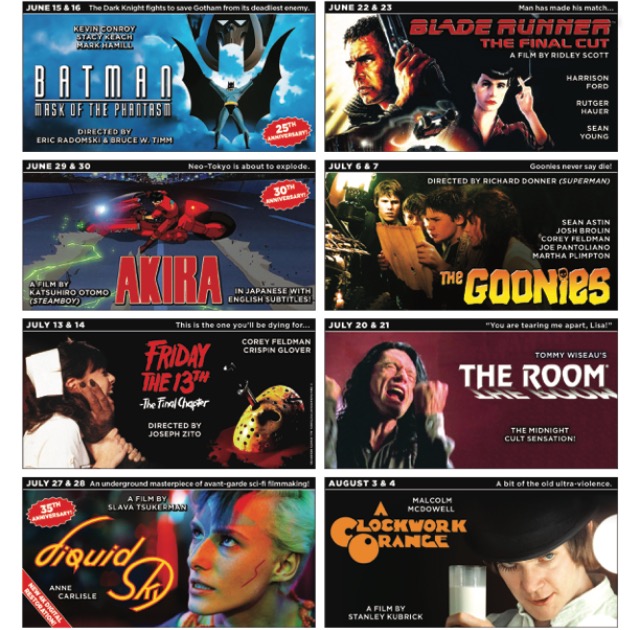 As much as it is a gigantic cliché to say that one has always had a passion for film, Matt Mueller has always had a passion for film. Whether it was bringing in the latest movie reviews for his first grade show-and-tell or writing film reviews for the St. Norbert College Times as a high school student, Matt is way too obsessed with movies for his own good.
When he's not writing about the latest blockbuster or talking much too glowingly about "Piranha 3D," Matt can probably be found watching literally any sport (minus cricket) or working at - get this - a local movie theater. Or watching a movie. Yeah, he's probably watching a movie.