Seven times a day, the Amtrak Hiawatha departs from Milwaukee to Chicago. The early morning trains pick up riders from the Downtown Intermodal Station at 6:15 or 8:05 a.m. and make a stop at the airport station for more people. By the time the railcars reach Illinois, dozens of Wisconsinites – most from the Milwaukee area – have already settled in for their 89-minute commute to work.
"Living in Milwaukee and working in Chicago is the best of both worlds," says Kera Glass, who lives in Bay View and works for the Whole Foods Midwest regional office in Chicago. "I get off the train and have access to this amazing world-class city, and then I get back on the train and come back to Milwaukee – the place where I feel most at home."
For many, the "train time" between home and work is valued. Len Lewy is a rabbi who has worked at a large hospital in Downtown Chicago as a chaplain for eight years. His work is very meaningful to him, but also requires him to be in a different mode than he is at home with his family in Milwaukee.
"The train is the transition I need between what I do at the hospital and when I get home," says Lewy.
Brew City commuters work in many different fields: marketing, engineering, IT, legal, finance, education, consulting and more. But while on the tracks, they have very similar behaviors. Some nap, some work, many scroll on their phones and almost everyone, eventually, becomes acquainted.
"You tend to bond with people you see every day standing on the platform shivering at 6 a.m.," says Carol Abing, who has commuted to Chicago for her job for nine years.
Because riders often sit in the same car, sometimes even the same seat, they usually start to chat with those they around them on every trip. This leads to a laugh or two, which for some leads to friendship and even chosen family.
"You spend three hours a day with these people, so you get to know them. They become friends and family, both on and off the train," says Todd Allen, a resident of West Allis who has worked in Chicago for 30 years.
And like friends and families do, train friends and families share stories from their lives, connect on social media (Milwaukee train commuters have their own Facebook page) and celebrate events together including birthdays, retirements and holidays.
Earlier this week, a group of Milwaukee commuters rang in the December holidays while riding home on the train with their annual party. The soiree took place on "the 5:08" in the cafe car where 35-50 riders were eating, drinking and laughing before the train even left Chicago's Union Station.
The same group of riders also organizes what was referred to as an "epic" Cinco de Mayo party on the train in early May. This features blender drinks and, once, a pinata.
These particular on-board celebrations are completely supported by Amtrak, mostly because the conductors know and trust the passengers who organize the fun.
"The conductors know we aren't going to cause any problems or get too wild," says Allen, who serves as the bartender for the party along with his daughter, Rachel.
"It's one of the high points of my year. I get to spend time with my dad and make sure all these fantastic human beings have a bartender so they can spend more time with each other," says Rachel, who lives and works in Milwaukee but joins the train gang for their parties.
The drink of choice is the Milwaukee-based SoulBoxer's ready-to-pour Old Fashioned, but shots of Tully and seasonal cans of Miller Lites are also in the mix.
During the party, Sandy Ross, a commuter who lives in Downtown Milwaukee, collected signatures and donations for the conductors' holiday cards. Every year, the group gives a cash-filled envelope to the 13 conductors – as well as to their favorite gate agent, Chris, in Chicago.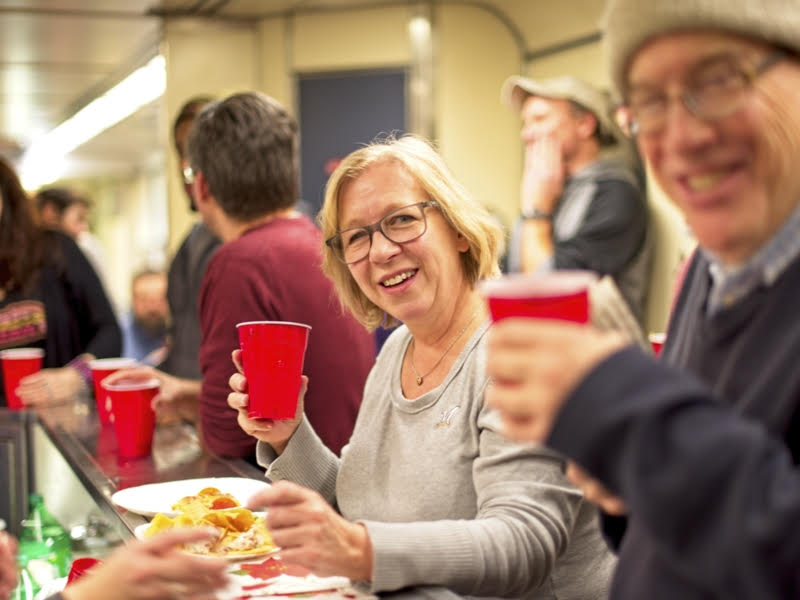 "This is the most generous group you will ever meet. We raised over $900 for the conductors. They take good care of us, and they put up with our shenanigans," says Ross. "The conductors are our friends off the train, too. On Friday, some of them saw it was my birthday on Facebook and they knew my favorite local bar so they surprised me by showing up."
Toward the end of the line – maybe just north of Racine – riders switched modes from partiers to helpers and started cleaning up the red plastic cups, taco dip containers, thick-crust pizza boxes and homemade cookie and bread containers. Within minutes, the space was pristine again.
And then suddenly, seemingly out of nowhere, "Santa" appeared looking trim and dapper, handing out boxes of "Naughty Bag" condoms.
Gary Hollander has commuted for work from Fox Point to Chicago for 20 years, but it was his first year in the role of St. Nick.
"I wasn't willing to wear a fat suit, but otherwise I'm fine being Jewish Santa handing out condoms,'" says Hollander, a consultant who is also affiliated with 414ALL, a non-profit group working to reduce sexually-transmitted infections and teen pregnancy. (Hence, the Santa bag filled with prophylactics.)
The cost to ride the Amtrak roundtrip, from Milwaukee to Chicago five days a week, is $416 – or about $5,000 a year.
"I look at it as a car payment," says Ross. "Because I live in Downtown Milwaukee and work in Downtown Chicago, I don't need to own a car."
Prior to becoming a regular train commuter, Allen drove a car to his Illinois-based job for years. He switched to the train and finds it much easier and more relaxing. "Driving to work is more work for people like us," says Allen.
As for train complaints, the commuters have very few aside from the frustration of occasional delays and breakdowns. A few mentioned they wanted more routes to-and-from Milwaukee, especially after work.
"If you miss the 5 (p.m.), you're stuck here until the 8," says Allen.
Most of the Milwaukee-Chicago commuters have 14-hour work days, so do they consider moving to Chicago? The answer for most is no.
"It's way too expensive to live in Chicago," says Shea Royal. "And Milwaukee has been good to me. I went to college there and I was able to buy a home right after I graduated. Milwaukee has everything Chicago has. It's just smaller and easier to get around."
Recently, Royal became the father of twins and says the extra time spent on the train and away from his wife and children is difficult.
"Having met this group has helped," says Royal.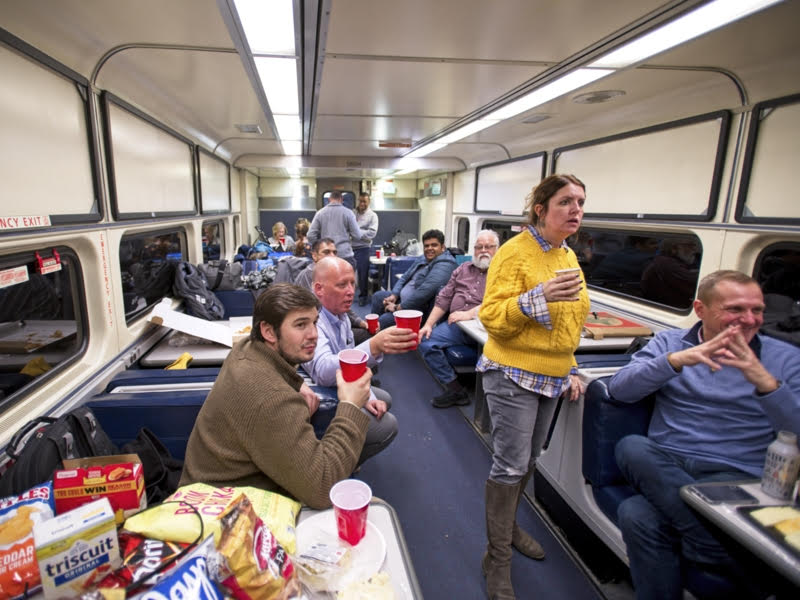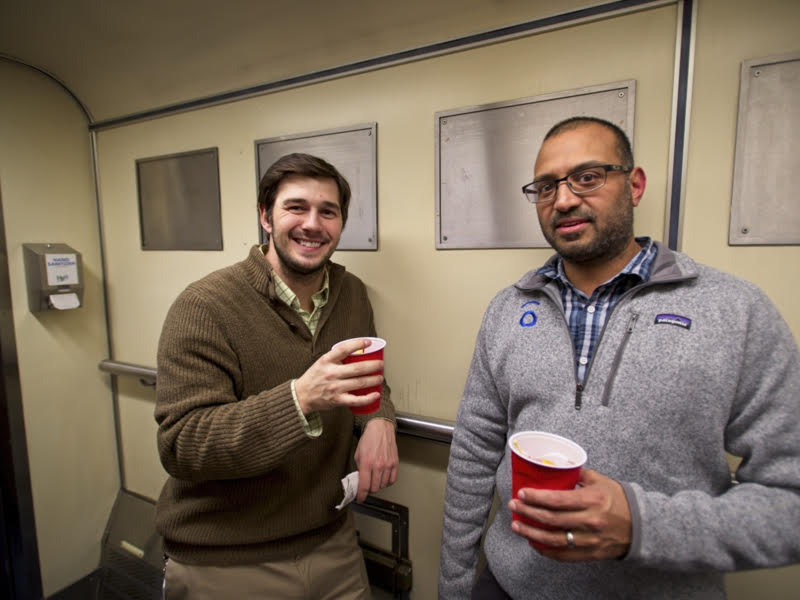 Royal, an Amtrak commuter for less than a year, met the Milwaukee commuters during their last party. "I was looking for a place to get some water and walked through their party car. I asked them for a cup for water and they said I absolutely should not drink the water on the train because it's nasty. So they offered me beer and Tully instead. Basically this group saved my life," jokes Royal.
After 10 years of commuting, Andrew Baptist – who currently lives on Milwaukee's East Side – plans to move to Chicago in 2020. He says his company is in a place that the move is comfortable and makes sense.
"I'm gonna miss aspects of the train," says Baptist. "I get a lot of work done here before and after work and I've had some great conversations with people."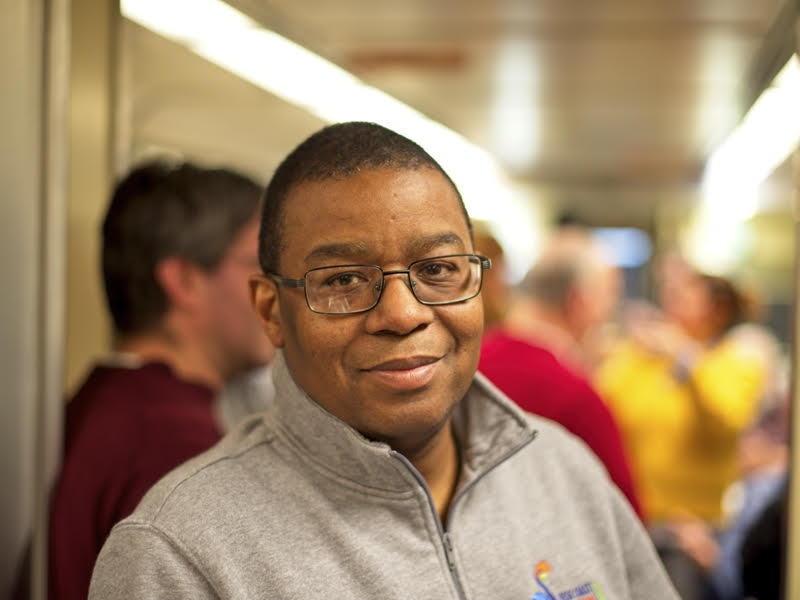 For some train riders, the commute is a compromise based on their spouse's life. Such is the case for Brian Bell, a resident of Milwaukee's northwest side, who will retire soon after working for the Environmental Protection Agency (EPA) in Chicago for 24 years.
"My in-laws live in Milwaukee and we really didn't want to be so far away from them so I told my wife 'I'll do the crazy commute,'" says Bell. "And I'll be back on the train occasionally after I retire. For the parties."

Molly Snyder started writing and publishing her work at the age 10, when her community newspaper printed her poem, "The Unicorn." Since then, she's expanded beyond the subject of mythical creatures and written in many different mediums but, nearest and dearest to her heart, thousands of articles for OnMilwaukee.

Molly is a regular contributor to FOX6 News and numerous radio stations as well as the co-host of "Dandelions: A Podcast For Women." She's received five Milwaukee Press Club Awards, served as the Pfister Narrator and is the Wisconsin State Fair's Celebrity Cream Puff Eating Champion of 2019.