No, you didn't click on a broken link. This April Fools' article you were looking for expired at 11:59 p.m. on April 1.
Here's why:
While we found our jokes pretty funny on April 1 – and hope you did, too – 20 years of experience shows our readers are less amused for the next 364 days. Even jokes told in good fun can be misconstrued when taken out of context.
The OnMilwaukee April Fools' tradition stretches back to 2001, according to founder and Publisher Andy Tarnoff. Back in college, Andy says April Fools' Day was a beloved special edition that helped writers at his school newspaper, The GW Hatchet, blow off steam with some not-so-gentle and very profane satire, and it was a practice he wanted to continue when he started OnMilwaukee.com in 1998.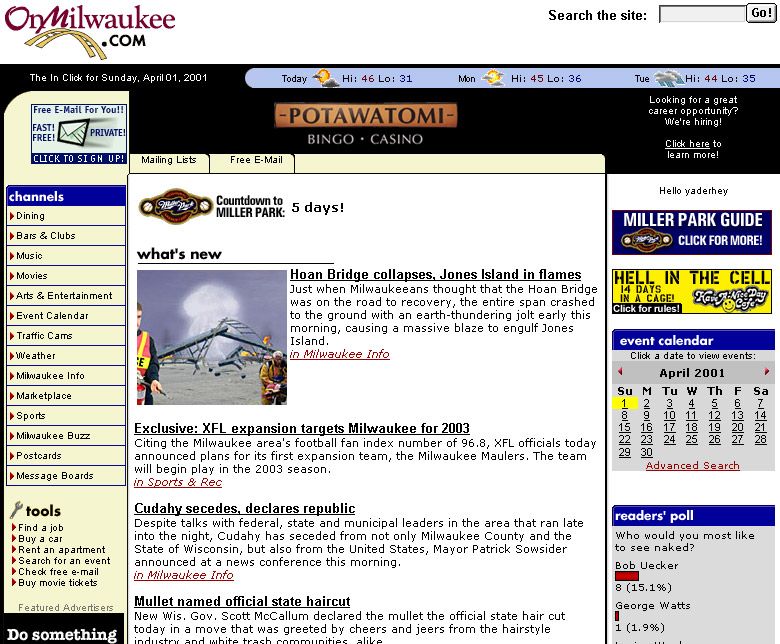 Over the years, the OnMilwaukee April Fool's edition has ruffled more than a few feathers, although its content rarely extends beyond a PG-13 rating.
Andy and other early staffers remember angry phone calls and emails, especially one from the Milwaukee City Attorney who called him a lowlife, and a local TV exec who didn't find it funny when our staff Photoshopped a sign on his weather dog that read, "Need more bitches." Or the microbrewery that is still annoyed that we promoted their Milorganite beer. Or the suburban police department that didn't like our implication that its keystone cops couldn't find the Milwaukee Lion, or its friend, Barry the Ocelot. And on and on.
But the staff of OnMilwaukee has pulled the wool over so many eyes, we've lost count. Despite the ridiculous photos and outlandish articles, there was the time when a TV reporter took our story about "freedom fries" at Bastille Days in 2003 and ran with it as real news (sorry, East Town Association). Or the angry calls to Betty Brinn Children's Museum after we announced that the museum was opening a bar for stressed-out parents (sorry, Betty Brinn). Or when the local newspaper made its own version of our April Fool's joke that they called "The Leek," as a play on The Onion. It wasn't very funny, and needless to say, it didn't come back the next year.
Speaking of The Onion, yes, we get it. We're big fans, and no, we're not trying to be them. Except for one day per year – although we do spend months coming up with stories for one silly day.
And then they disappear, forever, except for in our collective memory.
So, why do we do it? Mostly, because April Fools' Day provides both our readers and our staff a much-needed laugh. We don't aim to hurt anyone's feelings – last year, for example, we made the decision to avoid any pandemic jokes. We'll poke fun at anyone and everyone, including ourselves.
Also, though, it's a team-wide effort. The planning meetings start in early spring, and everyone is invited to pitch ideas. Not only do our writers and designers touch every article, but our development team and salespeople participate in all parts of the creative process. While we might start with 100 topics, we all slice and dice and "funny them up," and that's why you don't see any bylines on these articles. We tweak parts of our back end, too, like turning off RSS feeds that would remain visible on April 2. Everyone chips in, because our analytics show that a large percentage of the visitors who come to OnMilwaukee on April 1 are seeing us for the first time ever. We'd like them to return when we get back to business the next day.
On that note, historically, April 1 is our most-read day of the year, and some of the stories have gone viral in a time when Facebook and Twitter didn't even exist yet. Traffic is typically three times higher than an average day, sometimes more.Social media just makes it better. No matter how insane we go – and believe us, you have to get in a special state of mind to write "Kathy Mykleby changes her name, and face, to Michael Kathyby" – thousands fall for it every single time.
We're honored that you found our effort funny. We're flattered even if you didn't. And we're all laughing with you, too.