Regardless of our individual devotion to Arby's, many of us in the Milwaukee area let out a collective gasp when we saw the towering 10-gallon hat neon sign that has long been a Cudahy landmark was being pulled down.
But panic not because the sign has been saved!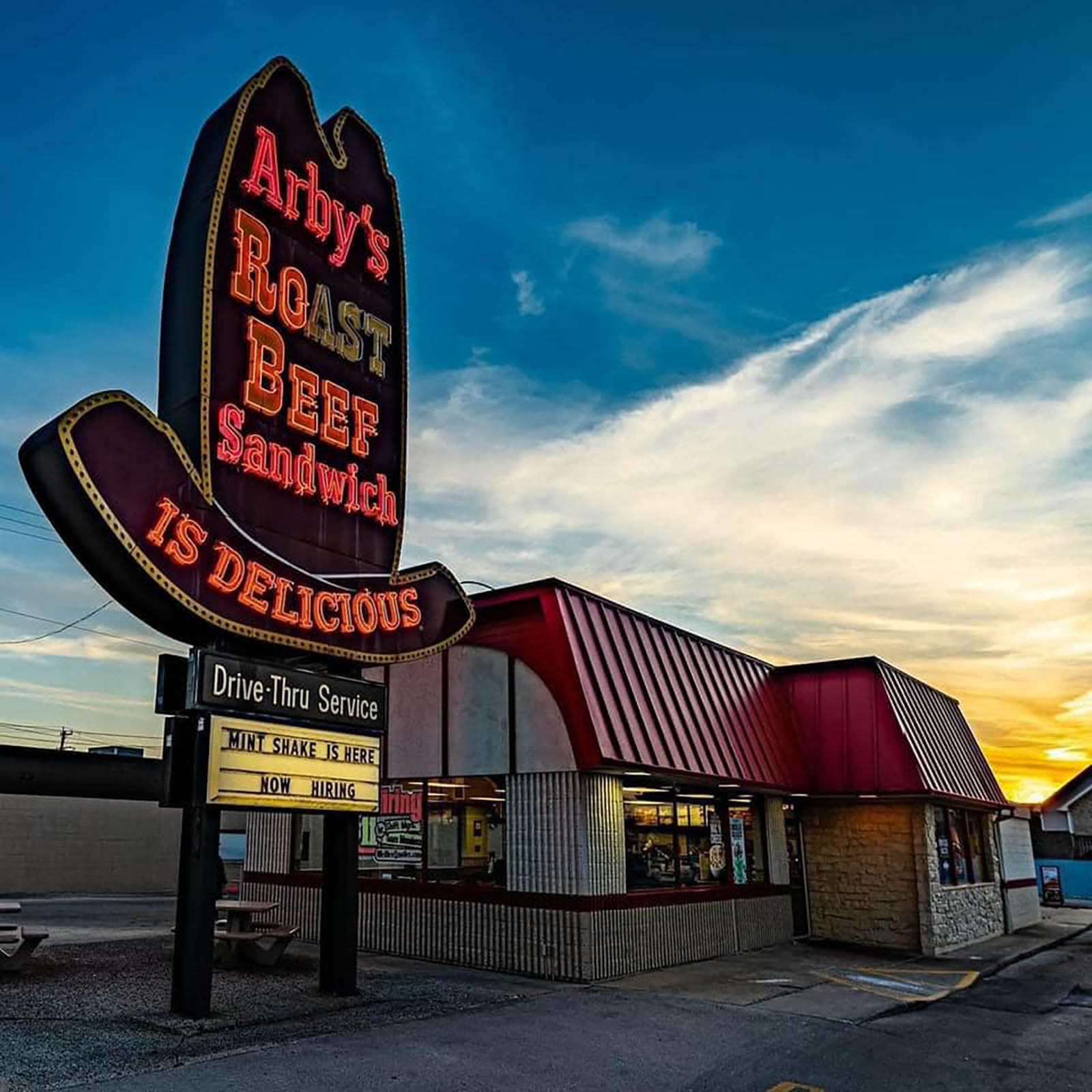 The Arby's at 5965 S. Packard Ave. – the fourth to open in the area, after 27th Street (across from Southgate), 76th and Capitol and Highway 100 and National – closed unexpectedly on Oct. 31. It had opened in spring of 1971.
That means the sign has likely been shining like a beacon in Cudahy for nearly 50 years.
The buyer, Joseph Rieland, who works for a medical device company on liver and kidney transplants, also owns Redefined & Co., which makes industrial-style tables. That creative work, he says, led him to his, "passion rescuing, refurbishing and restoring vintage signage.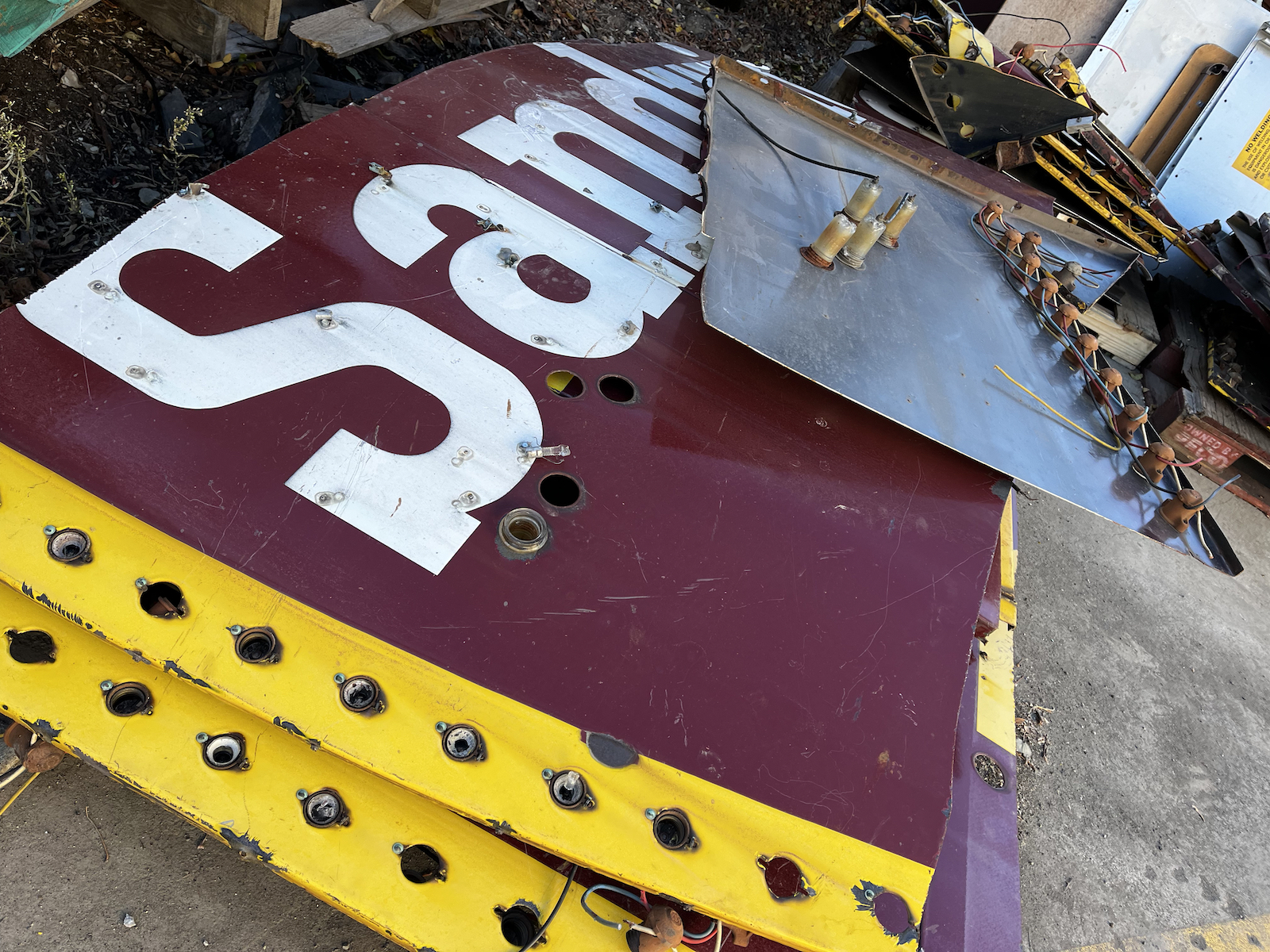 "I have become known for being able to bring really old, rusted out signs that were going to be scrapped, back to life. I have a sheet metal shop and fab shop that can easily rebuild signs. There are a number of signs from the Milwaukee area, as well as Racine, that I have resurrected."
Rieland's workshop in the Milwaukee Makerspace in St. Francis' Makers Village and that's where the sign currently resides ... in pieces.
"There is a network of people in the sign world that communicate with one another when things like this happen," he says. "Adam Levin (author of "Ghost Signs of Milwaukee") reached out to me because I have 'saved' other signs from the Milwaukee area and have the resources to move and reconstruct them.
"It was in a dumpster ready to be scrapped and destroyed. However, I was able to make a connection and acquire the sign before it was completely destroyed. There are people in the sign world that are perfectly fine collecting signs that are cut or bent or completely rusted out with patina. And I am one of them."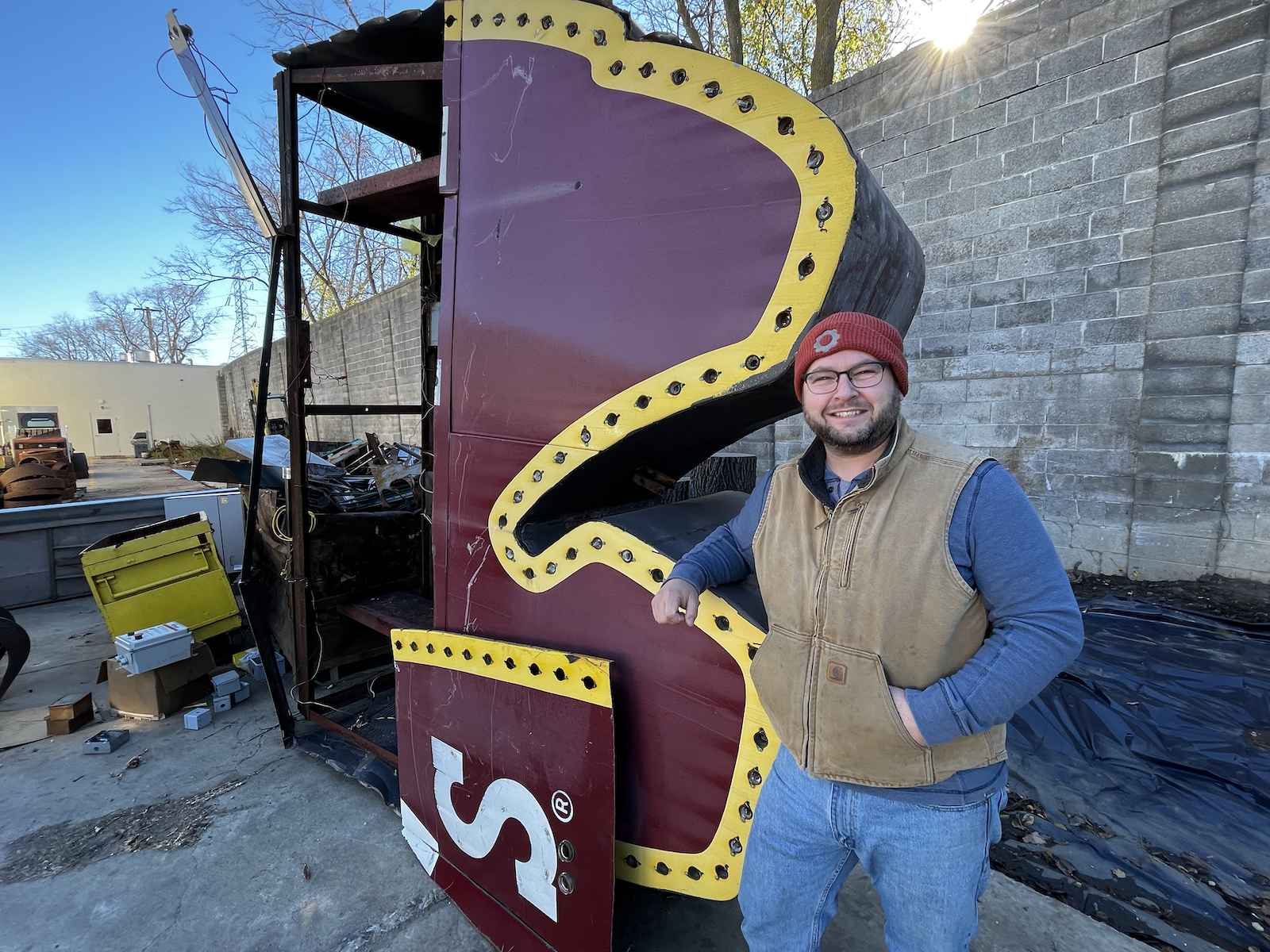 Rieland declined to say how much he paid for the sign.
He says that some of the pieces of the sign are missing, but he thinks he can work with what he has.
"When I put it together like a jigsaw puzzle in my parking lot," he says, "I noticed that there are a couple of the key pieces missing. I do believe that one whole side will be able to be reconstructed."
Similar signs – which were reportedly designed in 1966 by Youngstown, Ohio's Peskin Neon Sign Co., which folded in 2016 after more than a century in business – could (and can still, in some cases) be seen all around the country.
A similar sign was recently taken down at an Arby's in Green Bay, too.
Arby's was founded in Ohio in 1964 and its first Milwaukee location, at 3376 S. 27th St., was open by 1968. By the following year, the Highway 100 and Capitol Drive locations had followed.
In December 1969, permits were pulled, according to the Journal Sentinel, to construct both the building and the sign on Packard Avenue, which at the time was still a booming retail district that included department stores, mom and pop shops and more.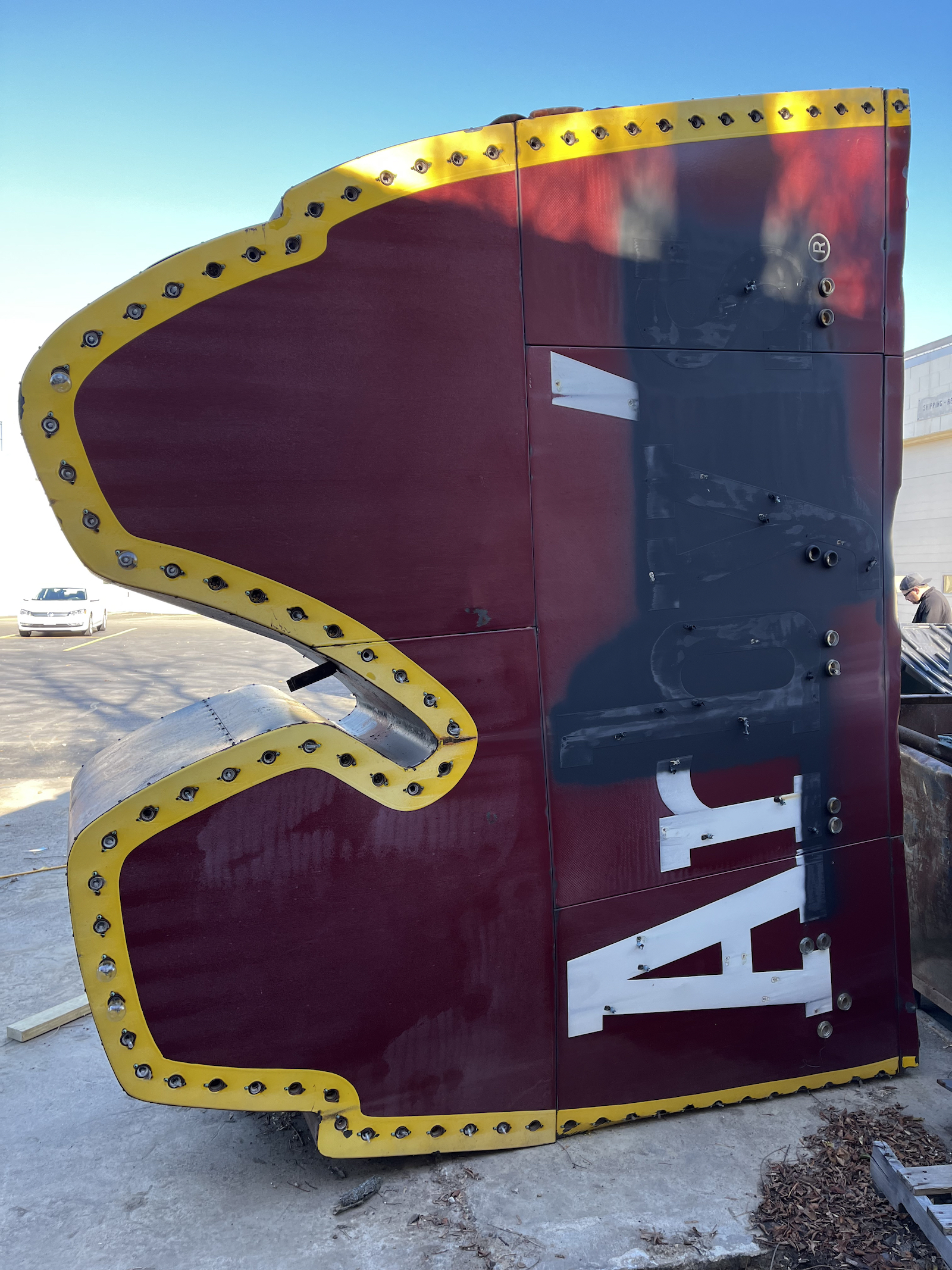 But times have changed along the strip and the fast food restaurant's owners – Ohio-based AES Restaurant Group, which owns Arby's franchises in 15 states – decided to close for reasons unknown.
There are still a number of Arby's locations operating in the area, including in Oak Creek, West Milwaukee, Franklin and Greenfield.
Rieland is unsure what will ultimately become of the sign. His job, as he sees it, is to save it, but not necessarily to own it.
"I like to consider myself a steward of the signs that brings them to the right home," he says. "I can't keep everything that I purchase. I do have signs that I keep for my personal collection. For now the sign will be stored until either a new owner can purchase it and refurbish it or I decide to do so. The most important thing is that it was saved, in my possession and will not be destroyed further."
For him, the sign has meaning more as a work of art and a cultural touchstone of the landscape than because he's a huge fan of the restaurant.
"Every sign has different importance and meaning to me," Rieland says. "For me personally I remember going to Arby's when I was young with my grandma because she had a coupon. I also remember driving past a very similar sign up in Green Bay and looking for it every time I went to a Packers game.
"In the sign world and outside of the sign world, we never want to see history getting demolished. A sign is a business' way of showing people what and who they are and it's kind of their signature. And unfortunately many companies and municipalities do not see value in saving vintage signage. Most require the signs to be destroyed. But what's nice is there is a resurgence in peoples interest in old signs."
And Arby's?
"This situation has tarnished my opinion of the marketing/branding team at Arby's," Rieland says. "However, I understand in corporate America that marketing and branding is extremely important and sometimes they have to go away with the old and come in with the new. I wish that they would have had some foresight to be able to potentially save the sign and move it to a location that others can see it.
"There are other companies such as John Deere and Harley-Davidson that require their signage to be destroyed rather than be resold. So it makes sense but it doesn't make sense at the same time. Simply because branding is a businesses identity and they can't control that identity once the signs are out of their possession.
"That being said," Rieland adds, "I still enjoy Arby's roast beef and cheddar on occasion. P.S. They should come back with the potato cakes."
Born in Brooklyn, N.Y., where he lived until he was 17, Bobby received his BA-Mass Communications from UWM in 1989 and has lived in Walker's Point, Bay View, Enderis Park, South Milwaukee and on the East Side.
He has published three non-fiction books in Italy – including one about an event in Milwaukee history, which was published in the U.S. in autumn 2010. Four more books, all about Milwaukee, have been published by The History Press.
With his most recent band, The Yell Leaders, Bobby released four LPs and had a songs featured in episodes of TV's "Party of Five" and "Dawson's Creek," and films in Japan, South America and the U.S. The Yell Leaders were named the best unsigned band in their region by VH-1 as part of its Rock Across America 1998 Tour. Most recently, the band contributed tracks to a UK vinyl/CD tribute to the Redskins and collaborated on a track with Italian novelist Enrico Remmert.
He's produced three installments of the "OMCD" series of local music compilations for OnMilwaukee.com and in 2007 produced a CD of Italian music and poetry.
In 2005, he was awarded the City of Asti's (Italy) Journalism Prize for his work focusing on that area. He has also won awards from the Milwaukee Press Club.
He can be heard weekly on 88Nine Radio Milwaukee talking about his "Urban Spelunking" series of stories.