The Big Gig may have said goodbye to 2018 on Sunday night, but for Arcade Fire fans, the evening was about reintroduction – and a long overdue one.
People knew of the previous evening's headliner The Weeknd and his many years of missing Milwaukee – finally making his first Cream City stop Friday night – but these hipster music heroes and Grammy winners were shunning Milwaukee before The Weeknd was even making music, stretching all the way back to 2004, when the band was small enough and obscure enough to play the Mad Planet comfortably.
Even Arcade Fire lead singer Win Butler seemed appalled by the long absence, apologizing early in the set for taking so long and promising it won't be 14 years again.
(PHOTO: Ty Helbach)
Not that anybody in the crowd could possibly hold a grudge after Arcade Fire's two-hour explosion of pure energy, joy and outstanding music. They may not have literally burned the house down, but considering the billowing smoke coming from the stage after the main set and the almost religious fervor of the chanting, mesmerized crowd, it sure seemed like Arcade Fire might have.
I wasn't sure quite what to expect going into the show – but Stevie Wonder's "Pastime Paradise" (most recognizable for many as the beat to Coolio's "Gangsta's Paradise") droning over an empty stage to open the night certainly wasn't high on the list. And the curveballs kept coming, as the nine-piece band didn't emerge from the stage but from the Amp's main concourse, sauntering through the 75-percent-filled crowd like boxing heavyweight champions before huddling up, making their way to the stage and fittingly ringing a bell to start round one: the evening's opener, the disco-y dream pop of "Everything Now" – complete with a massive disco ball hanging overhead showing blue light across the venue.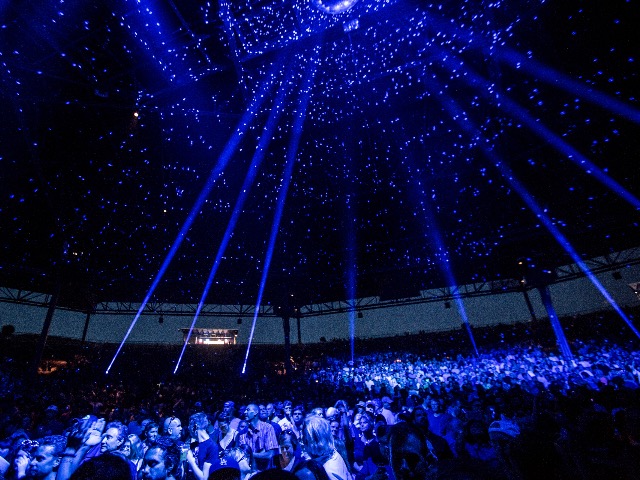 (PHOTO: Ty Helbach)
It may sound odd or condescending, but the biggest musical inspiration that came to mind watching the first few songs explode to life was … the Muppet Show band? Stick with me; I mean it as a compliment. Like their felt forefathers, Arcade Fire are a massive collective of parts and inspirations with a big love of unique instruments and voices, coming together to celebrate the communal power of joyful noise, of making a blessed racket. And that blessed racket wouldn't stop for just about two whole hours, as Arcade Fire energetically marched through song after song – shockingly smoothly for how many moving parts the band has.
After some dancing and throwing water into the crowd, the set's second song was "Here Comes the Night Time," a Caribbean-influenced track with an ominous drone hiding behind it, like a haunted cruise line that eventually grew into a massive, rocking bombardment of sound – a total jam. Aided by a rainbow assault of lights – the band's light show overall was easily one of Summerfest's finest, smartly timed with the lyrics on songs like this and "Power Out" – Butler had a lot of fun, walking into, and on top of, the crowd as well as snatching a photographer's camera and turning the lens on him for a quick shot.
From there, Arcade Fire kept chugging along, blasting out hits – the playful xylophone-aided "Neighborhood #3 (Power Out)," followed by "Neighborhood #1 (Tunnels)," a constantly gear-changing drive of Americana rock that was the first song the band played at its Mad Planet show more than a decade ago – and wringing every drop of musical juice from each tune. No song ever felt wasted or half-effort; each one felt triumphant and massive.
After a few songs off 2010's Grammy-winning Album of the Year, "The Suburbs," and a shout-out to David Bowie – who I believe would later make a ghostly cameo on the stage's video screens on "Reflektor" – the band would hop into the techno pop portion of the night, led by co-lead singer Régine Alexandra Chassagne rocking a shiny roller disco queen jump suit and her signature singing voice, a meowing livewire pitch from seemingly another dimension. Your mileage may vary on Arcade Fire's spacier, intergalactic psyche-disco era, but the band undoubtedly made the most out of the tunes, dancing from "Sprawl II" to "Electric Blue" and the '80s synth of "Put Your Money on Me."
The latter slowed things down a bit, continued into the almost country-esque "We Don't Deserve Love," started again on the main concourse with the lyrics playing on the giant screen like big-budget karaoke. Not to be confused for something straight-forward, however, the song also featured Chassagne playing glass bottles like chimes.
The slow-down wouldn't last long, however, as Arcade Fire put its foot back on the gas pedal – quite literally with the combination of "Keep the Car Running" and "No Cars Go." Both stadium anthem-like songs got the crowd vigorously into the show, chanting on the latter to the point of chills. And despite how fast and smoothly the band drove through its setlist, Butler made time for interaction – whether earnestly acknowledging the prolonged Milwaukee absence, noting before "Keep the Car Running" that a dollar from each group would be donated to a group bringing healthcare to impoverished nations or paying homage to refugees, including Régine's father, who would go on to fight in the Vietnam War for his new country.
(PHOTO: Ty Helbach)
The set reverted back to the disco inferno of "Reflektor." The night was constantly unpredictable in the best way possible, from the music – from Americana to '70s disco pop – to the staging, constantly giving the audience a new place to look. During "Reflektor," for instance, midway through the song, Régine was suddenly on the concourse, serving as her own dancing disco ball. All the while, the band kept the energy throbbing and raucous unlike Summerfest opener Imagine Dragons (still a great show!), whose import sometimes turned the performance more into posturing. A read of Arcade Fire's lyrics show plenty of pretense, too, but it never threatened the vibrantly beating pulse of the show.
Case in point: After the nocturnal neon future nightmare of "We Exist" (a dead ringer for "Billie Jean" at parts) and "Creature Comfort," Arcade Fire drove into its main set closer, "Rebellion (Lies)" – all the while Will Butler (brother of Win) absolutely murdered a drum, sprinting back and forth across the stage, crying out the lyrics and, at the very end, bashing his drum into the ground like there was a prize inside. How can an audience member expect to merely stand politely with that kind of fiery explosion fueling the night?
If the band ended there, Arcade Fire would've still delivered a strong 100-plus minute set, but after a brief pause – maybe the first real one of the entire night – the group came back out for a three-song encore, starting with a low-key acoustic table-setter in "Neon Bible." Then, after one more quick reprise of "Everything Now," Butler and company blasted into "Wake Up," the crowd howling and chanting along with the band before calling it a night.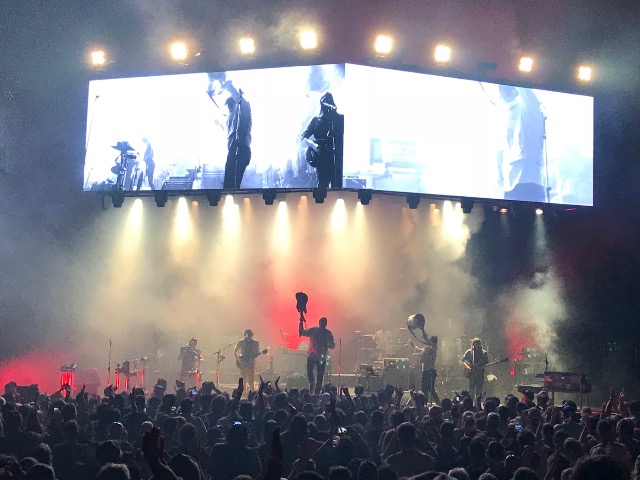 It's hard to imagine a more cathartic beginning to a newly rekindled relationship between Milwaukee and Arcade Fire, as well as a better ending to this year's Summerfest. And while the new Amp isn't scheduled to go under construction until after next year's Big Gig, they might as well start working on it now. Because Arcade Fire already brought this house down.
Setlist
"Everything Now"
"Here Comes the Night Time"
"Neighborhood #3 (Power Out)"
"Neighborhood #1 (Tunnels)"
"The Suburbs"
"Ready to Start"
"Sprawl II (Mountains Beyond Mountains)"
"Electric Blue"
"Put Your Money on Me"
"We Don't Deserve Love"
"Keep the Car Running"
"No Cars Go"
"Reflektor"
"Afterlife"
"We Exist"
"Creature Comfort"
"Rebellion (Lies)"
Encore
"Neon Bible"
"Everything Now" (reprise)
"Wake Up"
As much as it is a gigantic cliché to say that one has always had a passion for film, Matt Mueller has always had a passion for film. Whether it was bringing in the latest movie reviews for his first grade show-and-tell or writing film reviews for the St. Norbert College Times as a high school student, Matt is way too obsessed with movies for his own good.
When he's not writing about the latest blockbuster or talking much too glowingly about "Piranha 3D," Matt can probably be found watching literally any sport (minus cricket) or working at - get this - a local movie theater. Or watching a movie. Yeah, he's probably watching a movie.