Kennit Marx – who says his first name was a typo made by his father on his birth certificate – attempted to join the military after graduating from Wauwatosa West High School, but could not enlist due to medical reasons.
Instead, he started working at Army Navy Surplus Sales, 707 W. Wisconsin Ave.
"In 1994, a friend of my mother's marched me down here and said, 'These guys have a job for you,' and I never left," says Marx, who bought the business in March 2006.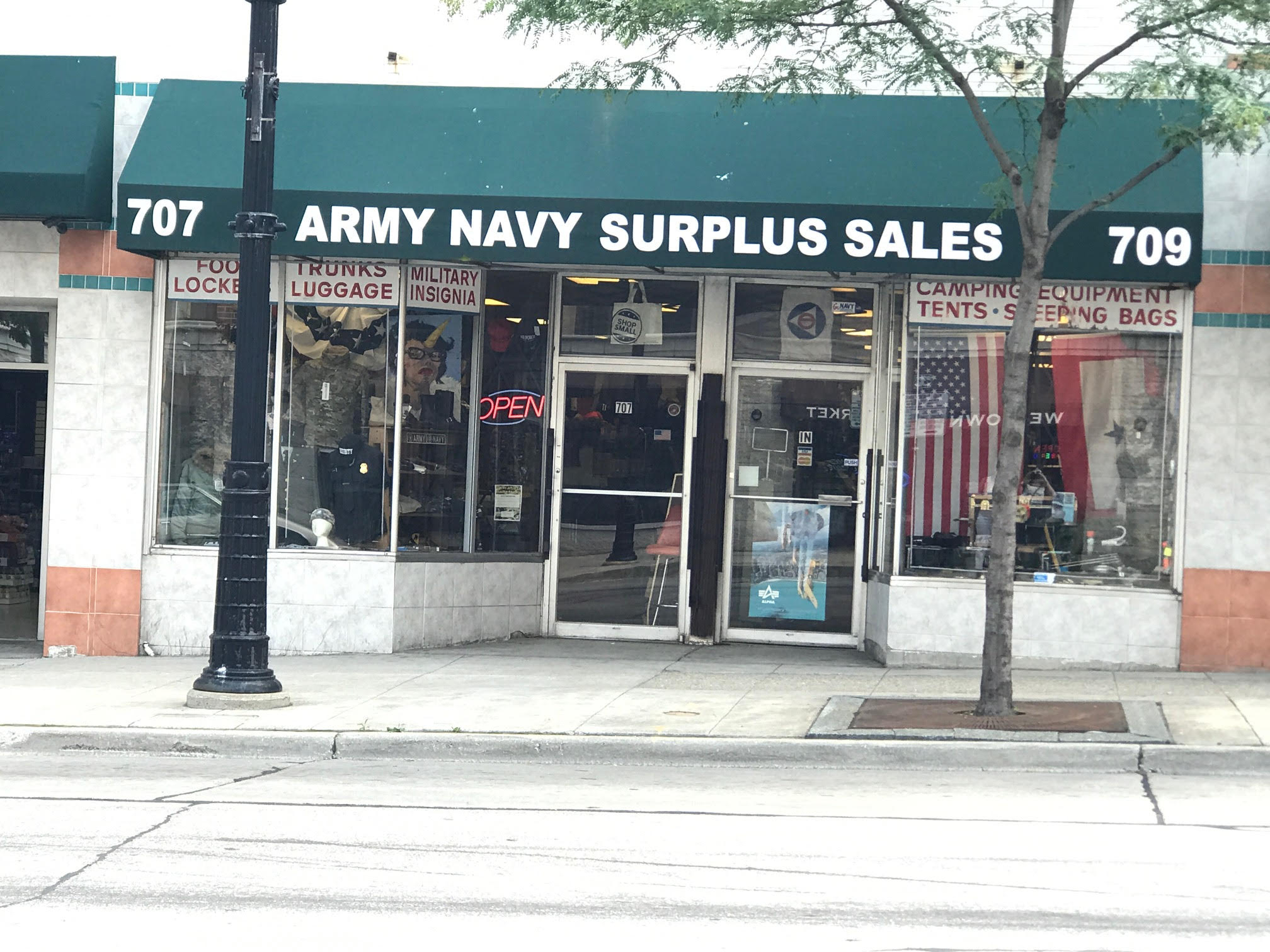 Although the store is not directly connected to any branch of the military, it offers military clothing, supplies, camping equipment, medals, uniforms for non-military jobs and books.
"You'd be surprised how many books we sell here," says Marx.
Marx says his customers range from men and women serving in the military who need to replace something to vets looking for nostalgia items to folks who just dig the fashion. Army / camouflage pants and combat boots are the top-selling items.
"Really, I think everybody across the board likes combat boots," he says.
Army Navy Surplus also sells some quirkier wares, including Marine Corps maternity pants, ski masks, gas masks ("kids like gas masks," says Marx) and red union suits with the button flap on the seat.
"More women buy the union suits than men, which is weird," says Marx.
At one time, Marx sold Meals Ready To Eat (MREs), but says all of his were sent to New Orleans after Hurricane Katrina. According to Marx, "The Secret Service confiscated all the MREs throughout the country, and we never got 'em back."
Marx is also a collector of Wisconsin art and owns hundreds of pieces from local artists – some of which are in the store – primarily from the 1930s, '40s and '50s. He also owns work by slightly more contemporary artists such as Mary Nohl and Bob Watt (not pictured).


"Do I paint? No. But I do 'Paint It Black,'" says Marx, referencing the Rolling Stones song.
Marx lived on the East Side for many years, but recently bought a home on the West Side with his mother, who is 70. Because of his large art collection, he is already out of wall space.
Over the years, Marx says many celebrities have visited the store, including Johnny Cash, Steve Winwood, German industrial band KMFDM, Gov. Lee Dreyfus, Wisconsin-born actor Jane Kaczmarek and French rock band Phoenix. He also says serial killer Jeffrey Dahmer stopped by the shop.
"Dahmer sold (the store) a knife and then came back a week and a half later and re-bought it," says Marx. "I'm not kidding."
The Army Navy Surplus Sales is usually open weekdays from 10 a.m. to 6 p.m. and from 10 a.m. to 4 p.m. on Saturdays.
"I'm here as often as I can be, but these times are not set in stone," says Marx. "I have a lot of other things to do."

Molly Snyder started writing and publishing her work at the age 10, when her community newspaper printed her poem, "The Unicorn." Since then, she's expanded beyond the subject of mythical creatures and written in many different mediums but, nearest and dearest to her heart, thousands of articles for OnMilwaukee.

Molly is a regular contributor to FOX6 News and numerous radio stations as well as the co-host of "Dandelions: A Podcast For Women." She's received five Milwaukee Press Club Awards, served as the Pfister Narrator and is the Wisconsin State Fair's Celebrity Cream Puff Eating Champion of 2019.