The coronavirus pandemic has changed our everyday life, but it doesn't need to change who we are. So, in addition to our ongoing coverage of the coronavirus, OnMilwaukee will continue to report on cool, fun, inspiring and strange stories from our city and beyond. Stay safe, stay healthy, stay informed and stay joyful. We're all in this together. #InThisTogetherMKE
Emily Liefke's artwork combines her passion for animals, nature and people – but not necessarily in that order
"Every time I leave my house to go for a walk, I find something that inspires me. Often it's animals I come across, sometimes it's strangers that I wave to, or moments when nature is showing off. There's something absolutely magical about drawing or painting a face and experiencing that moment where your artwork looks back at you," says Liefke.
Liefke is a life-long artist who started drawing as a child. "I've been drawing ever since I could pick up a crayon. I was lucky enough to have this plastic blue Fisher Price easel, and I would draw these weird portraits of cats with GIANT heads on the back of blueprints my Dad brought home from work," says Liefke.
Liefke studied art in high school and at the University of Wisconsin-Milwaukee where she received an Art Education degree.
"My students inspire me because they create work with pure joy and enthusiasm," says Liefke. "My artist friends also inspire me with all the amazing things they find the time to make, and the city of Milwaukee itself is a source of inspiration because this city is full of artists – I think the best and greatest people around."
Since working from home during COVID-19, Liefke says she's had more time for inspiration and creation.
"It also has been challenging to myself and many other artists because when times are tough financially for so many it's harder to sell art," she says. "We all need weird things in our homes, so if it's financially possible for you, buy some art to stare at in case your phone dies."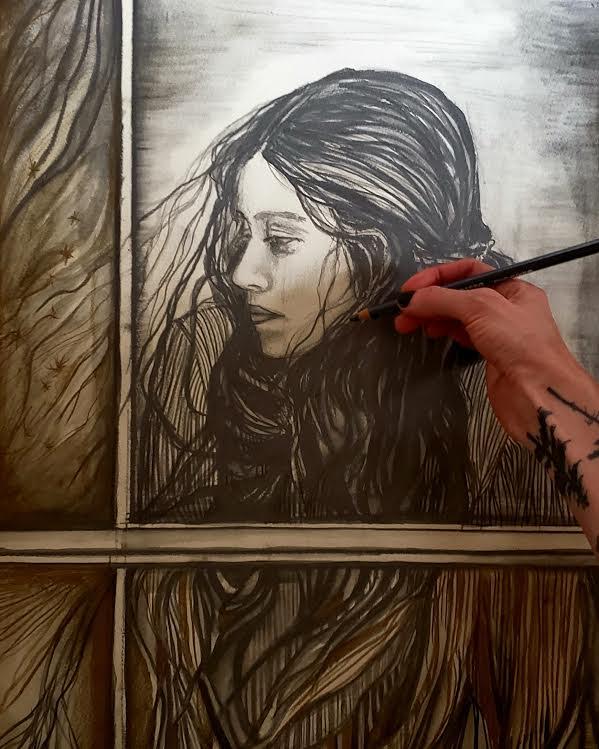 Liefke's art is for sale on her Instagram page and she takes commissions for portraits of "people, animals and all sorts of weird and wonderful things." Liefke will also be a guest on this week's MKEfest Virtual Art Walk Series, Saturday, May 23 at 3 p.m. The series runs live every Saturday on OnMilwaukee's Facebook page. Find out more info about the series here.

Molly Snyder started writing and publishing her work at the age 10, when her community newspaper printed her poem, "The Unicorn." Since then, she's expanded beyond the subject of mythical creatures and written in many different mediums but, nearest and dearest to her heart, thousands of articles for OnMilwaukee.

Molly is a regular contributor to FOX6 News and numerous radio stations as well as the co-host of "Dandelions: A Podcast For Women." She's received five Milwaukee Press Club Awards, served as the Pfister Narrator and is the Wisconsin State Fair's Celebrity Cream Puff Eating Champion of 2019.