The coronavirus pandemic has changed our everyday life, but it doesn't need to change who we are. So, in addition to our ongoing coverage of the coronavirus, OnMilwaukee will continue to report on cool, fun, inspiring and strange stories from our city and beyond. Stay safe, stay healthy, stay informed and stay joyful. We're all in this together. #InThisTogetherMKE
For 20 years, Jessie Schroeder has owned and operated a handmade, functional ceramics business called The Green Rabbit Clay Studio in Mukwonago.
"My customers come to my bricks-and-mortar shop to buy dinnerware, register for weddings or find the perfect serving bowl for a housewarming gift," says Schroeder.
In light of the pandemic, Schroeder closed The Green Rabbit and has refocused her energy to online sales via Facebook and Instagram, selling "deal bundles" of her current in-stock work at discounted prices.
"It's been a huge success. I know my customers enjoy the savings and I appreciate their support," says Schroeder.
The shop has also created discounted "care" packages that support three Wisconsin businesses: Good Earth Soaps & Lotions, Wisconsin Candle Co. and My Pottery by Jessie pieces.
The Green Rabbit is located inside a restored former bait shop that was a large part of this community for 50 years. Schroeder says unifying the community has continued to be a part of her business, too – and now more than ever due to coronavirus.
"It's been wonderful being able to utilize the property and keep a small business in the Mukwonago community," she says.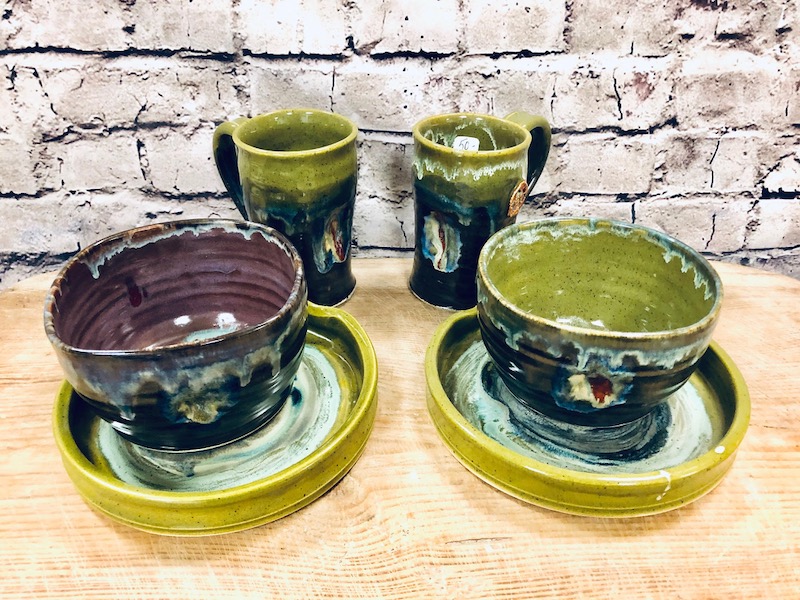 Under normal circumstances, Schroeder usually travels to six art shows and has myriad special events in her shop during the summer months. She also makes mugs and plates for local cafes and restaurants.
"It's satisfying to have our work in our community being used and in the hands of customers. It sets the business apart and brings us excellent customers who want more pottery," says Schroeder.
Schroeder is hoping, however, that she will be able to host her annual "studio seconds" sale.
"It's in its 15th year and is always held in October. People line up waiting to get what I think has a flaw or glaze imperfection," she says. "It's really fun."
Is there a bright side to the time of social distancing? Schroeder says yes, despite the stress and uncertainty of this virus, she's been shown day after day how people love and support her family and shop. She says she also feels proud that she can show her son that his mom can adapt to change and embrace fear and use it as positive energy.
"When customers this past week tell me that the item they purchased brought them joy or happiness that day, it just fills my heart and motivates me to create things people love using with family and friends. It's a small thing during this time of uncertainty ... but isn't it the little joys that make life worth living?" says Schroeder.

Molly Snyder started writing and publishing her work at the age 10, when her community newspaper printed her poem, "The Unicorn." Since then, she's expanded beyond the subject of mythical creatures and written in many different mediums but, nearest and dearest to her heart, thousands of articles for OnMilwaukee.

Molly is a regular contributor to FOX6 News and numerous radio stations as well as the co-host of "Dandelions: A Podcast For Women." She's received five Milwaukee Press Club Awards, served as the Pfister Narrator and is the Wisconsin State Fair's Celebrity Cream Puff Eating Champion of 2019.