The coronavirus pandemic has changed our everyday life, but it doesn't need to change who we are. So, in addition to our ongoing coverage of the coronavirus, OnMilwaukee will continue to report on cool, fun, inspiring and strange stories from our city and beyond. Stay safe, stay healthy, stay informed and stay joyful. We're all in this together. #InThisTogetherMKE
James Steeno is a Milwaukee artist and illustrator who works primarily with watercolors and pen and ink, but also also creates digital art.
"Some of my work looks very illustrative, like what one might expect to see in a story book, while my computer-generated art maps might look well suited in a very modern architectural interior," says Steeno.
Most of Steeno's imagery is derived from urban and rural themes and landscapes of Milwaukee as well as the rest of Wisconsin.
"Some of my works are serious, some are light-hearted, basically I hope to make art people want to display in their homes and office spaces and find them enjoyable and relatable," says Steeno. "If my works remind people that Milwaukee is a fun and vibrant place to be, then I have done my job."
Steeno makes his living 100 percent through art sales with the largest portions coming from NEWaukee Night Markets, Ryan Laessig's Milwaukee Maker Markets and Bastille Days at Cathedral Square Park.
"COVID-19 has directly compromised that source of income by the fact that all of my April and May art events have been cancelled and potentially more will be cancelled throughout the summer," says Steeno.
A lifelong Wisconsinite, Steeno grew up in Green Bay during what he refers to as "the bad years of football," and now resides on the West side of Milwaukee in the Washington Heights neighborhood with his wife, Heidi, and daughter, Simone.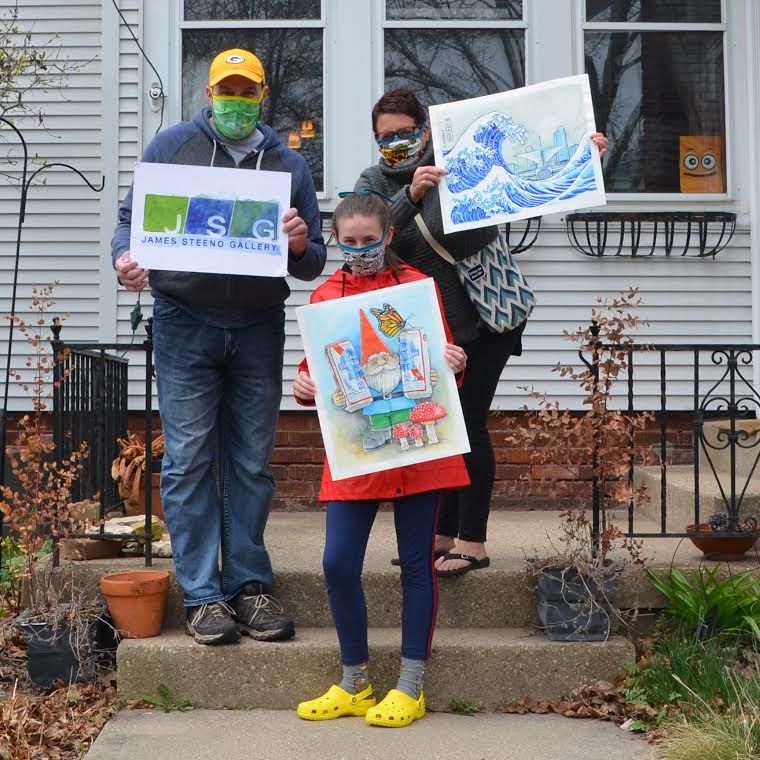 Steeno – along with his family – is trying to make the best of the situation.
"In the face of canceled shows and pandemic world shutdown, there is still inspiration to be found at home and in the studio," says Steeno. "My daughter likes to sew and recently our whole family began creating fun, stylish and colorful cloth face masks for people to wear in public spaces. We find the daily creation process keeps our minds active and inspired, plus it feels good to be involved in a timely issue such as face masks which we believe benefits everyone."

Molly Snyder started writing and publishing her work at the age 10, when her community newspaper printed her poem, "The Unicorn." Since then, she's expanded beyond the subject of mythical creatures and written in many different mediums but, nearest and dearest to her heart, thousands of articles for OnMilwaukee.

Molly is a regular contributor to FOX6 News and numerous radio stations as well as the co-host of "Dandelions: A Podcast For Women." She's received five Milwaukee Press Club Awards, served as the Pfister Narrator and is the Wisconsin State Fair's Celebrity Cream Puff Eating Champion of 2019.