The coronavirus pandemic has changed our everyday life, but it doesn't need to change who we are. So, in addition to our ongoing coverage of the coronavirus, OnMilwaukee will continue to report on cool, fun, inspiring and strange stories from our city and beyond. Stay safe, stay healthy, stay informed and stay joyful. We're all in this together. #InThisTogetherMKE
For more than 25 years, professional potter Jean Wells has made and sold her contemporary stoneware pottery in Milwaukee.
Wells' pottery has a signature style based on an age-old called "sgraffito" which means her designs are individually hand drawn and carved through colored clay.
"I would describe my work as colorful, cheery, handmade pottery intended for everyday use," says Wells.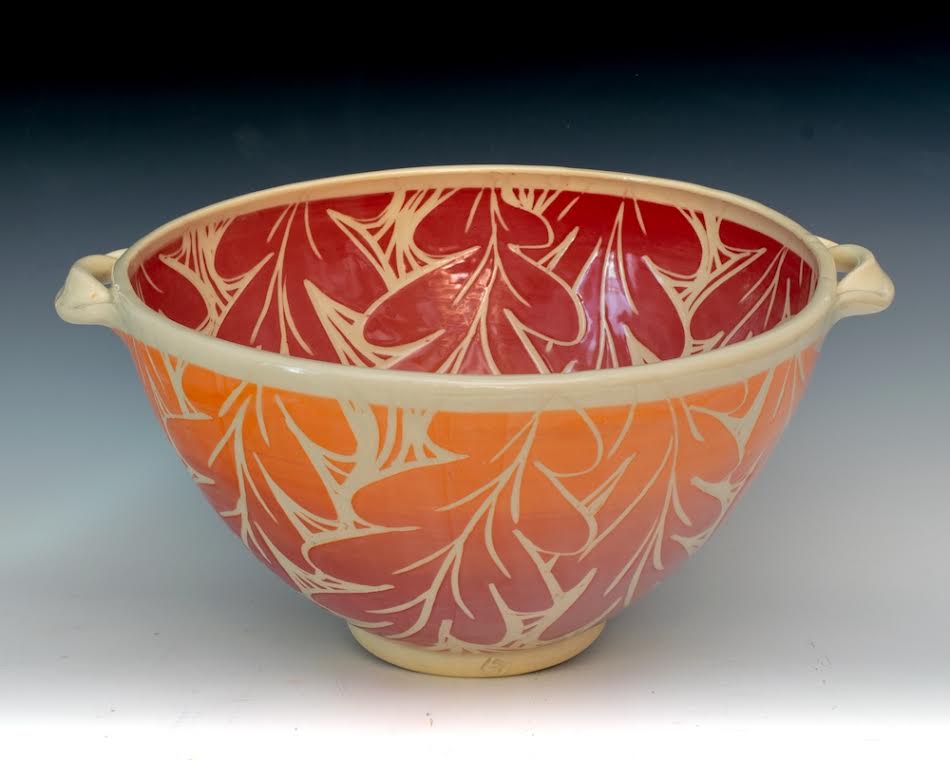 Like many of her colleagues, Wells' spring events, festivals and workshops were cancelled so she will lose a large percentage of her income.
"I am grateful for the few orders that I currently have, but the biggest worry is if the economy will get hit hard for a long period of time, that will leave a big strain on artist income since it is generally one of the first things people stop purchasing if their income shrinks," says Wells. "I feel like many of us were just recently feeling fully recovered from the 2008 recession."
Wells is the current president of the Wisconsin Designer Craft Council and a member of the Milwaukee Artists Resource Network and Local First Milwaukee. She is also co-founder of Milwaukee Empty Bowls, an organization that has raised over $900,000 for local food pantries and meal programs.
In 2017, the USGA commissioned her to create commemorative pieces for the US Open Golf Championship held at Erin Hills Golf Course in Wisconsin. Wells also created a series of limited-edition handmade mugs for Colectivo Coffee shops.
Wells studied at the Cleveland Institute of Art and went on to work as an apprentice at Geneva Art Pottery with John and Claire Bailey in Lake Geneva before she opened her own studio, Jean's Clay Studio. She lives in Brown Deer with her husband, who is a hospice chaplain, and their two teenaged children.
"I would be grateful if people keep me and other local artists in mind for gifts like upcoming birthdays, mother's day, graduations and such. Happy to include a personal note to ship directly to your loved one," says Wells.
Wells' pottery is for sale via Etsy and she can ship it anywhere in the US. Local customers can use the code: LOCALPICKUP when purchasing and pick it up from her studio.
Visit Jean Wells' website here; her Facebook page here; and her Instagram page here.
Molly Snyder grew up on Milwaukee's East Side and today, she lives in the Walker's Point neighborhood with her partner and two sons.
As a full time senior writer, editorial manager and self-described experience junkie, Molly has written thousands of articles about Milwaukee (and a few about New Orleans, Detroit, Indianapolis, Boston and various vacation spots in Wisconsin) that range in subject from where to get the best cup of coffee to an in-depth profile on the survivors of the iconic Norman apartment building that burned down in the '90s.
She also once got a colonic just to report on it, but that's enough on that.
Always told she had a "radio voice," Molly found herself as a regular contributor on FM102, 97WMYX and 1130WISN with her childhood radio favorite, Gene Mueller.
Molly's poetry, essays and articles appeared in many publications including USA Today, The Writer, The Sun Magazine and more. She has a collection of poetry, "Topless," and is slowly writing a memoir.
In 2009, Molly won a Milwaukee Press Club Award. She served as the Narrator / writer-in-residence at the Pfister Hotel from 2013-2014. She is also a story slam-winning storyteller who has performed with The Moth, Ex Fabula and Risk!
When she's not writing, interviewing or mom-ing, Molly teaches tarot card classes, gardens, sits in bars drinking Miller products and dreams of being in a punk band again.