The coronavirus pandemic has changed our everyday life, but it doesn't need to change who we are. So, in addition to our ongoing coverage of the coronavirus, OnMilwaukee will continue to report on cool, fun, inspiring and strange stories from our city and beyond. Stay safe, stay healthy, stay informed and stay joyful. We're all in this together. #InThisTogetherMKE
Nina Trepanier-Schmidt is a Fond du Lac-based painter who operates a small business, Nina's Palette. Her paintings have been in many shows and galleries around the country.
Trepanier-Schmidt says her work is often described as impressionistic, but she focuses more on the feeling of things and the light and color those things represent – as well as the story behind them.
"I think of my art as stories being written. A written history of life as I live it," says Trepanier-Schmidt. "I paint a lot of landscapes, as I am obsessed with a good horizon line. I also paint still life, and an occasional figure or pet portrait to pay the bills."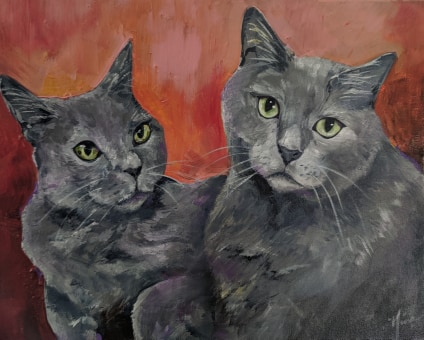 Trepanier-Schmidt has many paintings for sale and she also accepts commissions. Check out her work and business here.
Since the stay-at-home orders, like all moms, Trepanier-Schmidt's had to adjust to having her three kids at home 24 / 7. It's not something she minds, just something she's had to acclimate to as an artist.
"I am a stay-at-home mom, and in the past I would wait until the kids were in school and the house was quiet in order to create. Now, having everyone home has meant I need to adjust," says Trepanier-Schmidt.
Music, she says, helps her greatly in all situations, including her current one which involves a loss of work due to a world pandemic.
"Art is my own world. My own stories. My own place. It is deeply satisfying to bring to life a scene the way my eye sees it, the way my heart feels it."

Molly Snyder started writing and publishing her work at the age 10, when her community newspaper printed her poem, "The Unicorn." Since then, she's expanded beyond the subject of mythical creatures and written in many different mediums but, nearest and dearest to her heart, thousands of articles for OnMilwaukee.

Molly is a regular contributor to FOX6 News and numerous radio stations as well as the co-host of "Dandelions: A Podcast For Women." She's received five Milwaukee Press Club Awards, served as the Pfister Narrator and is the Wisconsin State Fair's Celebrity Cream Puff Eating Champion of 2019.