OnMilwaukee continues to connect and build community in many creative ways, and our lifestyle emoji/sticker project, Locamoji, is just one of our product extensions that we're proud of.
It's grown rapidly and while focused mainly on Milwaukee, Locamoji's building a bigger brand audience, too, as we work with corporations and organizations around the country.
This weekend, "The Arts Page," with host Sandy Maxx, tells the story of Locamoji and shows how our team – spearheaded by creative director Jason McDowell – designs, develops and deploys the Locamojis. The episode is called "Arts in a Flash."

Jeff Sherman and Jason McDowell talk Locamoji.
An update just launched this week, and we're working on a new, old school Locamoji bundle that will be really fun.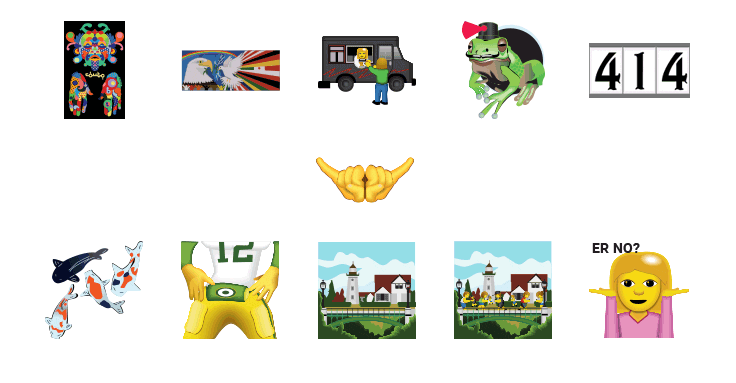 The latest Locamoji update
Download Locamoji here, and be sure to tune in or set your DVR for The Arts Page on MPTV this weekend. Here are the broadcast times:
Thursday, Oct. 13 at 6:30 p.m. on Milwaukee Public Television's channel 36.1
Thursday, Oct. 13 at 10 p.m. on MPTV's channel 10.1
Friday, Oct. 14 at 12:30 a.m. on MPTV's channel 36.1
Saturday, Oct. 15 at 11 a.m. on MPTV's channel 36.1
A life-long and passionate community leader and Milwaukeean, Jeff Sherman is a co-founder of OnMilwaukee.
He grew up in Wauwatosa and graduated from Marquette University, as a Warrior. He holds an MBA from Cardinal Stritch University, and is the founding president of Young Professionals of Milwaukee (YPM)/Fuel Milwaukee.
Early in his career, Sherman was one of youngest members of the Greater Milwaukee Committee, and currently is involved in numerous civic and community groups - including board positions at The Wisconsin Center District, Wisconsin Club and Marcus Center for the Performing Arts. He's honored to have been named to The Business Journal's "30 under 30" and Milwaukee Magazine's "35 under 35" lists.
He owns a condo in Downtown and lives in greater Milwaukee with his wife Stephanie, his son, Jake, and daughter Pierce. He's a political, music, sports and news junkie and thinks, for what it's worth, that all new movies should be released in theaters, on demand, online and on DVD simultaneously.
He also thinks you should read OnMilwaukee each and every day.