Surely, the Scandinavian Evangelical Lutheran Church in Walker's Point was once a beacon for nearby residents – at least the ones who were members of the congregation that organized in 1852. But for more than 50 years now, that little church – which has long since lost its steeple – has sat quite literally in the shadow of its neighbor, the Allen-Bradley Clocktower.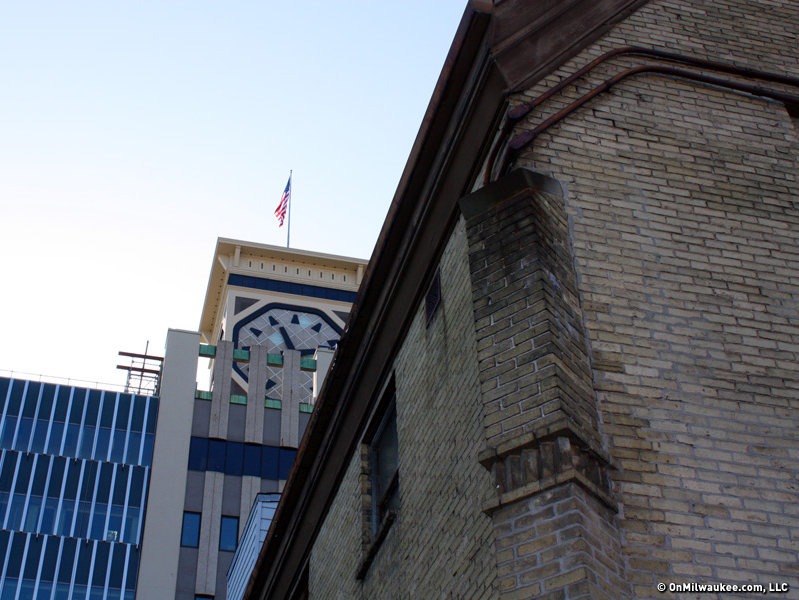 For years, I've been intrigued by this almost hidden little building that looks even older than it really is. Maybe you've also wondered about the former church at 202 W. Scott St. In addition to serving as a church in its earliest days, the building later became a candy factory with an interesting story, too.
Let's go back to the beginning. The Scandinavian Evangelical Lutheran Church was founded on Nov. 22, 1852 by 10 families in the carpentry shop of Walker's Point cabinet maker Samuel Gabrielson, who lived on Pittsburgh Avenue, between 1st and 2nd Streets.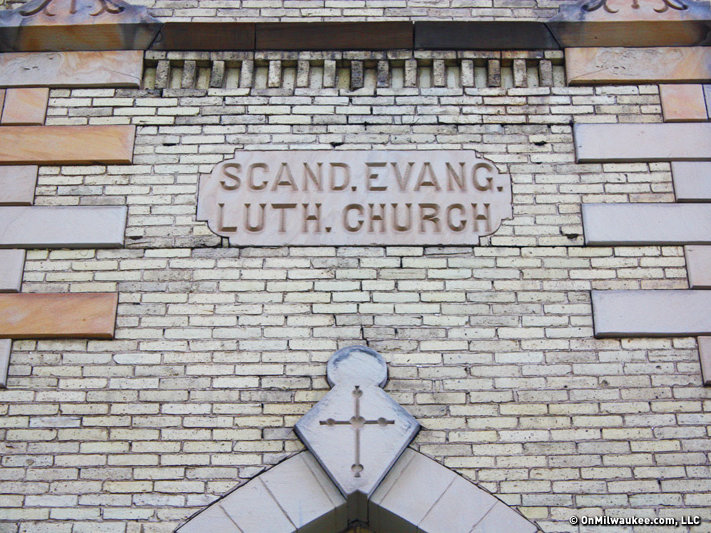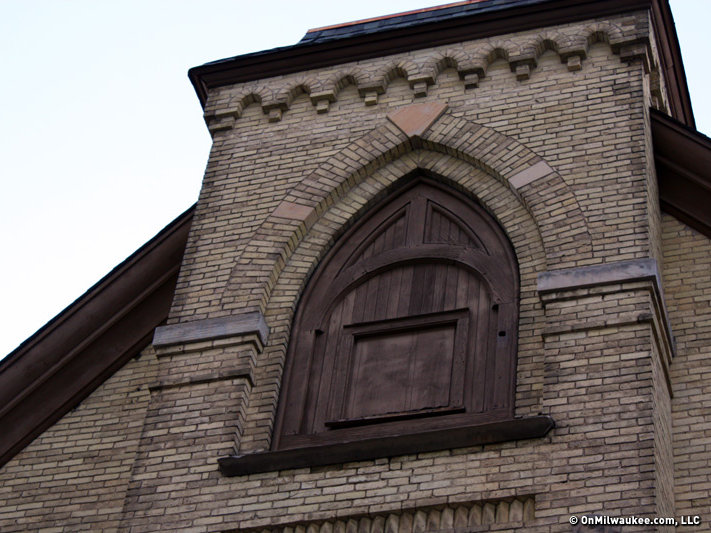 The following year, the congregation bought a lot on the corner of 2nd and Scott Streets for $150 and set about building a frame church, reportedly doing much of the work themselves, on the land.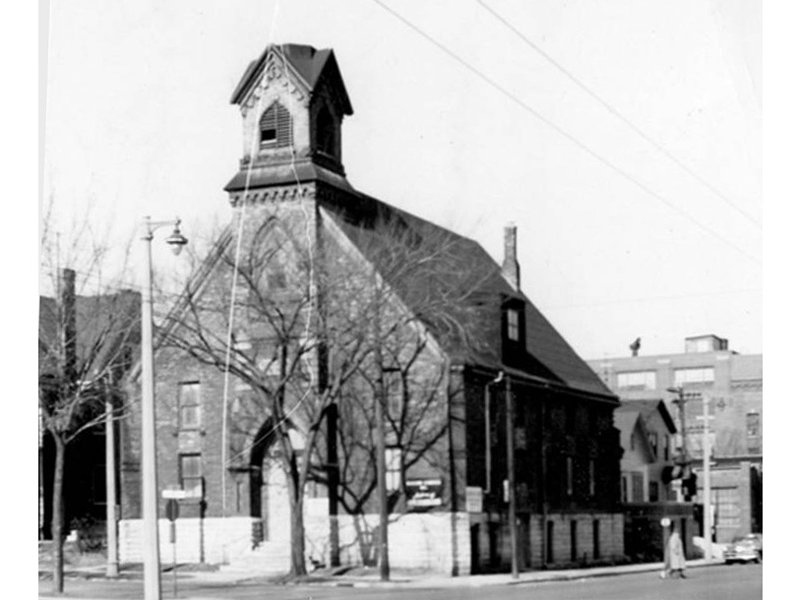 The church was dedicated on Jan. 14, 1855 and 11 days later, the Wisconsin Legislature authorized the trustees of the church to "bond and mortgage the lot and church" for $1,000, which "shall be applied by said trustees in paying off the indebtedness of said society for the creation of said church and for the completion of the same."
Soon, this new Lutheran church was the first in Wisconsin to offer services in English. By 1904 all services were in English, though by then were held in the neo-Gothic revival cream city brick church designed by architect Andrew Elleson that replaced the frame church on the corner lot in 1882.
Elleson himself had been confirmed at the church in 1865.
Elleson designed the nearby – and much more imposing – St. Peter's Evangelical Lutheran Church at 8th and Scott three years later. He also drew other neighborhood structures, including the National Block on 5th and National.
At some point during these years, my great-great-grandfather, who was born in Germany and arrived in Milwaukee in 1877, worked as the janitor at the church. It was the first of a couple connections my family has had with the building and the congregation.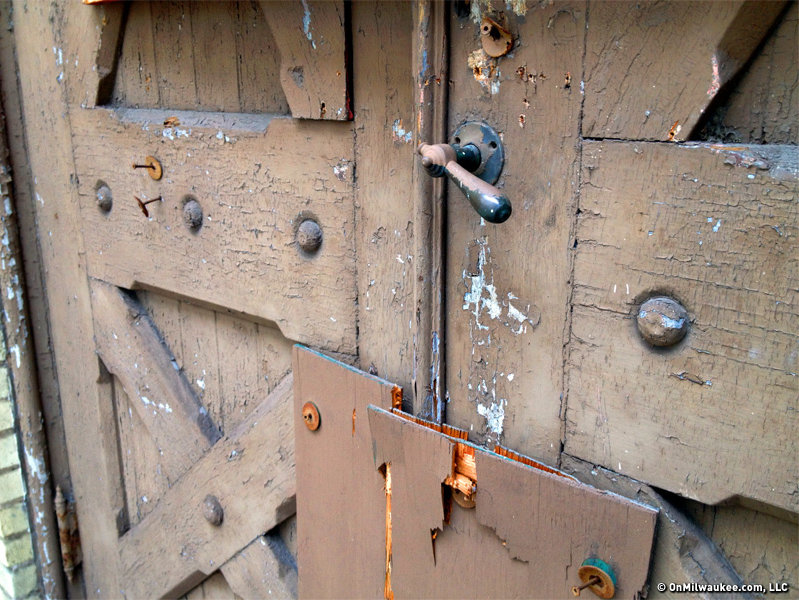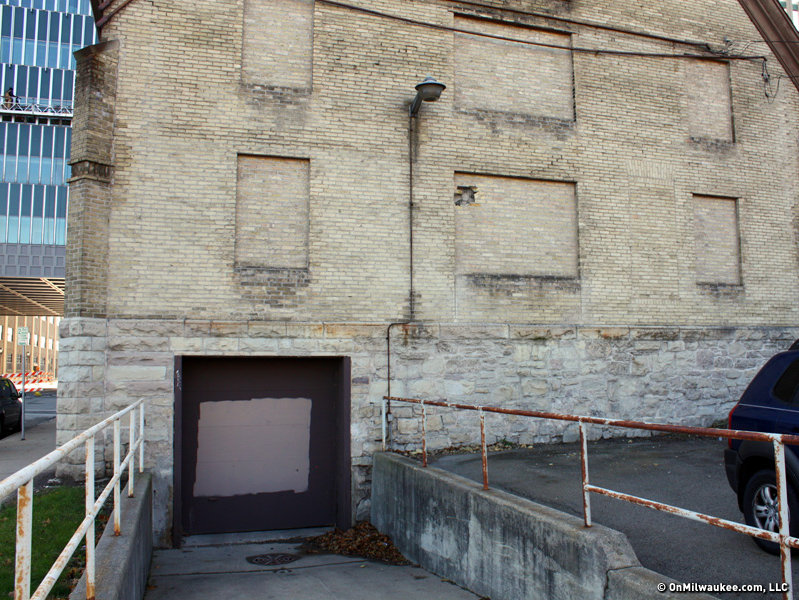 By the late 1910s, the renamed Evangelical Lutheran Church of the Ascension had gotten so overcrowded that it purchased a bigger piece of land, further west along Scott Street, at Layton Boulevard. In 1922 ground was broken and the following year a much larger Gothic revival church, designed by Milwaukee architect Anton Dohmen, was completed.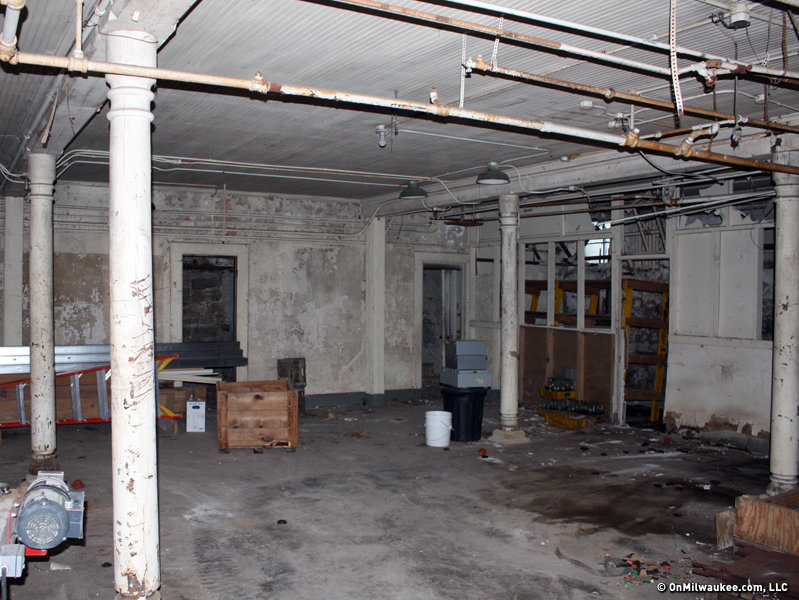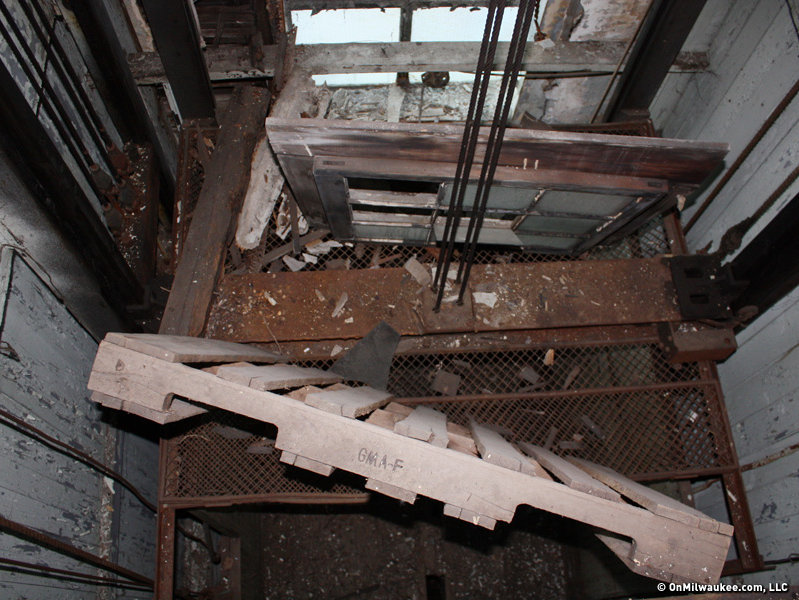 It is in this building that my German Milwaukee family has celebrated baptisms, confirmations and weddings. Ascension is still in that building today.
Meanwhile, the old building later became home to the Maronn Candy Co., the history of which I've only been able to somewhat piece together.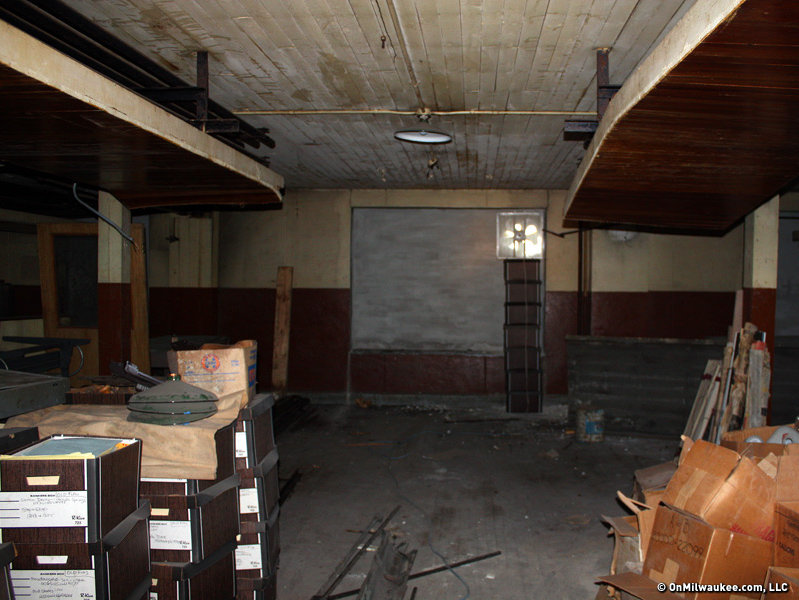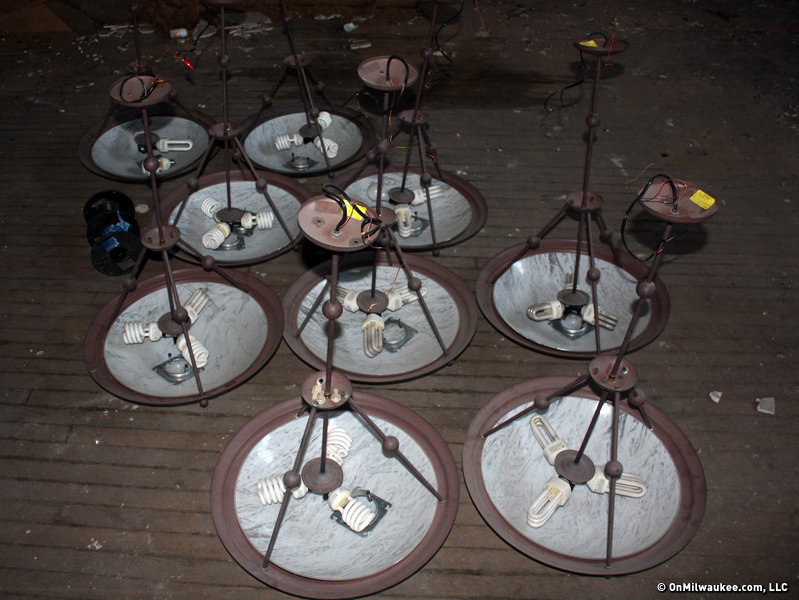 In 1914, William Maronn was manager of the Standard Candy Co., which operated out of a couple buildings on Water Street just north of the Button Block on the corner of Clybourn Street.
Later, Maronn was running his eponymous company out of 202 W. Scott St., though I haven't been able to find out if he left Standard to start his own company or if he simply moved Standard and changed its name.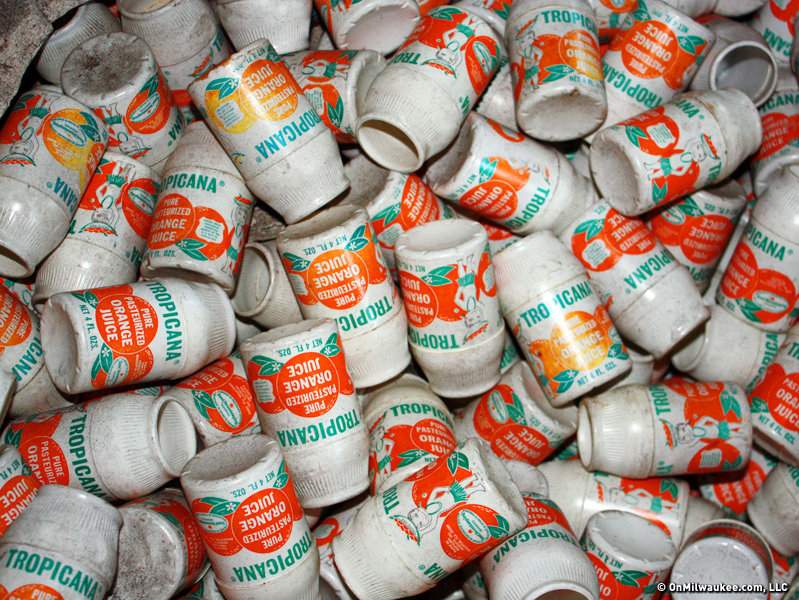 Maronn's son was a good friend of my grandfather, perhaps because my great-grandmother worked in the elder Maronn's candy factory located in the church where her father-in-law also served as a janitor.
Likely while she was employed there, Maronn produced what seems to be its most publicity-generating product: CheeSweet.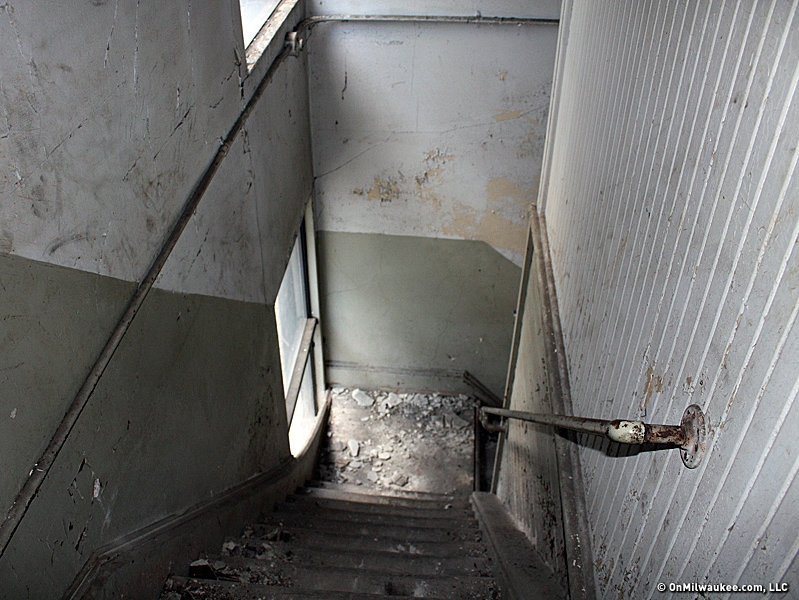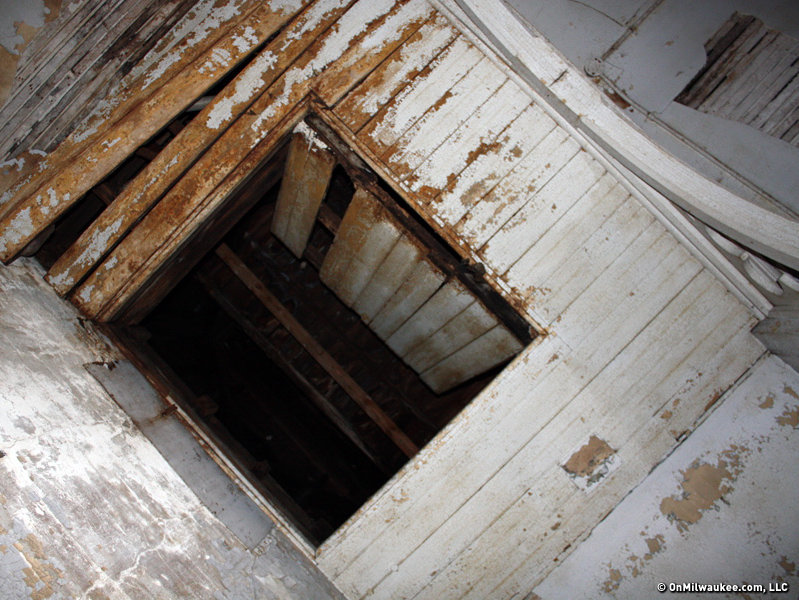 The candy was supposedly invented by DePere lumberman S. M. Stebbings, whose diabetes and sweet tooth led him to experiment and what he came up with was a chocolate cordial filled with a liquid cheese caramel and a whole cranberry. The caramel was made with 40 percent Swiss cheese.
Maronn manufactured the candy, which garnered national media attention for its unique blend. In 1958 Miss CheeSweet was one of the top draws at the Alice in Dairlyland parade in DePere. That same year, the candy was judged the "world's finest candy" at the International Fancy Food and Confectionary Show at Chicago's Palmer House Hilton.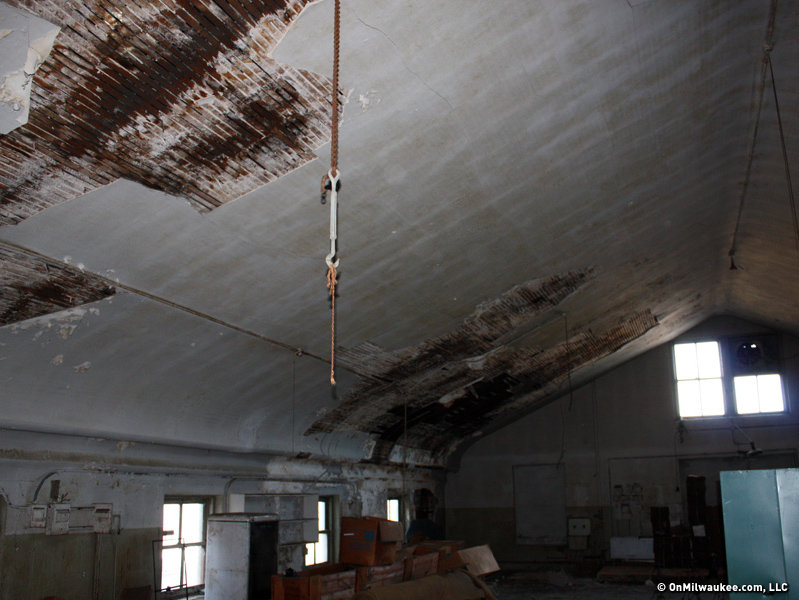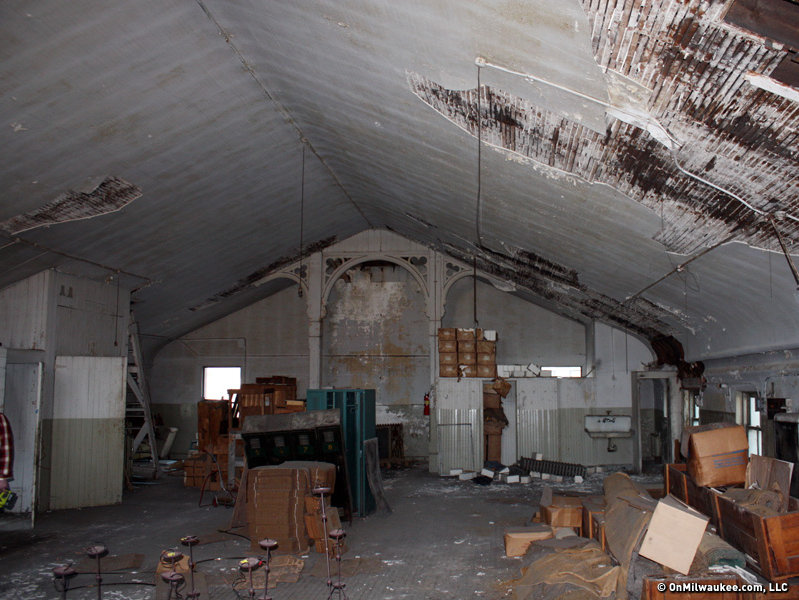 Ten years later, Wisconsin Gov. Warren P. Knowles sent heart-shaped, 10-pound boxes of CheeSweet – by then produced by Quality Candy of Milwaukee – to LadyBird Johnson, Pat Nixon and Lenore Romney for Valentine's Day.
Sometime in between, the Chocolate House – which had been founded on 3rd Street Downtown but had moved to Greenfield in 1963 – had bought out Maronn Candy and Federal Manufacturing – which makes bottling equipment – bought the old Scott Street church/candy factory.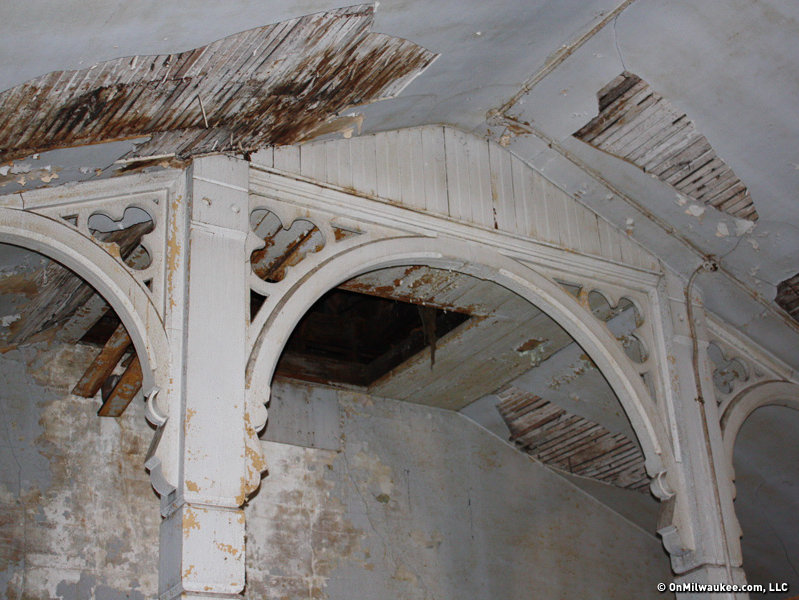 Recently, Eric Barthenheier, whose self-named construction company has done renovation and repair work at places like the Saddlery Building, the Mitchell Building and on the steeples at All Saints Cathedral and Holy Hill, purchased the building and plans to renovate it into an office for his business.
He recently met up with me and we took a walk through, even though he warned me there is very little evidence of the church left inside.
Outside, of course, the building looks like a church, even though its steeple has come down, apparently in a few phases. A 1957 photo in the collection of the Milwaukee Public Library shows the spire gone, but the belfry extant. Even that has since been removed.
At some point since then, a small home to the north was razed and a ramp leading to a garage door installed at basement level was added. One can also see where some old windows were bricked up and other windows openings created. Down in the basement you can see the wooden posts that hold the place up. Unlike in other buildings where the posts are just solid, squared-off beams of wood, here they are turned Tuscan columns.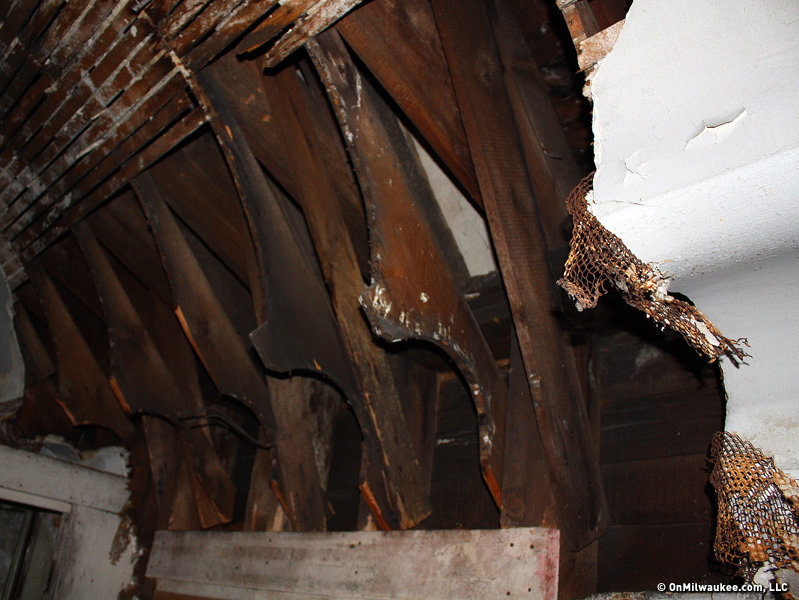 On the east slope of the roof there is an elevator penthouse for a freight elevator added sometime after the church moved. Fortunately the gorgeous heavy wooden front doors remain – apparently from the church era – as does a curious wooden panel with a pointed arch above the doors.
It's hard to tell if the interior floor configuration has been altered, but Barthenheier believes so. When you enter the front doors, you walk up a few steps to a first floor with a ceiling that is fairly low – perhaps nine or 10 feet.
Up another set of stairs and you're on the top floor, which is a big open space with a cathedral ceiling that has an alluring lip running along each of the long walls where the ceiling meets the wall. Part of the ceiling plaster has come down, allowing us to see the fine carpentry that created the foundation for this lip.
This is clearly the sanctuary, but it's not clear whether or not the floor were standing on is original or was added later.
Surely, it seems unusual to enter the church at a lower floor and then ascend a narrow stairway up to a sanctuary with most of its windows at thigh height. On the other hand, the peak of the ceiling is still quite high up and the church was later called "Ascension," so who knows?
At the top of the steps, we can look up and see into the opening that afforded access to the belfry and steeple. The floor directly below it is broken and we can peer downstairs through it, though we're careful not to get too close.
At the south end of the sanctuary is the sole surviving church remnant that I saw inside. Two posts support a wooden arch decorated with carved trefoils that serves to create a tiny nave at the back.
Every floor is packed full of junk left behind when Barthenheier bought the place this summer. There is old machinery, boxes full of who knows what, though in a couple I spy hundreds of empty orange juice containers. The floor in one room is littered with cardboard milk bottle caps printed in a font that shouts 1960s (or earlier). The elevator is still in the shaft, with junk tossed on top.
Barthenheier has got his work cut out for him, but I'm sure glad this bit of Milwaukee history is in the hands of someone with the desire and the skill to bring it back to a useful life.
Born in Brooklyn, N.Y., where he lived until he was 17, Bobby received his BA-Mass Communications from UWM in 1989 and has lived in Walker's Point, Bay View, Enderis Park, South Milwaukee and on the East Side.
He has published three non-fiction books in Italy – including one about an event in Milwaukee history, which was published in the U.S. in autumn 2010. Four more books, all about Milwaukee, have been published by The History Press.
With his most recent band, The Yell Leaders, Bobby released four LPs and had a songs featured in episodes of TV's "Party of Five" and "Dawson's Creek," and films in Japan, South America and the U.S. The Yell Leaders were named the best unsigned band in their region by VH-1 as part of its Rock Across America 1998 Tour. Most recently, the band contributed tracks to a UK vinyl/CD tribute to the Redskins and collaborated on a track with Italian novelist Enrico Remmert.
He's produced three installments of the "OMCD" series of local music compilations for OnMilwaukee.com and in 2007 produced a CD of Italian music and poetry.
In 2005, he was awarded the City of Asti's (Italy) Journalism Prize for his work focusing on that area. He has also won awards from the Milwaukee Press Club.
He can be heard weekly on 88Nine Radio Milwaukee talking about his "Urban Spelunking" series of stories.