A quiet electricity buzzed down South Vermont Avenue Tuesday afternoon, vibrating out from Mark and Anna Nagle's Bay View house. Two neighbors from across the street came out from their home to watch the excitement from their porch. Another came from down the street, took in the commotion for a bit and went back – only to return with a friend to share in the moment.
It was almost certainly the most exciting plumbing visit in Bay View's history.
Then again, most plumbing appointments don't come with a cameraman, a small production crew, a slick white drone camera to hum dozens of feet above the neighborhood to get some sweet aerial shots and Richard Trethewey, plumbing and heating expert as well as star of "Ask This Old House" on PBS.
Trethewey's highly anticipated house call came as a part of a two-day shoot this week in Milwaukee for the long-running Boston-based home improvement show, which travels across the country to find different how-to demonstrations in real people's homes – in Tuesday's case, at 3135 S. Vermont Ave., before moving to another local house's project for another segment on Wednesday.
"Ask This Old House" filmed in Bay View on Tuesday.
"It's been 15 years since we've been back in Milwaukee," noted senior producer and director Heath Racela. "We were here in the very first season of 'Ask This Old House,' and we hadn't been back. And we realized that this year and decided to correct that. We're sorry to everyone out there that it took us this long!"
Well prior to arriving in town, the producers teamed up with Milwaukee PBS, which airs the show regularly Saturdays at 4:30 p.m., to reach out to the city for submissions – one of which came a few months ago from Mark Nagle, a longtime fan of the program who emailed about several home improvement projects in mind for their Bay View house.
"I got a phone call about a month and a half ago," Mark said. "I couldn't believe it; I saw a Boston area code and got really excited to see the call."
"I didn't even know he (emailed) until he got a response from them," laughed Anna. "But it's exciting. The neighbors were really excited. We have some neighbors who are from Boston originally, so they were really fans of the show. It'll be interesting to see the final episode, to see how it all comes together."
Anna and the crew watch the filming from behind the camera.
Mark's original email featured several home renovations, from a new cedar closet to adding windows, but the one that intrigued "Ask This Old House" producers most was a water heater dilemma.
"They are switching out our water heater and putting in a tankless water heater, because right now the one that we have vents out of the old chimney, and there's not the right liner so it's ruining the brick of the chimney," Anna explained.
"He has a water heater that wasn't able to keep up with the demand for his family of five," Racela added. "One person would shower; the next person gets in, and the shower is cold. So we're actually installing an instantaneous or on-demand water heater. It's a wall-hung unit – it doesn't have any storage like a typical water tank, but instead, as the water passes through, there's a heating element that heats the water. Essentially you could leave your faucet open all day and never run out of hot water – and it's going to cut his fuel bills by probably 30 percent or so.
"His house had a unique history, a lot of beautiful features and a very common problem – that's part of it for us, finding an interesting location, an interesting house but a fairly universal problem."
Mark (grey shirt) explains the whale house to Richard (blue shirt).
The Nagle home certainly qualifies as unique and interesting. The house – nicknamed "the whale house" by neighbors because of its signature whale weather vane – was originally built in 1905 on the shores of Lake Michigan, but in the 1920s, it was picked up and moved further inland to its currently location. And anyone on set probably feels these history factoids engrained in their brain after witnessing take upon take upon take – from several different angles – of Nagle briefly introducing himself and his home to Trethewey before heading inside to look at the heater.
It won't surprise many to discover reality TV still requires plenty of staging and loose scripting – and that includes home makeover and renovation shows, like "Ask This Old House." About a dozen times, Richard "got out of his truck" and Mark "introduced" himself and the home – plus a little "off-the-cuff" banter – all while Racela monitored and managed the timing, the ambient sound and the smallest of word choices from out of the shot. Mark needed to say Milwaukee, not Bay View; the rest of the country doesn't know where or what Bay View is. A sarcastic quip about whales in Lake Michigan wouldn't work either; the punchline might not land for audiences unfamiliar to lake aquatic life.
Then, after they nailed the scene, it was time … to do it again, just from a different angle. And then another angle – this time from a drone. Overall, it was a busy but fun day for the show's amateur acting star.
"It's been fabulous," Mark said. "You see them in the show, and they're just like that off the camera, such a friendly group of people who make you feel comfortable," before Racela and Trethewey interrupted with some light-hearted heckling and joking.
Richard Trethewey, Heath Racela and Mark Nagle look at the house.
Indeed, no one's putting on an act. It just sometimes takes some extra takes and pre-planning to make compelling reality TV out of the messy chaos of actual reality – a lot of pre-planning in the case of "Ask This Old House," especially since Racela and company weren't able to see the house or meet Mark in person until Tuesday.
"We were lucky to partner with Budiak Plumbing, a local plumber here in Milwaukee, and they came out two weeks ago, check things out and made a recommendation on if this water heater we wanted to install would be a good fit here," Racela said. "But yeah, none of us have seen this house until 8 o'clock this morning. We'd seen pictures and talked on the phone a lot, but there's always a gamble when you do that. Is the homeowner going to be good and interesting? Is the house going to be what we expect?"
During those early long-distance discussions, Racela explained, "Ask This Old House" is at least able to map out some topics of note, points of interest and what their performers could say.
"As you see pictures and hear stories, we sort of grab those pieces and put them into an outline," Racela noted. "We're not really writing anything other than what we've already heard from Richard and from Mark – in terms of Mark's backstory and Richard's expertise on this water heater. It's my job to organize it and make sure it makes sense for our audience.
"The goal for this is leaving Mark with a functioning water heater for his family and leaving with an interesting TV segment that teaches the lessons that we want to teach with all the shots and other materials we need to make that happen."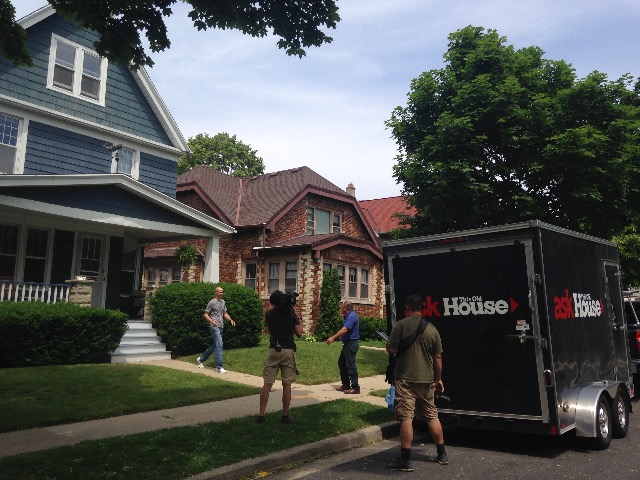 Stay tuned for Milwaukee on "Ask This Old House"!
And then, of course, repeat it all again Wednesday for the show's second project in Milwaukee, featuring expert mason Mark McCullough filming his first "Ask This Old House" segment to help a local teacher repoint some of her 1930s brick house. And then it's likely on the road again to a new city, with new house filled with questions to be answered in the next season – which isn't set to premiere until the fall, with the Milwaukee episodes not likely to air until spring, according to Racela.
Until then, Mark and Anna will just have to enjoy their new water heater – and their neighbors will have to get used to boring old normal plumber visits.
"Ask This Old House" airs on Saturdays at 4:30 p.m. on Milwaukee PBS. TV listings, episodes and clips are also available at Milwaukee PBS's website.
As much as it is a gigantic cliché to say that one has always had a passion for film, Matt Mueller has always had a passion for film. Whether it was bringing in the latest movie reviews for his first grade show-and-tell or writing film reviews for the St. Norbert College Times as a high school student, Matt is way too obsessed with movies for his own good.
When he's not writing about the latest blockbuster or talking much too glowingly about "Piranha 3D," Matt can probably be found watching literally any sport (minus cricket) or working at - get this - a local movie theater. Or watching a movie. Yeah, he's probably watching a movie.