Festival City is hopping this summer! OnMilwaukee's Festival Guide is brought to you by Potawatomi Hotel & Casino. Escape the heat and step inside!
If you've heard or have sung along to these lyrics – "If all of the kings had their queens on the throne/We would pop champagne and raise a toast" or "Oh, she's sweet but a psycho/A little bit psycho/At night, she's screamin' I'm-ma-ma-ma out my mind" – then you know who Ava Max is.
Pop sensation and Milwaukee native Ava Max brought those hits and more to the BMO Pavilion last night during the final day of Summerfest weekend two, and the concert couldn't have been more powerful. From a giant diamond centered on the stage to small CGI light diamonds – hinting at her latest album, "Diamonds & Dancefloors" – from the guitarist and drummer's performances to her dancers' epic moves and the star of the night herself, Ava Max gave Milwaukee a night of "Heaven & Hell" with her show-stopping set.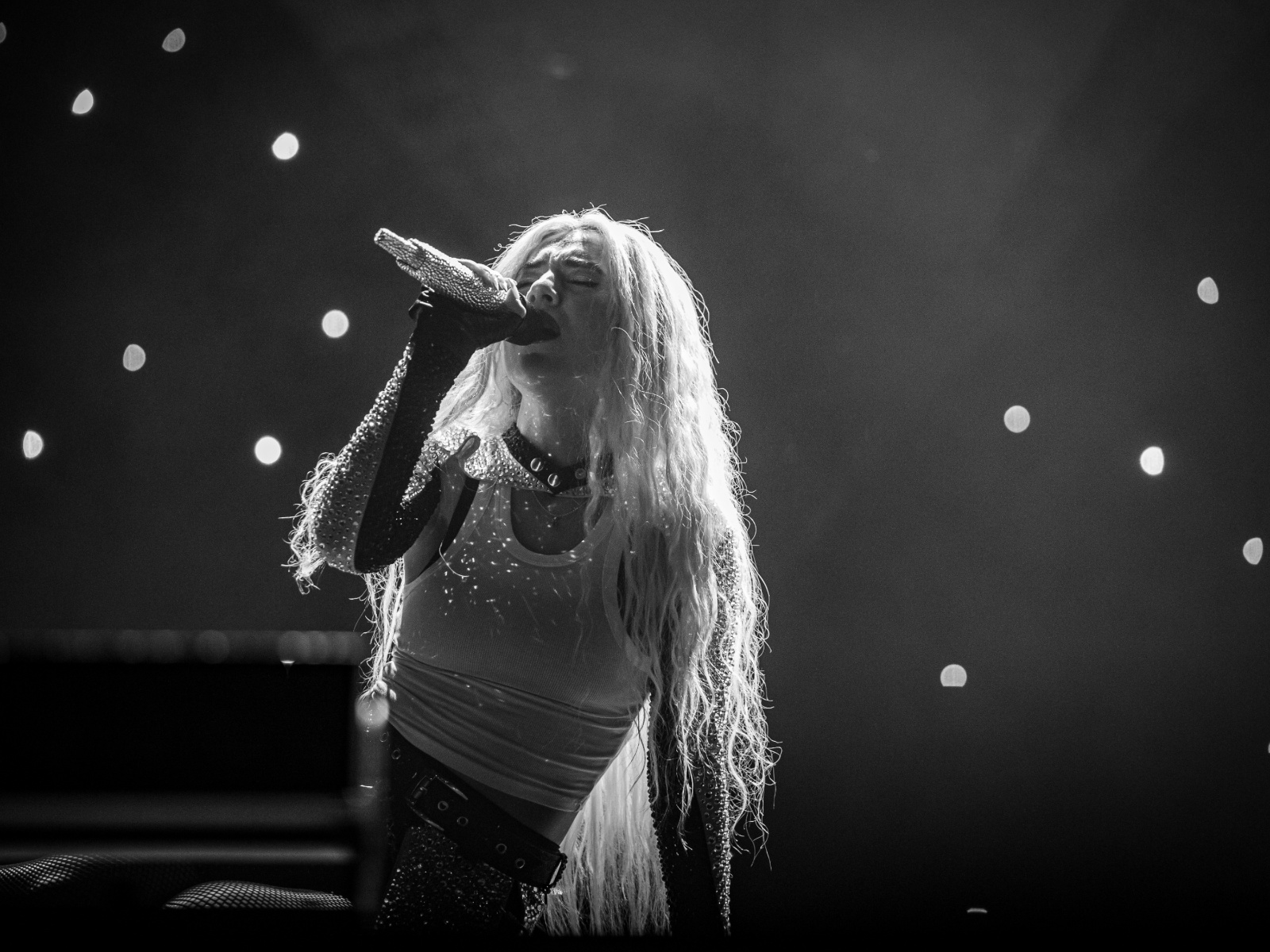 Thanks to my 13-year-old sister, who is an Ava Max fan, I was ready to sing along to her songs and rock out at the BMO Pavilion. What I wasn't ready for, though, was the fact that the pop star came on stage ready to give it her all without hesitation, a true performer who loves her fans and won't stop at anything to give them the best.
The concert began with a short automated opener speaking to the fans before she made the stage, preaching, "Let's make it a night of dangerous beauty. A night that will live forever. A night of heaven and hell. A night of diamonds and dancefloors."
Right away, Ava Max started to sing the crowd-banger "Diamonds & Dancefloors" to get the night off on the right foot. The stage was dark with a hue of blue light that shined over Ava before the lights flashed and fans went crazy. Ava appeared on stage glammed in a flashy crop top, white tank top, dazzling black and white skirt with black platform wedge shoes.
Fans, singing their hearts out and dancing the night away, were then met with a smooth transition between "Diamonds & Dancefloors" and "My Head My Heart." The energy of the pavilion increased, with everyone jumping around – with Ava's encouragement – singing and dancing with everyone around them. The energy last night was contagious, and nothing could stop anyone from having a good time.
One early takeaway from Saturday's show: Ava Max is a natural-born performer, and her voice was incredible. Usually, when you're about to see an artist perform, you have to prepare yourself for the good and the bad of their live performance. That wasn't the case for Ava. Immediately her voice sounded just as good, if not better, than listening to her music on Spotify. Seriously, if you listen to her music, go to one of her concerts. She won't let you down – and she will raise your standards for the next concert you're dying to see.
While it's obvious that power lies in the hands of a queen, her performance brought everyone together. Ava is a seamless artist that keeps the crowd roaring; even if she made mistakes, you couldn't have known. Honestly, I didn't notice any mistakes last night – even when she kept claiming that the bugs were after her last night, with one even getting in her eye, she performed as if nothing happened.
The alleged bugs clearly didn't stop fans from enjoying their night, either. Ava Max's music is for everyone; it doesn't matter how young or old you are. I loved how there wasn't a certain type of crowd or generation of people who were at her concert: It brought all sorts of kings and queens together to party all night.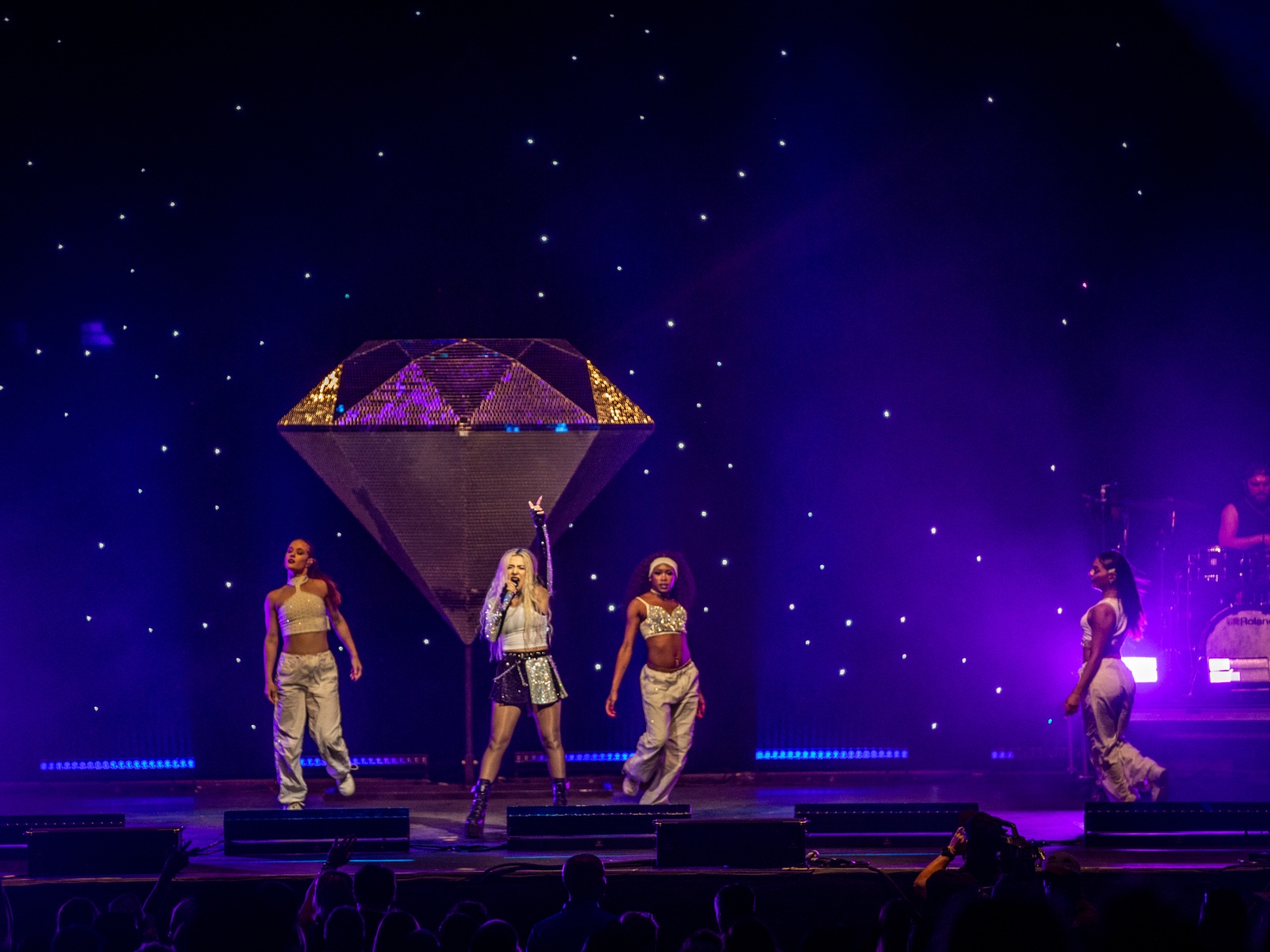 At one point, Ava mentioned that she had just finished her first world tour, and she was very excited to kick off festival season at her "birthplace of Milwaukee." Fans cheered with excitement, and some were even shocked, apparently having no idea she was a Milwaukee native. Hopefully her rise gives other upcoming artists from the area hope that they could headline a stage at Summerfest and beyond as well.
While the energy of the pavilion seemed to be at the best it could be, Ava changed that right away when she ran off stage after thanking everyone after "Hold Up (Wait a Minute)." A few moments later, an epic drum solo began with a few notes from her hit "Kings & Queens," followed by her dancers entering the stage to meet Ava, now dressed in a cloak with a queen's gavel. She started with the lyrics, "If all of the kings had their queens on the throne/We would pop champagne and raise a toast." When the lights faded up and flooded the stage, everyone lost their mind.
"Kings & Queens" was one of those songs that nobody could resist; everyone in the crowd Saturday night was singing word for word with the entire song. Plus, Ava's dancers really added to her concert with their impeccable choreography. It's clear that Ava and her dancers work really well together; it gave the best touch to the concert. They gave the type of energy that passionate performers will only have.
Ava intentionally writes songs that reflect on her life; personally, I found them to be super relatable and easy to digest even though they pack a powerful punch. Songs like "Weapons" and "Maybe You're the Problem" gave the audience reassurance that you shouldn't let anyone put you down or make your life harder with toxic influences.
Then there was "One of Us," performed acoustic with an insane amount of emotion. Ava asked the audience to help her with the song because it's "a true story and likes to re-open old wounds." The crowd felt that one, and the amazing performance was presented flawlessly by her and her guitarist. The emotions and shift in energy were completely apparent, as the audience had goosebumps listening to the song.
Of course, you can't go wrong with a mash-up performance – so Ava added some spice during the night with a rockin' dance remix of "Belladonna," "Not Your Barbie Girl" and "Salt," resulting in a crowd-favorite mashup. I found myself wowed by how smoothly she transitioned from each song, using the dance routine to making it clear she's "Not Your Barbie Girl."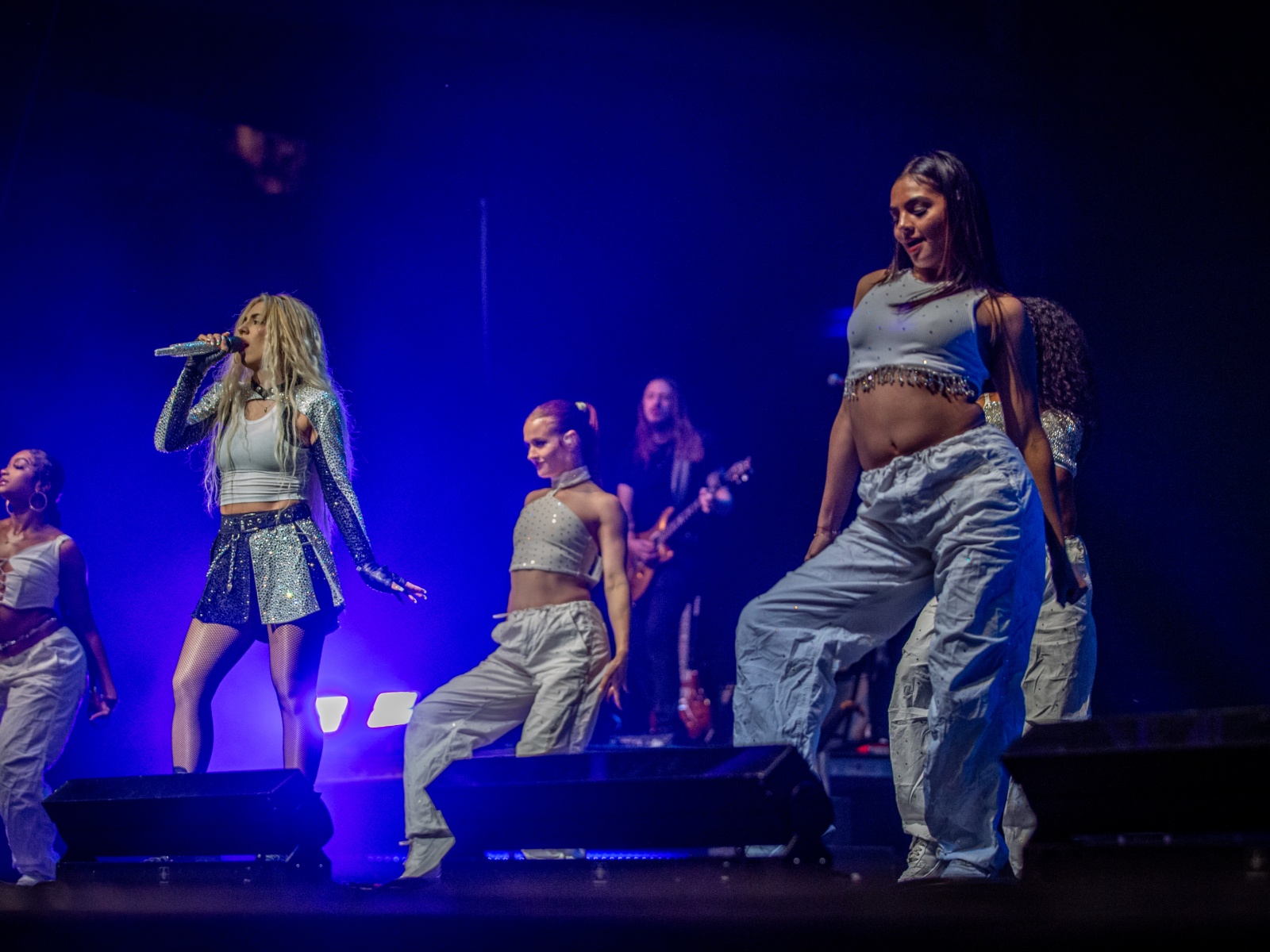 As her concert was nearing the end, the stage crew brought out a white long sofa, and the lights dimmed to an intriguing green shade. Ava mentioned, "I know it's really hot; we are going to turn it down just a little bit," before beginning "Dancing's Done." The sensual song was packed with heat and a steamy performance that made the audience fall even further head over heels with the pop star. The song had me at: "If you're gonna leave me hangin'/Then you're going to leave me dead/I'm never going home. If you're not there/I wanna give into your dark temptation." A super relatable and sexy song that made you feel the euphoria of romance.
Yet it wasn't the end, as Ava Max closed out with "Million Dollar Baby" and gave the audience an encore of "Sweet But Psycho" and "The Motto." These danceable songs gave fans one last rave session before it was the end of her concert, leaving everyone completely satisfied and still singing. You know when a concert is good when you leave with several new favorite songs and even listen to that artist some more on the ride home.
Setlist
"Diamonds & Dancefloors"
"My Head My Heart"
"Who's Laughing Now"
"Hold Up (Wait a Minute)"
"Kings & Queens"
"Weapons"
"Maybe You're the Problem"
"Ghost"
"Cold As Ice"
"Belladonna"
"Not Your Barbie Girl"
"Salt"
"One of Us" (acoustic version)
"Dancing's Done"
"Sleepwalker"
"Million Dollar Baby"
Encore
"Sweet but Psycho"
"The Motto"
Courtney Bondar is an adventurous Multimedia Journalist at OnMilwaukee, covering all things Milwaukee. Born and raised in Greendale, WI, Courtney has a deep-rooted connection to her hometown and a strong desire to explore and showcase the vibrant city of Milwaukee.
You can often find Courtney all over Milwaukee, attending exciting events - documenting her experiences on her Instagram stories. Her genuine enthusiasm for her work shines through in her posts - as she strives to capture the beauty of the city and shares it with her followers.
Courtney's passion for writing is evident in her engaging and heartfelt articles. While she covers a wide range of topics, she particularly enjoys delving into the intricacies of dating culture and the art of mixology. Her insightful and thought-provoking pieces offer a unique perspective on these subjects, captivating readers with her authenticity and wit.
After dedicating herself as an intern at OnMilwaukee, Courtney's hard work and dedication paid off when she earned her well-deserved diploma. Now, as OnMilwaukee's first full-time multimedia journalist, she is fully committed to continuing her journey - bringing her distinctive voice and storytelling skills to the forefront.