Take your tastebuds on a thrilling and tasteful adventure during AXE MKE's Tasting Series that'll kick off Monday, Aug. 14, from 6:30 to 8:30 p.m., at 1924 E. Kenilworth Pl.
Bring your friends, family or yourself to taste Chef Jenny's crafted menu of delicious snacks complements each beverage throughout the series.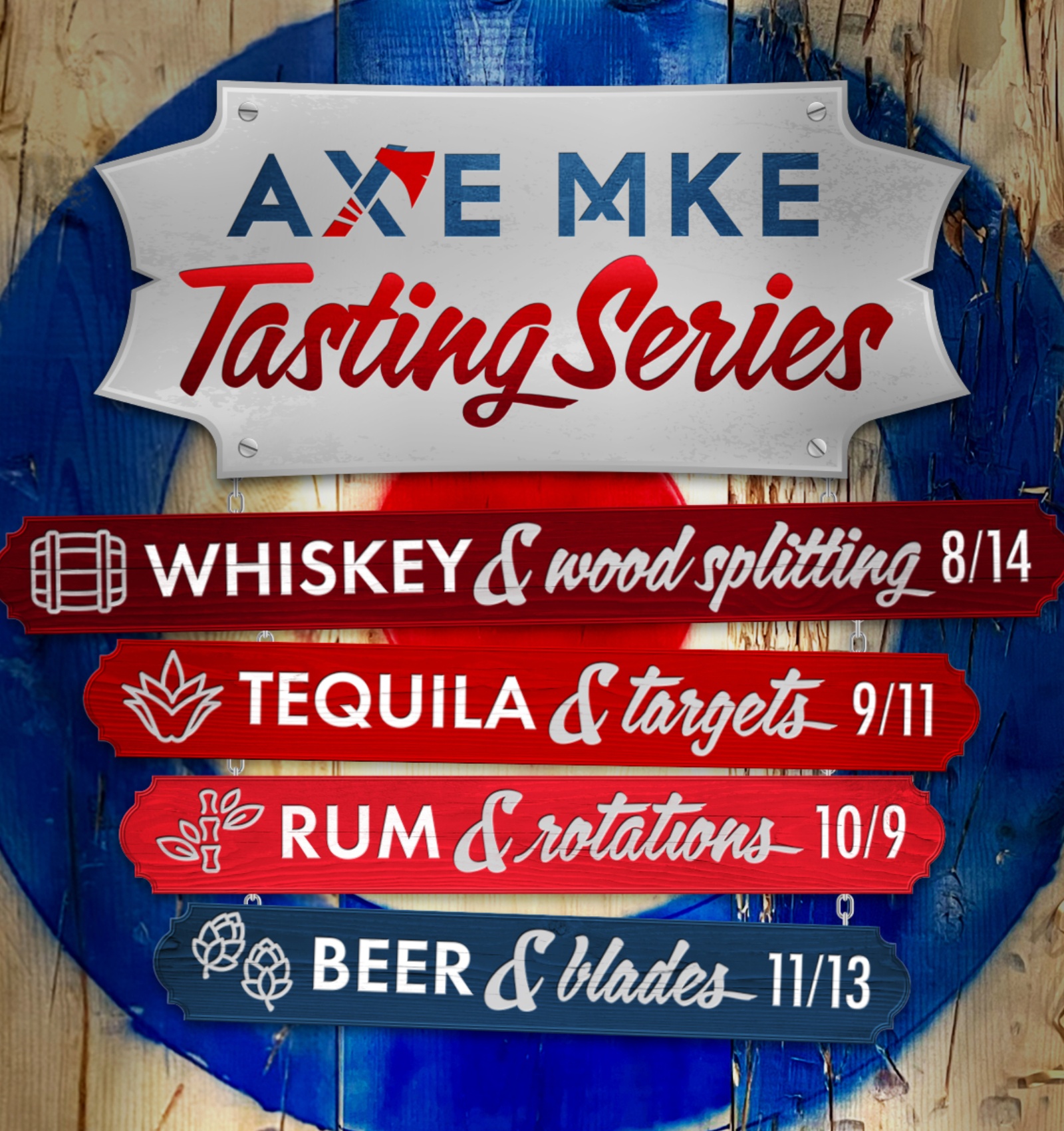 "This Tasting Series is a great opportunity to combine our favorite pastimes: axe throwing, eating and drinking," said Tyler Erickson, Bars & Recreation Food and Beverage manager. "We've handpicked spirits that will leave you wanting more."
Mark your calendars – the series starts with Whiskey & Wood Splitting, Aug. 14, featuring Jack Daniel's Single Barrel Rye, Jack Daniel's Bonded, Jack Daniels Triple Mash and Gentleman Jack paired with cheese, fresh fruit, bread crips, nuts and chocolate.
Then Tequila & Targets on Monday, Sept. 11, featuring Herradura Blanco, Herradura Reposado, Herradura Añejo and Herradura Ultra Añejo paired with fresh fruits, spices, nuts, chocolate, salsa and chips.
Rum & Rotations will follow on Monday, Oct. 9, featuring Diplomático Planas Mojito, Diplomático Planas 3-Year, Diplomático Mantuano 6-Year and Diplomático Reserva Exclusiva 12 year paired with savory bites, crispy bread toasts, nuts, fruit and chocolate.
Lastly, Beer & Blades will take place on Monday, Nov. 13.
Make sure to plan to arrive early – all tastings will begin at 6:30 p.m. and tickets are $49 per person.
Reservations are recommended and limited spots are available. Click here to reserve your spot and read more about AXE MKE here.
Courtney Bondar is an adventurous Multimedia Journalist at OnMilwaukee, covering all things Milwaukee. Born and raised in Greendale, WI, Courtney has a deep-rooted connection to her hometown and a strong desire to explore and showcase the vibrant city of Milwaukee.
You can often find Courtney all over Milwaukee, attending exciting events - documenting her experiences on her Instagram stories. Her genuine enthusiasm for her work shines through in her posts - as she strives to capture the beauty of the city and shares it with her followers.
Courtney's passion for writing is evident in her engaging and heartfelt articles. While she covers a wide range of topics, she particularly enjoys delving into the intricacies of dating culture and the art of mixology. Her insightful and thought-provoking pieces offer a unique perspective on these subjects, captivating readers with her authenticity and wit.
After dedicating herself as an intern at OnMilwaukee, Courtney's hard work and dedication paid off when she earned her well-deserved diploma. Now, as OnMilwaukee's first full-time multimedia journalist, she is fully committed to continuing her journey - bringing her distinctive voice and storytelling skills to the forefront.