Recently, I had a chat with a friend who suggested that a good philanthropic organization shifts with the landscape, adapts to the needs of its community, is flexible and bends to meet those those needs.
Rather than bestowing an unneeded gift, he said, it asks, "what do you need?"
In a sense, the future home of Bader Philanthropies – formerly the Helen Bader Foundation – can serve as a daily reminder of this.
Situated on a block where King Drive curves off to the northwest, the 1927 building at 3318-26 N. King Dr. was form-fitted by architects Tharinger & Bruecker to follow the bend in the road, to shift with the landscape.
Over the past 25 years, Bader Philanthropies has given over $265 million via more than 6,000 grants to nonprofits in 10 countries, with a focus on Milwaukee and Wisconsin, including supporting the likes of Above the Clouds, HeartLove Place and Unity in Motion.
Last summer, the Milwaukee-based nonprofit announced that it would leave its current offices, above the Milwaukee Ale House on Water Street in the Third Ward (interestingly, another project designed by Tharinger & Brucker), for new 22,000-plus-square foot digs in the Harambee neighborhood.
The project is being designed by Milwaukee's Uihlein/Wilson Architects.
The philanthropic organization is going where it is needed. It is bending to follow the curve.

Lobby tile.
"The decision to relocate to the Harambee neighborhood, which translates to 'all pull together' in Swahili, is literally and figuratively a commitment to the City of Milwaukee," said Daniel J. Bader, president and CEO of Bader Philanthropies, when the announcement was made.

Former shop windows.
"The Helen Bader Foundation and now Bader Philanthropies exist as a result of my mother and father's business success. I remember the times when my mother, Helen Daniels Bader, volunteered at the Legal Aid Society. She was deeply passionate about helping men, women and children living in the central city reach their full potential. By making the decision to move to Harambee, we are coming full circle by having a physical presence back in the central city."

The stairs down to the old bowling alley.
Bader Project Manager Frank Cumberbatch echoes that sentiment when we go inside to see the Neoclassical red-brick building that will be the foundation of the new headquarters, and adds that the location is a nod to the Bader family's Aldrich Chemical.
"We're really going back to our roots, Aldrich Chemical didn't start very far from here," he says. "The leadership of the organization really wanted to live the mission of walking the walk. So, that's another part of coming back to this community, it's almost like going home."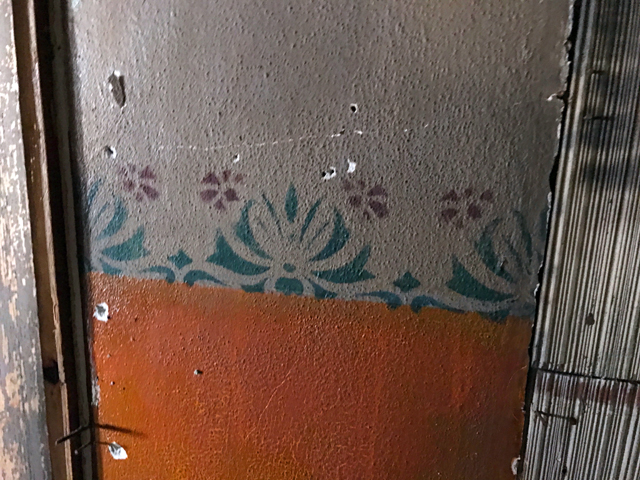 Stencil-work and beautiful windows are upstairs.
Home, when it's completed by summer 2018, will consist of a renovation of this two-story building, as well as the construction of an addition on the back of the building that will wrap around part of its north side.
As part of the project, a foreclosed single family home will be torn down, a rutted adjacent parking lot will be fixed and green space will be added to the south of the building on what is now a vacant lot and the site of a smaller, empty retail space.
Recently, Bader Philanthropies announced that it has hired JCP Construction, which has roots in Harambee, as general contractor for the project, which is due to begin with demolition work within a few weeks.
The project and the choice of JCP has drawn kudos.
"This investment by Bader Philanthropies in the Harambee neighborhood is a big deal for the city," Cory Nettles, founder and managing director of Generation Growth Capital, Inc., says.
"It is a vote of confidence in the city, its neighborhood and its people. Bader Philanthropies literally could have decided to put its headquarters in other parts of the world, where it is fulfilling its mission. It's a wonderful thing for the city that Bader Philanthropies chose to invest its social, financial and reputational capital in the Harambee neighborhood.

The main staircase.
"As a result of the current building boom in Milwaukee, minority and disadvantaged firms are seeing more opportunities. However, they remain under-utilized relative to their per capita presence and the scale of the current opportunities. It also remains to be seen whether these firms will continue to be used in non-boom times. This makes it all the more significant that Bader Philanthropies strategically sought out and selected an under-utilized firm like JCP."
The 1927 building was erected as the kind of retail complex – almost a small-scale mall, as Cumberbatch puts it – that was once common in urban shopping districts across America.

One of the former retail shop spaces.
This is the sort of place that was once a hub in a vibrant retail landscape. Across 5th Street is a building that once housed the neighborhood bank. Nearby residents could buy a wide variety of things in this building's retail and entertainment spaces over the years.
Bauer's Recreation Parlor gave way to Sanders Bowl in 1970 and later housed Leopard's Den Night Club and the Pandora Tavern.
The southernmost space housed a smoke and novelty shop, a furrier, and from 1950 until at least the mid-1970s, stores selling auto parts and liquor (not at the same time).

Architectural details in the basement.
The next one north had Martha's Dress Shop and the Cozy Inn Restaurant. Another space housed Mueller & Koch Furniture, Tele-Tech TV Wholesalers, The Big Shoe Store and Heinrich's Radio Service. A sewing machine dealer occupied the corner space for a decade or more.
Upstairs, offices were occupied by the likes of the Selective Service System, Prudential Insurance, First Credit Company, Project WHERE Veterans Organization and others. Some where residential units, too, it seems.
This complex had a recessed main entrance decorated with tile that led to wide, and pretty steep staircases upstairs to offices and downstairs to a bowling alley. Each of the four retail spaces, which weren't especially wide but went deep, had separate entrances with big display windows.
Though it was later modified, the entry area still has its tile and the staircases, which will have to be removed because they don't meet current city code have some of the sturdiest metal newel posts and thick wooden banisters you've ever seen. Inside, the studs for the dividing walls remain and on some of the floors there is still terrazzo.
Best of all, the display window areas, which you can still step up into, remain, as do most of the windows. In the basement, you can see see where the bowling lanes were because the concrete floor is slightly lower to accommodate the alley wood. Alas, all other traces have disappeared.
Upstairs, currently boarded up and unseen from the outside, but surviving and visible from inside, are two beautiful arched and segmented windows that will be restored and kept.
There's not much left inside other than this. As we stand in one of the old retail spaces, JCP's James Phelps stops in.
I suggest he's got his work cut out for him here and he smiles.
"Piece of cake," he says with a laugh.
"It's very well built," says Cumberbatch. "It's not going anywhere, it's so well built – to think that it's closing in on 100 years old."
Soon it will be alive again. Standing on the street out front, a man in a dapper suit and hat stops to ask again what will be moving in. When I tell him, he says, "this is going to be great for this neighborhood. It's a great thing."
I often drive by this building and last summer I passed it every day for a month. One of those days, I had to stop and take a photograph because that curved facade is so unusual. It's quite striking. I'm thrilled to see it come alive again.
Before we leave, I ask Cumberbatch how Bader Philanthropies settled on this place.
"Well, our president (Daniel Bader) used to drive by and just loved it," Cumberbatch says. "Never been in it or anything, he just thought it was a cool building, and so that really was the attraction. Then he got a chance to see it, and it really solidified it. That's maybe not an exciting story."
Maybe not, but I understand completely.
Born in Brooklyn, N.Y., where he lived until he was 17, Bobby received his BA-Mass Communications from UWM in 1989 and has lived in Walker's Point, Bay View, Enderis Park, South Milwaukee and on the East Side.
He has published three non-fiction books in Italy – including one about an event in Milwaukee history, which was published in the U.S. in autumn 2010. Four more books, all about Milwaukee, have been published by The History Press.
With his most recent band, The Yell Leaders, Bobby released four LPs and had a songs featured in episodes of TV's "Party of Five" and "Dawson's Creek," and films in Japan, South America and the U.S. The Yell Leaders were named the best unsigned band in their region by VH-1 as part of its Rock Across America 1998 Tour. Most recently, the band contributed tracks to a UK vinyl/CD tribute to the Redskins and collaborated on a track with Italian novelist Enrico Remmert.
He's produced three installments of the "OMCD" series of local music compilations for OnMilwaukee.com and in 2007 produced a CD of Italian music and poetry.
In 2005, he was awarded the City of Asti's (Italy) Journalism Prize for his work focusing on that area. He has also won awards from the Milwaukee Press Club.
He can be heard weekly on 88Nine Radio Milwaukee talking about his "Urban Spelunking" series of stories.