When Santana Tenhover opened Bamboo – a Thai and Laotian restaurant in the Silver City neighborhood – she fulfilled a lifelong dream.
Tenhover, who was born in Laos and moved to the United States when she was 14, spent many years going to school and working in Thai restaurants, including Thai Lotus and Vientiane Noodle Shop, which is located across the street from Bamboo, 3427 W. National Ave. Thai Bar-B-Que is next door.
"There's a lot of competition around here but it's OK because we have quality food and service and people want to come back," she says.
Tenhover spent seven years cooking at Vientiane, but started working at Thai Lotus as a dishwasher and was soon promoted to kitchen assistant and server.
"I was so nervous to wait on tables because my English was not very good at the time," she says. "I learned a lot from my customers and from going to college."
Tenhover, with the help of her husband, Andy, opened the restaurant on September 15 in the building that formerly housed Peruvian restaurant Mr. Sebass. The space is clean and bright, with about a half dozen tables and red-painted walls adorned with a large map of southeast Asia. There's also a large, friendly-looking Buddha statue in the corner.
"I worked very hard in other people's restaurants," she says. "I knew I would be a success if I opened my own."
Tenhover serves as the chef and created the menu herself. Tailoring her dishes to her customers' dietary needs is a priority and she will tweak a recipe at a customer's request. She also has gluten-free, MSG-free, low-sodium and animal product-free dishes on the menu and purposely does not use fish sauce in her Pad Thai to accommodate her vegan diners.
"A lot of vegan people come to eat here," says Tenhover.
Tenhover says she is most proud of the freshness of her ingredients and the fact she prepares all of the food and cooks it herself.
"I use fresh green beans, mushrooms, even bamboo shoots," she says. "I steam them, rinse them and cut them up myself."
When a friend suggested that we try Bamboo, we went within the week, eager to try new Thai food and see how it compared to our existing favorites. Here's what we ate and what we thought of it. Not pictured, but worth mentioning, is the steal-of-a-deal bowl of sticky rice with homemade steak sauce (ask for it) for $3.
1. Tom Yum hot and sour soup

The cup of soup is $4.99, which seemed a little high at first, but it's a large cup. The soup is, indeed, very hot (as in spicy) and very sour. It particularly hits the spot for anyone battling a cold. The flavorful broth is loaded with chicken pieces, mushrooms and scallions. There's also cilantro, galangal (Asian ginger), lime juice and lemon grass. Don't eat the lemon grass, even though we may have tried. Ahem.
2. Calamari


We are calamari freaks, so we had to try it, even though it is not traditionally a Thai food. We liked it, mostly because it is peppery tasting and lightly breaded, but we wanted a few more pieces in the order. It's served with a homemade sweet and sour sauce for $6.99.
3. Chicken Pad Thai

A healthy, non-greasy version of this popular Thai dish. We actually wanted it a little greasier, even though we know this was "better" for us. The flavors and portion were perfect, and the homemade noodles – soft and firm at the same time – really make a difference. Pad Thai ranged from $8.99-$11.99 depending on the meat choice – or lack thereof.
4. Seafood Pho
The pho can be ordered in either a small or large bowl. We recommend the small, which is actually huge, and costs $7.99. It comes with either egg or rice noodles and a side of extras, including hot peppers, fish sauce, cabbage and bean sprouts. The broth comes simple so diners can "doctor it up" themselves. We definitely needed it saltier and spicier, but that's what the table condiments, which include Sriracha, are for. Next time we want to try the barbecue pork or beef and meatball pho.
5. Volcano chicken
The chicken in this dish was extremely fresh and lean with the perfect amount of sauce slathered on the meat. It can be ordered, like all of the dishes, on a 1-5 spiciness scale and came right in the middle as ordered. It is served on a bed of cooked vegetables and costs $10.99.
Other dishes we would try next time include the larb beef or sare goong, both Laotian specialties we are unfamiliar with.
Most entrées are $13 or less. Bamboo serves lunch and dinner Tuesday to Sunday; takeout is also available.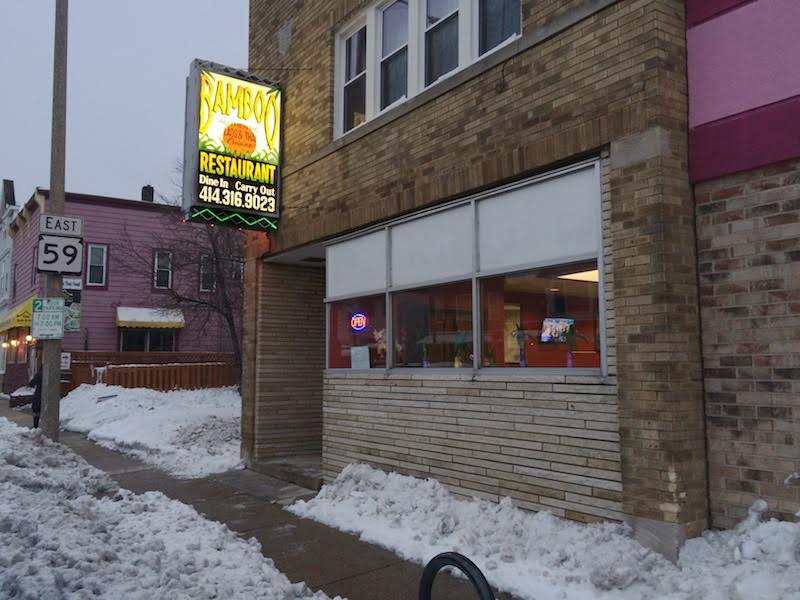 Molly Snyder started writing and publishing her work at the age 10, when her community newspaper printed her poem, "The Unicorn." Since then, she's expanded beyond the subject of mythical creatures and written in many different mediums but, nearest and dearest to her heart, thousands of articles for OnMilwaukee.

Molly is a regular contributor to FOX6 News and numerous radio stations as well as the co-host of "Dandelions: A Podcast For Women." She's received five Milwaukee Press Club Awards, served as the Pfister Narrator and is the Wisconsin State Fair's Celebrity Cream Puff Eating Champion of 2019.